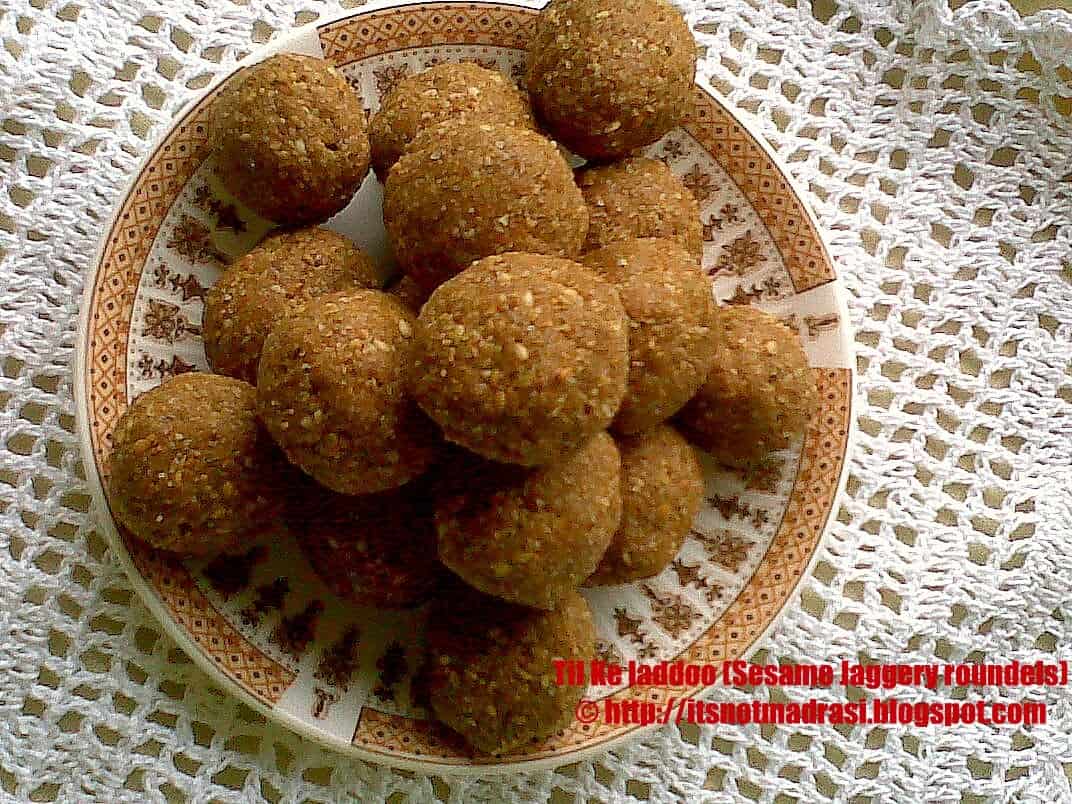 Pin

Til Ka Ladoo (Sesame Jaggery Roundels) aka Ellu Urundai (Tamil) / Ellu Unde (Kannada) is something that most households make – I asked mom to make some sweet , but with no sugar / oil ! Mom looked at me and said she would make Til Ka Ladoo mix but I would have to shape them into ladoos.. Now, shaping ladoos is something I have never done (yes, I am not into that : I am more a halwa / sheera / kheer person!), but I reluctantly agreed. So she got the mix ready and I started shaping them – 9 of what I thought would be ladoos disintegrated right in front of my eyes, while mom was looking on – an amusedly wicked smile spreading across her face : I looked at her for some help while she looked the other way !

Finally, after what seemed a lifetime, 5 ladoos gave me some respite and showed up on the plate without crumbling (although I was tensed they would, especially while I clicked! 🙂 ) Bouyed with a little sweet success, I started on the others, and kinda completed half of the mix, and handed over the rest to mom 🙂 Whew !  What seemed easy was, well, learnt a hard but fun way 🙂 Sending this to Day 5 of Blogging Marathon under "cookbook recipes" (I got the idea from Mallika Badrinath's book – 200 Traditional Sweets) as also to my own event –Indian Mithai Mela.

See what my friends from Blogging Marathon dish out here

Prep time : 20 mins. Time for shaping them into roundels : Depends on your expertise 🙂 . Makes : 25 roundels of the medium lemon sized.

Ingredients:
Sesame seeds / White Ellu – 200 gms
Jaggery – 150 gms (or equal proportion – optional)
Ghee – 3 to 4 TBSP
Method:
Dry roast sesame seeds in batches till they crackle (rather splutter). Be careful not to burn.
Grate jaggery (or mash up into small bits)
Grind the sesame and the jaggery in a spice grinder till they incorporate into each other (the oil from the sesame is enough to form a bond) . Some people use jaggery syrup, but we prefer the dry and non-sticky Til Ladoos – they are much easy to bite into.
Transfer the mixture to a large plate. Allow to cool. Add ghee into it, mix well and shape into Ladoos.