This month on #Breadbakers, we have Stacy hosting a wonderful theme close to my heart – Gluten Free Baking. At home, we have been making subtle but significant changes to our everyday diet and try alternatives to usual flatbreads / baking we do with Whole-wheat and / or dairy products.
One of the (successful) bakes were these spicy and flavourful Besan cookies (gram flour / garbanzo flour crackers), and as we are a savoury-bake-loving family, these vanished in a jiffy. Bookmarked from Suma's recipe, I made a couple of changes for the kids and we are sure to make and savour these often. Besan is not only protein-rich, but is a great alternative as a GF flour for baking (yes, it takes a little getting used to) or even to make pancakes (a.k.a Cheelas)
Other GF dishes (and mostly vegan too) that you like on this blog:
Baked Idli Fry | Gluten Free and Vegan Snacks
Vegan shammi Kebabs (GF too!)
and many, many more – just hit the GF button here
This recipe is not only GF, but also vegan – so, its a win-win for all those who are looking for healthy non-dairy and not so butter-heavy cookies. Thank you, Stacy for a wonderful theme, and we are sure to try these again with a different mix of spices.
The only changes I made were to bake them as thin cookies, rather than the thicker "cookie" type that the original recipe had.
Pin

Prep time – 15 mins, Resting time – 10-15 mins, Baking time : 12~15 mins / batch

Ingredients:
Besan / Chickpea flour / Garbanzo flour – sifted – 1 cup (here 1 cup = 200 ml)
Peanut / Canola  / sunflower oil – 3 TBSP (warm)
Salt – 1/2 T
Crushed Fenugreek leaves (kasuri methi) – 1 T
Red chilli powder / spicy cayenne powder – 1/2 T (adjust to taste)
Baking Powder – 1/2 tsp + 1/8 tsp
Sugar – 1 tsp (optional)
Turmeric  – 1/2 tsp
Roasted Sesame seeds – 1 T
Warm water – to knead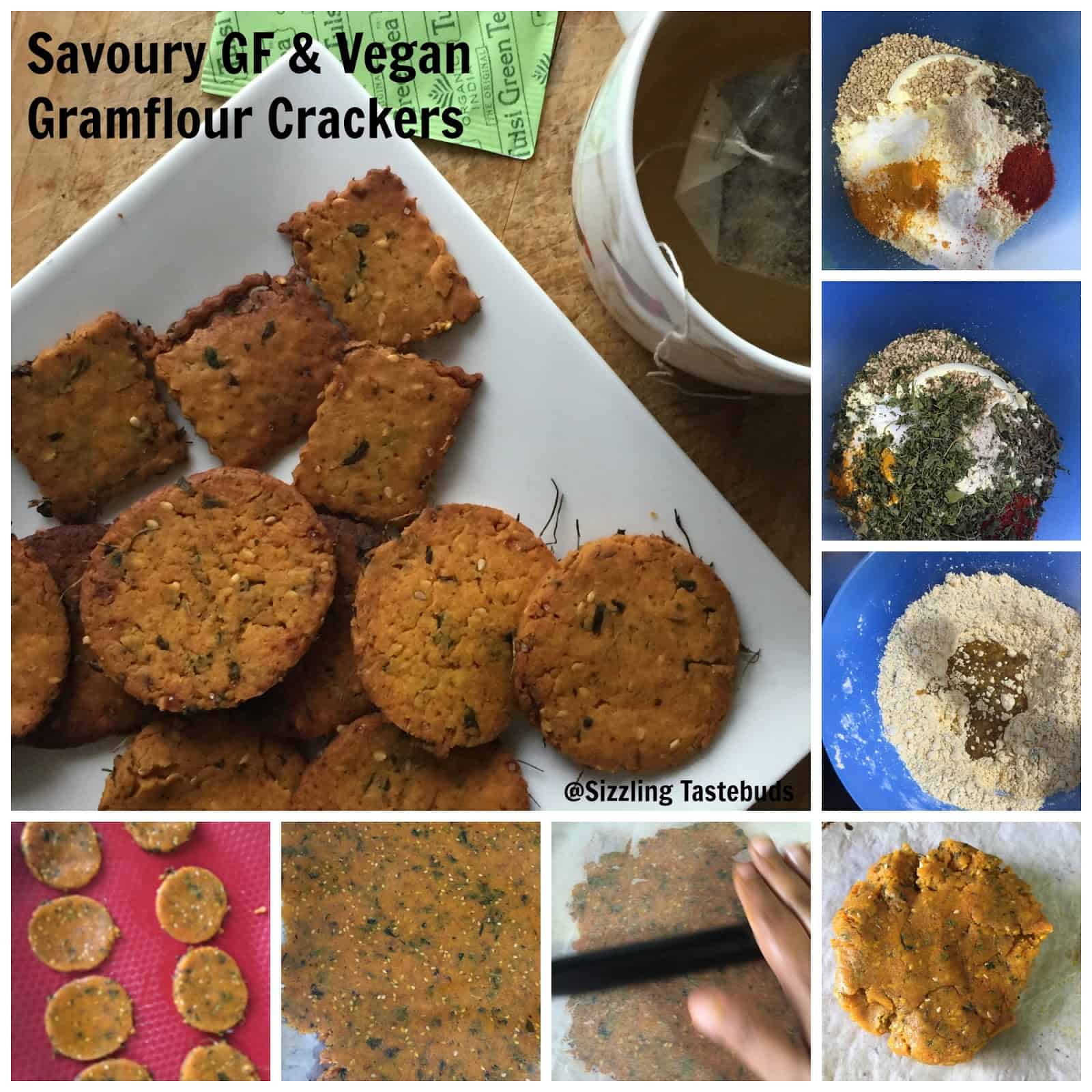 Pin

Method:
Mix all the dry ingredients except oil and water. Add warm oil 1 TBSP at a time and fold into the flour as breadcrumbs (if using butter here, use cold butter and cut into the flour).
Add 1 tsp warm water at a time, and knead into a soft slightly crumbly dough.
Cling wrap and refreigerate for 15-20 mins (optiional but recommended step)
Towards the end of 15~20 mins, preheat oven to 160 C / 350F. Line a baking sheet.
With slightly greased hands, knead dough for a min.
Roll the dough between two parchment / thick plastic sheets to desired thickness.
Place gently on the lined baking sheet. Bake until a golden edge appears around the edges
The cookies might be slightly soft when taken out. They harden a bit after left around for 10-15 mins on a cooling tray.
Store the crackers in an air tight container and enjoy along with your afternoon cuppa.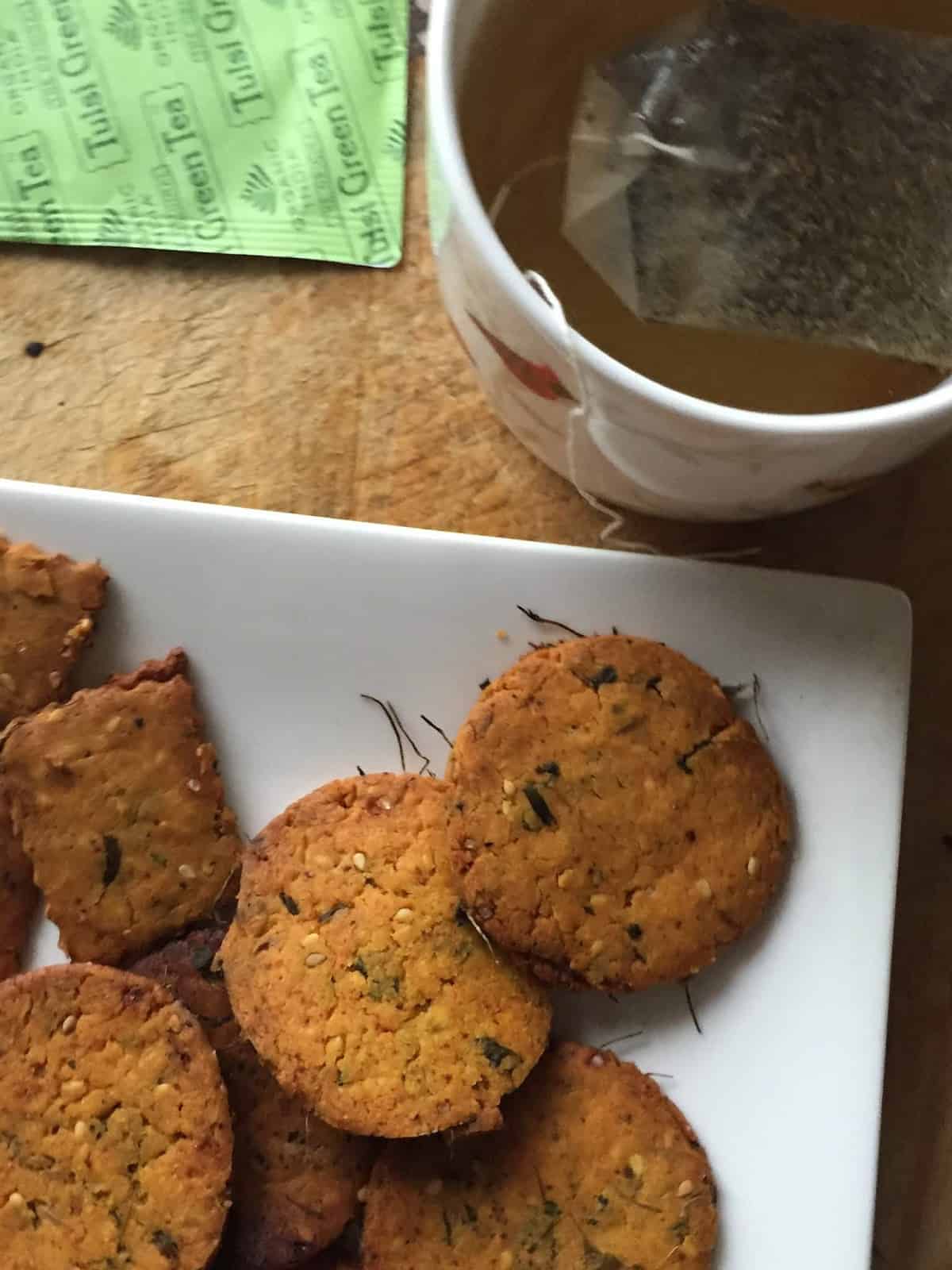 Pin
#BreadBakers is a group of bread loving bakers who get together once a month to bake bread with a common ingredient or theme. Follow our Pinterest board right here. Links are also updated each month on this home page.
We take turns hosting each month and choosing the theme/ingredient. Let's check out the #GF bakes this month.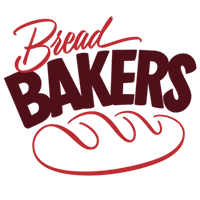 Pin