There aren't  too many dishes that
kiddo and S appreciate as an accompaniment with Idliand Dosa– its pretty
standard fare with both of them usually picking Idli Molagapudi or any
vegetable peel chutney that I make atleast once a week. But I was pleasantly
surprised to see both of them agreeing to accept Kadappa – today's post –
with gusto..Its interesting to note that this recipe has been a Tanjore special
(Tanjore or Tanjavur is a prominent and ancient temple town in Tamilnadu).
Tanjore cuisine is predominantly South Indian, but had very strong influence of
Maratha rulers, and I reckon this is one such dish influenced by those kings of
yore.
Thank you, Nisha for this recipe.. Its going to feature regularly in my kitchen. We
enjoyed it with Instant Mixed flour Dosa (Karicha Maavu Dosa)..
Almost resembling Veg Kurma in
most parts, one vital addition for the addition of Moong Dal – which gained
acceptance. Without much ado, this goes to BM # 32 under Alphabet K and Valli's
Side Dish Mela too. 
in this BM, so far:
J for Jolada
Rotti (Sorghum bread)
I for Iyengar
Thayirvadai (South Indian Dahi Wada)
H for Hagalakayi
Upkari (bitter gourd coconut curry)
G for Godhi
Chutneypudi (Wholewheat spice powder)
F for Filter
Coffee (South Indian beverage)
E for Eerulli
Gojju (onion-tamarind Gravy for rice)
D for Davangere
Benne Dose (Karnataka special Dosa)
C for Chinna
Vengaya Khara Kuzhambu (Pearl onion tamarind Gravy)
B for Batata
Saang (Potatoes in coconut tamarind gravy)
A for Avarekaalu
Akki Thari uppittu (Field Benas / hyacinth beans and broken rice pudding)
Over to the recipe now, 
Potatoes in a lentil and onion-garlic-fennel based
gravy : a tasty accompaniment to Idli and Dosa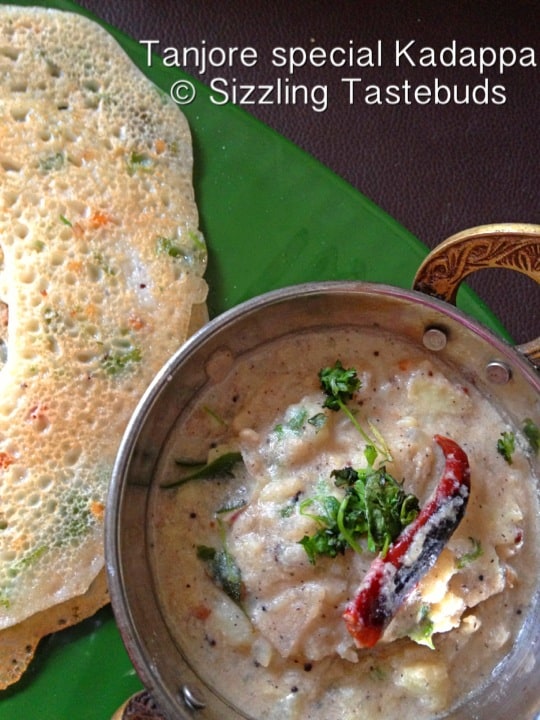 Pin

Source : Nisha's recipe

Prep time : 15 mins | Cook time : 15 mins | Serves : 4

Ingredients:
Potatoes – 3 medium
Moong Dal (split green gram) – ¼ cup
Oil – 2 tsp
Dry masala : 2 cloves, 1/2 " cinnamon, 1 Bay leaf
Salt – to taste
Green chillies – 2 nos (I used 1 green chilly and 1 red chilly)
Pearl Onions – 12 – 15 nos (peeled and quartered)
Tempering : oil – 1 tsp, mustard seeds, curry leaves, 1 tsp Urad dal
(optional)
Masala paste:
Grated coconut – ¼ cup
Fennel Seeds / Saunf – 1 tsp
Garlic pods – 2 nos (medium)
Garnish: Lemon juice, coriander leaves
Method:
Boil , peel and cube potatoes. Pressure cook moong dal till done, but
not mushy.
Grind all ingredients under "Masala paste" list with a little water.
In a pan, heat oil. Splutter mustard seeds, curry leaves, chillies, and all under
Dry masala list. After 1 min, add the pearl onions and  sauté till they turn translucent (about 2-3
mins).
Now add the ground paste and add till the raw smell disappears – about 5-6
mins. Now add the cubed potatoes and boiled dal. Simmer on low flame, add salt.

Dilute with about 4-5 TBSP of water and simmer through. Once you get a thickish
gravy, transfer to serving bowl, and finish with lemon juice and coriander
Serve with Idly or Dosa (we liked it a lot with Instant mixed flour
Dosa)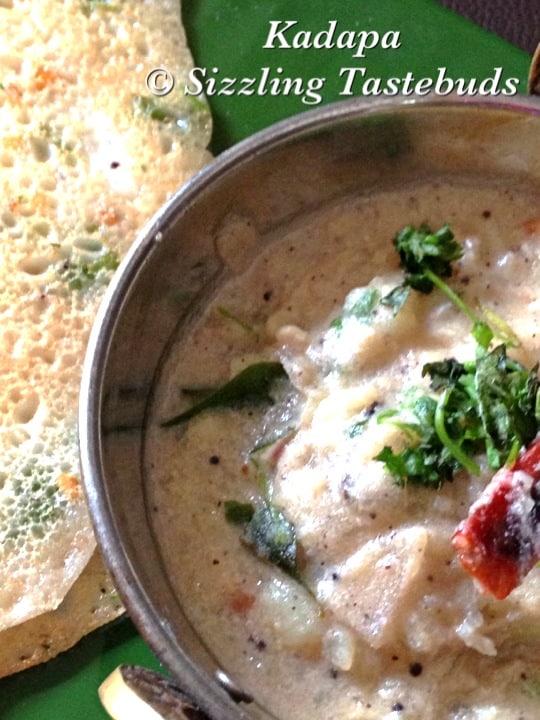 Pin