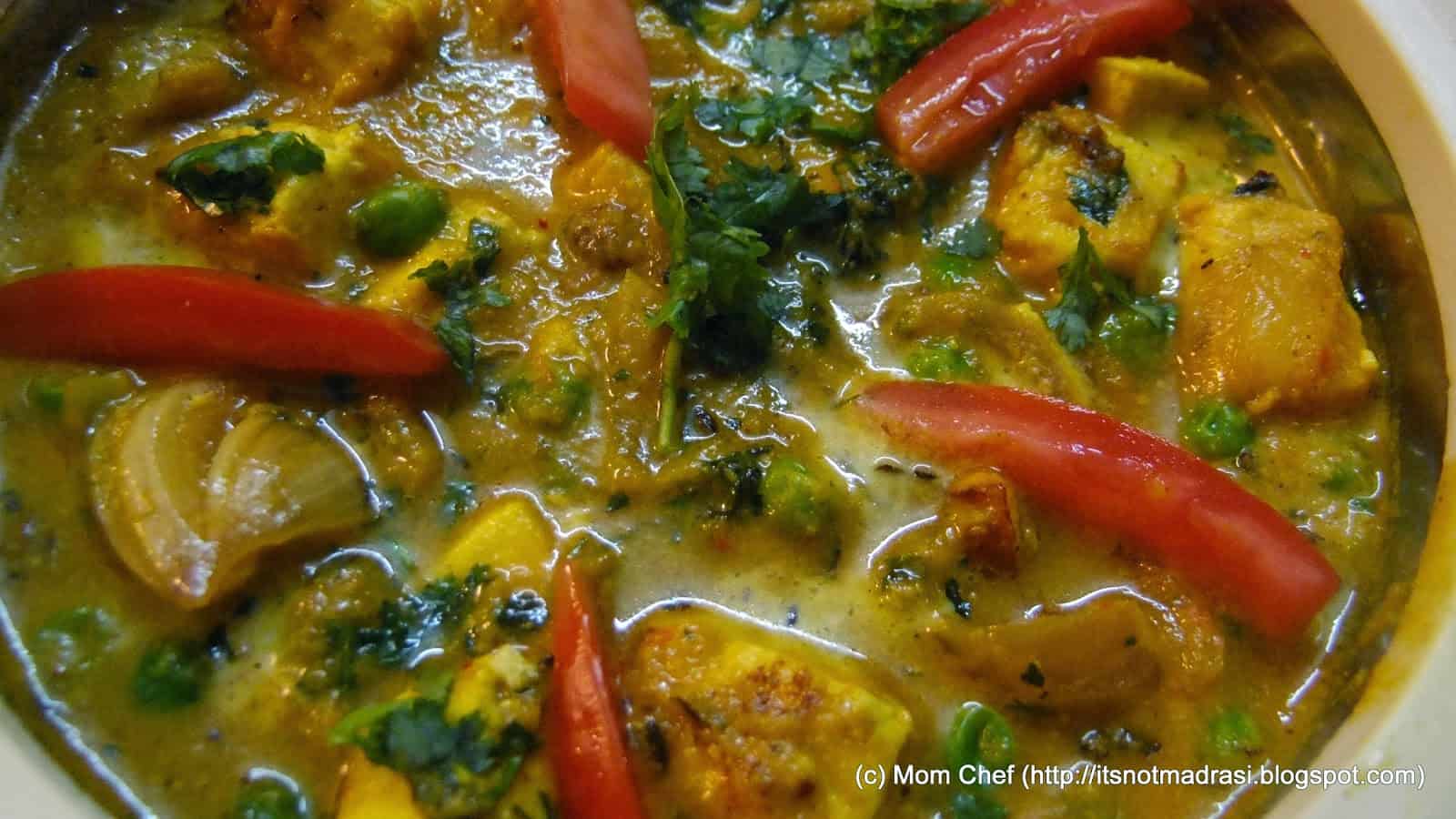 Pin
One of the first 'North Indian' recipes that I ate decades ago college was Matar Paneer– I still remember eating at a friend's house somewhere in RMV 2nd stage Bangalore where her mom used to dish out these amazingly soft fluffy phulkas with creamy melt-in-the-mouth Matar Paneer. Of course I was too naïve to even ask for a recipe, but back then the non-internet era gave us few places you could source for food recipes. Later on, the ubiquitous "Sagar" chain of restaurants in Bangalore – of whom we were regular patrons- ensured their chefs knew more about Matar Paneer than their counterparts in Punjab / Delhi , albeit with their own version of the dish : a little more sweet than usual, and the occasional curry leaf making its way to a Chilli Paneer 😉
Today's dish Matar Paneer (Peas and Cottage Cheese curry) – is my kid's favourite and almost a staple on Sunday evening dinners at home – has evolved out of various versions that I have tried and tested many times over. It's also something you can put together while there are no other veggies at home too, and also goes to being my first entry for the Blogging Marathon theme chosen this week – "Curry in a Hurry". This dish goes well with Roti / Phulkas / Naan / Kulcha.
Preparation time:15 mins. Cooking time: 30 mins. Serves : 3
Ingredients:
· Cubed Paneer (Cottage cheese) – 1 cup
· Green Peas (frozen / fresh) – ½ cup
· Onions – 1
· Tomatoes – 1
· Garam Masala – 1 tsp
· Salt – to taste
· Red Chilli powder – 1 tsp
· Green chilli (slit lengthwise) – 1 no (opt)
· Oil – 4 tbsp
· Cumin – 1 tsp
· Dhaniya Powder / Dry Coriander powder – 1 tsp
· Kasuri Methi – 1 tsp
· Turmeric – 1 tsp
· Coriander leaves – 1 tbsp
· Milk – ¼ cup
For the masala paste
· Onions – 2 small
· Tomato – 1
· Cashewnuts – 1 tbsp
· Ginger Garlic paste – ½ tsp (opt)
Method:
1) Soak Cashewnuts in warm water for 10 mins.
2) Fry cubed Paneer in 4 tbsp of oil till golden brown . Drain and soak the chunks in another bowl of warm water for 5 – 6 mins.
3) Blanch the green peas if using frozen, else cook fresh peas separately till done.
4) For the masala paste: Fry sliced onions till pinkish and translucent. Grind this along with tomatoes, ginger garlic paste and soaked cashewnuts.
5) In a pan, add oil (or use the oil drained from fried Paneer) and splutter cumin. Add the onions and fry again till slightly browned. Add green chilli and sauté.
6) Add finely chopped tomatoes (I prefer grating them to enhance the texture) and stir well.
7) Now add the masala paste, turmeric, dhaniya powder, red chilli powder, garam masala, salt and stir well till onions are browned and raw smell of the paste disappears.
8) Now add in the Paneer (after draining the water the fried chunks are stored in) and peas one by one and stir lightly. Add salt at this stage
9) Lower the flame and tip in the milk (this gives a great creamy texture). Add the kasuri methi to this, gently stir and cover and cook for 10 mins.
10) When done, garnish with coriander leaves and serve hot with Naan / Roti / Phulkas.
Tips:
1) As the Paneer is really delicate, do not stir the dish a lot after adding it into the gravy
2) You may add lemon juice just before serving or use Amchur (dry mango powder) in the gravy if you prefer it a little more tangy
3) Adding cashewnuts or milk to the masala / gravy is optional, but it enhances the texture and creaminess of the dish manifold.
4) Increase the number of green chillies if you like this really spicy as Paneer does tend to be a little bland!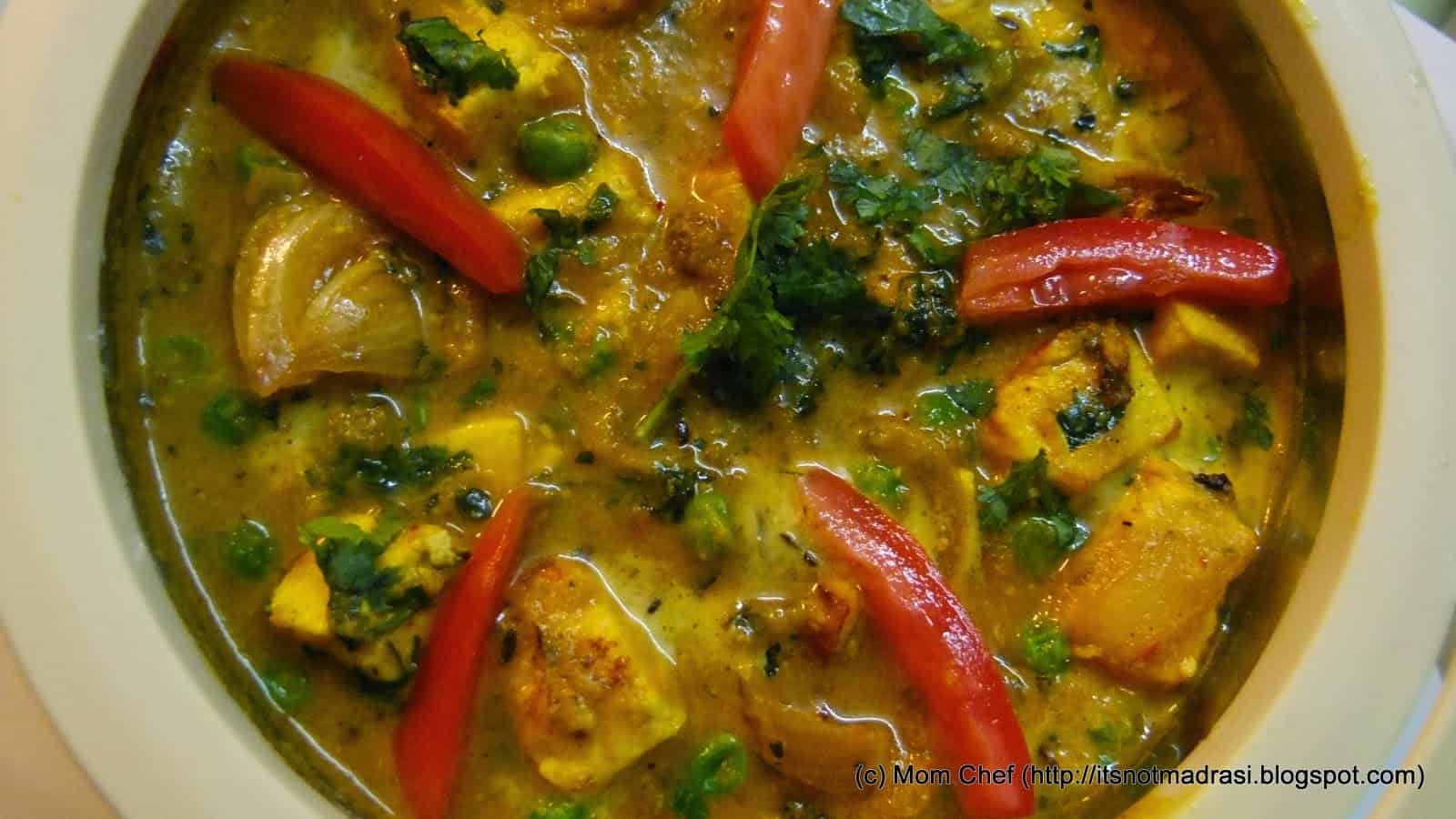 Pin
Check out the Blogging Marathoners doing BM#5 along with me
Curry in a hurry under 30 min: Cool Lassi(e), Harini, Kalyani, Priya Mahadevan, Suma Seven Days of Colorful Dishes Kid's Special: Priya Suresh, Veena,
Seven Days of Indian Sweets: Shylaja, Srivalli
Seven Days of Regional Specials: Priya Yallapantula
Under 15 mins Quick Breakfast:Aarthi, Vaishali