Last week we saw how Rabdiwas made the traditional way. Today we have another sweet that's usually made during Bakrid or Diwali and is a delicacy. Shahi Tukda is a dish of pure delight .
Resembling its close cousin Double ka Meetha (or perhaps twinning it with another name :)), Shahi means Royal, Tukda referring to piece of bread. There is an interesting linkon how the name of Shahi Tukra evolved , perhaps from the Persians adapted by the Mughals.
Again if you have the Rabdi ready, this can be put together for a party or potluck in minutes.
To make it richer, this dish is usually topped with Malai and / or fry fruits. However do assemble close to the serving time to prevent it from getting soggy.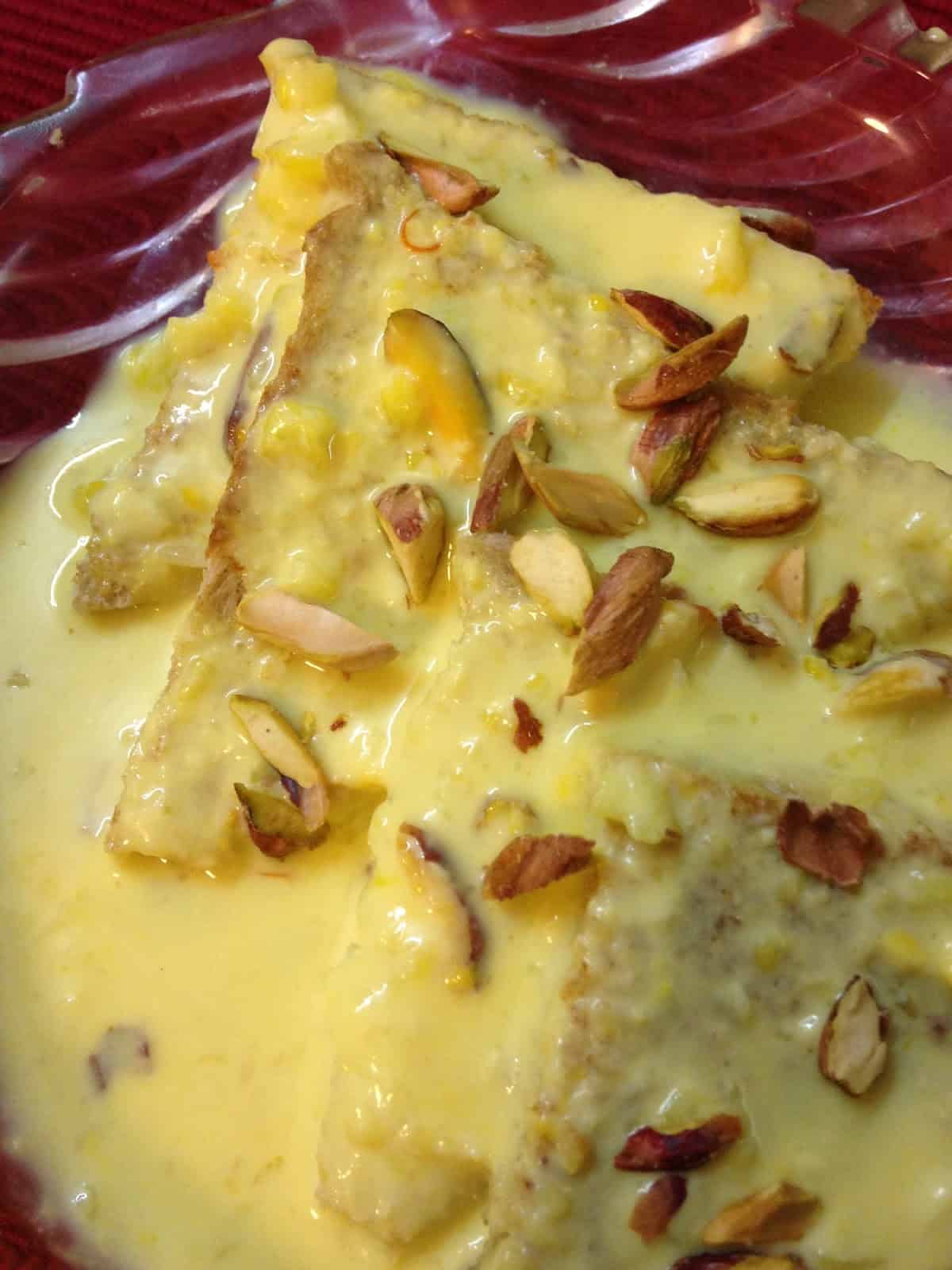 Pin

This is the final week of the A-Z Street Foods Blogging Marathon.

Hope you have been enjoying the ride with the following dishes so far this month on this blog :

Prep time – 10 Mins, cook time -10 Mins , serves : 4

Ingredients:
8 bread slices (i prefer brown bread) – sliced diagonally
Sugar – 1/4 cup (adjust to taste)
Cardamom powder – 1/8 tsp
Oil / ghee – for shallow frying (I used the former) – you may deep fry too
Rabdi– to top (as required)
Saffron stands and chopped nuts – as required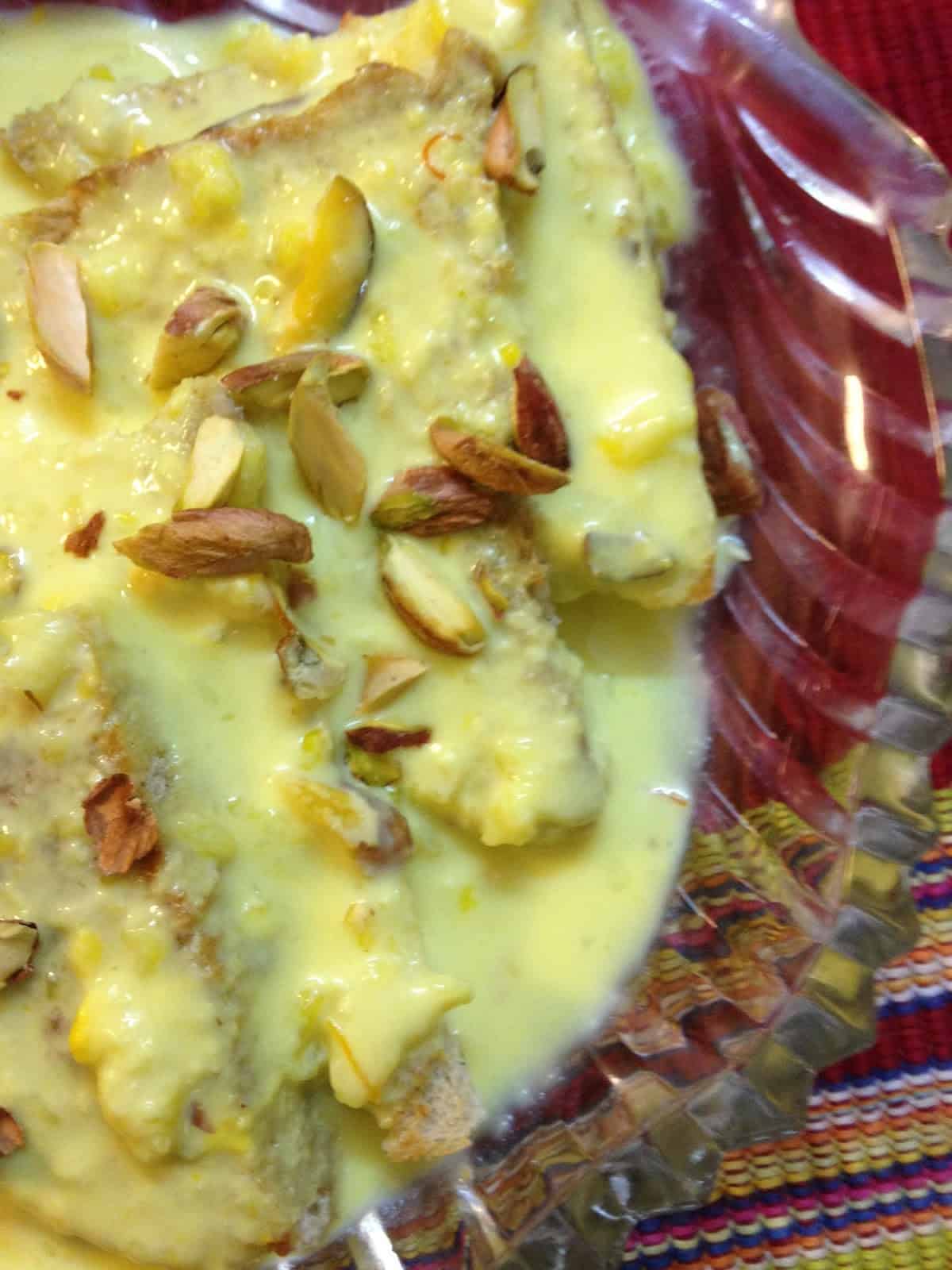 Pin



Method:
Dissolve the sugar in just enough water for it to immerse in, boil and make a one-string consistency. Add cardamom powder, stir wel and keep aside in a shallow bowl
Cut the bread slices (you may trim the edges if necessary) ,Toast the slices till light crispy, then shallow fry in 1-3 tsp of oil or ghee till golden on both sides.
To assemble:
Dip the shallow fried bread slices in the sugar solution and immediately take them out onto a wired rack with a plate beneath to catch any drips.
Arrange the soaked slices on a plate, top with Rabdi and more malai if you wish.
Garnish with chopped nuts and saffron and serve immediately
Notes
Some people make this skipping the sugar syrup completely and only dunking the deep fried bread in condensed milk / Rabdi. Either way it is a delicacy. I got this recipe from a friend in Lucknow.
Bread can be deep fried or shallow fried. I first dry roasted it and then shallow fried in a few tsp of oil to get a golden brown. It was perfect
If the syrup is thick, you may a few TBSP of boiled and cooled milk to thin it out and then dunk the slices in the sweetened milky sauce 🙂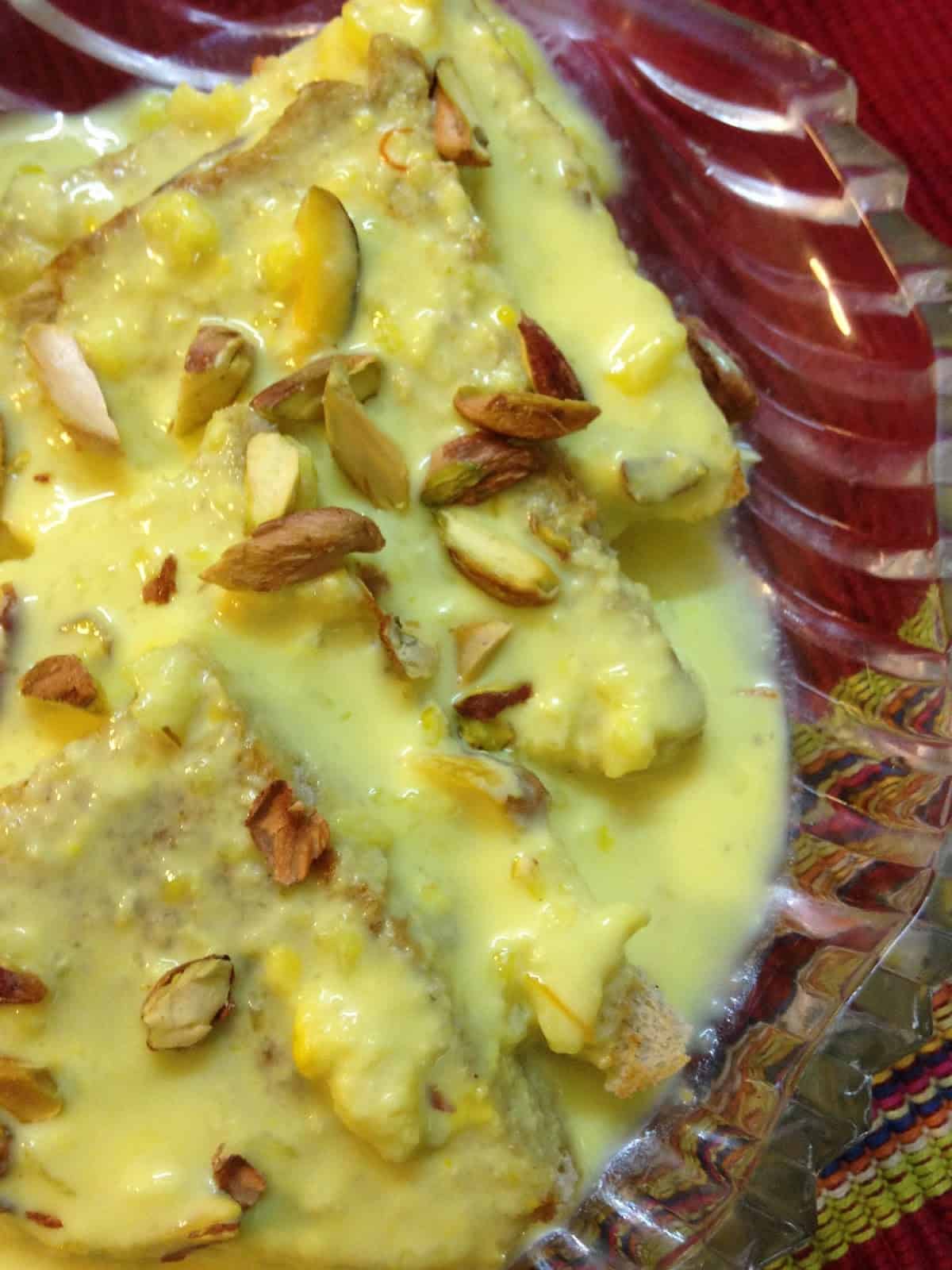 Pin
Pin
Check out the Blogging Marathon page for the other Blogging Marathoners doing BM# 87