Sev batata Puri is one of the most
sought after snack in my family. Easy to make, and also quick to eat, this is
kiddo's favourite and she specifically asked me to include it in the North
Indian Starters as Chaats are a popular starter too.
I have used home made fried papdi
(recipe soon) and homemade chutneys – red chilli garlic chutney and tamarind Dates (recipes
here) and Green chutney for this. You could also use the BAKED PAPDIsfor this Once you have both these on hand, its very easy to make the
chaat. Less of a recipe and more of assembly, this is one chaat you cant miss
to make. The additions you can have is endless, I have even seen minced chicken
being used in non-vegetarian starters atop these cute papdi.
Hope you enjoyed the Appetiser / Starter series with Sesame Gold Coin, Dahi ke kabab and today's Sev Batata puri. Stay tuned for a new theme next week.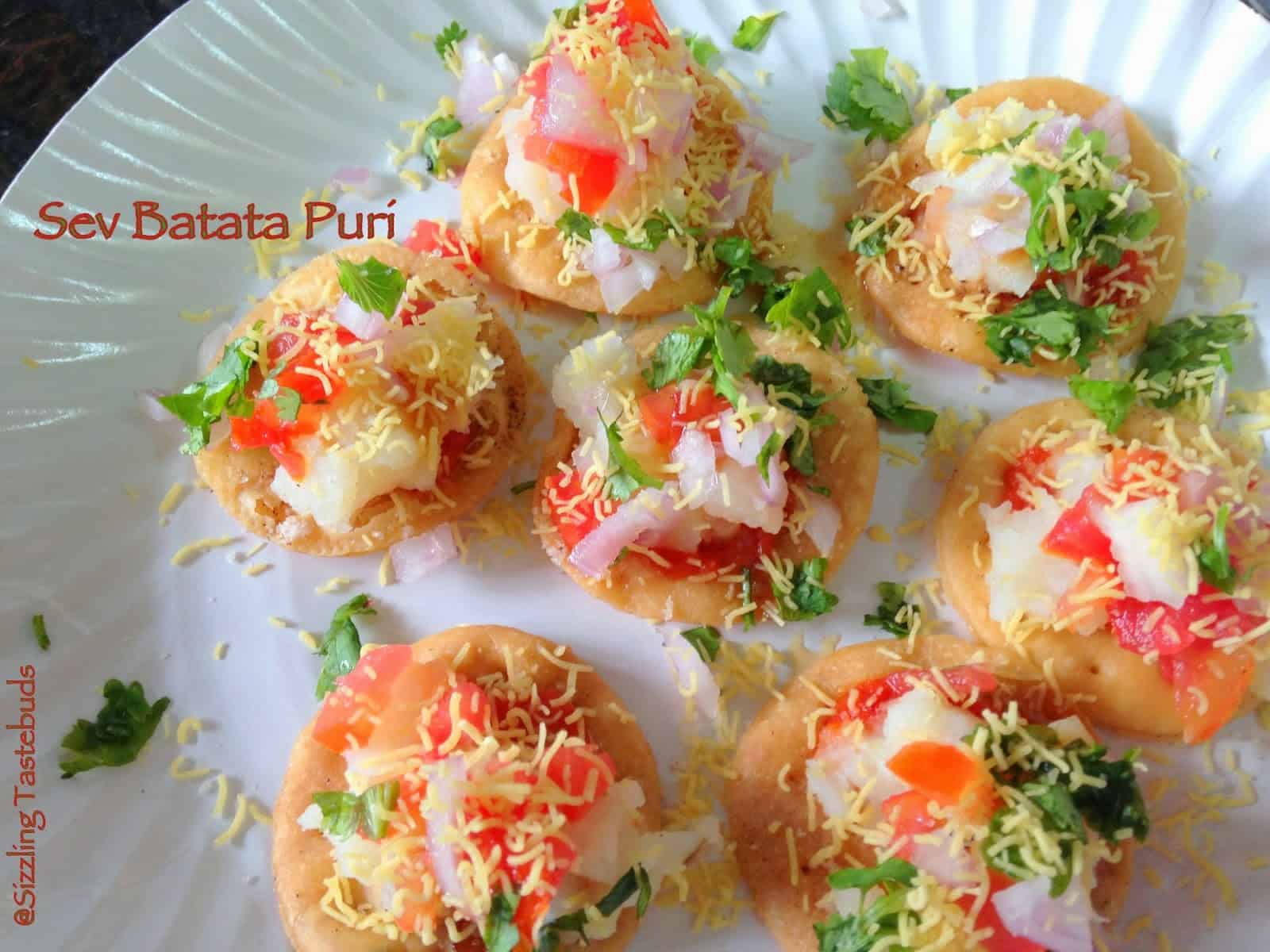 Pin
To make these, you need:
Papdis (about 2 dozen)
Maida / APF – 1.5 cups

Oil – to deep fry

Shortening / ghee – 3 TBSP

Baking powder – ½ TBSP

Salt – to taste

Ajwain /crushed carom seeds – a big
pinch

Asafoetida – ¼ tsp

Red chilli powder – to taste
To assemble the Sev Batata puri (serves : 4)
Boiled potato – 3 nos

Onions minced fine – ½ cup (optional)

Tomatoes – deseeded and minced
fine – 1 TBSP
Red chilli garlic paste –1 TBSP
Tamarind Dates Chutney– 3 TBSP
Green chilli Chutney – 1 TBSP

Boiled corn – ¼ cup

Chaat Masala – 1 tsp

Jeera powder /roasted cumin powder
– ½ TBSP

Red chilli powder – ½ tsp

Sev / fine Ompudi – to top

Freshly chopped coriander – a handful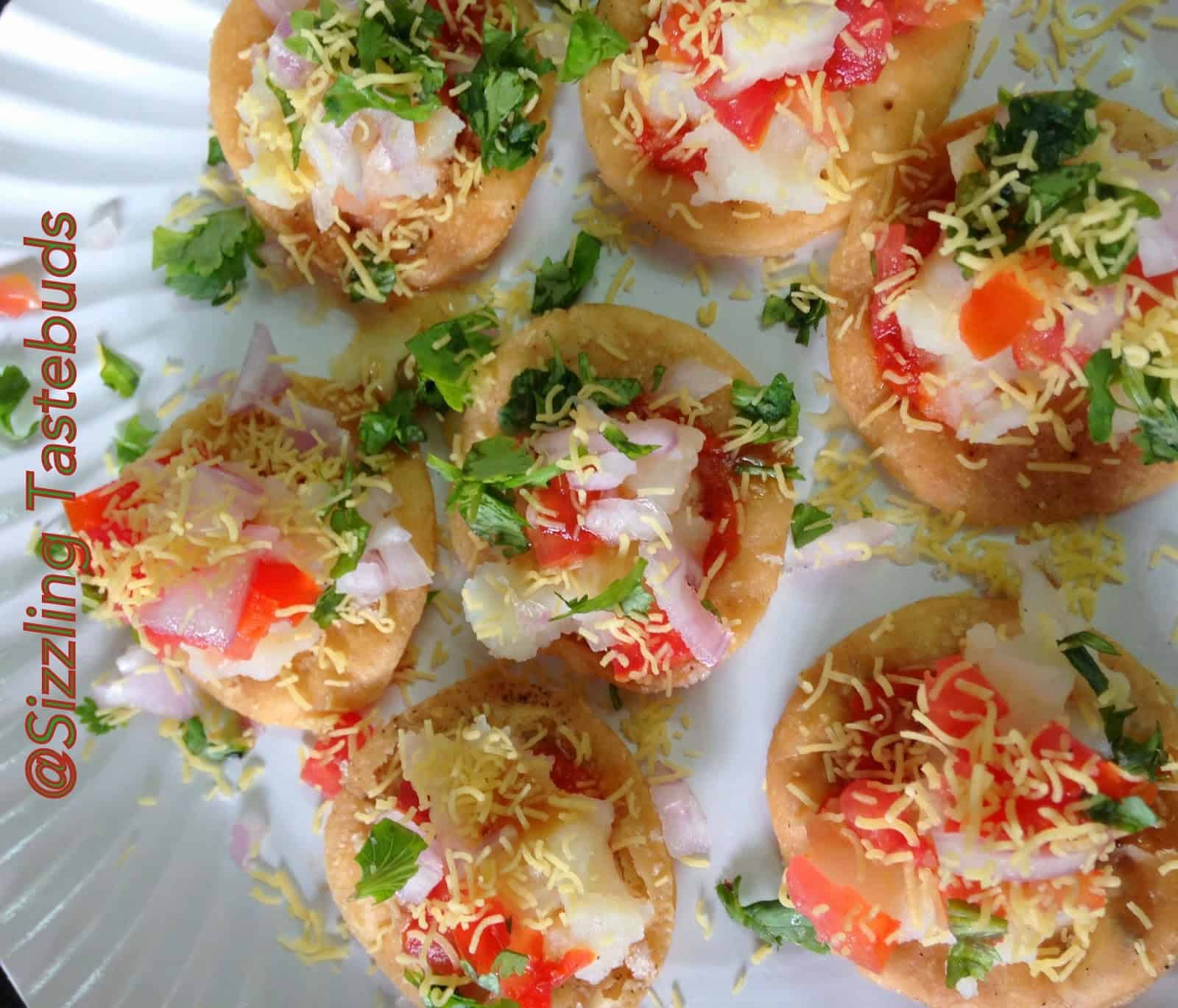 Pin
To make the papdis
Sift flour with salt and baking powder.
Add warm ghee / shortening and rub into the flour till it resembles
breadcrumbs. Add the rest of the dry ingredients except oil and mix well. Now Add
warm water little by little and make into a stiff dough. Apply a little oil and
let it rest under a damp towel for 15 mins.

Pinch out a medium-large roundel
and roll out a largish dish (slightly thick, but not too thin either). With a
cookie cutter or a bottle lid, cut out discs, and prick all over with a fork to
prevent puffing. Meanwhile heat the oil for frying. When its moderately hot,
fry the discs on both sides and drain on absorbent paper.

Store well in airtight containers for upto 8-10 days
To make the sev batata puri
Mix the mashed potatoes, onions
(if using), boiled corn, salt, chaat masala, red chilli powder in a large bowl
and keep aside.

Assemble

the papdis on a plate. Spoon over a light
film of these two chutneys. Add mashed potato mixture over it.

Top with tomatoes, jeera powder, sev and
coriander leaves and serve immediately.