This week we present some festival recipes. And its a savoury dish thats served in Pongal at our home. Kids are now getting picky with the usual Ven Pongal & Chakkarai Pongal varieties, so we have ventured to make other varieties on festival days – both from an intention to consume millets / whole grains and also as a break from the usual fare.
The pongal Menu is quite exhaustive at our home : Rasam is usually not made that day and that feast would be presented shortly. And any variety of Pongal cooked for the festival is eaten for breakfast (post the puja) and then we begin the lunch preps. Carbs / calorie count is for another day, isn't it? :-))
Today, do enjoy this Rava Pongal that Amma made and I loved to click (what bliss, right?;)) It's a signature dish of Amma's which she learnt from my youngest aunt (Mami) who makes this pongal spot on, every time we visit her!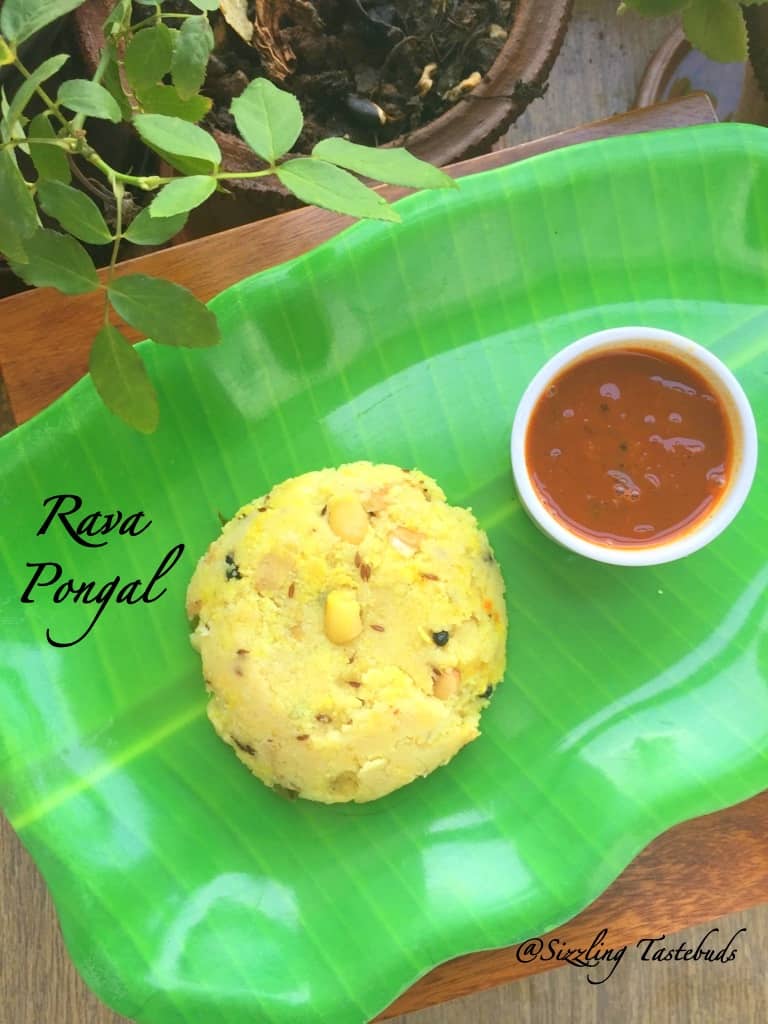 Pin

Do not scrimp on ghee, else you would get a dry consistency of this pongal which isnt appeasing. and yes , like most pongal varieties, this needs to be had piping hot as is or with Tiffin Sambhar / Coconut Chutney /coriander – coconut Chutney / Thakkali Chutney/ Gothsu (Spicy tamarind gravy : our preferred side dish)

Off to the recipe. Before that a few more pongal varieties from my kitchen

Prep time : 10 mins, Cook time : 20 mins ,serves : 4

Semolina – Green gram Pongal | Rava Pongal | Dinner Ideas

Ingredients:
Rava / Bombay Rava / Sooji – 1 cup
Moong dal / split green – 1/4 cup
Hot water – 2 cups (used as needed)
Ghee – 3 TBSP
Salt – to taste
Jeera (cumin seeds) – 1 tsp
Crushed pepper – 1/2 tsp
crushed / grated ginger – 1/4 tsp
Asafoetida / Hing – a generous pinch
Turmeric – a small pinch
Cashew bits – 1/2 TBSP
Curry leaves – few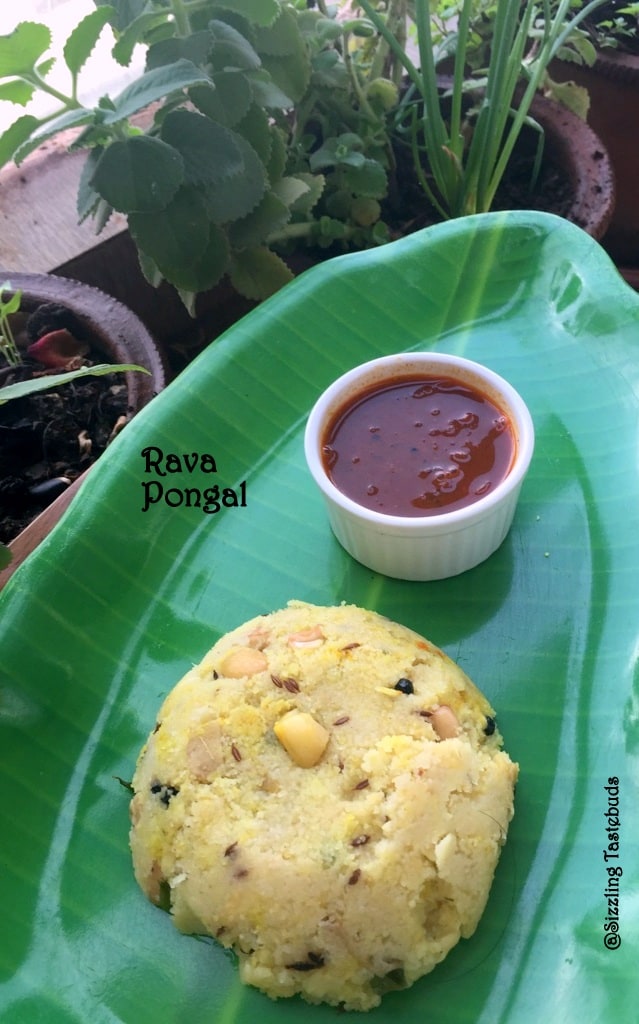 Pin



Method:
Dry roast cumin, pepper. Powder this coarsely with the ginger & curry leaves (without any water).
In a pan, heat 1 tsp. Roast the moong dal till nice aroma wafts out. Transfer to a plate. Soak the moong dal in 1/2 cup of water for 20 mins.
In the same pan, add 2 TBSP more of rava / sooji and roast like you would roast for Upma.
Bring 2 cups of water to a rolling boil, add a pinch of turmeric and boil the soaked (and drained) Moong dal and cook till dal is just cooked but still firm
Drain the water and reserve it.
In a non stick pan, add the remaining ghee, fry cashew. Add hing, rava, salt. stir well. Cook with 2 cups of reserved hot water (adding more hot water to make up 2 cups totally).
Once the rava is cooked, add the powdered cumin-ginger-curry leaves-pepper mixture, moong dal and mix well.
Cook covered for 1 more min till it reaches Upma consistency (porridge like but not too runny or too dry).
Check for salt and spices and serve hot with coriander – coconut Chutney / Tiffin Sambhar or even Gothsu
Sending this to BM # 72 under "Festival Recipes" Theme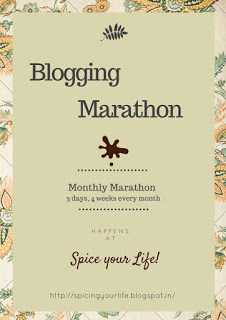 Pin