Many years ago, while in Delhi during winters, the husband and I decided to brave the cold weather and ventured from the hotel we were staying, towards Janpath and CP. I think it must have been around 6:30 pm and it was pretty dark already and what seemed like fun wasnt at all ! I was chilled to the bone, and all our efforts to find a quick supper along CP proved pointless – there was a mile-long queue of wannabe diners at Saravana Bhavan, and we really thought we should have some 'non-south' indian fare – we walked and walked and walked about a mile past shut doors and closed markets – almost like a curfew.. At the end of it, I couldnt take the tummy rumblings any longer, and decided that I need some food. S made a few calls to his friends @ Delhi, and we were told that owing to Sunday, most markets were shut.sigh.. Now even to get back to the hotel, we had left our car behind in some parking place @ CP (and hoped it would be there), but there was the hunger issue to handle 🙂 Till, till, we saw what was a flicker of candle, and moved towards that like fireflies 🙂 It turned out to be a vendor selling Rathaloo Chat (at that point, my culinary dictionary didnt know what that meant).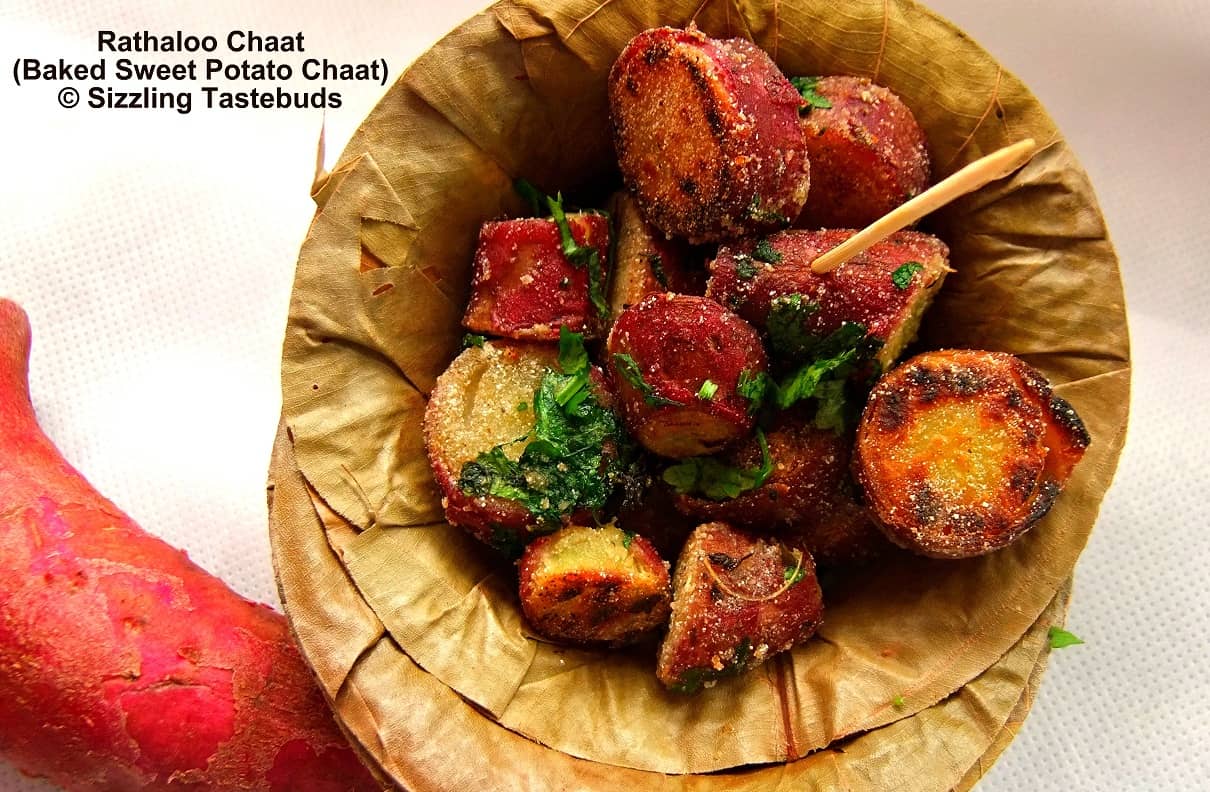 Pin
I believe it is also known as Shakarkandi. I asked what it was – veg / non veg ? .. although the distinct aroma of the sigdi (coal stove) was tempting with the wares he sold, but I just wanted to know if it was vegetarian. He didnt know what they called Rathaloo in english. Finally, after what seemed ages, I agreed to have it (read gulp it), and it seemed like heaven. The roasted sweet potato (and that's what Rathaloo meant! silly me :-)) along with the fiery chutney and chat masala was exactly not 'supper' but I came to love another Delhi street food (along with Golgappas) and have today tried to re-create that magic in my kitchen 🙂 Although you can make this quick snack throughout the year, the fresh pink-skinned veggies are extra tasty during the winters. Like theSweet potato croquetes, patties or even thebaked Samosa, my family seems to prefer this veggie a lot. This goes to the following events:
Radhika's Winter Carnival, Sangee's BakeFest-event byVardhini & Priya's bookmarked recipes
Prep time : 10 mins. Cook time : 10 mins. Serves: 2
Adapted from here
Ingredients: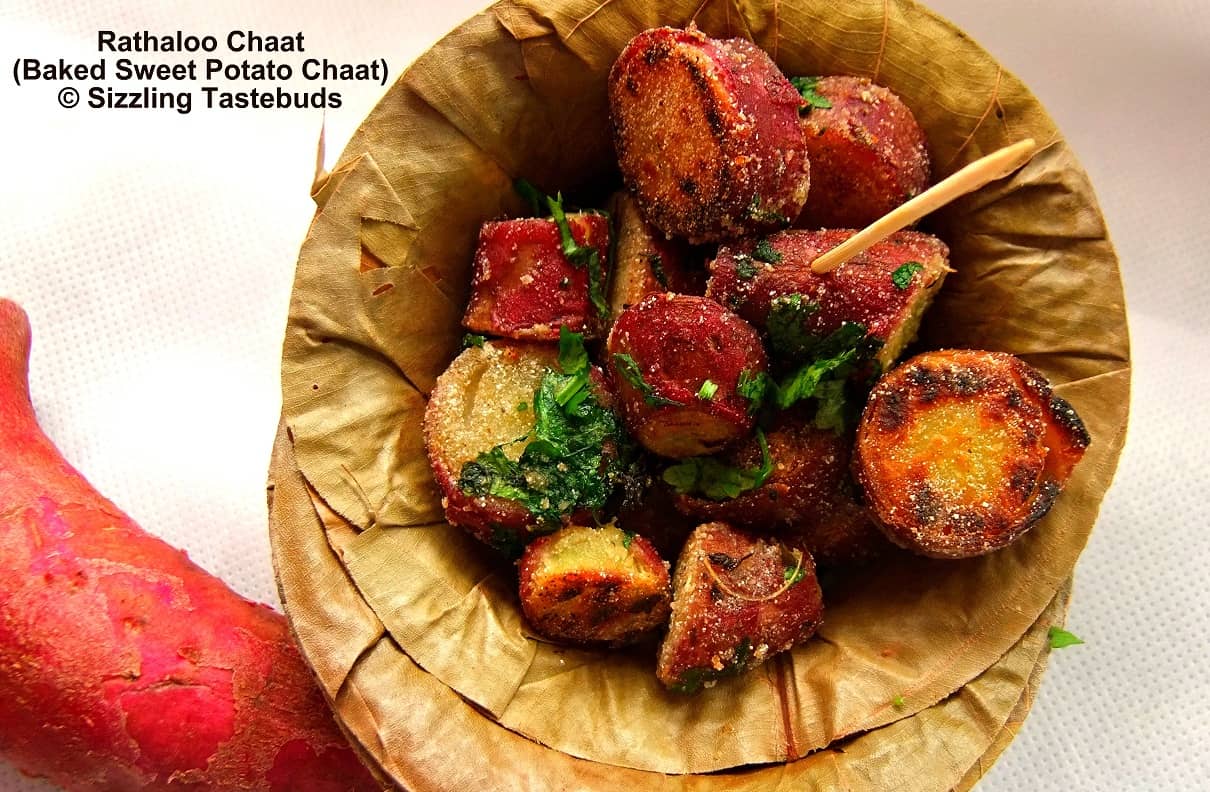 Pin
Boiled Sweet potato – 2 large
Onions – minced – 1/2 cup (opt.)
Green chutney – 2 TBSP
Meetha / sweet chutney – 1 tsp
Salt – to taste
Green chillies – minced – 1/4 tsp.
Chaat Masala – 1 tsp
Red chilli powder – 1/2 tsp
coriander leaves & lemon juice – for garnish
Sev / ompudi – for garnish (opt.) : I didnt have any, so skipped it
Method:
1) Wash and slightly peel the sweet potatoes ( I like to keep it with the skin on). Bake at 170 C for 10 -15 mins till slightly crusty.
2) Cool and cube them (with the skin on)
3) In a large bowl, mix all the ingredients. Add the cubed veggies and toss once. Serve hot topped with lemon juice , coriander and sev ! Superb wintery bliss, and a no-oil snack at that 🙂 You couldnt beat that !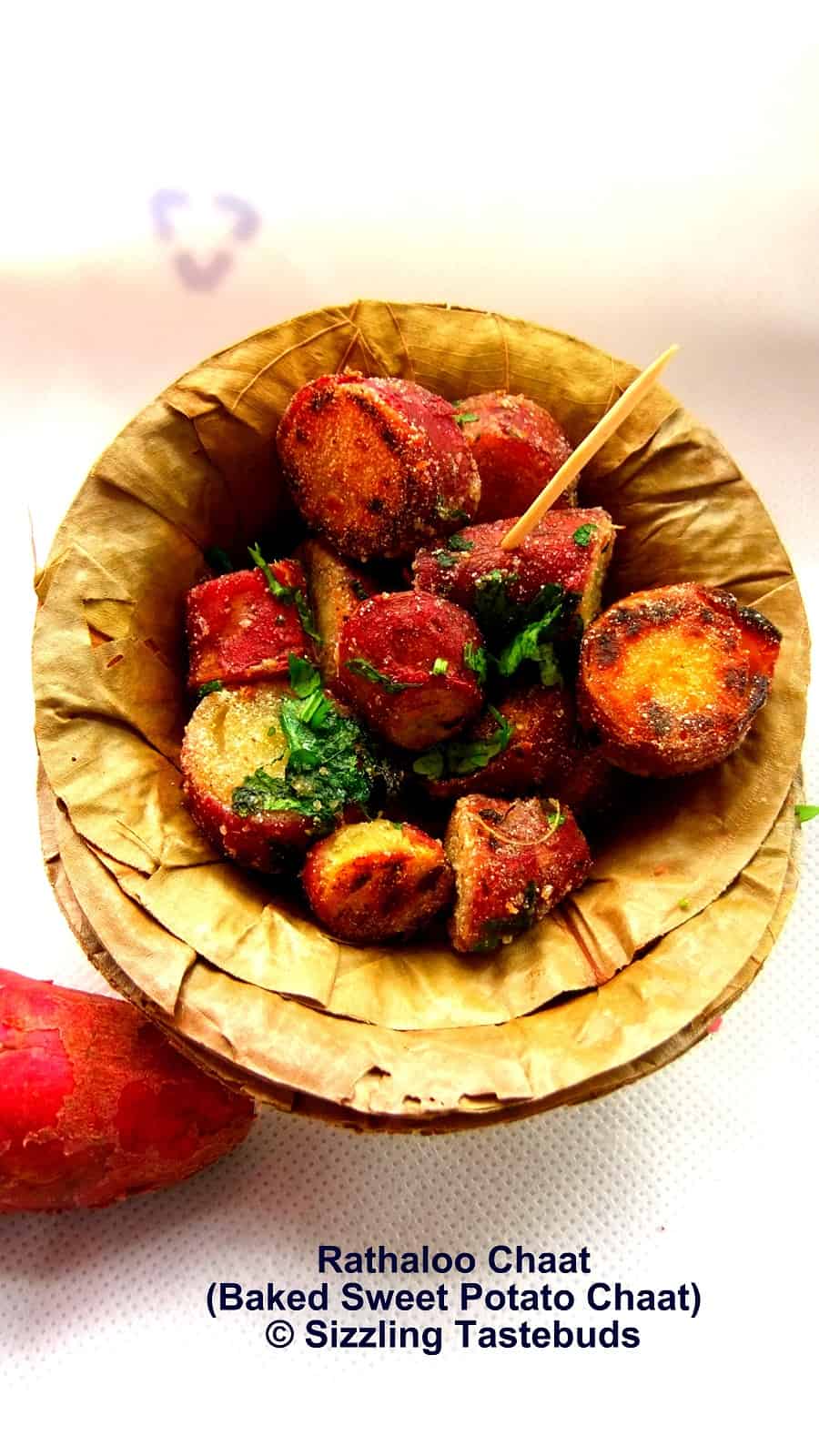 Pin