Low fat Paneer Makhanwala ?? That's the message I read on hubby's face as I planned my dinner menu last night. I have my husband's nephew who orders either Paneer Makhanwala or Paneer Butter Masala everytime with Butter Kulcha everytime he goes out : so much so that they have stopped asking him what he wants to eat. Today's dish is a take on the same – and adapted from here, I chose to make it as low fat and low cal as possible. We enjoyed it Butter Kulcha, and my daughter now says I need to make Paneer dishestwice a week instead of only Sundays… Mission accomplished : I had satisfied my fussiest eater 🙂 
This dish goes to :
Radhika's Winter Carnival 
Day 1 ofBlogging Marathon – Winter Foods for Nov'11. 
Only Curries – event by Pari, hosted by Kamalika
Do check out my fellow marathoners here. 
Check out other side dishes for Rotihere.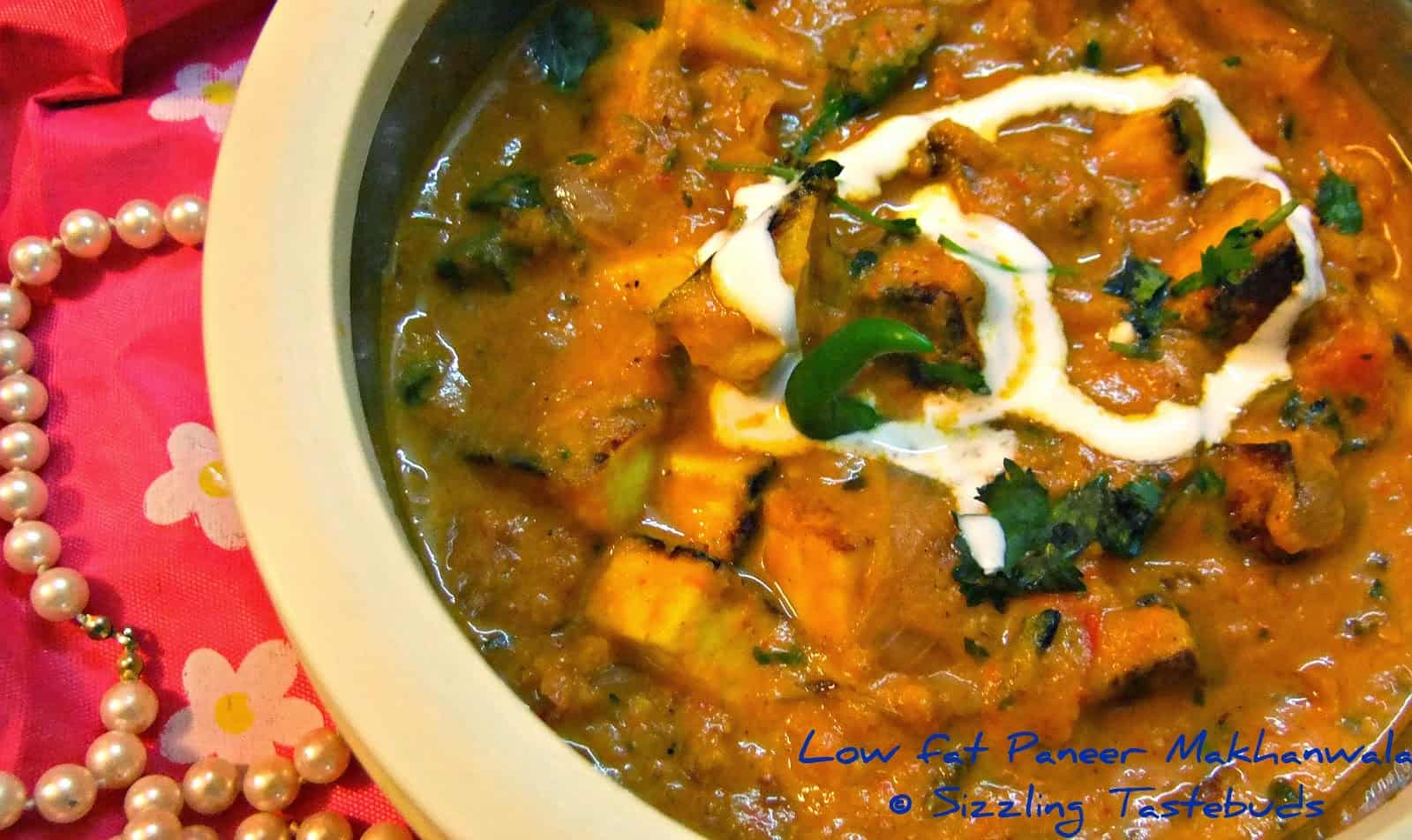 Pin

Prep time :15 mins.Cook time :15 mins.Serves: 4

Ingredients
Paneer / Cottage Cheese – 200 gms
Onions – 3 large (split use) – chopped thin vertically
Tomatoes – 3 large
Salt – to taste
Butter – 1/2 TBSP
Ghee / Clarified butter – 1 tsp
olive Oil – 2 TBSP
Milk – 3/4 cup
To grind:
Onions (caramelised)
Poppy seeds – 1/4 tsp
Cashew – 3 or 4
Garlic – 1 pod
Ginger – 1/2 inch
Green Chilly – 1 no
Red chilly (Kashmiri) – 1 no.
Dry Masalas : 
Garam Masala – 1 TBSP
Red chilly powder – 1 tsp
Kitchen king Masala – 1/2 TBSP
Turmeric – a dash
Seasoning:
Kasuri Methi – 1 tsp
Coriander – little
Lemon juice – 1/2 tsp
Fresh cream – 1/4 tsp (opt.)
Method: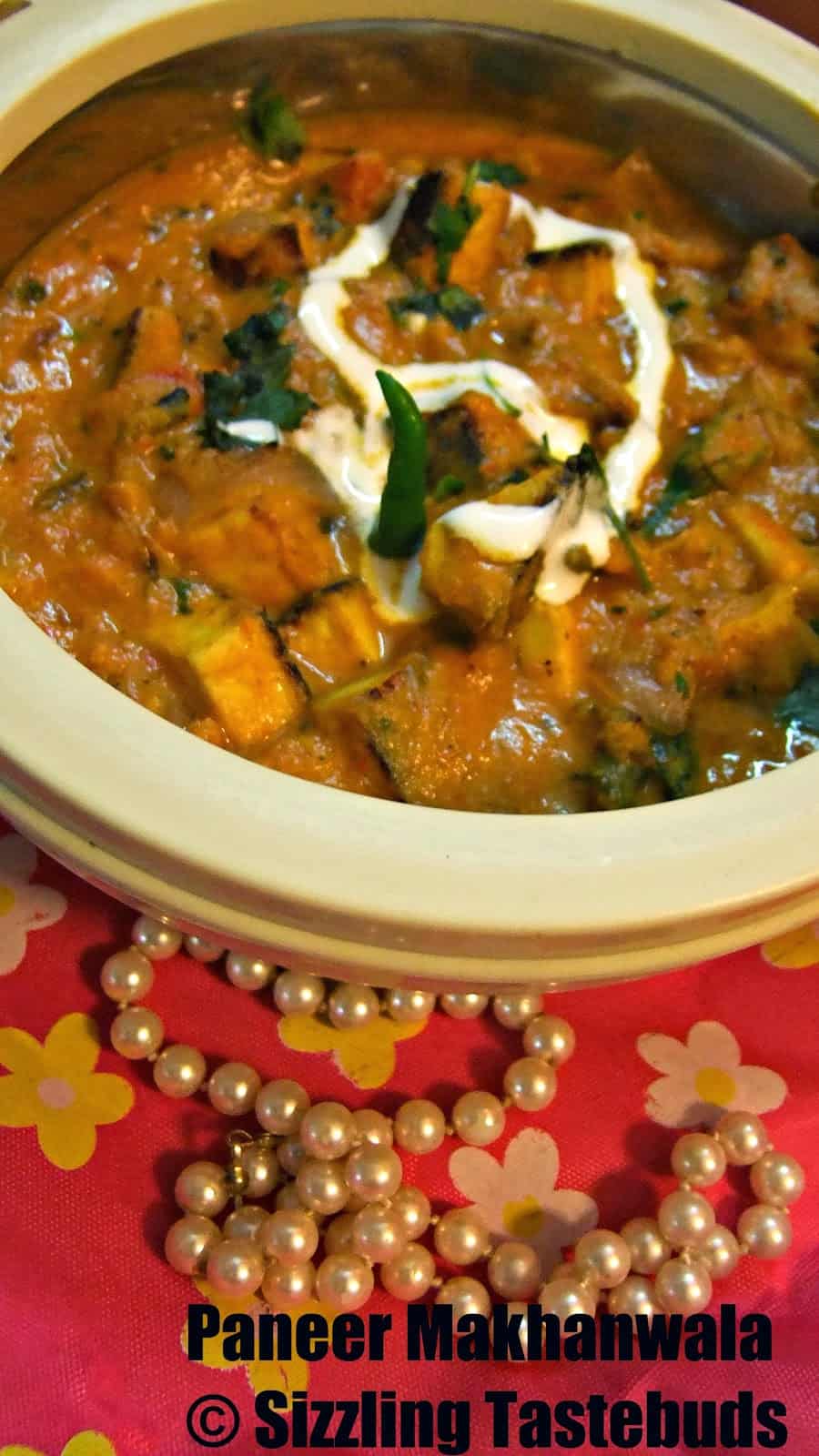 Pin1) In a non stick pan, melt butter and ghee together. Add the paneer chunks and fry them till golden brown and slightly crunchy. Drain on paper towels and immerse in luke warm water for 4-6 mins. 
2) Blanch and puree tomatoes till you get a fine puree. Strain and reserve.
3) Soak cashewnuts in 1/4 cup of hot water for 10 mins.
4) Meanwhile, fry 3/4 of the finely chopped onions in 2 TBSP of oil till golden brown. Add a teeny weeny pinch of sugar to aid quicker caramelisation. Drain on a paper towel.
5) Grind together the caramelised onions with the rest of the ingredients under "to grind" above.
6) In a deep bottomed pan, add 1 tsp of oil. Add the rest of the sliced onions. Fry well. Add the ground masala , salt and fry again. Now add the pureed tomatoes and the dry masalas one by one. When the gravy starts leaving out oil on the sides, add the fried paneer cubes. Mix well.
7) Take it off the fire and add the milk. Cover and sim for 2 – 3 mins.
8) Finish with cream(opt.), coriander leaves, kasuri methi, lemon juice and serve hot with any Indian bread.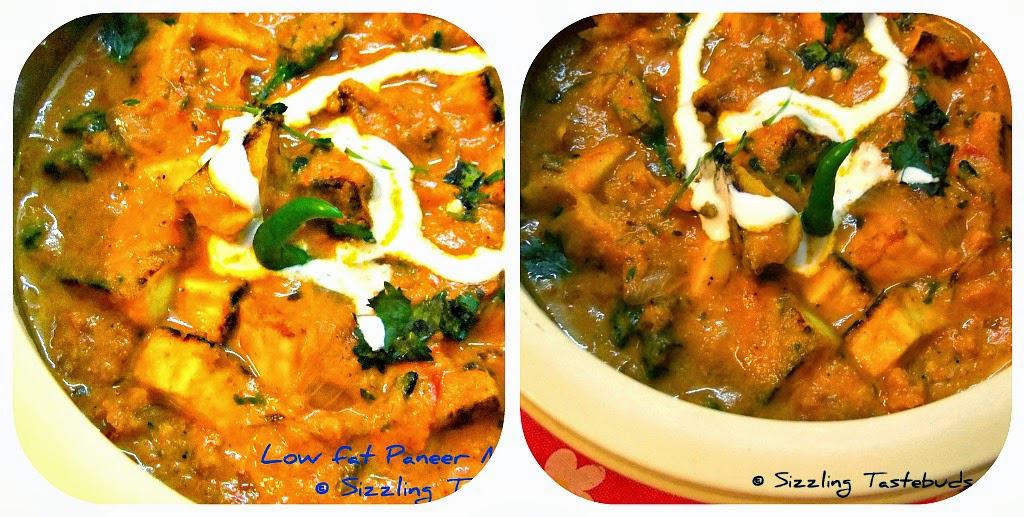 Pin