Food as medicine. In the days of yore, this was the mantra that our ancestors used to treat everyday (and sometimes chronic illness). Call it Ayurveda / home remedy / Unani, herbs and spices in an everyday kitchen was used to treat ailments. My grandmother's kitchen was a treasure trove of these quick hacks and we didn't realise until we grew up that every time she made these foods (as part of the normal meal), it was actually healing us from within.


Whether it was the Agathi keerai poriyal  made for Dwadasi Paranai (Dwadasi is the 12th day of the Lunar fortnight on which day a special meal is prepared after a day of Ekadasi fasting) or the Chukku kashayam, Ginger Honey Tea (herbal tea) that was regularly made for cough / cold in place of heavy antibiotics or th \e Raw Turmeric Chutney served with Idlis / Dosa  or the Tomato Clear Soup that mom used to feed me or sis during fevers.  Chukku Malli Kashayam (Dry ginger + Coriander Herbal Tea) was to increase appetite or cure a sluggish liver
My favourite however was the ultra delicious Rava Kanji (Semolina pudding) that we were allowed to drink up as dinner in place of rice when recovering from serious illness. Who knew medicine was in a delicious mug of goodness :p
Coming to today's dish – Vepampoo Sadham (or Dried neem flowers rice). This is a delicious vegan and GF dish that's served in small quantities as the first course for upset stomach / indigestion or even as deworming.
Pin

If you have access to fresh neem flowers, clean them and dry them in the shade. If not, you can acces dried neem flowers in any South Indian store (these are sold as condiments). As with any medicine, the quanitiy of neem flowers used in this dish is also little, but has to be had on an empty stomach.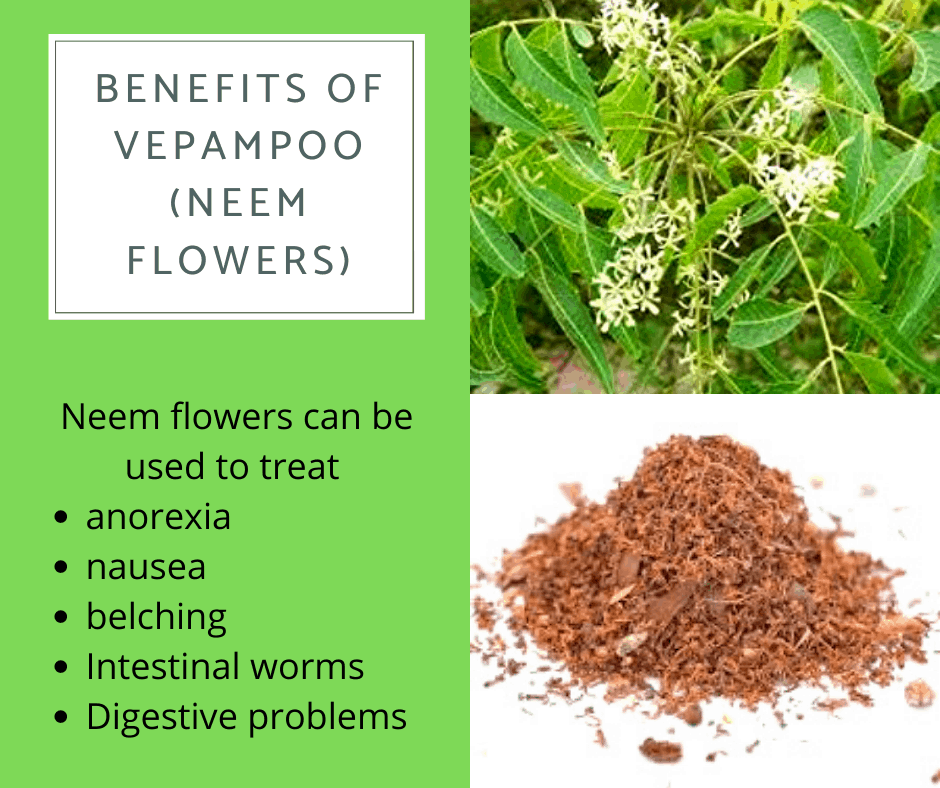 Pin
If you have freshly cooked rice, this takes less than 5 mins to put together. You may use ghee to saute the neem flowers (but some prefer til oil).
PIN FOR LATER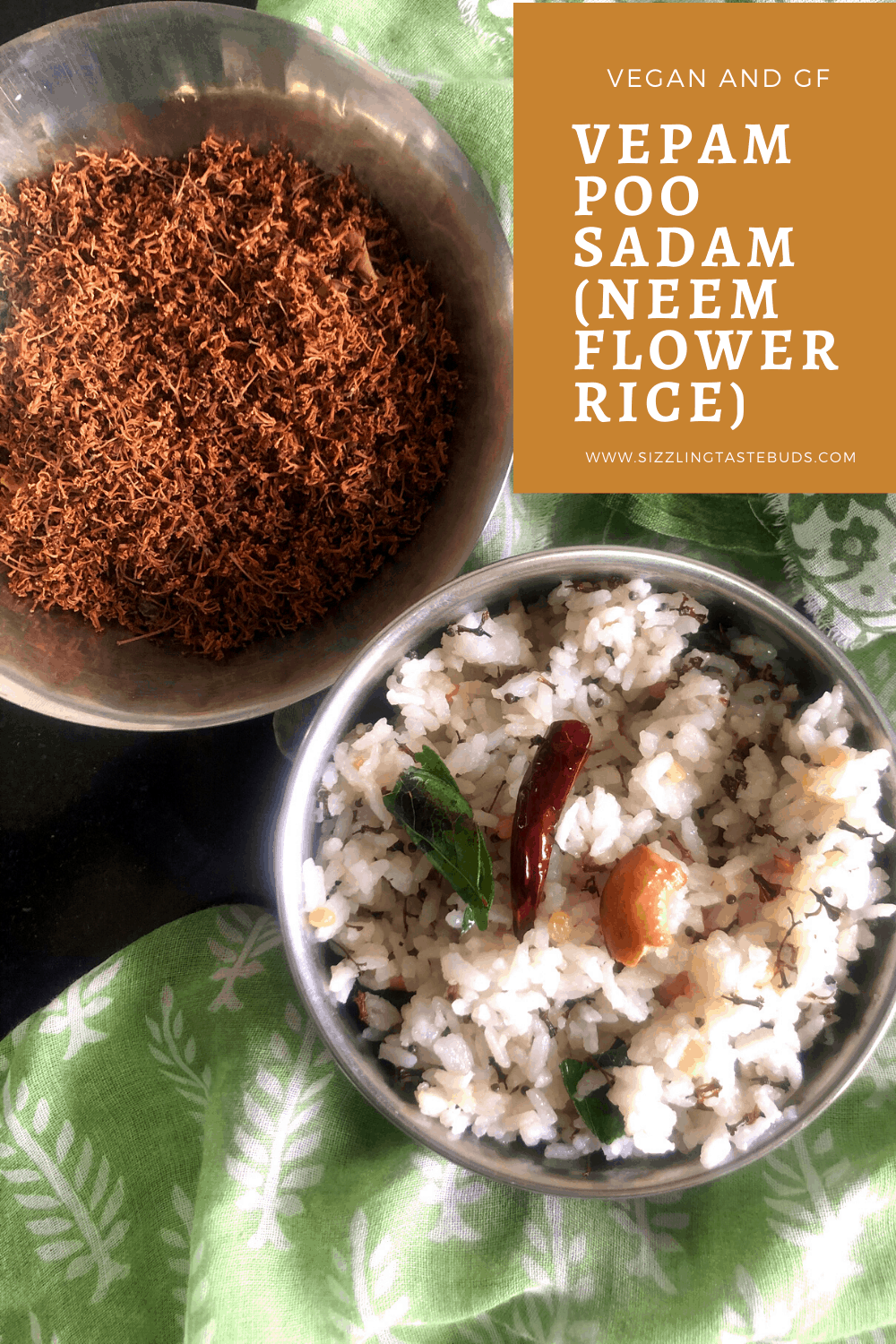 Pin
This is part of the A-Z Recipe Challenge, where we choose an alphabet (N this month) and prepare a dish with the english name of the ingredient. I have choices of Nigella Seeds, Neem and a few others and choose Neem flowers as my main ingredient for this dish.
Pin
Vepampoo Sadam – Dried Neem flowers Rice 
Course : Main Course , Cuisine : South Indian , Spice Level – Low
Prep time – 5 mins, Cook time – 5 mins , Serves – 1
What you need:
Cooked rice – 1 cup
Oil – 1 TBSP (split use)
To fry together: 
Dried Neem Leaves – 1 TBSP
Cashews – 1/2 tbsp
Curry leaves – few
Tempering:
Mustard seeds – 1/4 tsp
Dry red chllies – 1 no (broken into bits)
Asafoetida – a tiny pinch (skip for GF)
Urad dal / split black gram – 1/2 tsp
Cumin seeds / Jeera – 1/4 tsp
Method:
Find the detailed method in this youtube video. Please do leave your valuable comments on the video as well.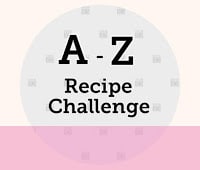 Pin