Gimme capsicum (aka bell pepper or Shimla
Mirch) and I can think instant food. A staple in our weekly veg shopping
list, I ensure I always have bell pepper in hand. Be it Pav bhaji, the ubiquitous Pizza or Vangibhath or Roasted Bell pepper Salad or Sandwich or even the utterly yummy Capsicum coconut curry or Capsicum Raitha, this veggie is my favourite, and
I like it in most ALL forms. 
My daughter thankfully has acquired this gene, and eats it without fuss. My
husband though is a recent convert to this veggie and has started having this
sporadically although he says he eats it out of complusion…. Well, well, that
was not the case for he took a second helping with these yummy to make and
truly quick Indo-Mexican fare of Rajma-Pepper Quesedillas. I
grabbed the opportunity when Valli announced the Capsicum cooking theme for
this week's Blogging Marathon and today's the first of the 3-day series… stay
tuned for more…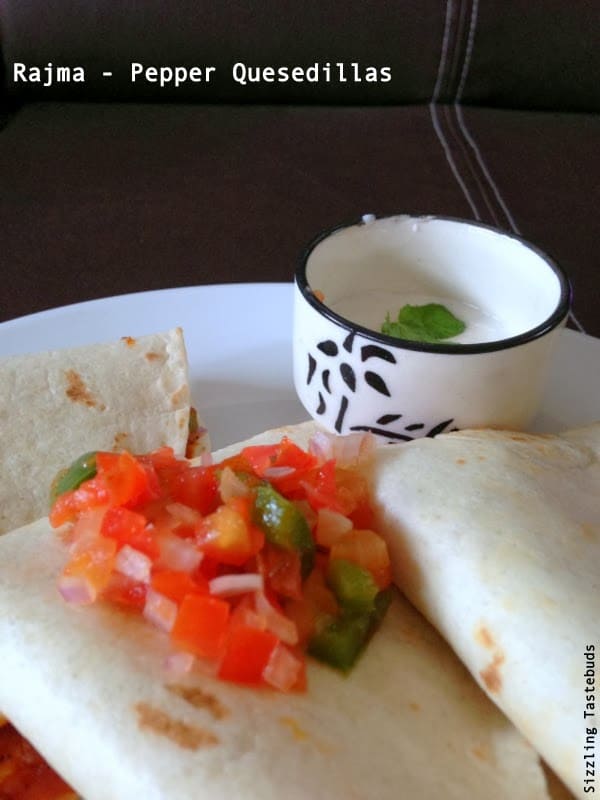 PinPin

A quesadilla (/ˌkeɪsəˈdiːjə/, Spanish)
is a flour
tortilla or a corn
tortilla filled with a savory
mixture containing cheese, other ingredients, and/or vegetables, (often) then
folded in half to form a half-moon shape.This dish originated in Mexico, and the name is derived from tortilla and the
Spanish word for cheese queso. – so tells me Wikipedia. So,
there it was a win-win treat all the way letting me to a new discovery of blending
Rajma with Peppers for an utterly delish weekend meal. I have given the method
to make the salsa and Sour Cream too in the same recipe. So, jack up your
sleeves and get ready to dig in…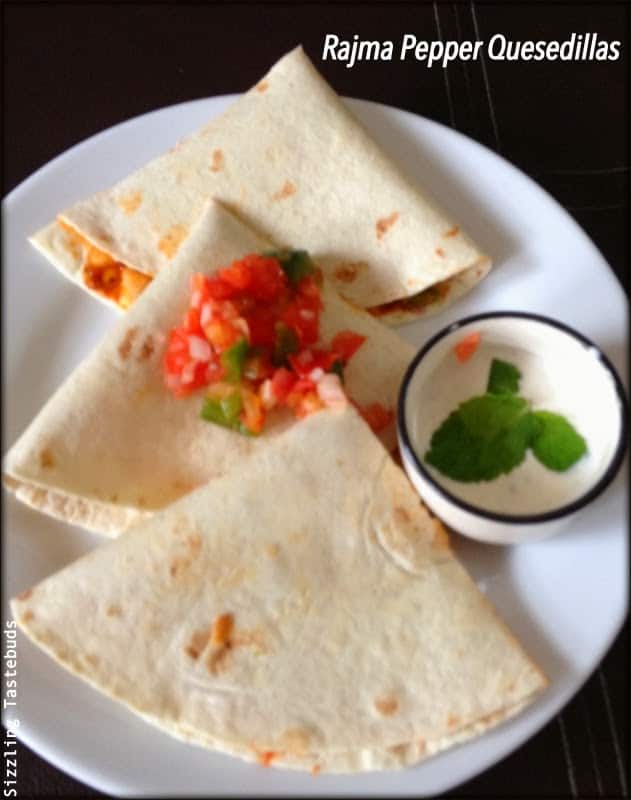 Pin
Prep time : 30 mins | Cooking time : 10 mins | Serves
: 4
Serving suggestions : Salsa, Sour Cream
Ingredients:
(A) Quesedillas: 
Whole wheat Tortillas (I used store bought, you
can make your own too) – 4 nos
Cooked Rajma (I soaked and cooked it with salt,
but you can use the canned version) – approx 2 cups
Chopped Bell peppers – 1/2 cup
Onions – 1 large
Cheese – for topping (optional – I used it only
for the kiddo's portion)
Oil – 1 tsp (or use cooking spray)
Salt – to taste
(B) Salsa:
Red bell peppers – 1 cup
Tomatoes (deseeded and chopped) – 1 cup
Green chillies – 2 to 3 (deseeded and chopped)
Honey – 1 TBSP
Salt – a pinch
Black pepper powder – 1/2 tsp
Tomato Sauce – 2 TBSP
Red chilly sauce – 1/4 tsp
(C) Sour Cream Dip:
Hung Curd – 4 TBSP
Fresh Cream – 3 TBSP
Lemon juice – 1 tsp
Sugar – a pinch
Mint leaves – for garnish (alternatively you can drizzle a pinch
of dried mint powder)
White pepper powder – 1/2 tsp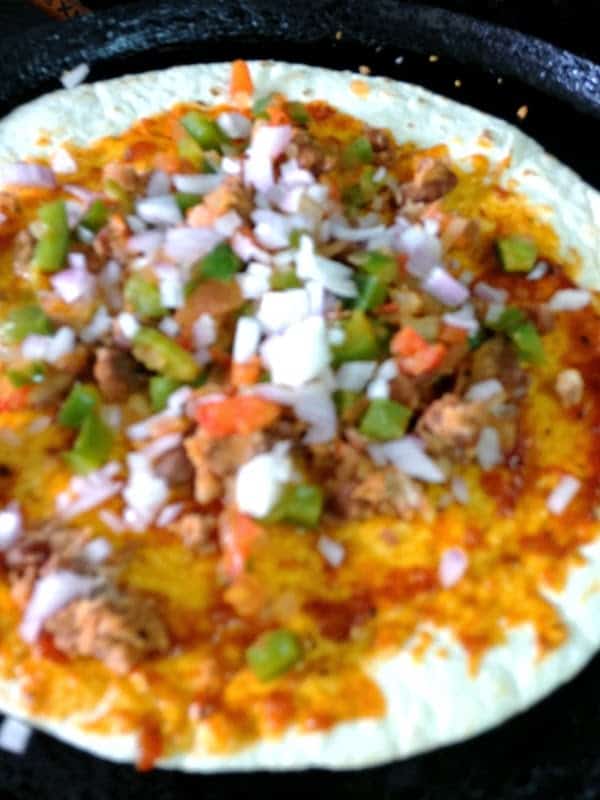 Pin
Method:
First prepare the salsa – mix all ingredients except salt. Freeze for 1 hour
before serving or blast freeze for 15 mins
To prepare the sour cream dip – Whisk the hung curd and fresh cream well. Add
the lemon juice and sugar and mix again. Mix in the white pepper powder,
Transfer to serving dish and chill thorughly
For the Quesedillas:
Drain all water from the cooked Rajma (if using canned, rinse and
drain). Coarsely blend to a semi nutty consistency. In a bowl, mix the Rajma
meal, chopped pepper, half the onions, salt and mix well.
Heat a tava / skillet, spray very little oil. Place the tortilla on it and let
it lightly roast on both sides – about 10 seconds . Now spread the rajma-pepper
stuffing on it as shown. Top with cheese (if using) and the onions. Fold into
quarters
To Serve:
Place the Quartered Quesedillas, top with chilled salsa and serve with Sour
Cream dip ! enjoy !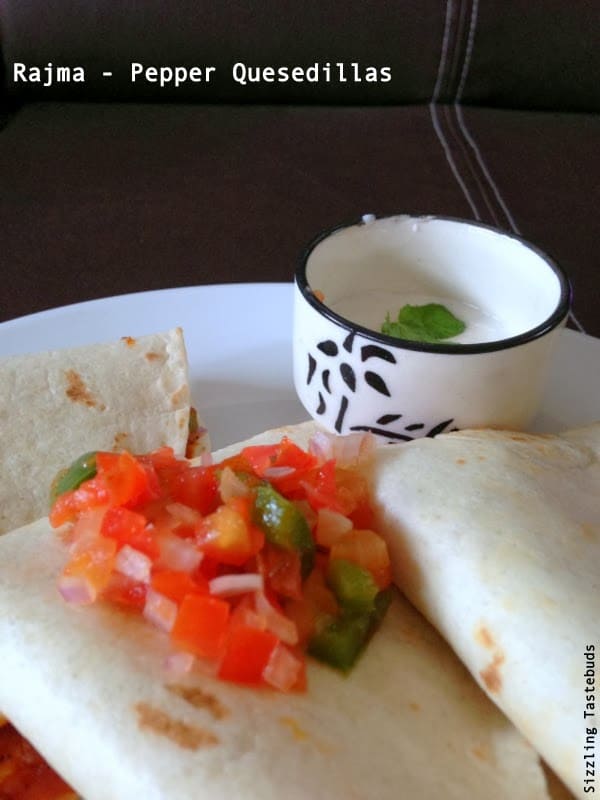 PinPin
Notes:
1) Ensure the tomatoes in the dip are deseeded. else a runny salsa
will form up
2) Once the quesedillas are topped with salsa, serve immediately
to avoid a soggy meal
3) Adjust spice to salsa and dip accordingly.
4) You may also make this dish, but as I didnt use cheese for the
husband and me, a tava-grilled version suited us perfectly.