After Morocco, we move to Nigeria –  another African country
today. I shall keep this post small and quick as the dish too is real quick and
spicy and just too addictive. 
Presenting Nigerian Ojojo (or Yam
fritters) – a popular street food of Nigeria. Pronounced as Or-Jor-Jor, the
original recipe used grated water yam and then dipped into a flour base, deep
fried. Considering that cleaning and prepping the yam is a pain, and as I had
access to diced yam, I quickly made a batch of these for the evening snack and
they were gone before I could click. 
Luckily I had a portion kept away for the
husband, and that came handy. Kids loved it (who doesnt like deep fried food).
So, if you are a fan of bhajias and pakoras, you might like these Nigerian Yam
fritters (I will try the grated version next time). A perfect snack with your
evening tea.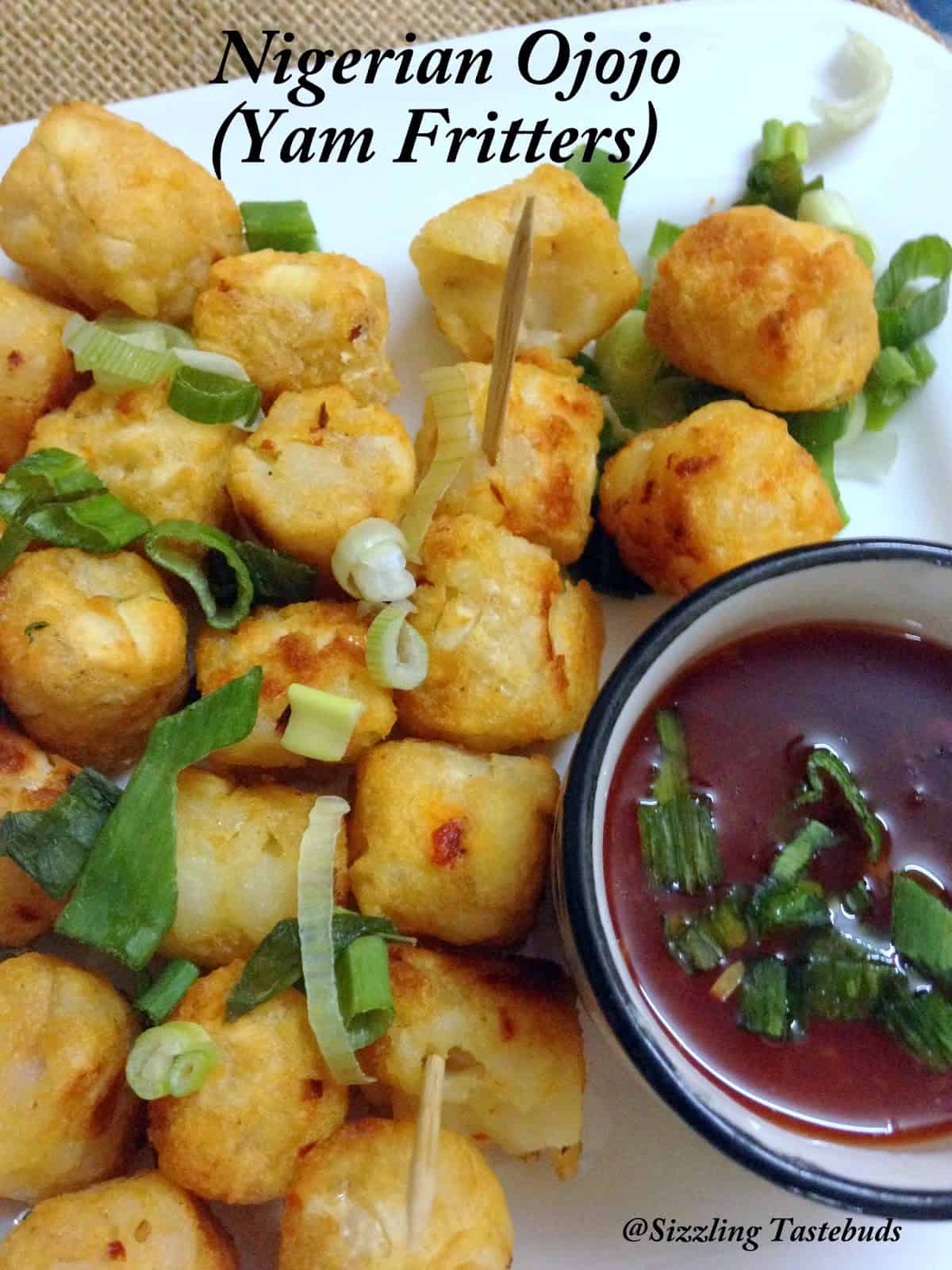 PinPin

Adapted from this recipe. 

5 quick facts about Nigeria
The country is located in West Africa and shares land borders with
the Republic of Benin in
the west, Chad and Cameroon in
the east, and Niger in
the north. Its coast in the south lies on the Gulf of Guinea in
the Atlantic Ocean.
Things Fall Apart by Chinua Achebe is
Africa's most popular and best selling literary piece ever, translated into
over 40 languages across Africa and the World (I have read this book, and its
truly a class apart)
Nigeria is often referred to as the "Giant of Africa",
due to its large population and economy.With approximately 174 million
inhabitants, Nigeria is the most populous country in Africa and the seventh most populous country in the world.
Nigerian cuisine, like West African cuisine in general, is known
for its richness and variety. Many different spices, herbs and flavourings are
used in conjunction with palm oil or groundnut oil
to create deeply flavoured sauces and soups often made very hot with chili peppers. 
 Nigerian feasts are colourful and lavish, while aromatic market
and roadside snacks cooked on barbecues or fried in oil are plentiful and
varied.
*************
Country : Nigeria
Dish : Ojojo (Water yam fritters) – a popular street food
Spice level : Medium
Serving suggestions :  Soup or with Tomato ketchup
Prep time : 15 mins | Cook time: 10 mins | Serves : 3
Adapted from Dobby's
recipe
Ingredients:
Water yam / yam – peeled and grated (I cubed it)  – 1 cup
Onion powder – 1 TBSP (or you could use pureed onion – 4 tsp)
Rice flour – 5 TBSP
Besan / gram flour – 1 TBSP (Opt. but I used it)
Turmeric – a dash (opt.)
Cornflour / Maida – 3 TBSP
Salt – to taste
Pepper powder – ½ tsp
Ginger garlic paste – ½ tsp
Oil – to deep fry
Garnish – spring onion (diced)  – totally optional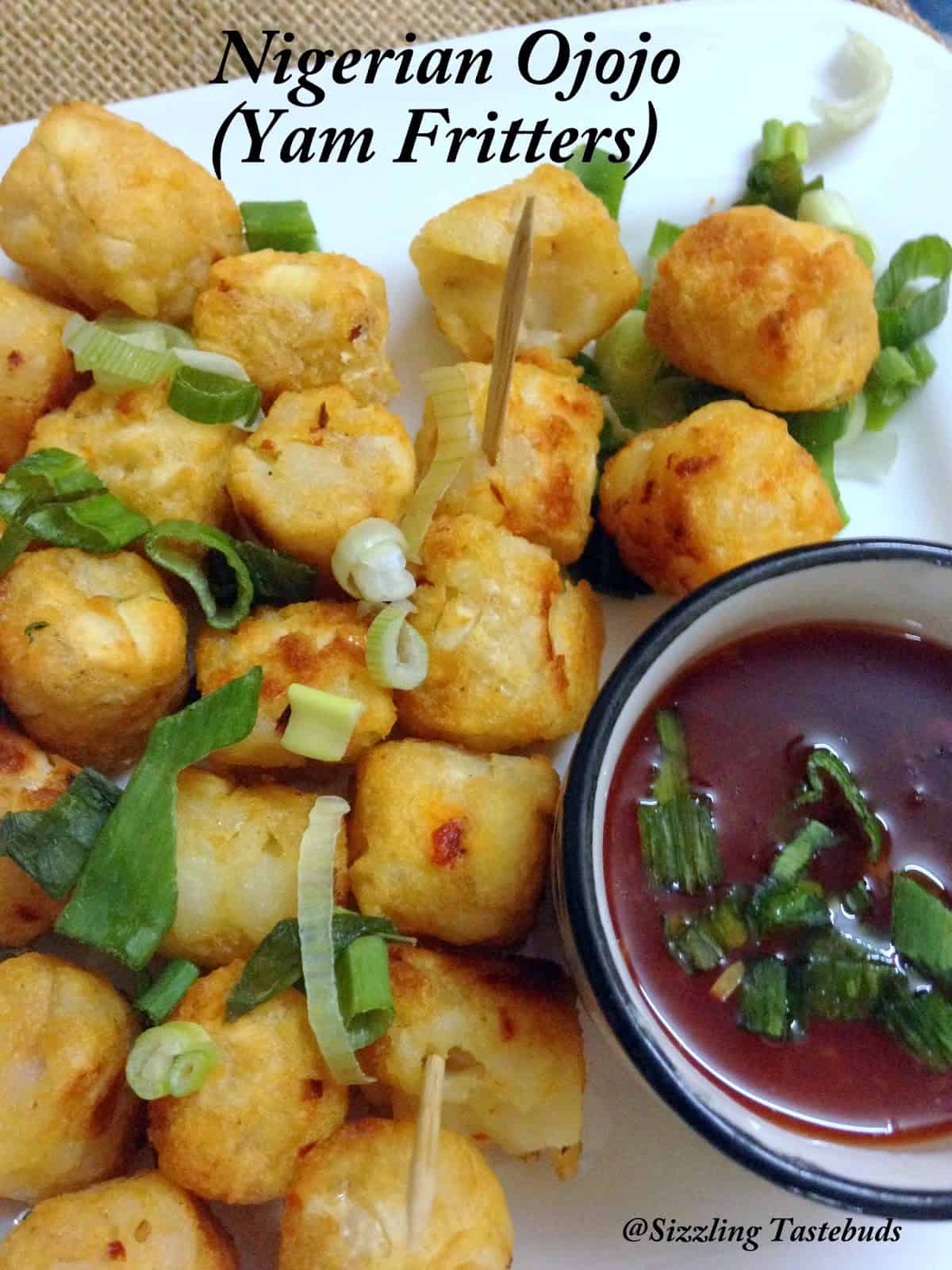 PinPin
Method:
Mix the flours, salt, ginger garlic paste, pepper, onion powder/
puree and add 1-2 TBSP of water to make a slurry mass.
If the yam is grated, no need to add further water. But if using
cubed yam, add 1 tsp of warm oil, and mix in the cubes.
Let it rest for 3- 4 mins.
Heat oil. When it reaches the right temperature, fry the fritters
in batches, and drain on absorbent paper
Serve hot with tomato sauce.
Lets see what the other marathoners have dished out for the World
Blogging Marathon