Navratan Pulao was one of the first dishes I listed down for this BM, and it didn't change till I cooked it (although I did waver out thinking I would make Nasi Goreng with millets, but that didn't happen).
As mentioned during this Mega Marathon and earlier too, my little one loves pulao and I was very sure she would love this non-spicy Navratan pulao too ! and she did 🙂 and so did we all. The surprise was my elder one asking for a second helping as she's not into pulao or any rice for that matter 🙂


PS – this is the FIRST ever video made exclusively by my elder one – full marks to her.. 🙂 I hope you would watch the video and encourage us (her!) to make more for the blog 🙂
Like many more dishes on this blog, my dad introduced me to this while dining out during our monthly restaurant outing. We have had lovely memories of eating this (rather sweet-ish) pulao with some yummy vegetable gravy and Naan / Roti when North Indian food had started making its entry slowly but surely into Bangalore's Udupi-dominated kitchens.
This is a rich and slightly time taking pulao, but the ingredients are simple and available everyday. Do make this for your next party / potluck. The seemingly easy pulao would surely be the star of the occasion. Pair this with any spicy gravy like Shahi Paneer Masala / Mughlai dish / Nargisi Kofta Curry (raita would not work well) and you have a winner !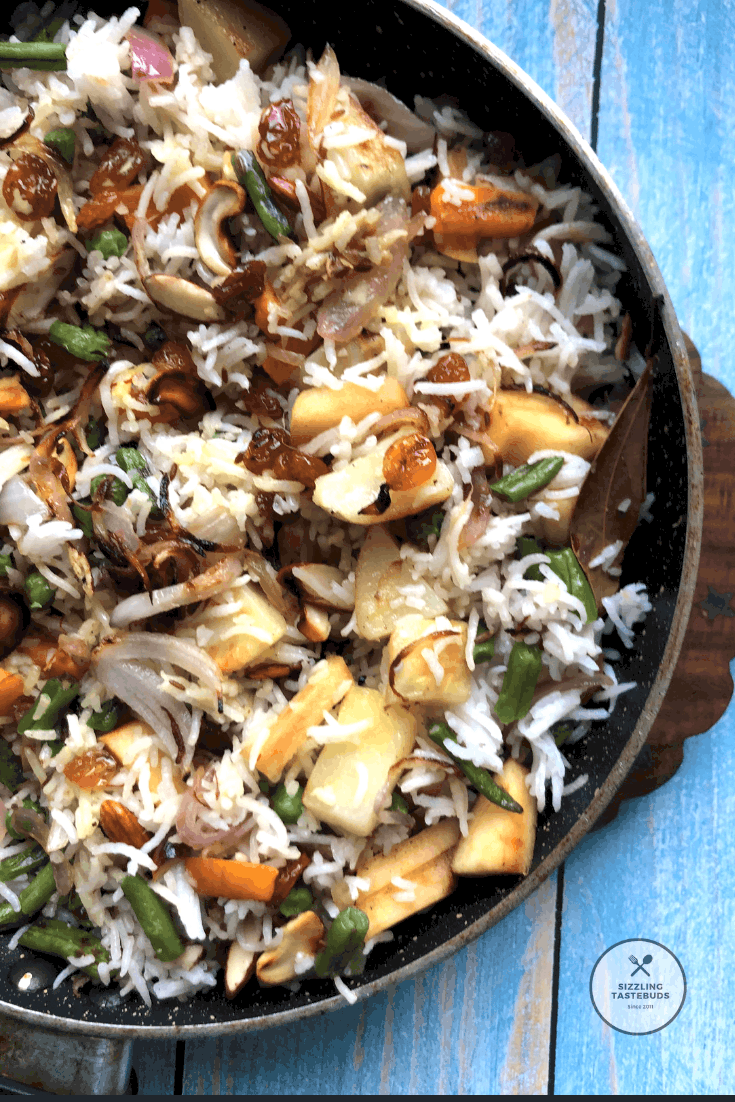 Pin
Prep time – 15 mins, Cook time – 20 mins,
Serves – 3 generously.
What you need:
Basmati rice – 1 cup
Ghee – 2 tsp (divided use)
Saffron strands – few
Warm milk – 3 tsp
Nuts (all mixed 2 tsp) – Almonds sliced, raisins, cashewnuts
Apple (I used red delicious) – 1/2 (Cubed medium)
Onions – 2 large (divided use) – sliced thin
Ginger – 1 inch (pounded / grated)
Boiled and peeled potato cubes – 1/2 cup
Veggies (all 1 cup together) – carrots, beans, peas (may add cauliflower too)
Salt – to taste
Whole spices – black cardamom 1, bay leaf 1 or 2, cloves 2 or 3, whole black pepper 1/2 tsp, cinnamon 1 inch stick
Jeera / cumin – 1/2 tsp
Check out the video here and leave your valuable comments on the video too !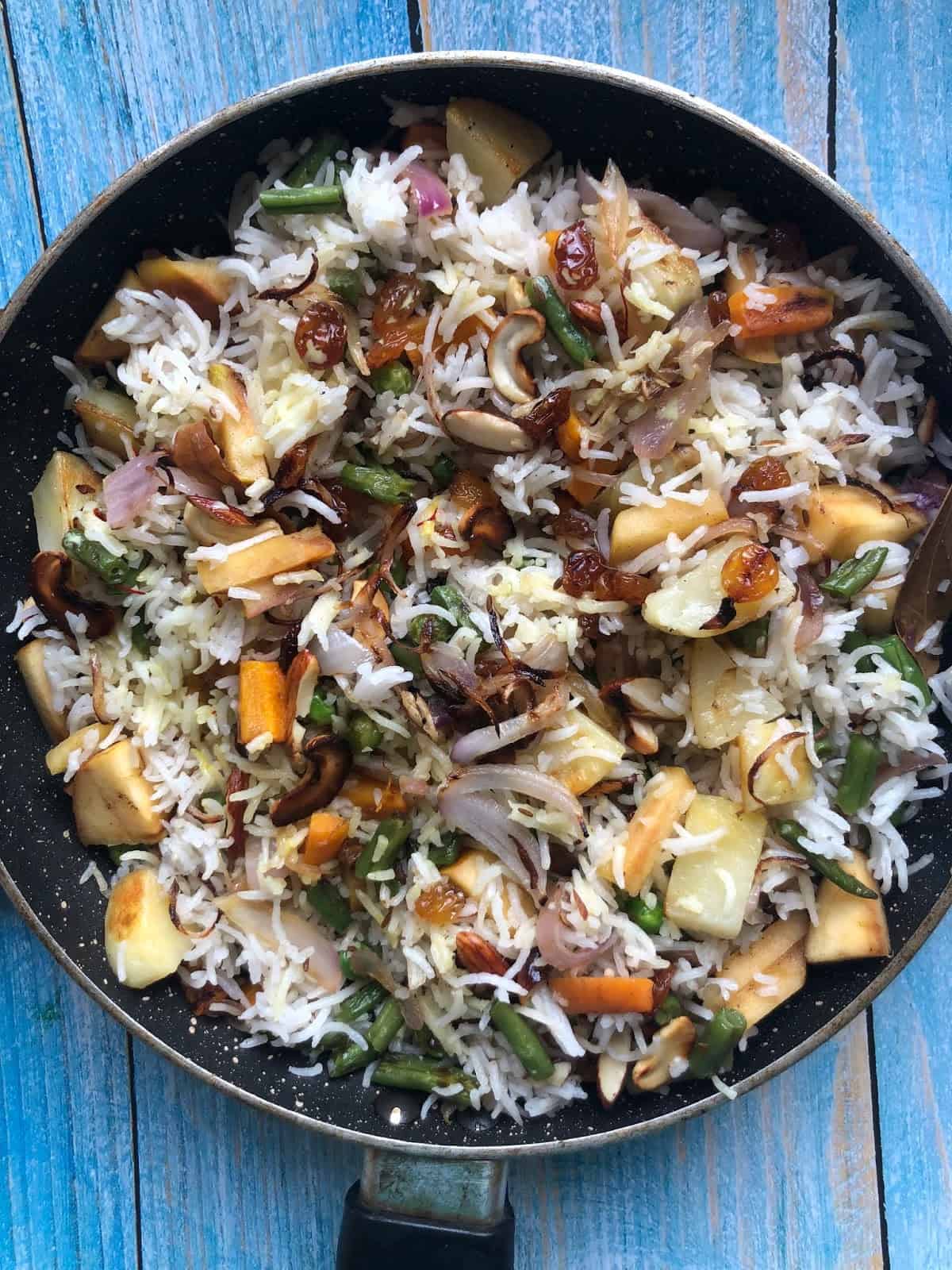 Pin
How to:
Wash and Soak Basmati rice for 15 mins. Soak the saffron in warm milk for 10 mins
Meanwhile, wash, chop and steam / microwave the veggies till al dente.
In a microwave proof dish, grease with little ghee, add the soaked rice, whole spices, 2 cups of warm water, 1/2 tsp of salt and 1 tsp of oil and cook till rice is 80% done (about 8 mins on 900W microwave). Once done , Fluff them and keep aside.
In a non stick, add half he ghee, roast the nuts one by one till golden brown. Take it out with the slotted spoon. Simialrly saute the cubed apples and take it out.
Now, add half the sliced onion, sprinkle some salt and saute the onions till they get brown and crisp (on a low flame, this should take 3-5 mins). Take the crispy onion slices out. SAute the steamed veggies for 2 mins along with the boiled potato slices till the potato is slightly crispy on the outer side. Remove from pan.
In the same pan, add the remaining ghee, splutter jeera and the ginger. Add the remaining onions, salt and fry till they turn translucent . Now add sautéed veggies, sauteed apples, half of the nuts, cooked rice and mix well without breaking the grains.
Add the saffron milk and gently toss. Adjust spice and salt.
Top with remaining nuts, crisped onions and serve warm.
Pin
Check out the Blogging Marathon page for the other Blogging Marathoners doing BM#99