Iced Tea takes me back a decade ago when S and I were engaged to be
married. The non-tea drinker in me was totally ignorant about black Teas .For
me, the whole universe of Tea was the milky verison made at home with varying
strengths for grandpa and the rest of the family. Even Filter Coffee was a
morning ritual that grandpa used to take charge and serve the rest of the
family (yes, even grandmom was to be woken with 'bed-coffee' :-)) My
grandparents were blissfully married for over 60 years, and they spent their
entire lifetime pampering each other with little good deeds throughout the day.
No wedding manual for them. 
Ahem! coming to my story : S suggested
I have Kashmiri Kahwa (a saffron and spice induced black tea) as we talked in a
coffee shop (with a bookstore to boot). Nervous about meeting someone in person
and deciding whether to spend the rest of my lifetime with a person not even
from Bangalore (my hometown) shook me off my guard. So the Kashmiri Kahwa was a
definite no-no, as I wasnt sure about the name, or the ingredients. And I
choose the next best comfort thing : Spiced Lassi. And spent the next hour (or
couple more) sipping the icy cold Lassi in a totally air conditioned place, all
the while taking no notice when S proposed we get married in a couple of
months. 
All I knew was that the Kahwa black
tea that S was sipping looked and smelt delicious and I was too petrified to
change my mind 🙂 That was 10 years ago, and I have come to believe that a
teetotaller like me does well to sip unsweetened Black Tea / Green Tea / Lemon
Tea (my favourite) as a comfort. And guess what, on some lazy weekends, S does
pamper my 4 pm cravings with today's post – Pistachio Rose Flavoured Tea. Guess
its our way of ensuring some marital bliss without a manual 🙂 
Its a super simple recipe, and I have
basically converted it to an Iced Tea version to beat the summer heat thats
already upon us.The hot version tastes equally nice.I have
sweetened this tea with Gulkand (rose petals crushed with sugar), but feel free
to add more sugar if you wish 🙂 Sending this to my own event – Magic Mingle #
14 for this month's ingredients of Pistachios & Tea.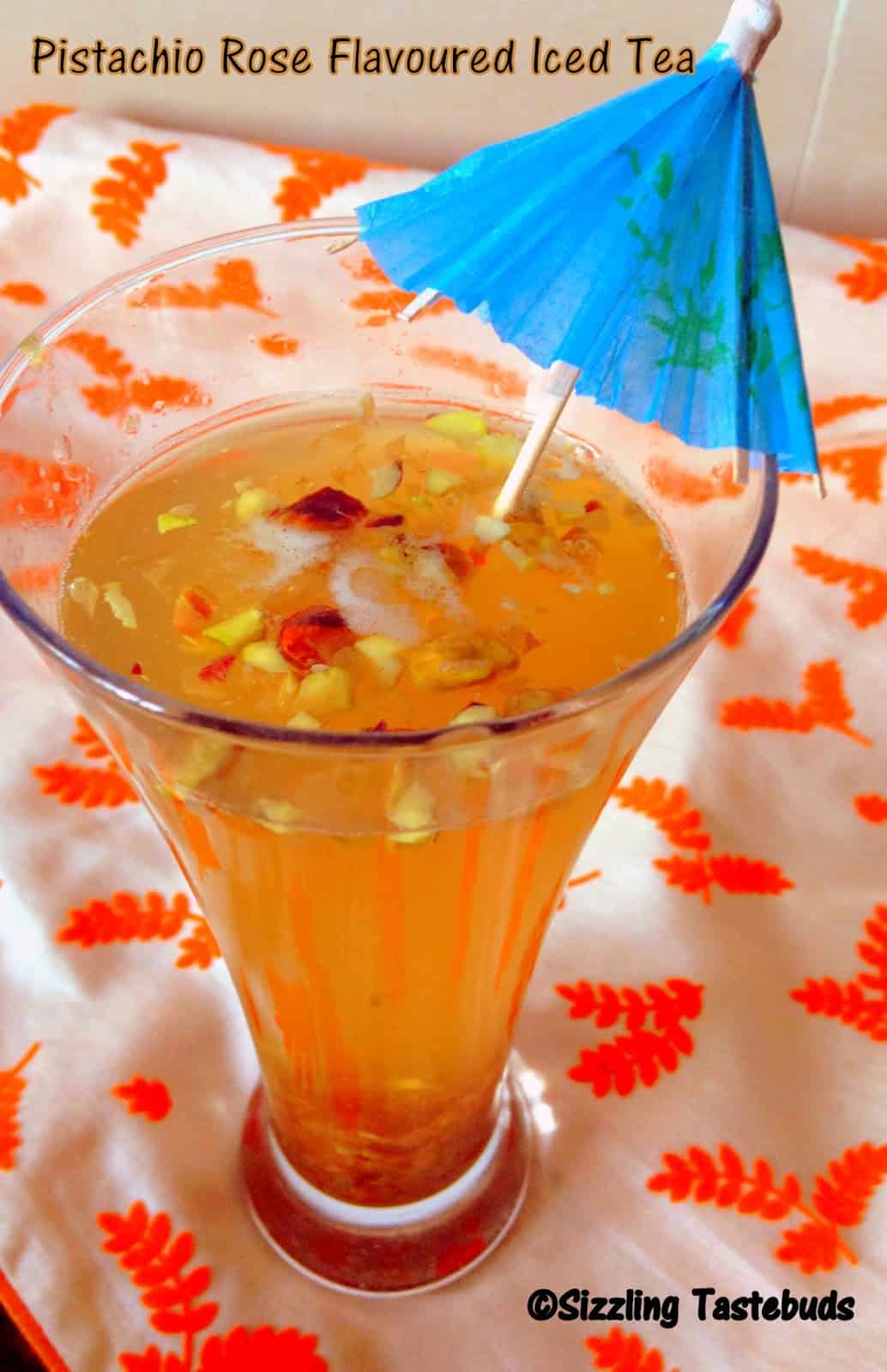 Pin

Prep time : 10 mins | Steeping time :
2 – 3 mins | Serves : 2

Difficulty level : Super Easy




Ingredients:
Assam Black Tea – 2 sachets (or 2 tsp
if using loose tea)
Hot water – 2 cups
Gulkand – 1 tsp , divided use
Pistachios – blanched and cut into
flakes / slivers – 2 tsp (divided use)
Spice mix – 2 cloves + 1/2 inch
cinnamon + 1 Cardamom
Sugar – 1 tsp (optional)
Saffron Strands – few 
Ice cubes – few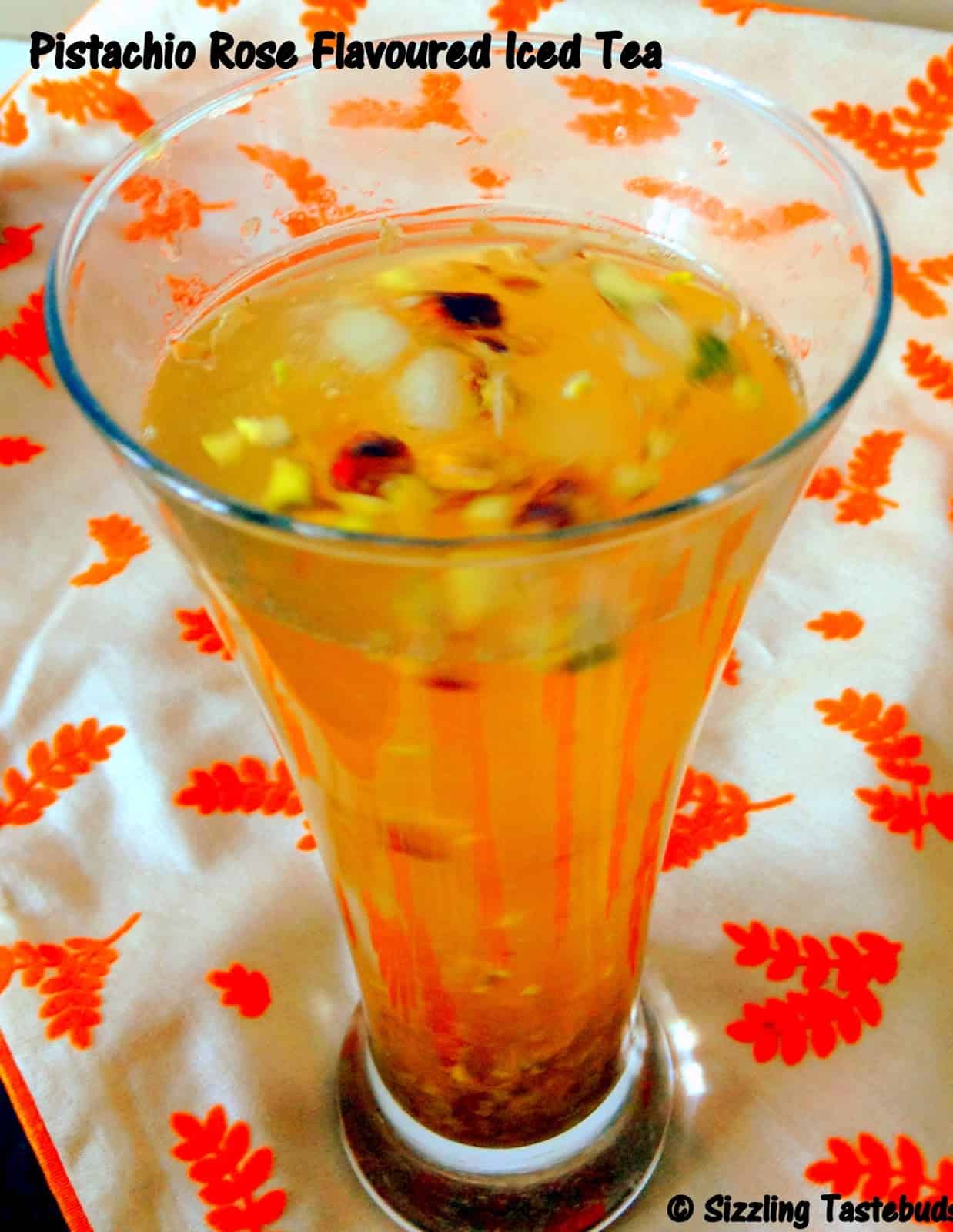 Pin
Method:
Freeze the serving glasses in the
refrigerator for 10 mins. It works wonderfully well for any cold beverage you
wish to serve.
Tie the whole spices in a small muslin
cloth.
Boil the water till it rolls over.
Switch off the flame. Steep the tea bags and the spice bag for 4- 5 mins.
(If using loose tea leaves, boil the
leaves along with spice mix for 4 – 5 mins)
Strain into a bowl. Add the gulkand
and extra sugar if using. Mix in half the pistachios and stir well. 
Pour into the frozen glasses. Tip in
few more cubes if required. Top with the remaining pistachios and saffron.
Serve chilled immediately. Enjoy
😉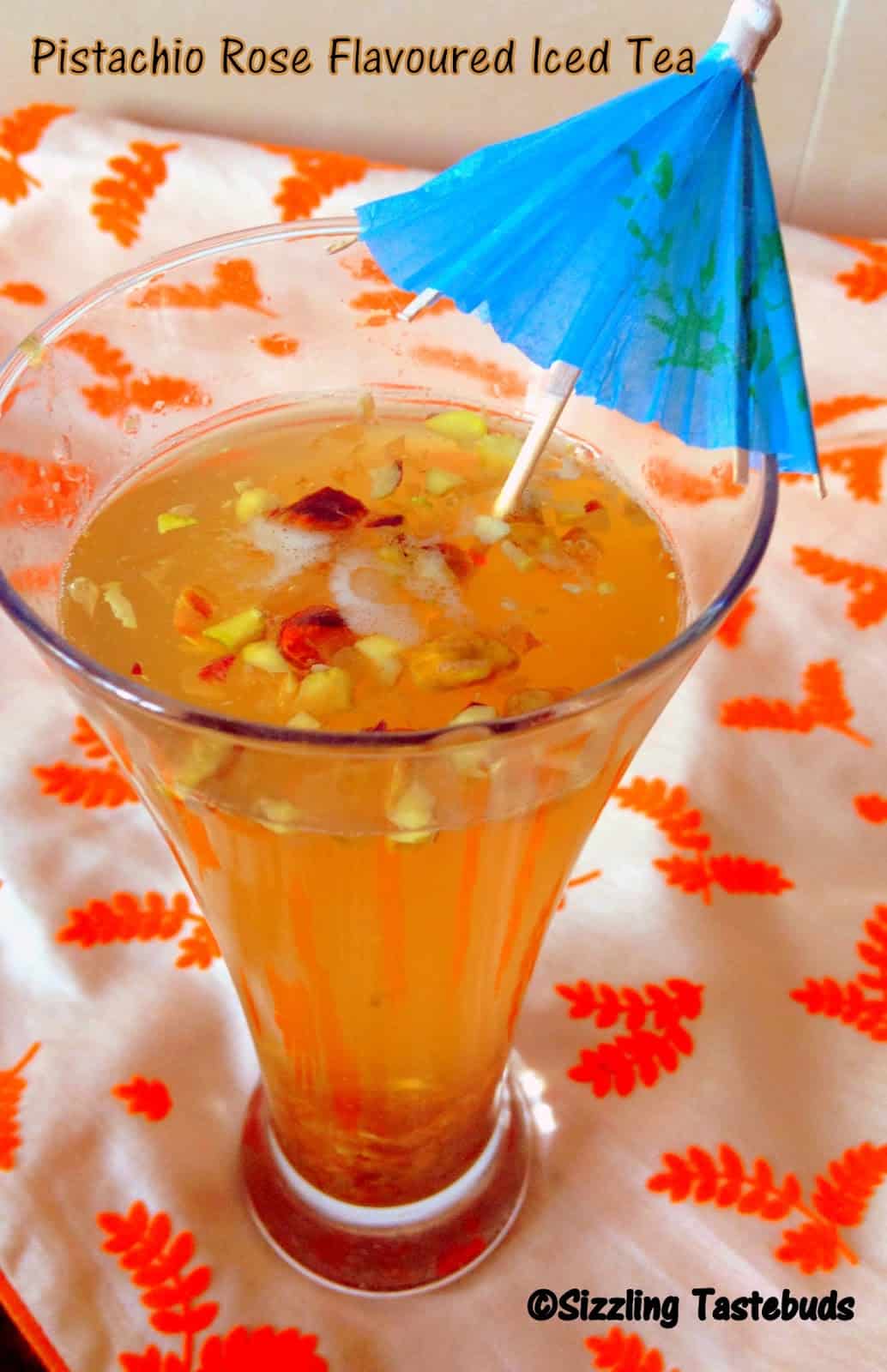 Pin
Off this goes to  to Magic Mingle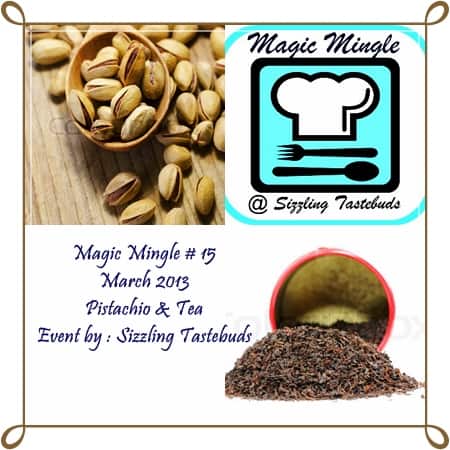 Pin
Also to Priya's Healthy Me- Healthy Us event