Spaghetti for dinner
was always on my to-do list, but thanks to Blogging marathon,I finally made it
last week and loved it..This week would
showcase 3 different varieties of pizza and pasta . All these go to Mir's event
too, who is hosting Valli's kids delight under the same theme.
To kick off, I made
a simple but utterly delicious coriander garlic pesto spaghetti that went
wonderfully well with warm broccoli soup and pull apart rolls.. All in all a
weekend winner and happy faces to boot. It was amusing to see my lil one too
trying to slurp up the long spaghetti strands into her mouth, all by herself .
It's another matter that half of them ended on the floor rather in the mouth,
but that's part of growing up isn't it ?
However the husband
and elder kiddo loved it a LOT and although am my biggest critic, I saw myself
polishing it off. I have added extra veggies like broccoli and boiled
cauliflower and peas to up the fibre content,  however just the homemade
pesto sauce is a winner to add in.
You can make it even
with farfalle or any pasta, but I made it with wholewheat spaghetti.I was also super
glad to make homemade pesto . Recipe for the homemade coriander garlic pestohere.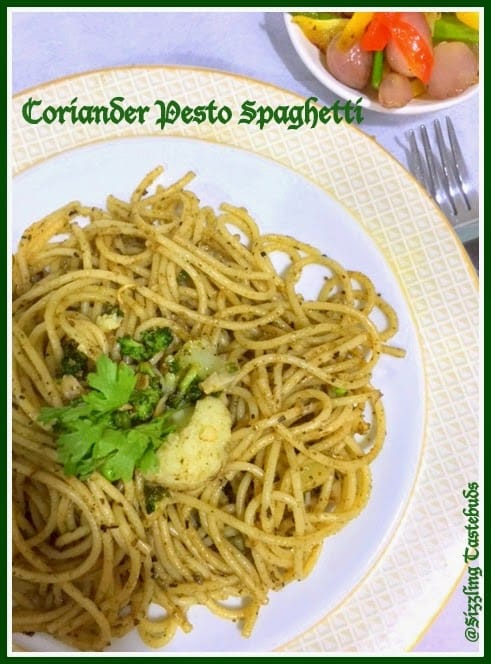 Pin

Now let's get to the
spaghetti:

Prep time : 20 mins,
cook time : 15 mins,  serves : 4

Pasta Ingredients:
Spaghetti – 150 gms
Olive oil – 2 tbsp
Salt – a pinch
Red chilli flakes –
1/3 tsp
Basil powder – 1/2
tsp
Dried Oregano -a big
pinch
Garlic -1/2 tsp
Blanched veggies
-1/2 cup (optional)
Coriander garlic Pesto Sauce– 4 tbsp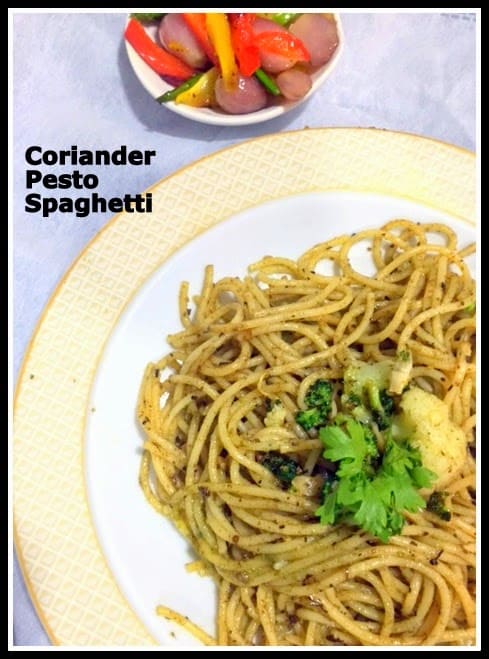 Pin
Method :
Cook spaghetti
according to pack instructions. Once done, Drain in a colander n run an oiled
spoon through it to separate the strands
 In a pan heat oil.
Sauté garlic n red chilli flakes. Add pesto n sauté for 2 mins. Add the
blanched veggies, other spices like basil n oregano. Sauté for a min.
Now add the cooked
spaghetti and toss. Check for salt and spices adding extra salt only if
required.
 Serve immediately
with warm bread and / or soup