Today is Varamahalakshmi Pooja – the goddess of wealth, Lakshmi is worshipped for granting health, wealth, prosperity for the family. (Vara = boon) .. We don't follow the vratham in our house, but I definitely do the pooja and present the naivedyam to Goddess Lakshmi. For those interested on the Varamahalakshmi Pooja procedures, do check out thislink. Semiya Payasam (Sevai / Vermicilli Kheer) was the naivedyam to the Goddess and I pray for the prosperity of all my friends and relatives across the globe including you readers and fellow bloggers . May Goddess shower you with all best wishes this day and the year through.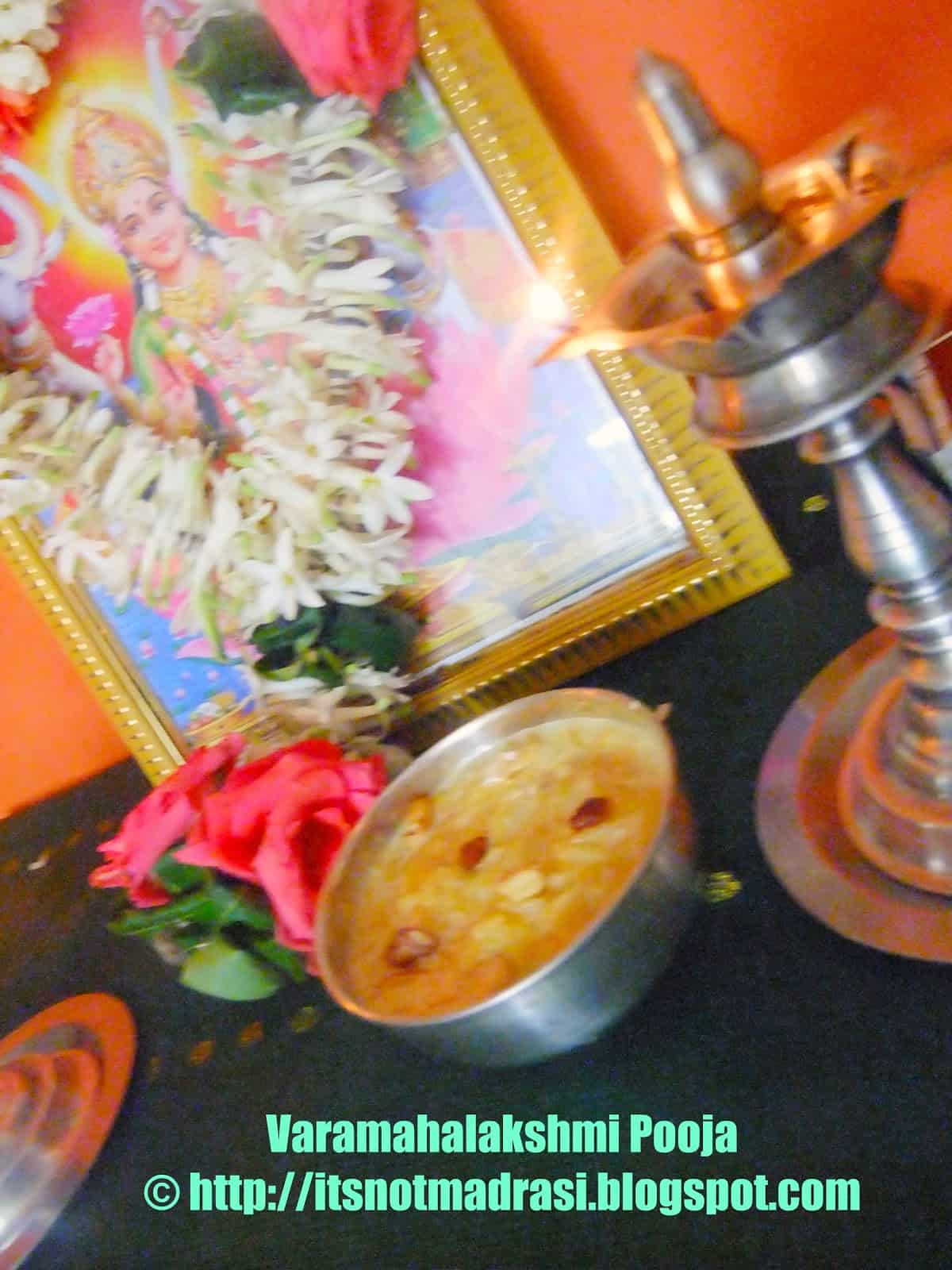 Pin
Coming to today's post , its really a simple recipe which can be put together in under 20 mins. Its a staple in most South Indian meals, and tastes best when you use Pre-Roasted Vermicilli.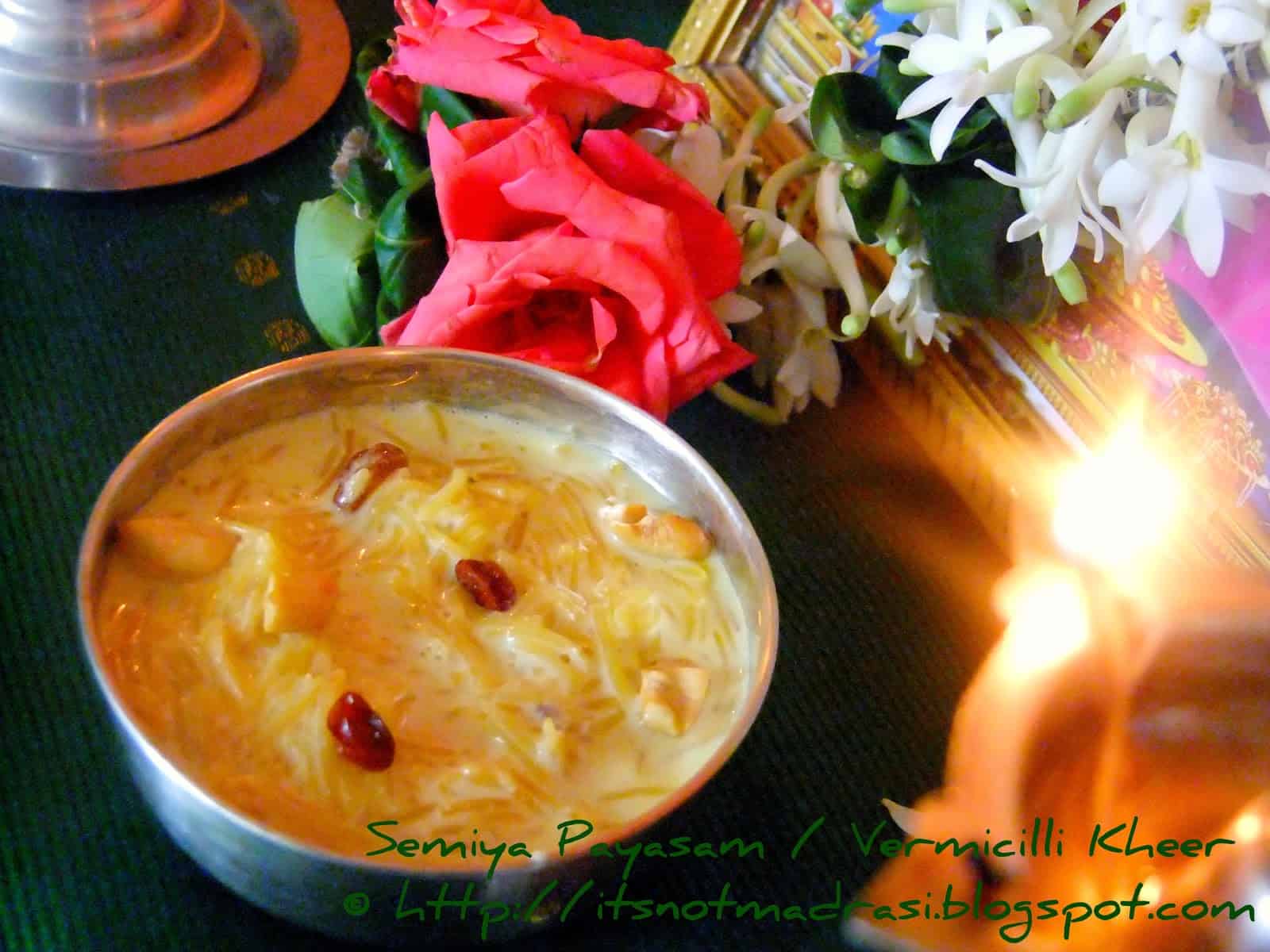 Pin
Prep time : 10 mins. Cooking time : 10 mins.
Ingredients:
Roasted Vermicilli / Plain Vermicilli – 1 cup

Boiled Milk – 1.5 cups

Sugar – 3/4 cup (adjust according to taste)

Saffron – few strands

Cardamom powder – 1/4 tsp

Ghee – 1 TBSP (split use)

Garnish – cashew and raisins
Method:
1) Roast vermicilli in 1/2 TBSP ghee till fragrant. Even if using pre-roasted vermicilli, roast till fragrant.
2) Add the milk and approx 1/2 cup water to this roasted vermicilli. Cover and cook till done fully (approx 10-12 mins). Cool
3) Meanwhile, dissolve sugar in just enough water to cover it, and boil on medium flame to get 1 sting consistency. Cool well. It is important to let both the syrup and milk mixture cool to room temperature, else the milk will curdle with the hot syrup and you will end up with a curd-like consistency.
4) Switch off the stove. Add the syrup to the milk+vermicilli mixture and mix well. Add cardamom powder and stir. you may add 1/4 drop vanilla essence too, if you wish.
5) Fry cashew and raisins in remaining 1/2 TBSP of ghee till golden brown. Add to the payasam.
6) Mix well and serve this yummy kheer to guests or offer as naivedyam.
You may also chill this if serving as post dinner / lunch dessert at home.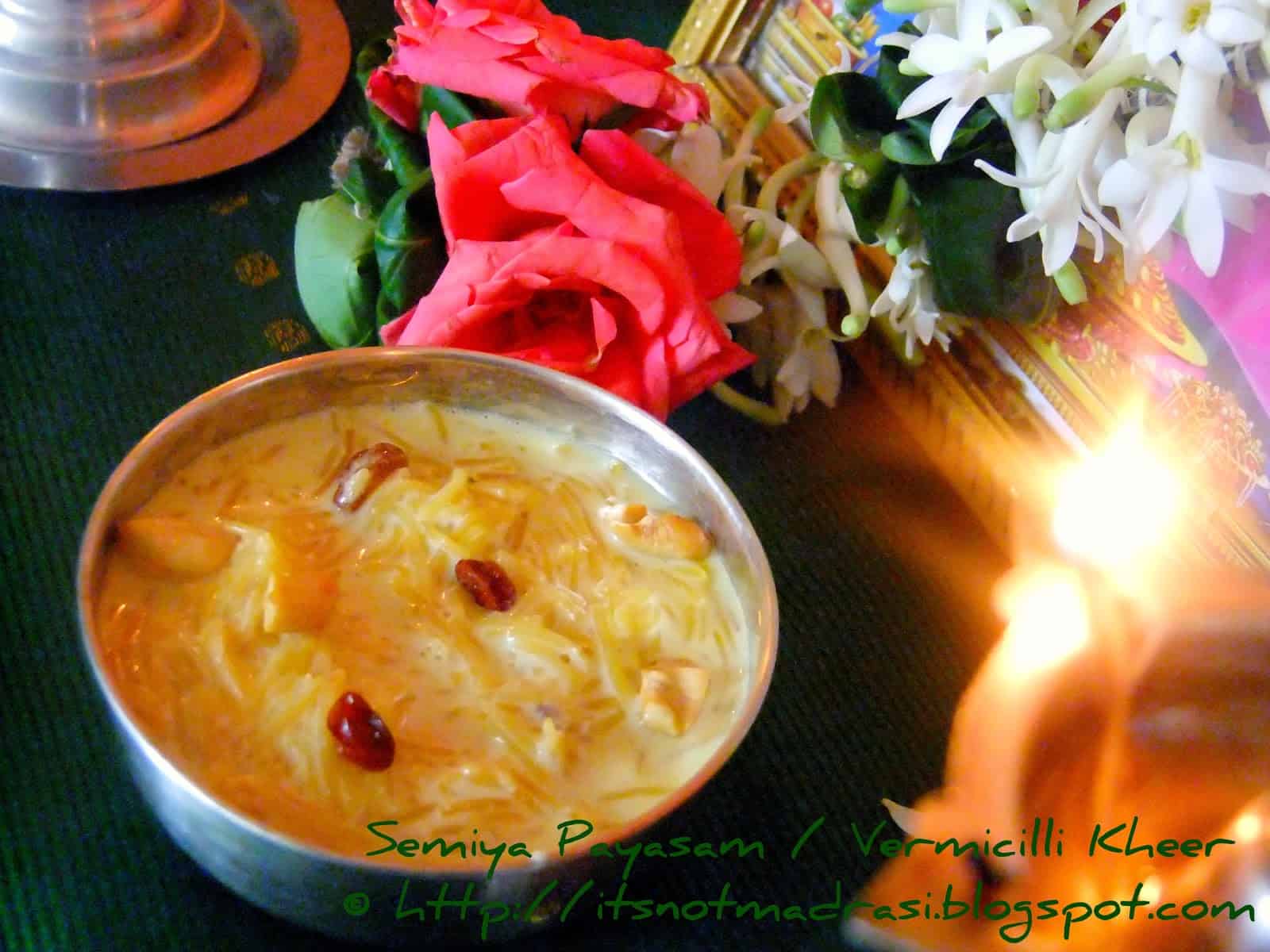 Pin