K for Korea. It was tricky choosing
a dish for this country for my husband had spent many years in this country
and I wanted to get the taste as authentic as possible. Making just a Kimchi (or a cabbage
pickle) representing Korea was… well, just not me. I mean, I love Oriental flavours but vinegar is not
one of my strong points, and Kimchi without vinegar…. Ughhhh.. One may not as
well make it.  
The spouse then suggested so many
dishes he remembered by taste, and not so much by name. As I was traversing
through PJ's blog, I called out to him, and bang on, this was one dish he used
to relish a lot, albeit with a lot more spice and punch. Tofu, bean sprouts,
sea weed, scallions, radish, soya sauce and soya bean are some of the major
ingredients in Korean veg cuisine. So, it was Oo Ee Mu Chim (Cucumber Salad) for Korea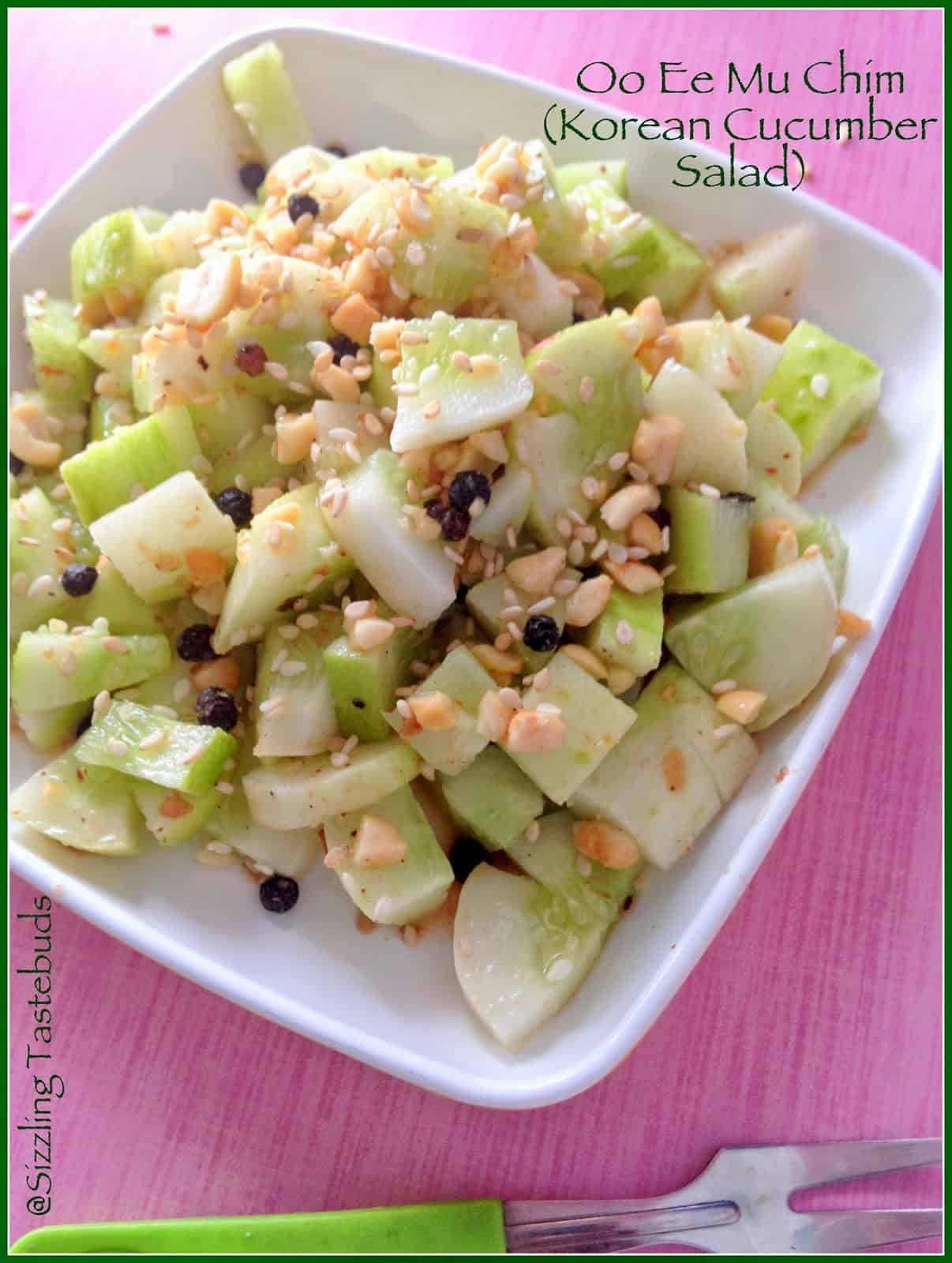 PinPin

This is a quick salad to put
together for parties or potlucks. Me and S had it as a whole meal by itself,
and it was quite filling. I quite liked the crunch from the roasted and crushed
peanuts and the earthiness from the roasted sesame seeds. Those with nut
allergy can skip the addition of nuts, but the taste would vary quite a bit.
Thanks PJfor the recipe. we are sure it would add to my salad menu list. Sending this dish to the World Blogging Marathon. Cant believe we are already on the 11th day – almost midway through the 26 letters of the Alphabet ! 

 

As always, quick facts about the
country, helped along by Wiki…
 Located on the Korean Peninsula,
Korea is bordered by China to the northwest and Russia to the
northeast. It is separated from Japanto the east by
the Korea Strait and the Sea of Japan (East
Sea). 
"Korea" is the modern
spelling of Corea, a name attested in English as early as 1614.
Korean cuisine has evolved
through centuries of social and political change. Originating from
ancient agricultural and nomadic traditions in
southern Manchuria and
the Korean peninsula, Korean cuisine has evolved
through a complex interaction of the natural environment and different cultural
trends.
Grains have been one
of the most important staples to the Korean diet. Early myths of the
foundations of various kingdoms in Korea center on grains. One foundation myth
relates to Jumong,
who received barley seeds
from twodoves sent
by his mother after establishing the kingdom of Goguryeo
Korean foods can be largely
categorized into groups of "main staple foods"
"subsidiary dishes", and "dessert" The main dishes are made
from grains such as bap (a bowl of rice), juk (porridge),
and guksu (noodles).
Lets get to today's dish now…
Country : Korea
Dish : Oo Ee Mu Chim (Korean Cucumber Salad)
Prep time : 20 mins | Cooking time : Nil | Serves : 2
Accompaniments : Nil (if as part of a meal, serve with steamed
rice and stew)
Adapated from : PJ's recipe
Ingredients:
Cucumbers – sliced
thin or diced into small cubes
Topping : Roasted and
crushed peanuts, roasted sesame seeds
Dressing:
Lemon juice
Rice Vinegar
Crushed black pepper
Salt – to taste
Honey – 1 tsp
Garlic – 1 large pod,
minced
Soya sauce – 1 tsp
Chilli powder – ½ tsp
(I didn't use)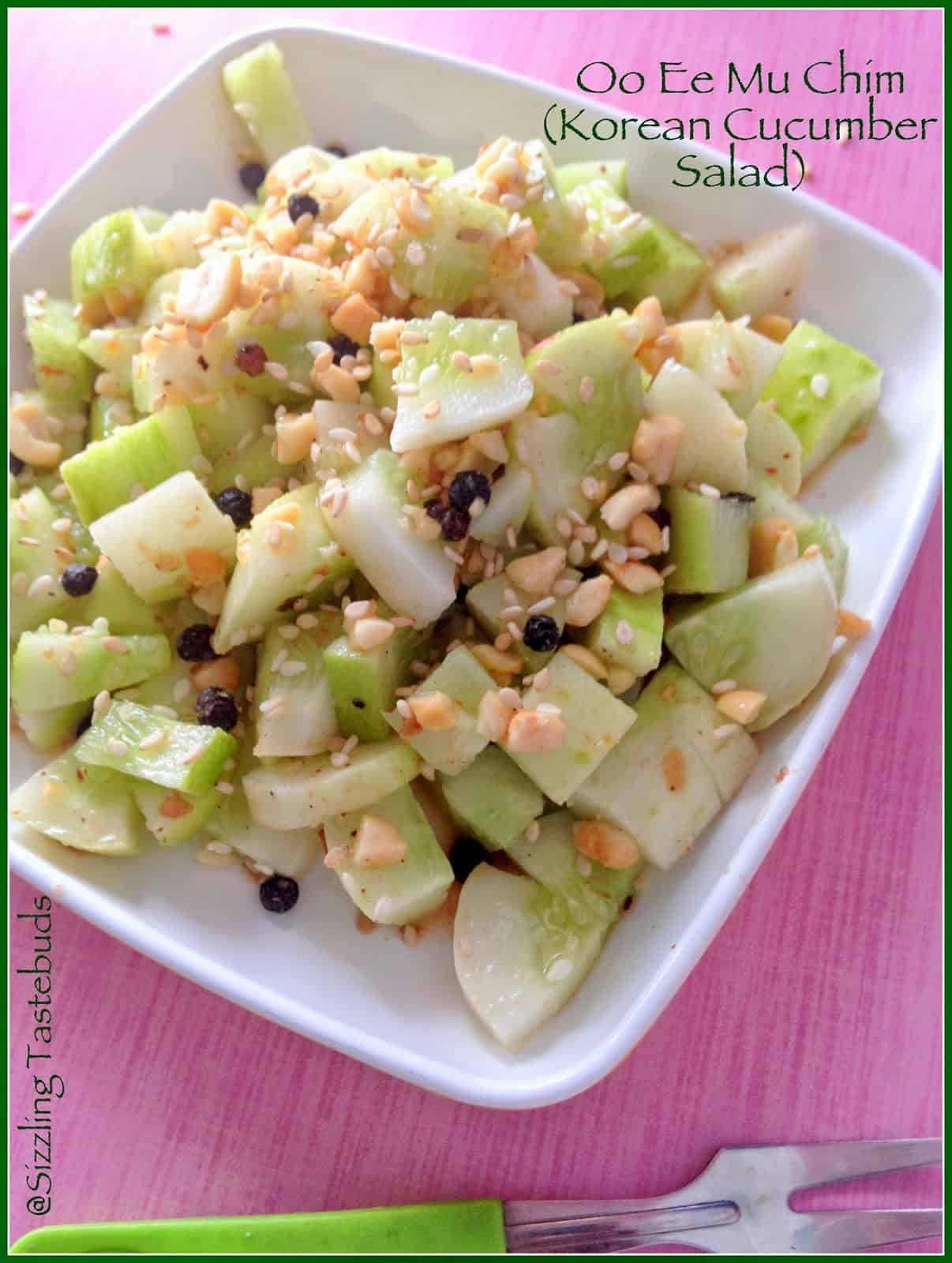 PinPin
Method:
Mix all the ingredients for the dressing. Chill cucumbers and cube
/ slice them
Before serving, toss the cucumbers in the dressing.
Top with roasted sesame seeds and crushed peanuts and serve
immediately
Lets see what my fellow marathoners have cooked today !