Next in the series of savoury baked goodies (converted from Deep-fry version) is today's Low cal Baked Namakpare. Fondly known as diamond biscuits, I have memories of amma making these by the bushels for Krishna Jayanthi and we used to munch on these while (pretending to) studying intensive Chemistry or solving complex mathematical formulae for the exams. We made it this year too, but in today's Low Cal Baked avatar. Yes, its not the original taste, but pretty much close that we could munch on guilt free 🙂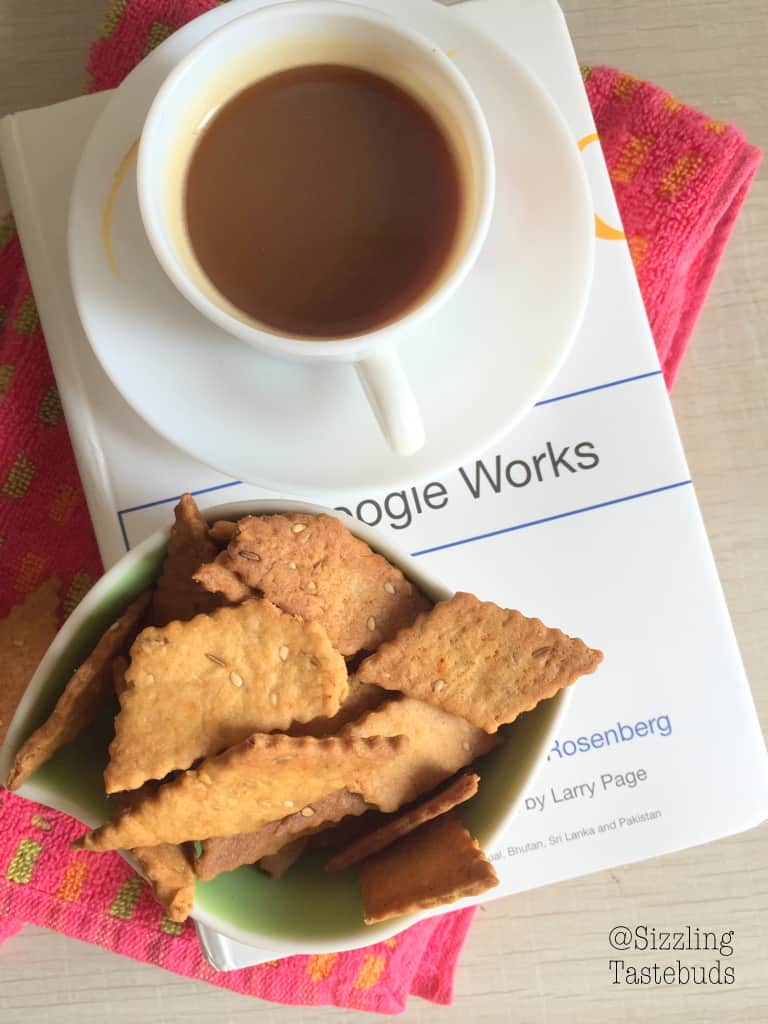 Pin
So, if you are looking for baked (savoury) goodies, take a peek at the following varieties at the end of this post, and till then enjoy these Low Cal Baked Namakpare. 
Refer Detailed notes.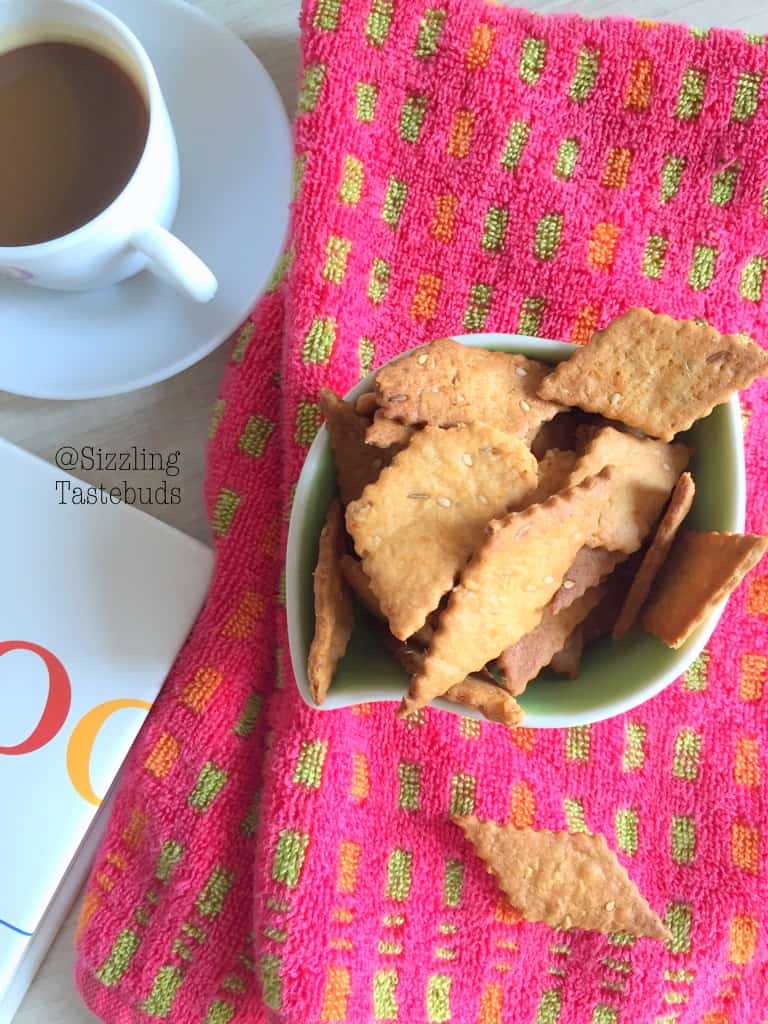 Pin
Prep time : 20 mins, Bake time : 12-13 mins per batch, Makes : ~150 grams of the snack
Ingredients:
Wholewheat flour – 1/2 cup
Maida (All purpose flour) – 1/2 cup
Chiroti Rava (or very fine sooji / semolina) – 2 tsp
Baking soda – 1/8 tsp
Salt – 1/2 tsp
Sesame seeds – 1/2 tsp
Jeera / Cumin – 1/4 tsp
Asafoetida / hing – 1/8 tsp
White unsalted butter – 4 TBSP
Oil – 2 tsp (to spray the baking sheet)
Warm water – 1/4 cup (more or less depending on the dough)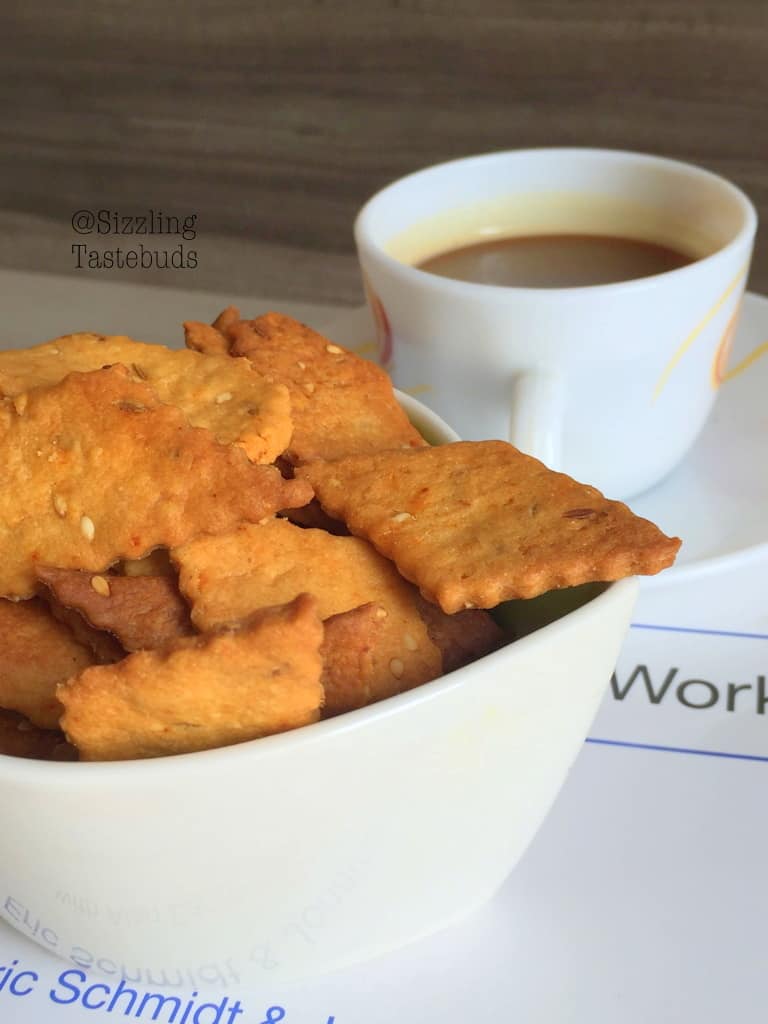 Pin
How to:
Sieve the flours well. Take half the butter and mix with the soda, rub well with your fingers till it turns frothy.
Now add the flours, salt, hing, sesame seeds, rest of the butter, Chiroti rava and mix well till the mixture turns crumbly.
Slowly add warm water and knead to a semi soft dough. Cover and keep for 15 mins.
Towards the end of this 15 mins, preheat oven to 160C.
Pinch out a ball of the dough and roll into a thinnish large disk. With the help of a sharp, greased knife or a pizza cutter, cut out into diamond shaped pieces
With a flat ladle, Slowly place these pieces on to a greased baking sheet. Finish with all the dough (do not let the diamond cuts dry up on the sheet – keep them covered)
Bake at 160C, watching them continuously and flip over once to bake both sides to a golden brown. They burn very fast so keep an eye on them
Once they cool down, put them on a wire rack and store in an airtight container.
Pin
Notes:
You can make this with only APF, but I wanted to try a mix of flours
If using salt butter, omit the salt in the recipe.
The dough has to be the consistency of poori dough (not too soft and not too hard)
Do not add too much dry flour while rolling out, the extra flour burns in the oven leaving a rather bitter taste.
This temp of 160C worked for me. DO a test batch to see how your oven works.
If you don't have Chiroti rava, blitz normal Upma Rava / Semolina for a few seconds till it breaks down a bit. Sieve and use.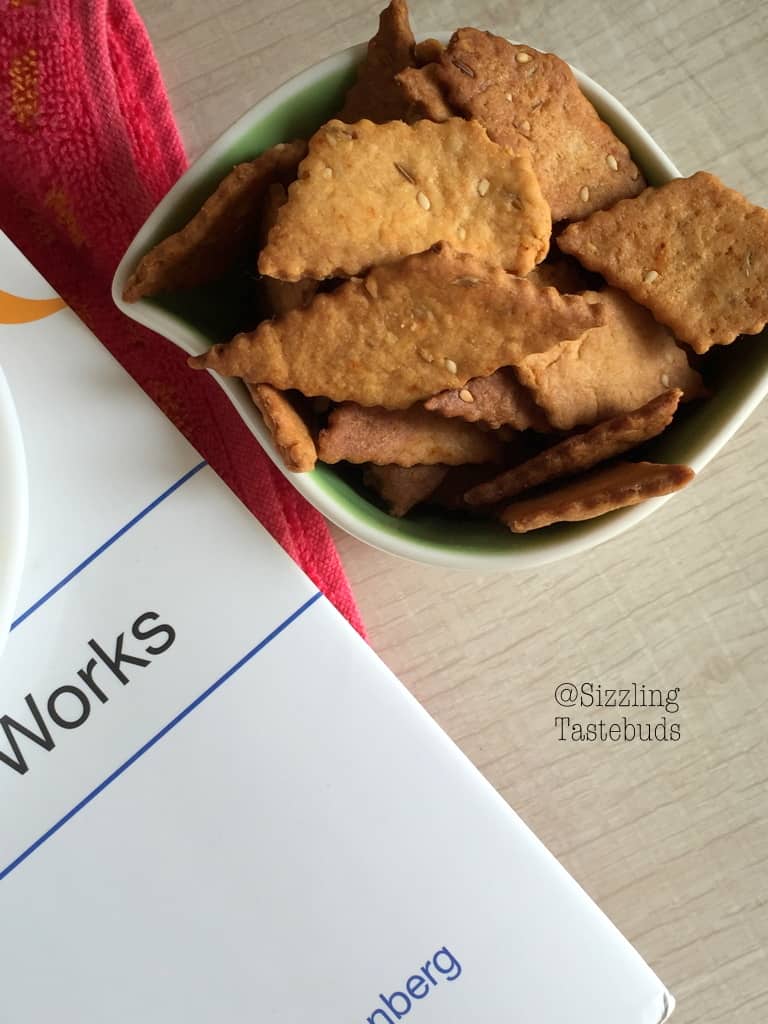 Pin
Similar Baked goodies on this blog: