The benefits of Curd / yoghurt needs no emphasis, especially in South Indian Cooking, where the mandatory Curd Rice (or Thayir Saadam) is as quintessential as Black Coffee / Earl Grey Tea would be to an American / British lunch or dinner. The probiotics in yoghurt keep the digestion going and provide for a healthy gut. Today's dish is a snack that can be quickly made when hunger pangs strike. I usually make Gojjavalakki (or Tamarind flavoured Poha) or Aval Upma (Poha seasoned with lemon and tomatoes) with Poha or even Jaggery Poha. But today's dish  – Mosaru Avalakki (flattened rice in seasoned yoghurt) is sans Onion and Garlic, and you could use it as an offering to God too.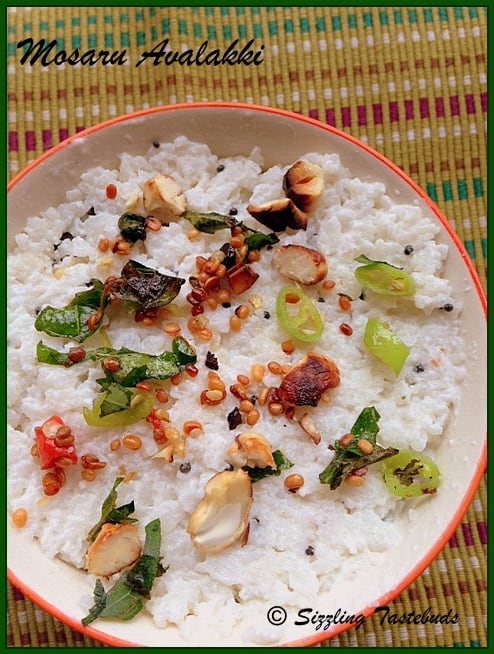 Pin

Mosaru Avalakki is usually made for Krishna Janmashtami (birth celebrations of Lord Krishna), and although we dont make it at home, this dish takes me back to my childhood friend's house where I tasted this first. When Valli announced Cooking with Curds as one of the themes for this BM, I took it for two reasons – the challenge of photographing something white (basically colourless) means an opportunity to use the props at home, and two – the challenge of not making Dahi Puri or Dahi wada (where curd was used as topping), but to use curd in Cooking was something I looked forward to. So, this week on BM # 30, you would see 3 dishes that uses curd within the dish, and not as topping. 

Lets get to the recipe …

Prep time : 10 mins , tempering : 1
min, Serves : 2

Ingredients:
Poha – 1/2 cup
Curd / Yoghurt – 1 cup (I used Plain
Yoghurt)
Salt – to taste
Grated coconut – 2 tsp
Tempering:
Oil – 1 TBSP
Mustard – 1/2 tsp
Channa Dal (bengal gram) – 1/2 tsp
Urad Dal (split black gram) – 1/2 tsp
Red chillies – 1 (broken)
Green chillies – 1 or 2
Grated ginger – 1/2 tsp
Cashew and raisins – a little
curry leaves & Coriander leaves –
few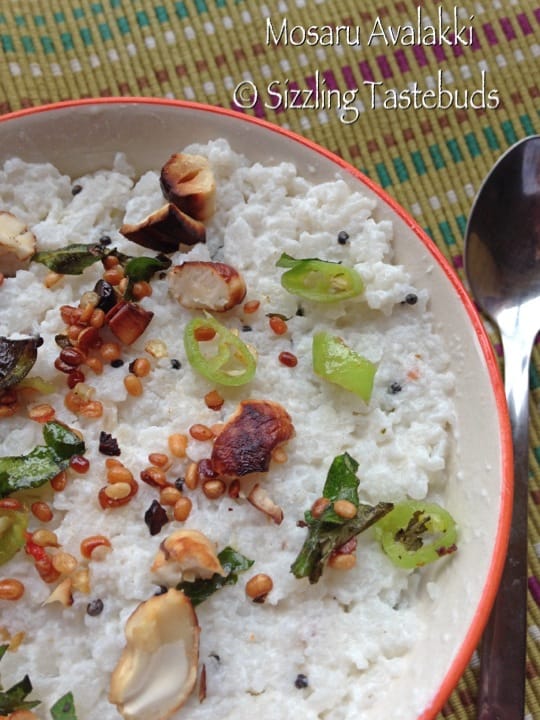 Pin
Method:
Wash and soak the poha for 10 mins. If
using thinner variety, just wash under running water.
In a bowl, beat the curd with the salt.
Prepare tempering with mustard and rest
of the ingredients
Mix the poha and the curd . add the
tempering.
Finish with grated coconut (I didnt add)
Serve immediately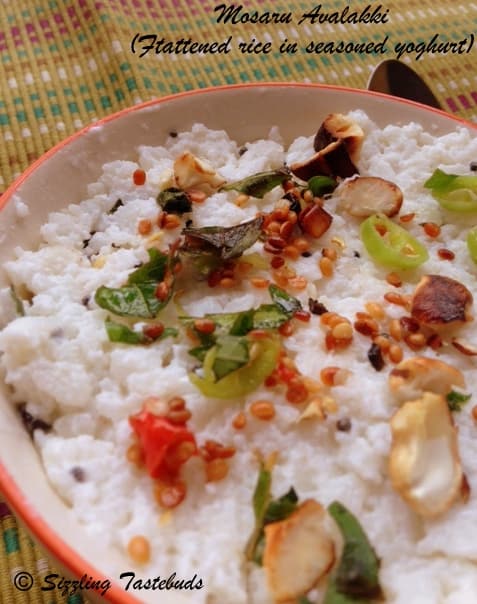 Pin