Pardon me, but I am literally drooling and salivating even while writing this post.. No no, am perfectly well, thank you! Ragda Patties,which are soooo much my favourite (call it even my one weakness in food) is making me so… I quietly tucked in two patties even as I was making them, and wish I can have it now, where the chill temperature is kind of pleasant, but still tempting me to eat this street food delight. 
 I was missing these cute spicy patties tooo much to let go without making them. In fact, I remember having the best Ragda Patties not in Mumbai but in my ever so beloved hometown, Bangalore. And at Sukh Sagar in Jayanagar to be precise (before it donned its new avatar). 
Come to think of it, even Sourabha Snacks at Jayanagar Shopping Complex (a hole in the wall which made the best masala puri in town) served this yummy dish.
Now, am sooo much into the memory of these dishes we used to indulge way back home, they never seemed sinful or fattening 😉 Errr… not literally I mean..
Anyways, Ragda patties needs no introduction to die-hard street foodies, but basically it contains two parts : Thetikki (patties) and theRagda(spicy chickpea/cooked peas gravy).You may use either chickpea or peas for the Ragda.As I had soaked dried peas (Safed Vatana) specifically for this, I used it for the gravy. Without any further delay, let's indulge…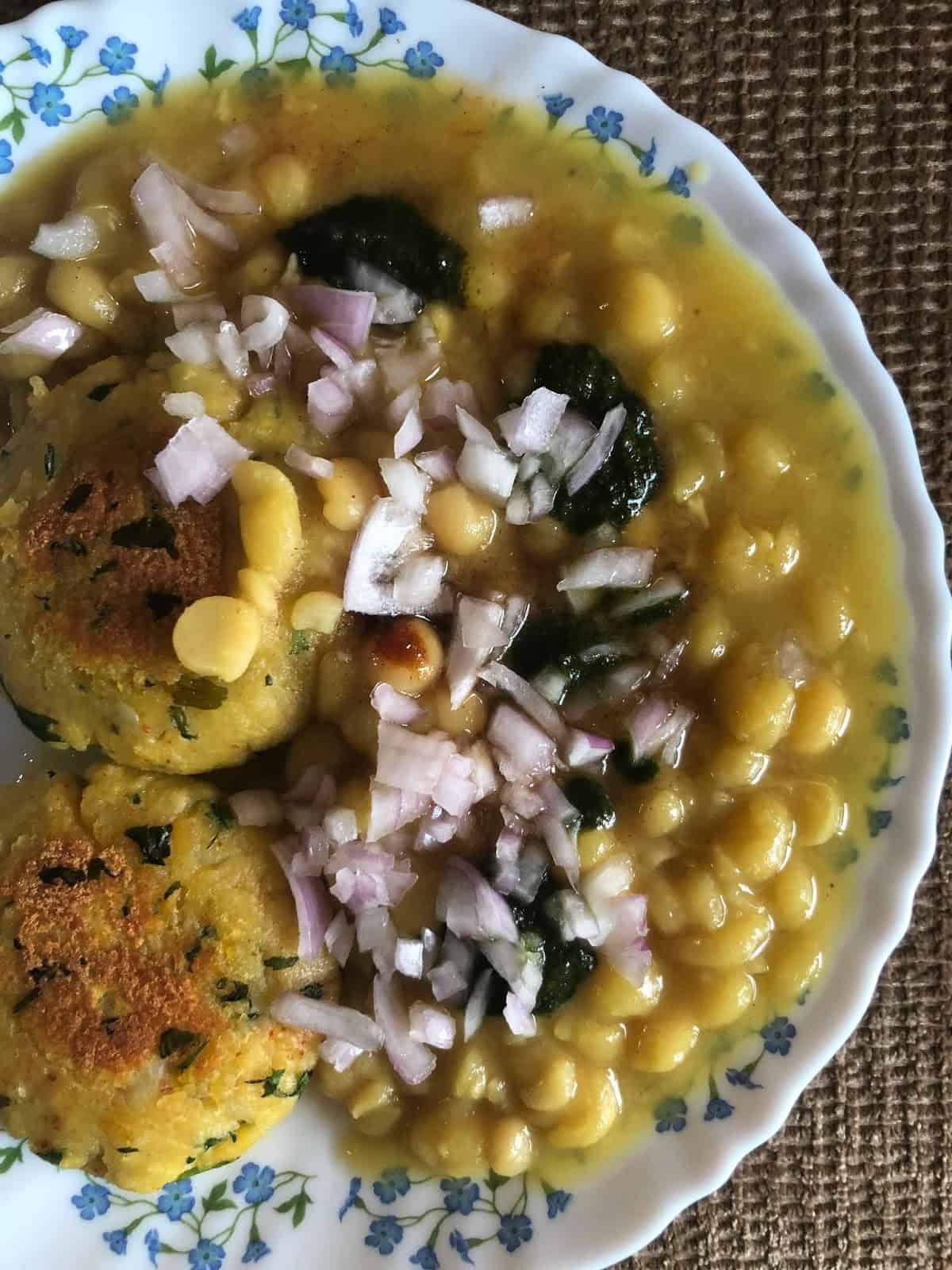 Prep time : 10 hours soaking + 30 mins
Cook time : 20 mins
Serves : 4
Ingredients:
A) Ragda:
Dry peas – ¾ cup

Salt – to taste

Cooking soda – ¼ tsp

Oil – 4 TBSP

Gravy ingredients:

Onions – 2 large

Tomatoes

– 3 medium – blanched and pureed

Turmeric – ½ TBSP

Dry masala (each 1 tsp) : Garam Masala, Chat Masala, Usal Masala, Red Chilli powder, Amchur (dry mango powder)

Anardana Seeds powder – ½ tsp

Clove powder – ¼ tsp (or roast and powder 2 /3 cloves)

Green chillies – 2 finely chopped

Green Chutney

– 2 tsp

Khajur / Sweet Chutney – 2 tsp

Kasuri methi – 2 TBSP – crushed

Garnish : chopped onions, cilantro (coriander) and lime wedges and beaten yoghurt (4–5 TBSP)
B) Patties:
Potatoes – 2 large

Bread slices – 4 (or use ½ cup of bread crumbs)

Salt – to taste

Boiled vegetables (Carrots / beans / cauliflower) – ¼ cup (opt.)

Turmeric powder – ¼ tsp

Red Chilli powder – ½ tsp

Garam Masala – ¾ tsp

Cumin seeds – ½ tsp

Coriander leaves – a handful

Patties Covering:

Maida / Cornflour – 4 TBSP

Water – little

Salt – a dash

Bread crumbs / Cornmeal / Roasted Sooji – for covering the patties

Oil – to shallow fry the patties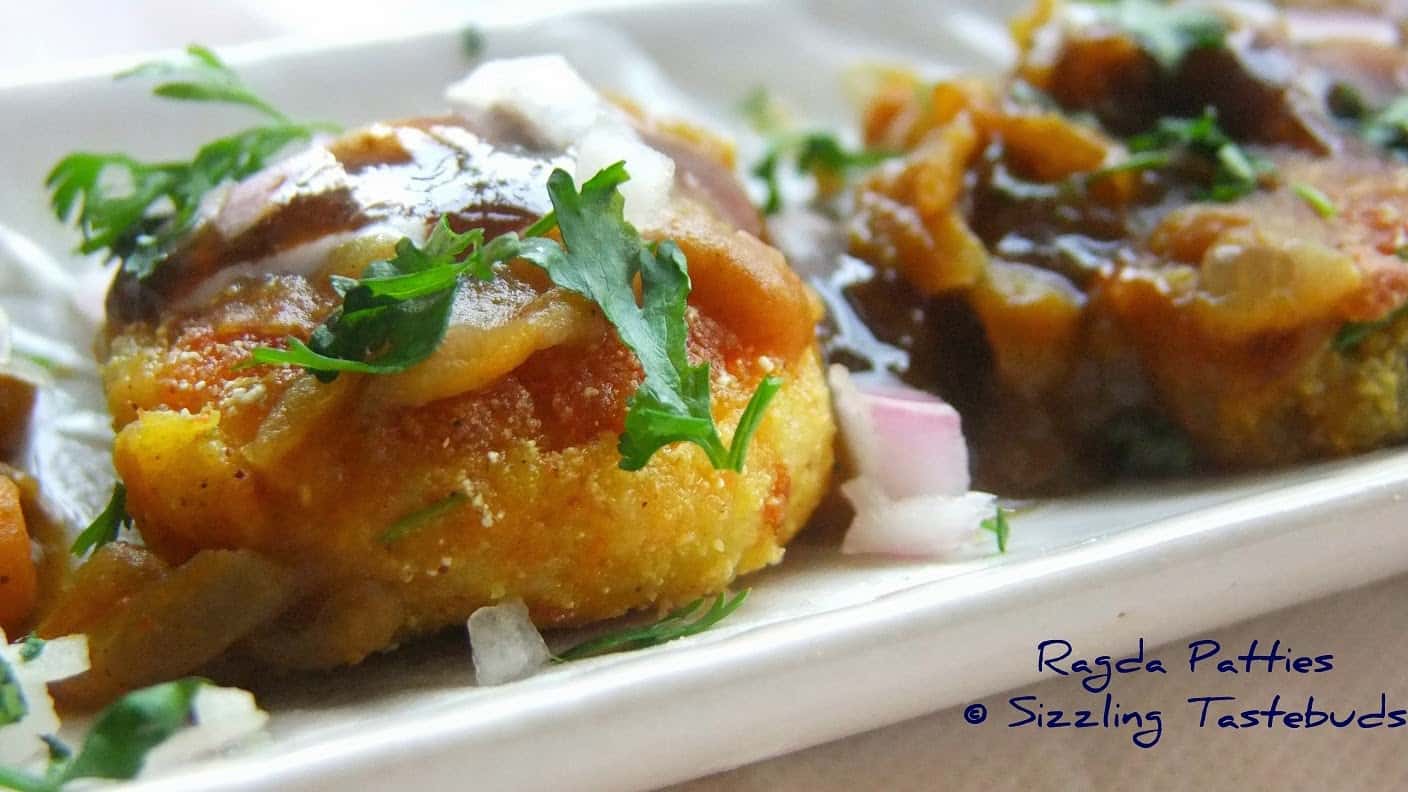 Method:
A) Ragda –
Soak the dried peas for 10- 12 hours. Drain & Pressure cook with a pinch of cooking soda and little salt for 4 – 5 whistles with adequate water. The peas must be fully cooked but not too mushy. Drain & retain the water used for cooking.

In a large pan, add oil. When moderately hot, add chopped onions and fry well. Add salt, turmeric and mix well. Now add the pureed tomatoes, dry masala powders, anardana powder, clove powder, chopped green chillies and give it a nice mix.

When the tomatoes are fully mushy, add the cooked peas and half of the water retained. Cover and simmer for 8 mins.

Now add the kasuri methi and check for salt / spice and adjust. Ragda is ready.
PIN FOR LATER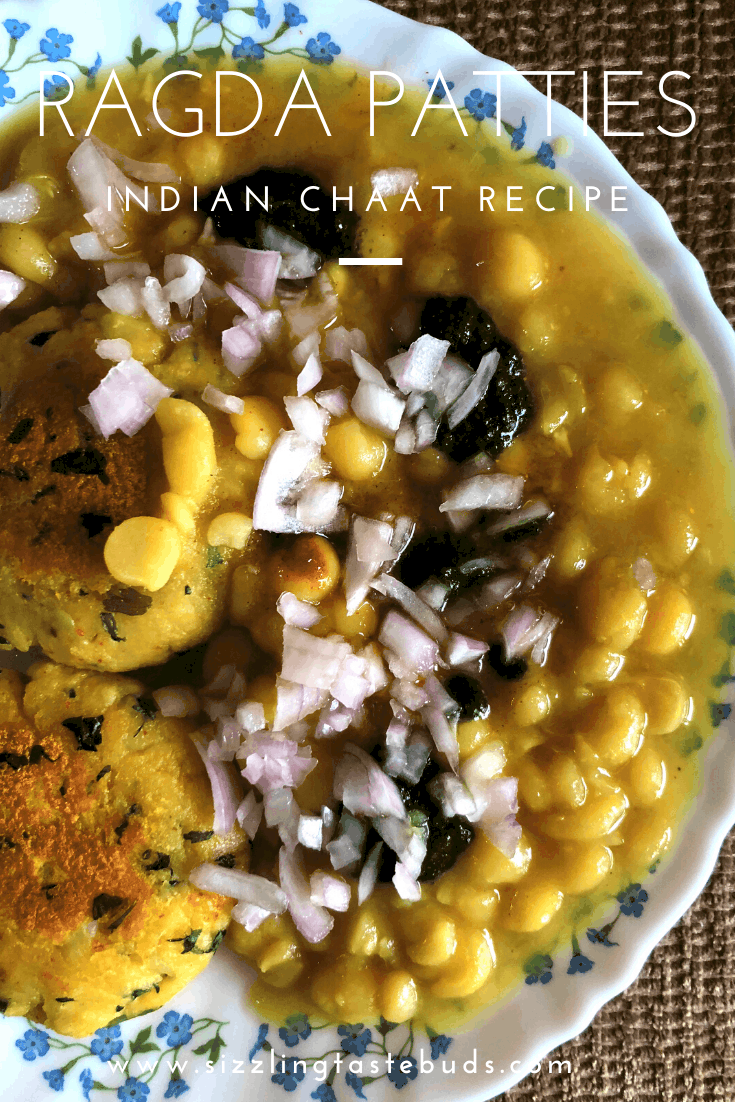 B) Patties –
Boil, peel and grate potatoes.

Trim bread and soak in a shallow plate of water for 20 – 30 seconds. Take out and squeeze well

Crumble the bread into the potatoes. Add the rest of the ingredients, mix well and make into equal sized balls.

Flatten this potato spice into flat patties. Refrigerate for 10 – 20 mins (you can make the patties before hand or while making the ragda, simultaneously)

Heat a shallow frying pan and add about 6 – 8 TBSP of oil.

Make a slurry out of the maida / cornflour, salt and water to a flowing consistency.

Dip the patties into the slurry and immediately roll them in the outer covering (bread crumbs / roasted sooji / cornmeal)

Shallow fry in the hot pan on both sides till done.

Drain on absorbent towels and repeat till all patties are fried.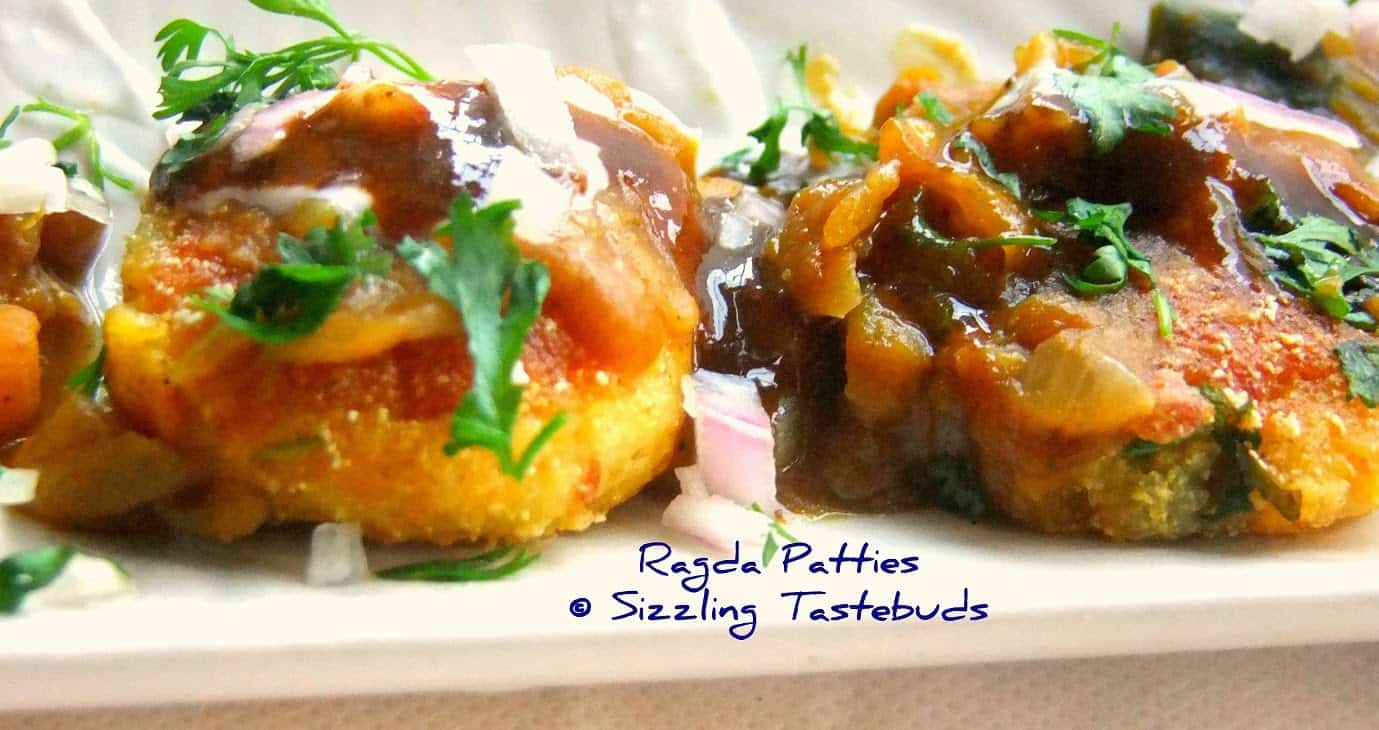 To serve:
1) Arrange 2 on a plate (if you are as greedy as me, make that 3 or even 4 )
2) Spoon in a ladle of the hot ragda. Top with green chutney, sweet chutney, chopped onions, a dash of lime juice, cilantro and a tsp of beaten yoghurt. If also desired, top with a dash of chaat masala and red chilly powder
3) Serve immediately and indulge your senses to an olfactory explosion J