There was literally a deluge of corn last week with me and S both picking up corn cobs during grocery shopping. So, while most of the time, we love to steam them whole and devour them with salt and chilli powder, I chanced to see this post by Nithya which intrigued me quite a bit and bookmarked it immediately to make it. This must be one of those posts which got done as soon as I bookmarked it 🙂 I wanted to give this a twist by adding blanched almonds in place of the usual cashew for Kurma, and the result was a nutty flavoured Kurma which went very well with phulkas / chapatis for dinner last night 🙂 I would definitely increase the spice next time, and even kiddo who is averse to such concoctions also lapped it up happily, which was kind of a relief coz her daily quota of veggies came in through this dish 🙂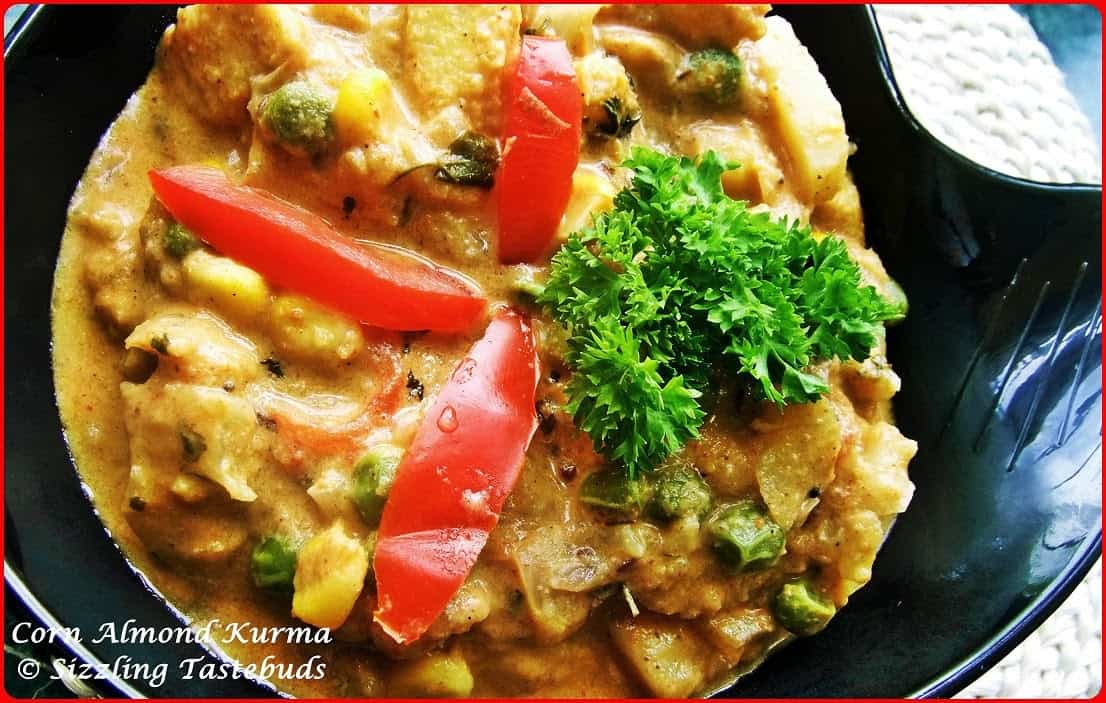 Pin

Off to the recipe. The list is quite long but am sure most of the ingredients are available in every pantry. You can also play around the veggies by adding in locally available veggies like brocolli / zucchini / squash etc. Just note to dice all vegetables in the same to ensure a flavourful dish. Similar dish that I had made sometime ago was Veg Kurma. This dish is quite rich in fat and protein, and calorie watchers may eat this in moderation 😀

Sending this to : Priya'sBookmarked recipes, Radhika's Hibernating Foods, Sukanya's Healing foods (coconut), event by Siri, Kerala kitchenby Khushi & alsoPriya's Fruit / Veggie of the month- Coconut

Prep time : 20 mins, Cooking time : 20 mins. Serves : 4

Ingredients:
Sweet Corn – 2 cups
Mixed veggies – 1 cup (I used carrots / beans / cauliflower etc)
Onions – 1 (cut lengthwise)
Salt – to taste
Oil – 1 TBSP
Ingredients for spice paste:
Coconut grated – 1/2 cup
Almonds – 7 – 8
Clove – 2
Cinnamon – 1/4 stick
Elaichi / cardamom – 1 no.
Green chillies – 1 no.
Ginger – 1/2 inch
Red chilly – 2 nos.
Garlic – 2 pods
Onion – 1 large (diced)
Turmeric – a dash
Poppy seeds – 1/2 tsp.
Fresh Coriander – a handful
Tempering:
Oil + Mustard seeds + curry leaves
Method:
1) Blanch corn and mixed veggies (except onion) for 10 mins or pressure cook with very minimal water for 1 whistle. Cool.
2) In a cup of boiling water, soak the almonds and poppy seeds for 10 mins. Drain after 10 mins and peel the almonds.
3) In a spice grinder, grind all the ingredients for the spice mixture to a smooth paste with little water.
4) Heat 1 TBSP oil in a skillet, prepare the tempering. Once the mustard stops spluttering, add the onions and fry well. When the onions turn slightly brown, add the spice masala paste and fry on medium / low heat till the raw smell disappears and oil leaves the sides of the pan.
5) Now adjust salt, and add the corn and veggies. Adjust water according to consistency. Cook and cover for 10 mins.
6) Garnish with lime juice (optional) and serve hot with chapatis / naans. Slurp !