Sometimes we derive maximum comfort from simple things in life,
isnt it ? That soft cottony bedspread that's been used and washed for ages that
you want to never let go. A simple strong cup of coffee early in the morning,
served with love (I am not a coffee drinker, but I still make it for all those
who love it at home). A simple meal of rice and yoghurt after a long shopping
sojourn in the sun. A baby's smile and gurgle at the end of a weary day.
Where am I going with all this, you
may ask ? Well, I need no introduction to my most favourite comfort food in
North Indian cuisine – and that's Kadhi (or spiced gramflour in yoghurt gravy –
that translation itself takes away the magic that this dish offers). Some
Kadhi, a little steamed rice, a papad. And thats ultimate comfort food for me.
And for many people I know.
And team it up with some methi /
fenugreek leaves, and you have a winner on hand. Adapted from Vidhu Mittal's
Palak Magori ki Kadhi, I tweaked the recipe a bit as I had fresh methi leaves
on hand and also had blogged about Magori Kadhi and
Kadhi Pakodi earlier. And the earthiness was soo flavoursome, I hardly had any
Kadhi left to snap it up. Thankfully, mom's dinner was delayed a bit so got to
take a few snaps. Here you go for an awesome yoghurt gravy that's sure to
tickle your senses.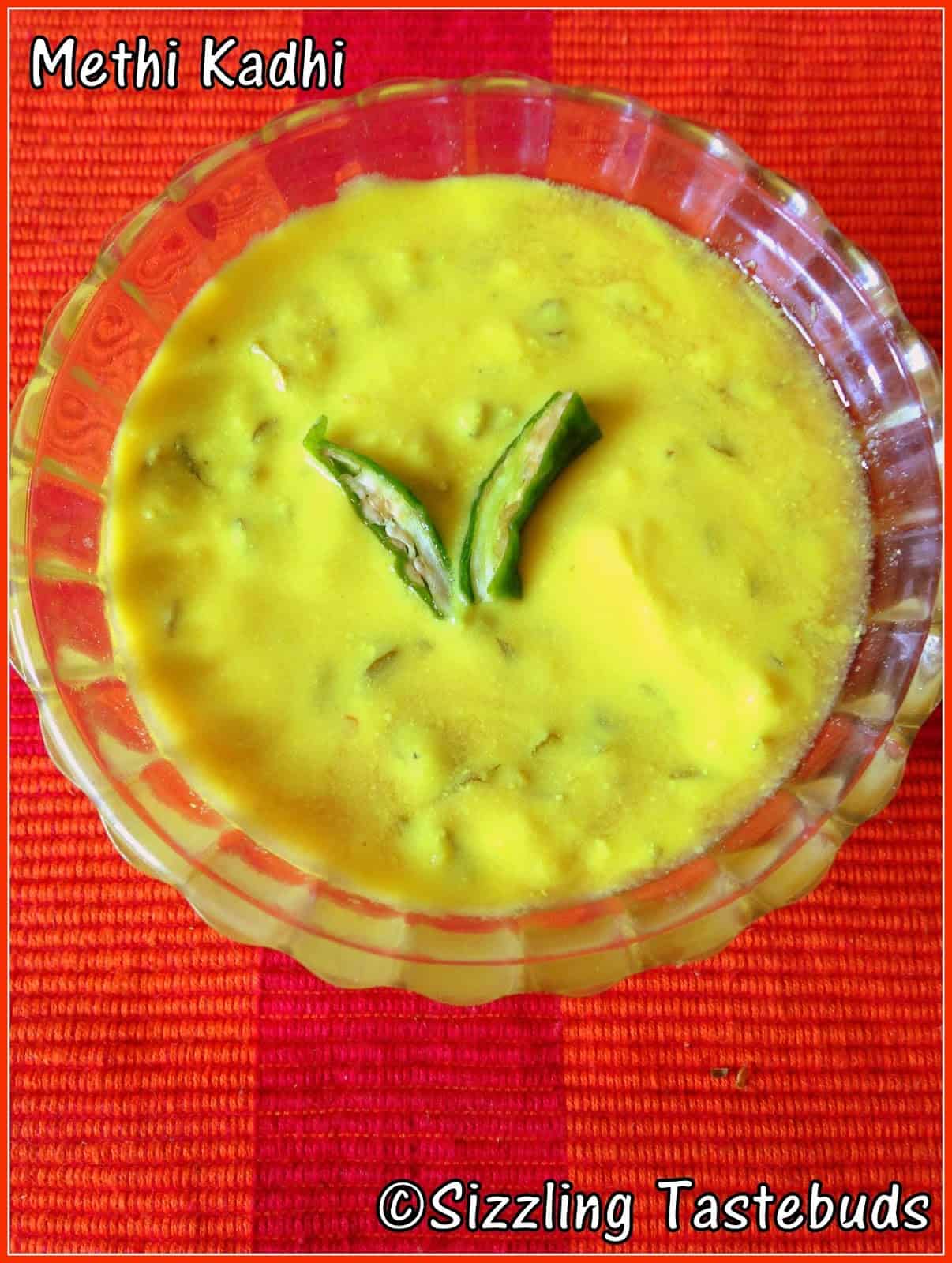 Pin
Linking this to BM # 26. Also to Priya's healthy Me, healthy Us
Prep time : 15 mins | Cook
time : 15 mins | Serves: 3
Difficulty level : Easy
Serving Suggestions : Plain steamed rice / Jeera Rice and papads / pickle
Ingredients:
Besan – 1/4 cup (take away 1 tsp from
this)
Yoghurt – 2 1/2 cups (slightly sour)
Water – 3 to 3.5 cups
Fresh fenugreek – washed and cleaned-
3 TBSP (substitute with Kasuri methi if you wish – but the flavour would
be compromised)
Turmeric- 1/2 tsp
Salt – to taste
Ghee / clarified butter – 1/2 tsp
Green chillies – 1/2 tsp, minced
Ginger grated – 2 tsp
Cumin Seeds / jeera – 1/2 tsp
Asafoetida / hing – 1/4 tsp
Red chillies, broken – 2 nos
Oil – 2 TBSP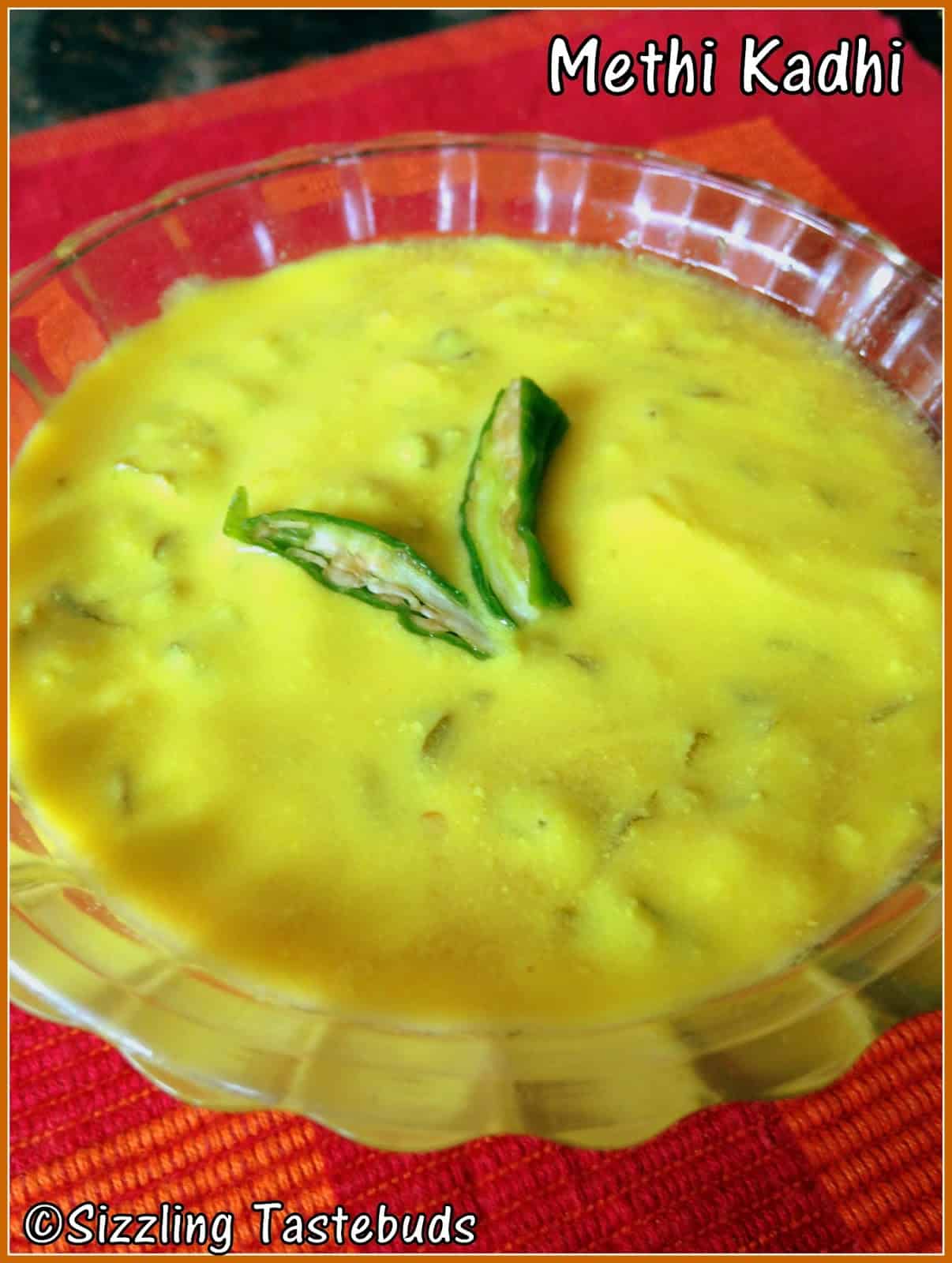 Pin
Method:
Wash clean and sort fenugreek leaves,
Chop them fine. Saute them in 1 TBSP of oil with little salt and keep aside.Do
not add any water to cook, let the leaves wilt on its own. (If using kasuri
methi / dried fenugreek, crush them with your palms and add to the tempering as
in the next step)
In a large bowl, beat the yoghurt till
free of lumps. Add in the besan, salt, turmeric and whisk together till they
mix in a homegeneous mixture
In a deep pan or kadai, heat remaining
oil. splutter cumin seeds, green chillies, asafoetida, red chillies, ginger.
Saute well for 2 – 3 mins. Now add the yoghurt – besan mixture and let it
simmer on very low flame for 5 -6 mins. Once the raw smell disappears, add the
sauteed methi / fenugreek leaves and simmer further for 1-2 mins
Transfer to serving bowl. And serve
hot with plain steamed rice and pickle.