One of childhood's earliest memories was of Amma (mom) or Paati (grandmom) making sambhar with Raddish and we used to play with the thick roundels of steamed raddish in the broth by slowly peeling off the skin of the roundel and wrapping it around our thin fingers like it was the greatest accomplishment on earth . I remember that me n sis used to even compete on how many such rings we could each peel off without breaking ! Golden days 🙂 Now, why am I speaking about raddish sambhar when the post clearly says its Raddish Stir fry ? Coz till very recently (read about a decade), we had no idea what else could be made from raddish, apart from Mooli Paratha and Sambhar. And then one day, mom discovered that raw grated raddish made for very good Kosambari (South Indian Salad) and was great for the heart too. Despite the rather pungent smell that raw / cooked raddish gives off, its heartening to read that raddish is very good for liver related ailments, weight loss, cardiac
ailments. And then also realised that steamed raddish can also be made into a stir fry.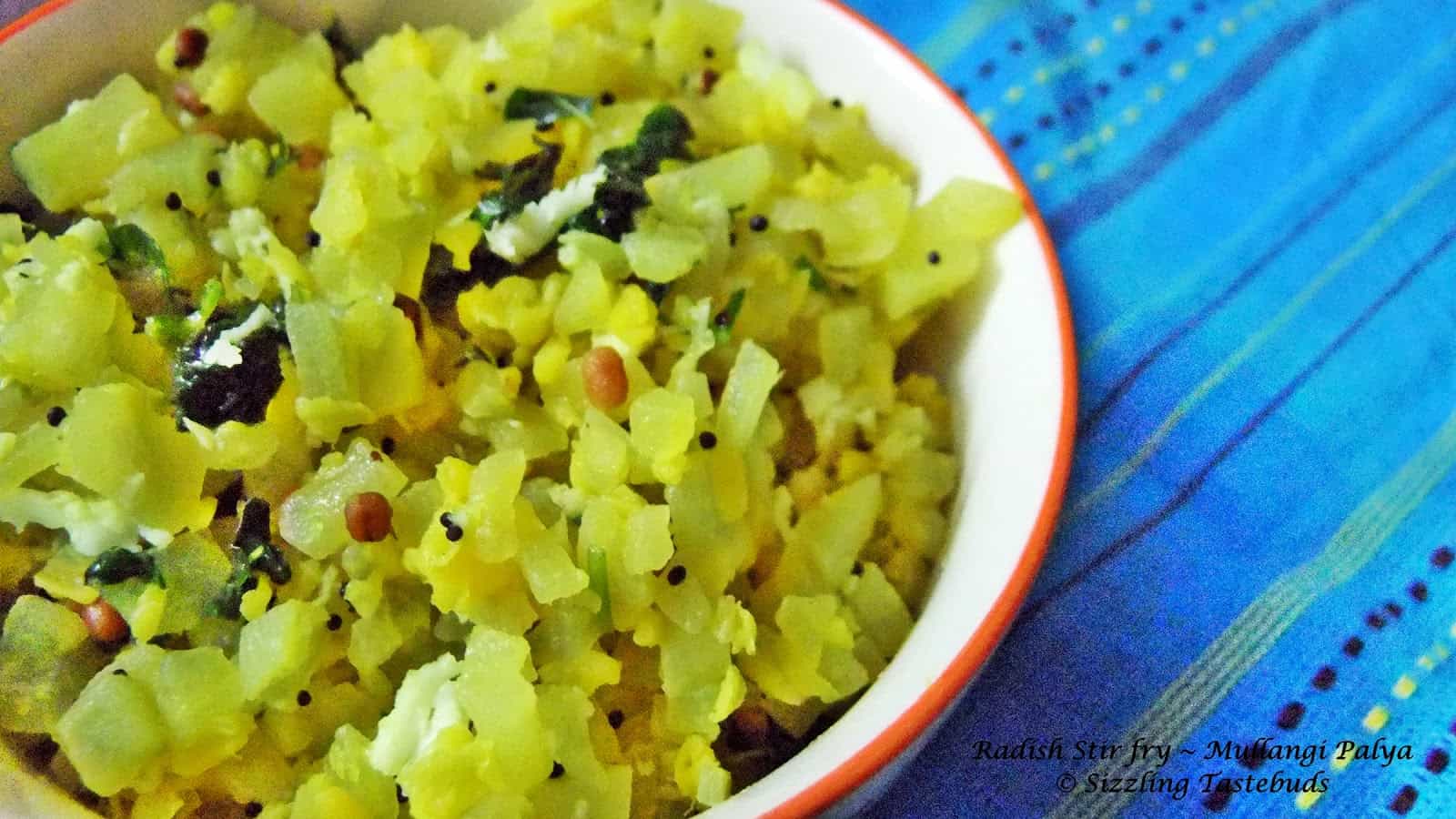 Pin

So, today's dish is a simple stir fry that you can put together. It tastes great with hot rice and any sambhar (gravy) or even curd rice and pickle. Do check out similar dry curries here.

Sending this to Suma's MLLA, event by Susan and also to Anyone Can Cook by Umm.

Prep time ; 10 mins, Cooking time : 15 mins. Serves : 2

Ingredients:
Radish – 1 large (or 2 medium)
Moong Dal / Split green gram – 2 handfuls (1/5 cup approx)
Oil – 1 tsp
Tempering : Mustard seeds, curry leaves, red chiiles (2), asafoetida (a pinch)
Salt – to taste
Turmeric – a dash (opt.)
Grated coconut and coriander leaves for garnish.
Method:
1) in a bowl of hot water, wash and soak moong dal for 10 mins. Meanwhile, wash, peel and cut raddish to bite sized bits.
2) Steam cook the dal and the radish for 1 or 2 whistles with minimum water. Drain.
3) In a skillet, heat oil and add the tempering. Once the mustard stops spluttering, add the turmeric and boiled radish-dal combo (ensure both of them are not over cooked, but just al dente). Stir once
4) Add salt, adjust seasonings and grated coconut / coriander for garnish. Voila ! perfectly cooked radish stir fry ready in minutes 🙂