Nothing can beat this yummilicious Makai
Tikki or Corn Tikki. This is different from the Makai Aloo Tikki I had made earlier. As a mom of a young girl, I feel Tikkisare the best way to sneak in veggies along with adding fibre (which this recipe abounds with). So evening snacks are generally cutlets or tikkis which are either baked or shallow fried. My favourites would have to be Oats Moong Tikki & Matar ki Tikki. As this is one way to beat the fat out of fast food, this is also linked to my event "Fast Food not Fat Food" that am guesthosting this month.
Corn is perhaps the most under rated ingredient for weight
watchers. Its more popular avatar is of course the popcorn made from dried and
popped corn Kernels, which is a favourite amongst kids and adults alike! Corn
is part of the Maize family which is the highest grown crop in the US.
Wikipedia tells me "Maize and cornmeal (ground dried maize) constitute a staple food in many regions
of the world. Introduced into Africa by the Portuguese in the 16th century,
maize has become Africa's most important staple food crop Maize meal is
made into a thick porridge in many cultures: from the polenta of Italy, the angu of
Brazil, the mămăligă of Romania, to cornmeal mush in the U.S. (and
hominy grits in the South) or the food called mealie pap in South Africa
and sadza, nshima and ugali in
other parts of Africa. Maize meal is also used as a replacement for wheat flour, to make cornbread and other baked products. Masa (cornmeal treated with lime water) is the main
ingredient for tortillas, atole and many other dishes of Mexican food."
Now, lets get to the recipe 🙂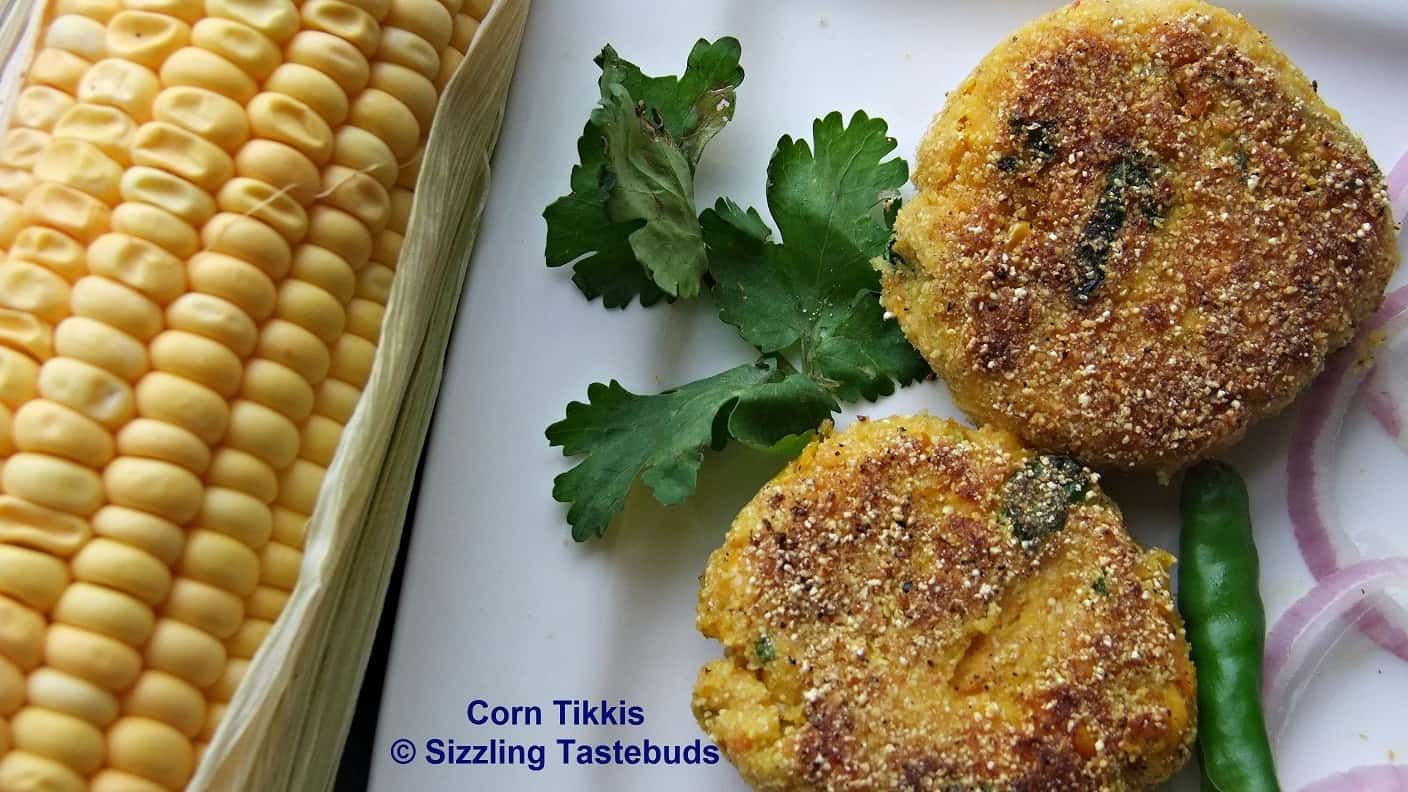 Pin
—————————————-
Prep time– 10 mins + 10 mins standing time
Cook time– 10 mins
Serves– 3
Difficulty level– Easy
Serving
Accompaniments– Tomato Ketchup / Green Coriander- mint chutney
—————————————-
Ingredients:
Corn Cob – 2 nos (or use shelled / frozen corn – 1.5 cups)
Carrots – diced – ¼ cup (optional)
Bread crumbs – ½ cup (divided use)
Salt – to taste
Amchur / Dry mango powder – ½ tsp
Red chilli powder – ½ tsp
Green chillies – deseeded & chopped – 1/2 tsp
White Pepper powder – ½ tsp
Coriander powder – ½ TBSP
Cumin / Jeera powder – ½ TBSP
Turmeric – a dash
Lemon juice – 1 tsp
Coriander leaves – a handful (chopped 2 TBSP)
Oil – to shallow fry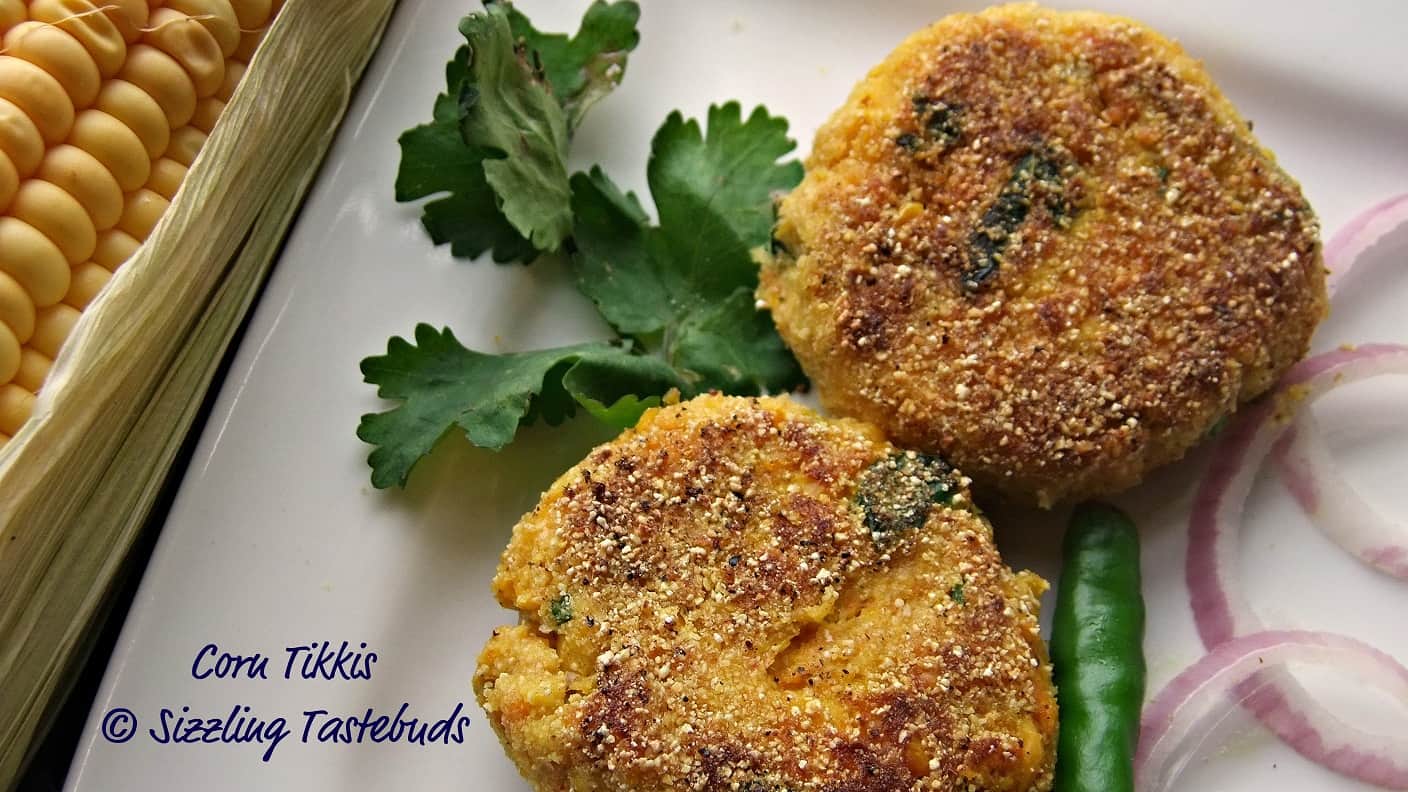 Pin
Method:
1) Pressure cook whole corn (on the cob) for 2 whistles along with
the carrots (in a separate container). If using frozen corn, thaw and boil in
slightly salted water for 10 mins till they turn soft but not mushy. Either
way, drain the water and cool to room temperature.
2) If using corn cobs, use a sharp knife to deseed them from the cob.
You should be left with approximately 1.5 cups of corn.
3) In a spice grinder (or a smaller mixer jar), pulse the corn along
with the cooked carrots (you can also grate them instead of cooking) slightly
till the kernels are slightly mashed up.
4) In a large bowl, transfer the corn kernels, add 2/3 of the bread crumbs
and rest of the ingredients one by one (except oil). Do not add any water
unless absolutely necessary.
5) Shape into a nice thickish dough. Divide them into equal portions
and flatten them slightly.
6) Cover and refrigerate for 10 – 15 mins
7) In a shallow frying pan, heat about 2 -3 TBSP of Olive oil
8) Coat the tikkis in some more bread crumbs (or roasted suji /
yellow cornmeal) all around till the tikkis are coated.
9) Gently place the tikkis in the oil. Shallow fry them (in small batches)
for 2 – 3 mins on both sides till they are golden brown in colour.
10) Drain on absorbent paper. Serve hot with Tomato Ketchup or Green chutney