Nature offers us such
a vibrant food palette – from deep greens of Spinach to Orange-yellows of
Squash to fuchsia pink of beetroot, its a riot of colour on our plate. And a
wonderful way to celebrate that is to dedicate one colour per day to a dish. Isn't that a fantastic idea?
So, lets get to see the
colour green in all its vibrancy in today's dish – Menthya Kattina Saaru.
Today's dish is
rustic in its approach, but divine in taste. Translating this dish from the
native Kannada "Menthya Kattina Saaru" would mean Fenugreek
Broth… but that doesn't do justice. 
For those brought up in the Bangalore and
/ or Karnataka, Kattina Saaru (the essence of the lentils along with the sautéed
fenugreek) is bliss, and this is one hallmark dish of both grandmom and mom.
Naturally, I love it to bits, and so does sis. The essence of this Saaru (or
Rasam / thickish broth) is that masala with a generous hint of asafoetida (skip for GF and proceed with the rest of the recipe) teamed with earthy flavours of fresh coriander and cumin seeds and lots of
freshly grated coconut. This is a thicker consistency than the usual rasam, and it thickens a bit after sitting, so switch off while still still like a slightly thick broth. 
And the best part,
like Kuzhambus (or thick tamarind based gravies),this tastes great the next day, which is precisely
the reason why I ask mom to make double the quantity so that I could have it
the next day too.  
Goes very well with sautéed
greens (use Fenugreek / Agathikeerai) , hot rice and a dollop of ghee. Similarly pairs well with Ragi Mudde
(steamed Finger Millet Dumplings). For that complete meal, end with a glass of spicy
buttermilk and you would know what I am talking about.
Prep time : 20 mins |
Cook time : 20 mins | Serves : 4 generousluy
Difficulty level :
Medium | Spice level : Medium
Serving suggestions :
Hot Steamed rice or Ragi Mudde (Finger Millet dumplings)
Tips /Notes : Fenugreek leaves (methi) works best for this dish. Do not substitute with spinach or any other greens. A great medicinal substitute and with exactly the same procedure would be Agathi Keerai (Agathi Soppu or Sesbania Grandiflora). Only with Agathi Keerai, you might want to add a little more jaggery as the leaves are quite bitter, but they make a brilliant dish.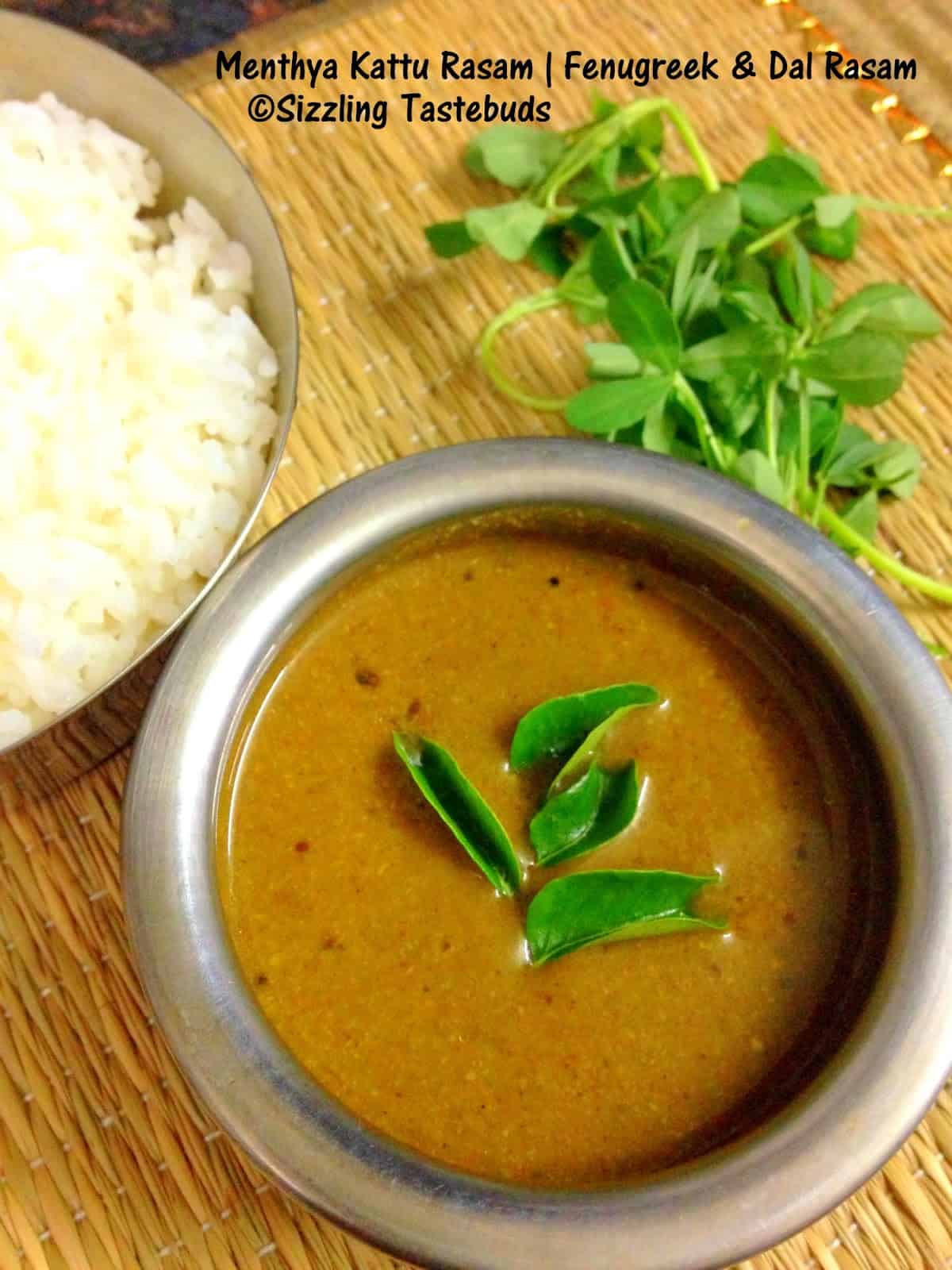 Pin

Ingredients:
Fenugreek leaves – 2 large
bunches (or once sorted – 6-7 large cups)
(the amount of
fenugreek might baffle you, but trust me it shrivels quite a bit)
Salt – to taste
Toor Dal – ½ cup –
soaked in hot water for 20 mins
Turmeric – ½ TBSP
Oil – 2 tsp
Jaggery – ½ TBSP
Tempering : Oil,
mustard seeds, Red chillies (broken)
PIN FOR LATER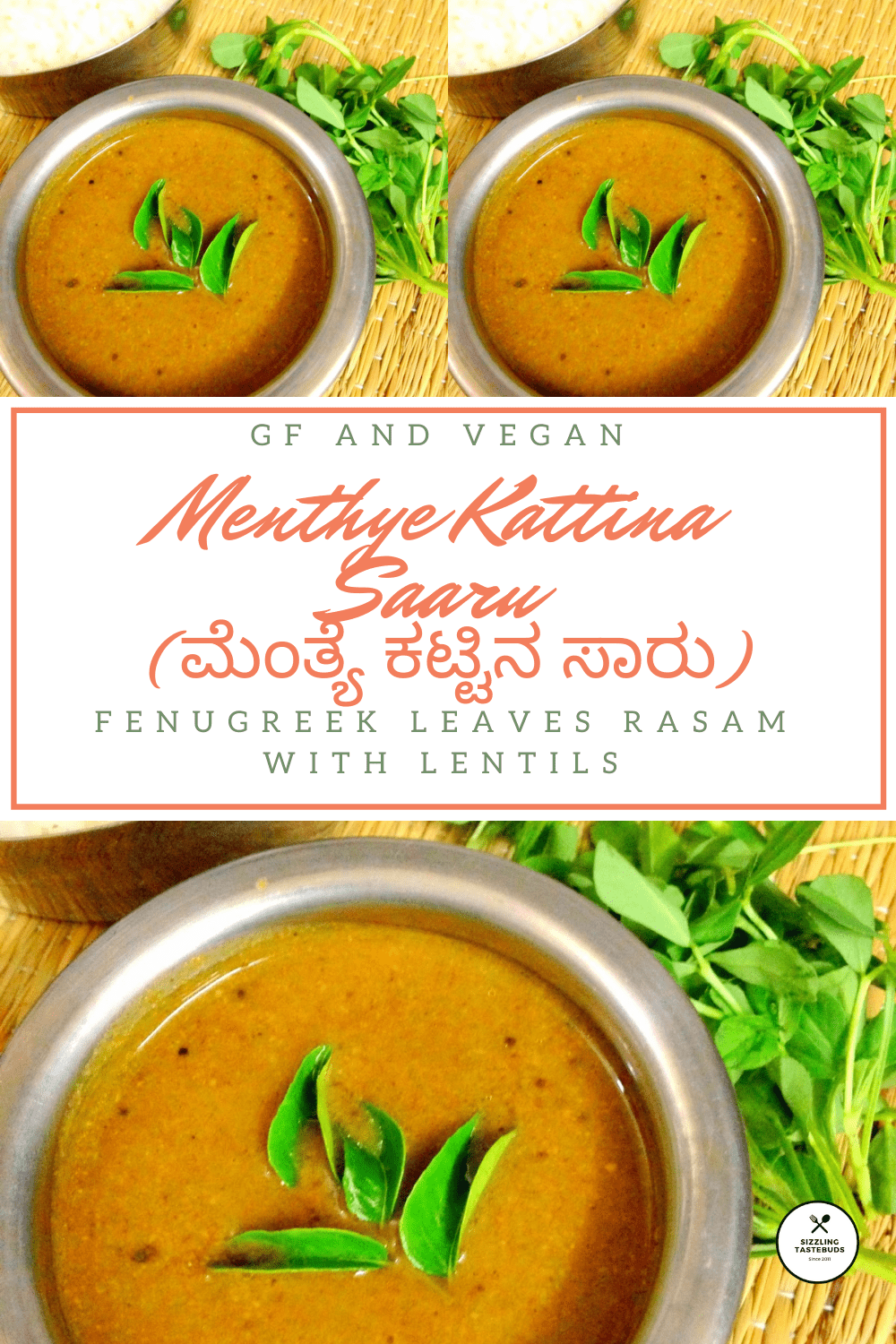 Pin




Masala paste:
Fresh coconut – ½ cup
Tamarind – a tiny
roundel
Red chillies – 3 (adjust
spice)
Cumin seeds – ½ TBSP
Raw Rice – ½ TBSP
Coriander seeds – 2
TBSP
Hing / Asafoetida – a
generous pinch (simply skip for GF)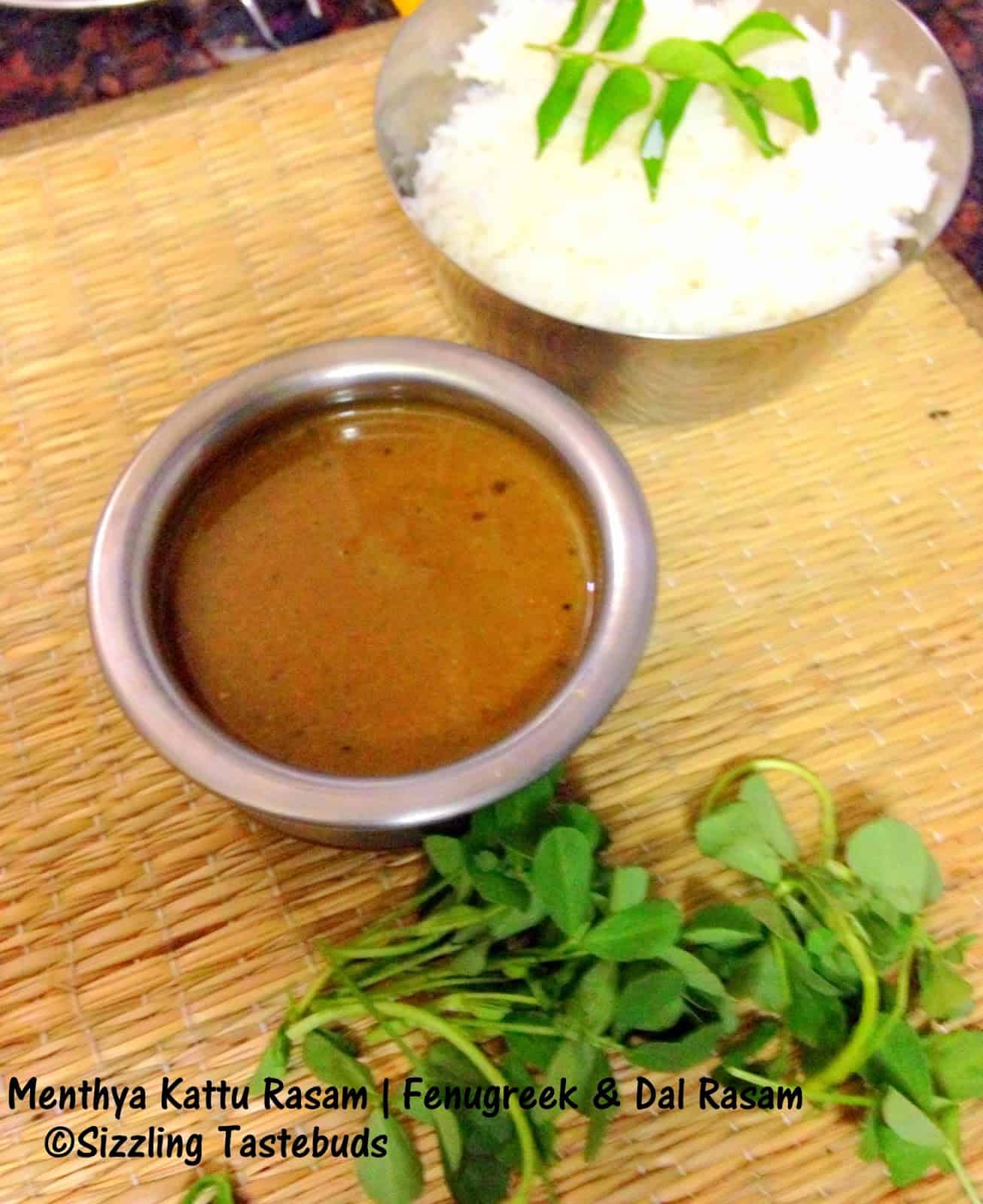 Pin
Method:
1) Pick, sort, wash and
chop the fenugreek leaves. If using frozen, thaw till it reaches room temperature.
2) In 2 tsp of oil,
roast all ingredients of the masala paste except coconut and keep aside. The
In a large pot, bring
6 cups of water to a rolling boil. Add the turmeric and the soaked dal. Once
the dal is half cooked, add the fenugreek leaves and boil till the dal is done
(it should flatten out in your fingers, but not be mushy).
3) Drain the water well and
retain both the leaves-dal as well as the water. Mash the mixture slightly so
that all water drains out.
4) Once the dal-leaves
mixture is cooled, take 2 ladlefuls of it, and along with the coconut and the
roasted ingredients of the masala, make a smooth paste. Reserve the rest of the
dal-mixture as it is.
5) In a wok, heat oil
and prepare the tempering. Once the chillies slightly sizzle, add the ground
paste, salt & jaggery. Saute for 2 – 3 mins, add the rest of the dal water
now. Let the mixture simmer on low-medium flame for 6 – 9 mins till it thickens
a bit (the rice and the coriander in the masala paste will help it do so).
6) Once a nutty,earthy
aroma comes. Switch off the stove and transfer to a serving bowl. Add a dollop
of ghee and close the lid.
7) With the remaining cooked
dal-leaves mixture, prepare a dry curry exactly like this curry. Temper with
mustard, fresh coconut and asafoetida
8) Serve the Rasam and sautéed
greens for a wholesome healthy experience !