If life could be one stretch of 24-hour snooze time (once in a while), nothing could be more blissful 🙂 Similarly after a marathon of eating heavy stuff, today's dish couldnt be any less blissful. Easy to make, and yummy to taste, this is one Rasam (english equivalent = Broth) that you can put together in a matter of minutes. Its also my comfort food and is made in a zillion ways in most South Indian households (esp around Tamilnadu & Karnataka).
 You may also (like me) slurp this like a soup for that ultimate combo of comfort and light food! Both my grandmom and mom make this in slightly different ways, but am presenting my mom's version here (as its less tangy – which suits me perfectly fine). Don't forget to temper this rasam with a dollop of ghee (clarified butter) for that heavenly taste that takes you many decades through my childhood days 🙂  
All of us love this at home (and my kid calls this Puli Rasam (Tamarind Rasam) and we love it best with hot steamed rice and a simple Healthy Potato Roast … Yummmm 🙂
Prep time : 10 mins. Cooking time : 10 mins. Serves: 2
Ingredients:
Tamarind – a lemon sized ball (or for a even quicker version use 1 TBSP of thick tamarind paste)
Salt – to taste
Instant Jeera-Milagu Rasam powder – 1 TBSP (See notes below)
Jaggery – 1 tsp grated
Hot water – 3 cups
Tempering:
Ghee – 1 tsp
Mustard Seeds
Curry leaves 
Hing / Asafoetida – a generous pinch
Turmeric – 1/4 tsp
Method:
1) Bring 3 cups of water to a rolling boil. Add tamarind paste (or extract from tamarind pulp), salt, Rasam powder, jaggery.
2) Let it reduce to about 2/3  (cook covered for 8 – 9 mins)
3) Prepare tempering with ghee. Splutter mustard seeds, curry leaves, hing and turmeric and pour onto the boiling rasam. Cook for further 1 – 2 mins.
4) Delicious Rasam is ready to be served with Steamed rice, papad and any dry stir fry.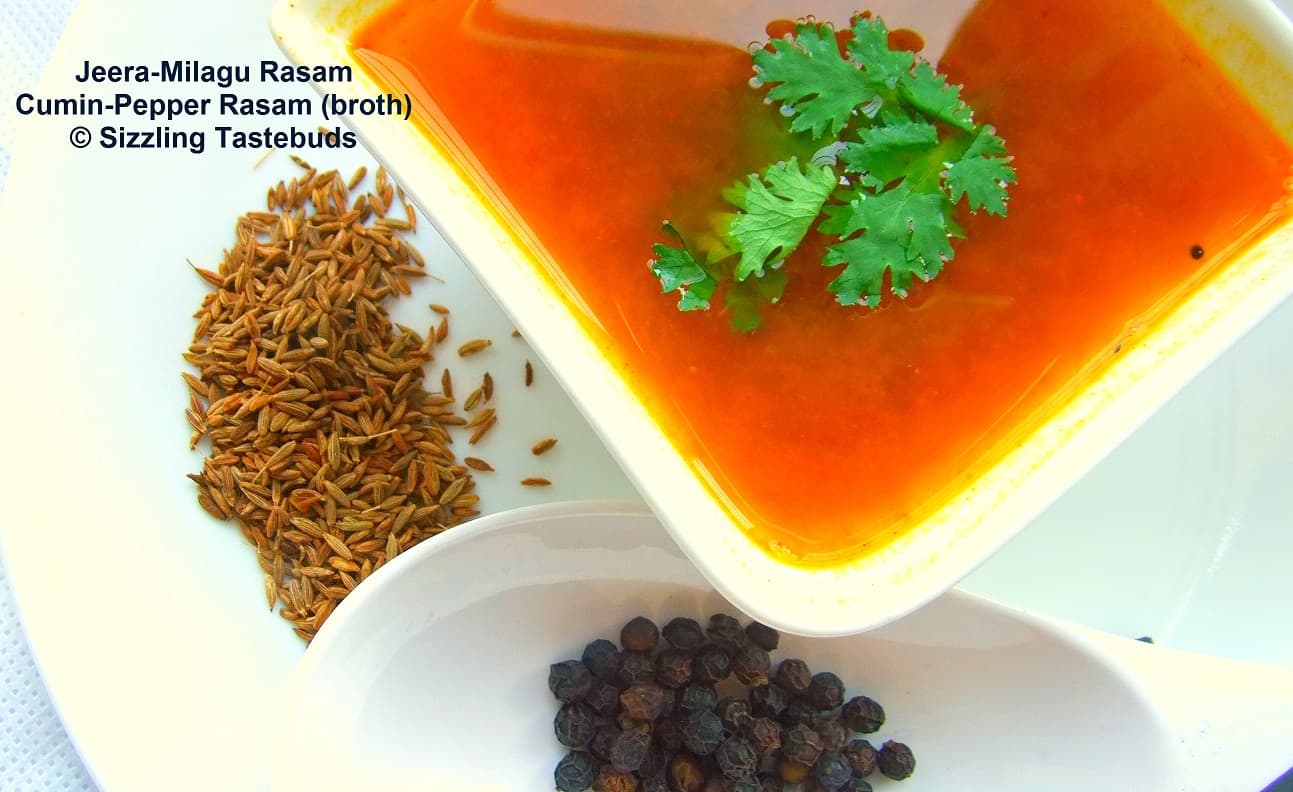 PinNotes for Instant Jeera-Milagu Rasam powder:

This is a prep that I make every 15- 20 days, and the quantity lasts me for 5 times of the above rasam. Each time I use 2 TBSP of the above rasam for the ingredients / proportion specified above. Feel free to adjust spices according to taste.

Ingredients for Instant jeera-Milagu Rasam Powder:
Toor Dal – 1/4 cup
Cumin / Jeera – 4 TBSP
Black Pepper / Milagu / Menasu – 2 TBSP
Red Chillies – 3 nos (hot variety)
Red chillies – 4 nos (kashmiri variety)
Curry leaves – 2 sprigs
Asafoetida – 1/2 TBSP
Oil – 1 TBSP
Method for Instant jeera-Milagu Rasam Powder:
1) In a pan, heat half the oil. Roast the Toor Dal till golden brown. Transfer
2) In the same pan, add remaining oil. Roast Red chillies (both varieties), Cumin, Pepper , Curry Leaves (one by one- and in the same order). Transfer and cool thoroughly
3) Grind the above along with asafoetida in a spice grinder. Cool slightly and store in an airtight container. 
4) Use as required.