Rasam (aka South Indian light broth) is our go-to dish after heavy meals, a long travel / trips, festival binge eating or even as a quick dish to make when hungry. Some rasam like the garlic pepper Rasam shots or tamatar Shorba are also served as appetisers / soup. As opposed to sambhar , rasams are generally devoid of lentils and are light broths. Fusion rasams like today's Carrot Moong dal Rasam or Tomato Onion Rasam also are welcome at home.  In Winters or peak of Monsoons, we do indulge in Kollu Rasam (Horsegram Rasam)
In traditional Tambrahm households, Rasam as a nomenclature is forbidden to be used.Sattamudhu (coming actually fromSaatru Amudhu– meaning nectar of food. Rasam is meant to be a flavourful, spice-heavy light broth which has digestive powers, and in a traditional sit-down meal or every day lunches, Rasam always follows a heavy-lentil kootu / sambhar.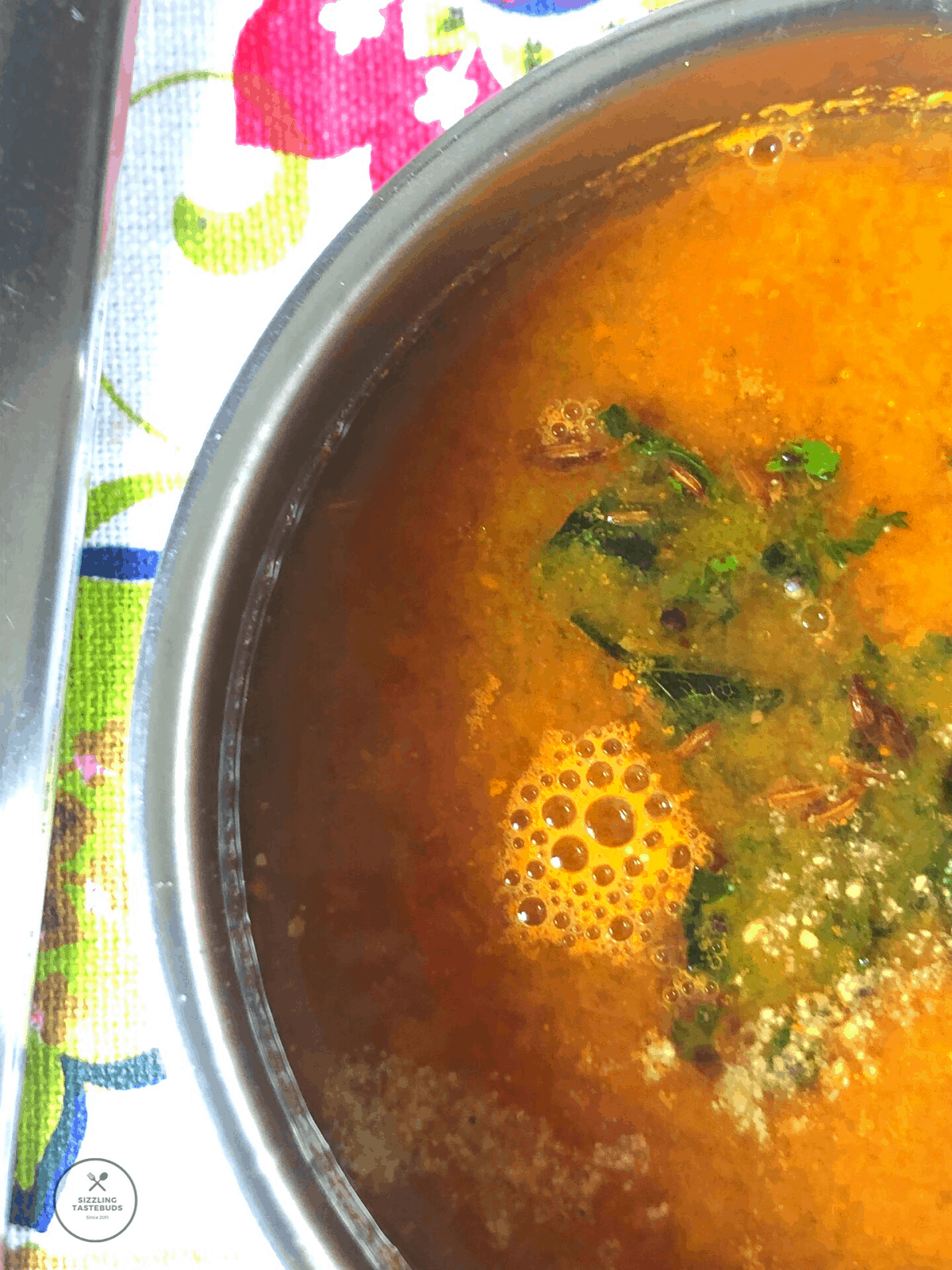 Earlier, when I read paruppu rasam on some blogs (no offence meant to anyone here), I was actually amused as in our house rasam is made with paruppu (cooked lentils- mostly for dal) only. My grandmom and mom both made different rasams, mostly with toor or moong dal.
My grandmom used to insist that the adi-rasam (the thick lentil portion of the rasam) contains more amino acids especially for growing children than just offering us to sip on the telu- rasam (the top portion of the rasam which is more broth like!)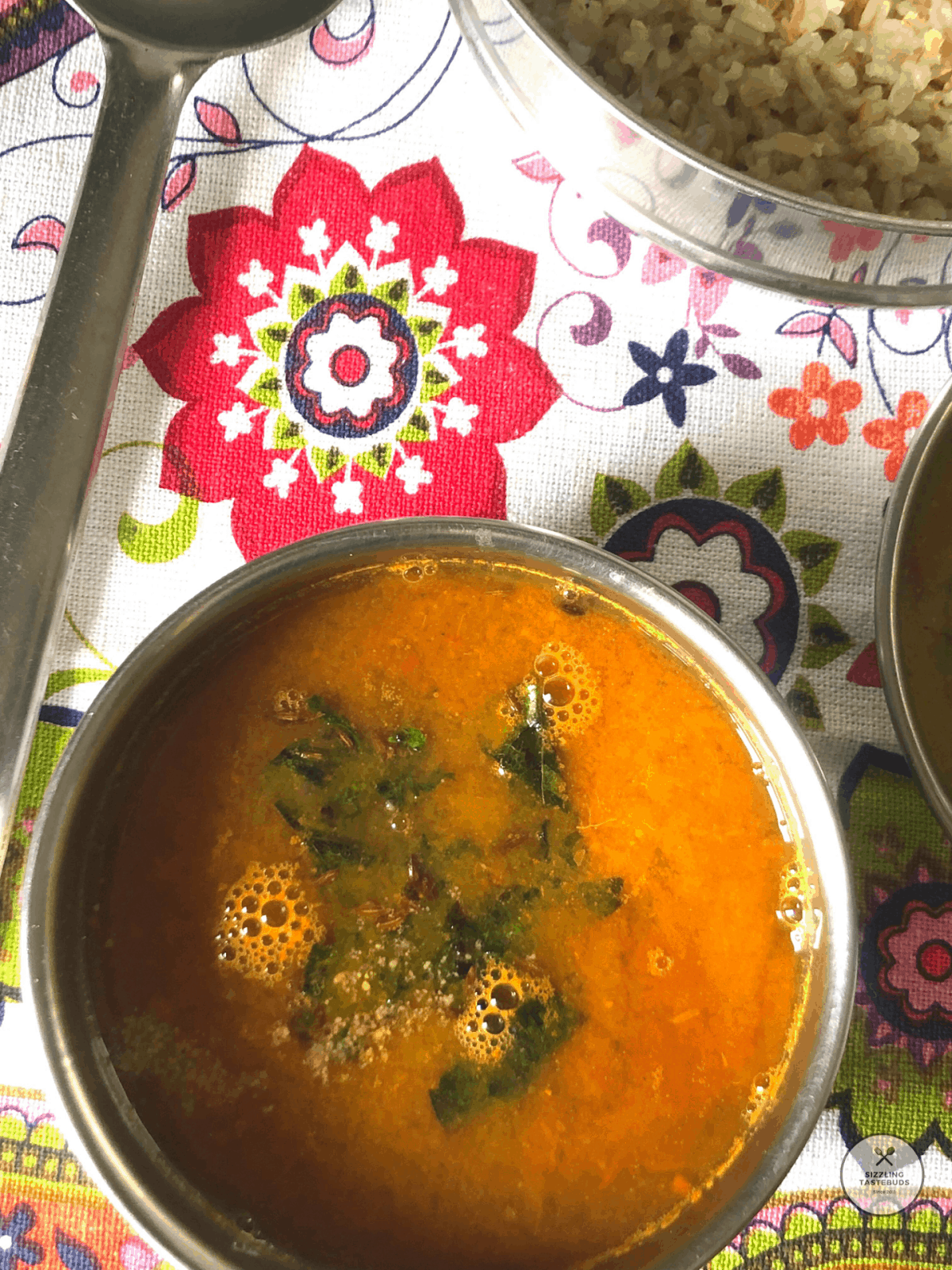 It was only after a few years I learnt that tamarind water , some spices and salt could also constitute rasam.
Anyways, the husband is not a huge fan of rasam, preferring his vettakuzhambu or sambhar anyday. My FIL and kids however love rasam for every meal.
Why am I talking rasam so much ? Our friend priya has given us #rasamraga as the theme for foodiemonday blog hop and we are all off to making traditional / fusion rasams this week !
More Rasam varieties on the blog:
Tomato Onion Rasam
Mysore Rasam
Vettalai Rasam (Betel leaves Rasam)
Garlic Rasam (Poondu Rasam)
Jeeraga Milagu Rasam (Cumin-pepper Spicy Rasam)
Poricha Rasam (Spiced moongdal rasam)
Tomato Rasam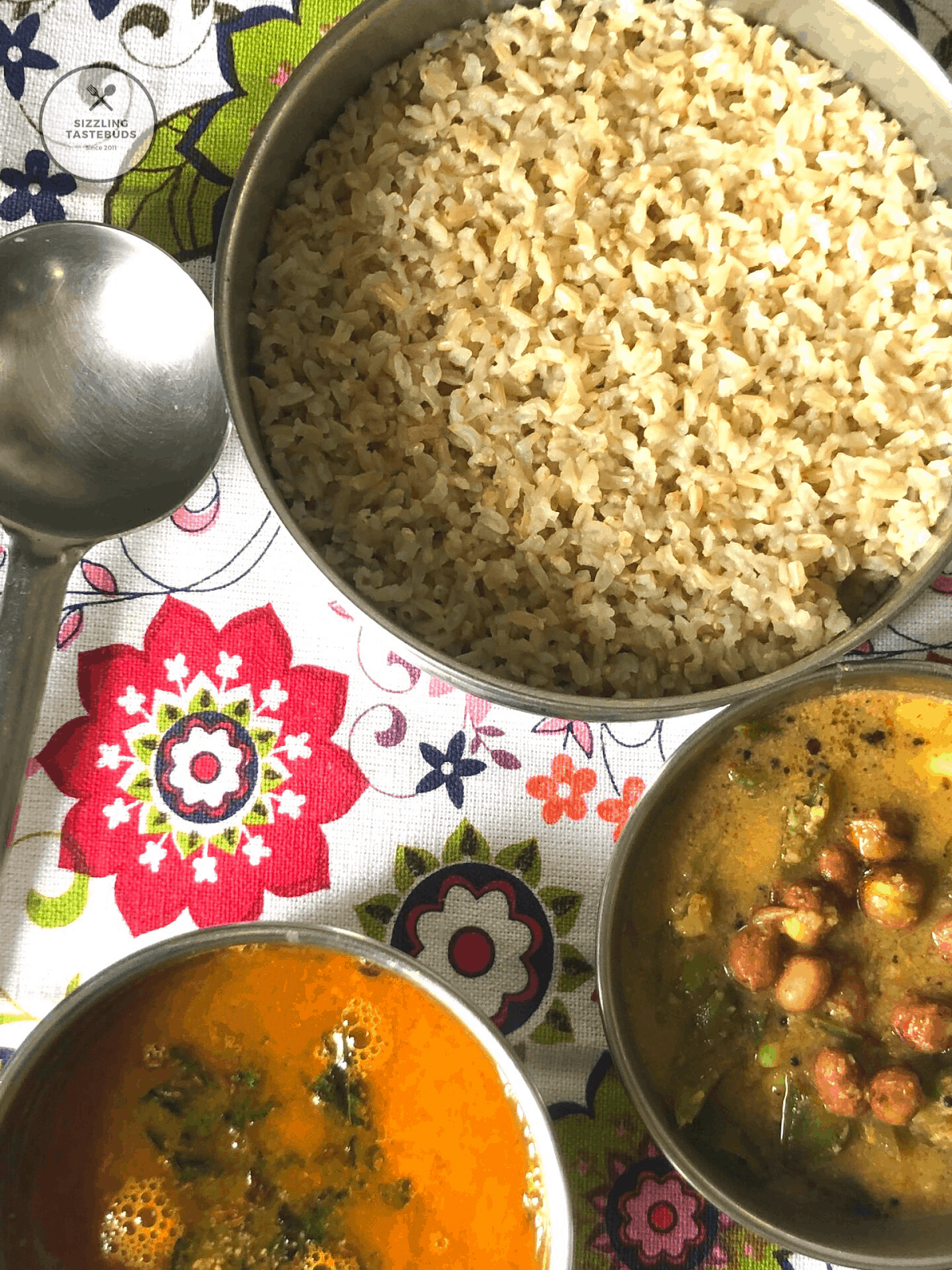 Today's an interesting fusion kind of rasam with carrots and moong dal (of course I didn't tell the kids there was carrots in it). The kids loved it, altho I felt it needed more tamarind , but overall the meal was a hit with rasam, brown rice and a avarekai Poritha kootu (flat beans in a lentil based spicy gravy).
Let's get cracking :
Prep time – 15 Mins, cook time – 10 Mins ; Serves – 3~4
What you need:
Moong dal / split green gram – 2 handfuls
Tomato – 1 large
Tamarind extract – 1/2 cup
Carrots – 1/2 medium (finely chopped)
Rasam powder – 1 tsp
Salt to taste
Tempering :
Ghee – 1/2 tsp (replace with oil for a vegan version)
Mustard seeds, cumin seeds – 1/2 tsp each
Hing / asafoetida – a generous pinch (skip for GF)
Coriander leaves – garnish
PIN FOR LATER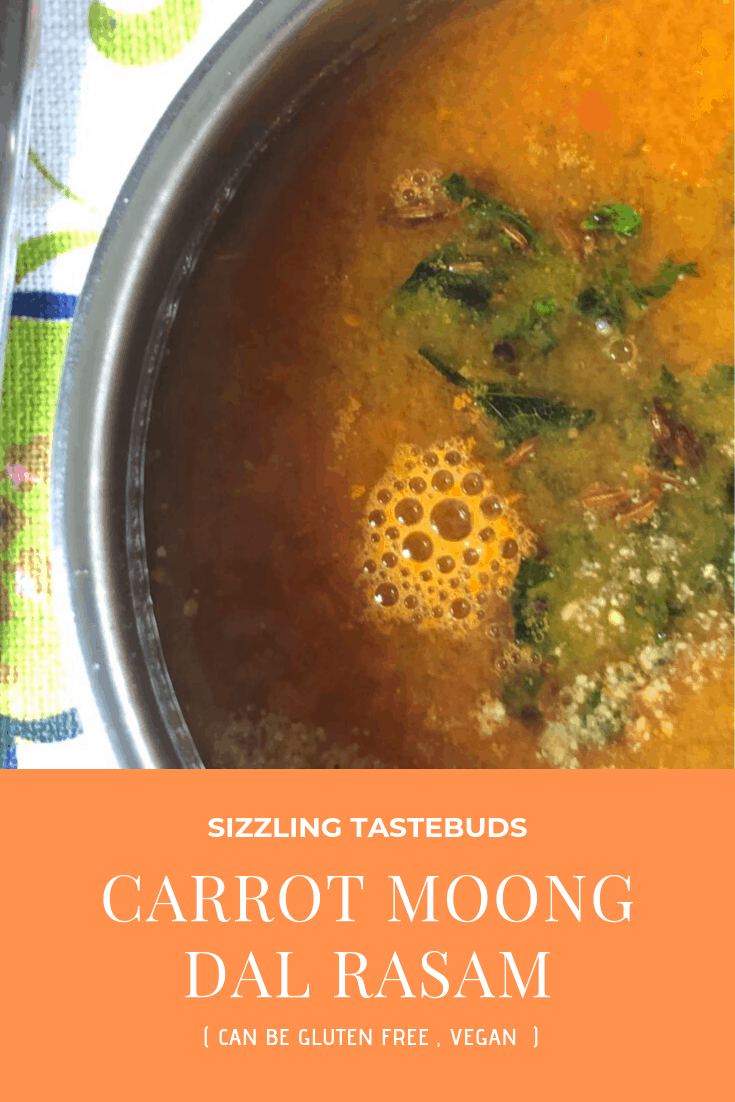 How to:
Pressure cook moong dal with carrot and tomato ???? with a pinch of turmeric for 3 whistles. Once the pressure is released, Add 1 cup of water more and blend to a smooth paste with a whisk or blender.
In a pan add the puréed lentil mix, tamarind extract, salt, rasam powder and bring to a gentle boil.
Once the rasam starts frothing on top, switch off (don't over boil any rasam – it loses its fragrance)
Prepare the tempering with ghee, splutter mustard and cumin seeds with hing, add to the rasam. Garnish with fresh coriander leaves and serve hot.