What is Menthe Hittu | Menthyada Hittu
Menthe Hittu or Menthyada hittu (Menthya in Kannada means Fenugreek seeds / Methi dana and hittu means flour, here it refers to the spice powder) is a special, delicious and versatile condiment used in North Karnataka Cuisine. A multipurpose aromatic spice powder used in Karnataka cuisine, to jazz up dishes and meals. With slight variations, this powder is also sometimes called Methkoot (used in Maharashtrian Cuisine).
Where is this Menthe Hittu | Menthyada Hittu used?
Filled with super healthy ingredients, primarily methi seeds (fenugreek seeds), its proteinicious and is eaten with hot rice+ghee , added to many curries (including making the very famous Menthe Gojju – tangy spicy dip – recipe soon!), and also eaten with rustic GF flatbreads like the following. I love this especially in this no-fry Bonda Soup (VIDEO BELOW)
You could also use this as a stuffing in parathas for a rustic, tasty twist. This powder also tastes amazing when topped on plain Upma / Poha as well as paired with the following rustic flatbreads from Indian cuisine.
Delicious Bonda Soup recipe which uses Menthe Hittu as the main ingredient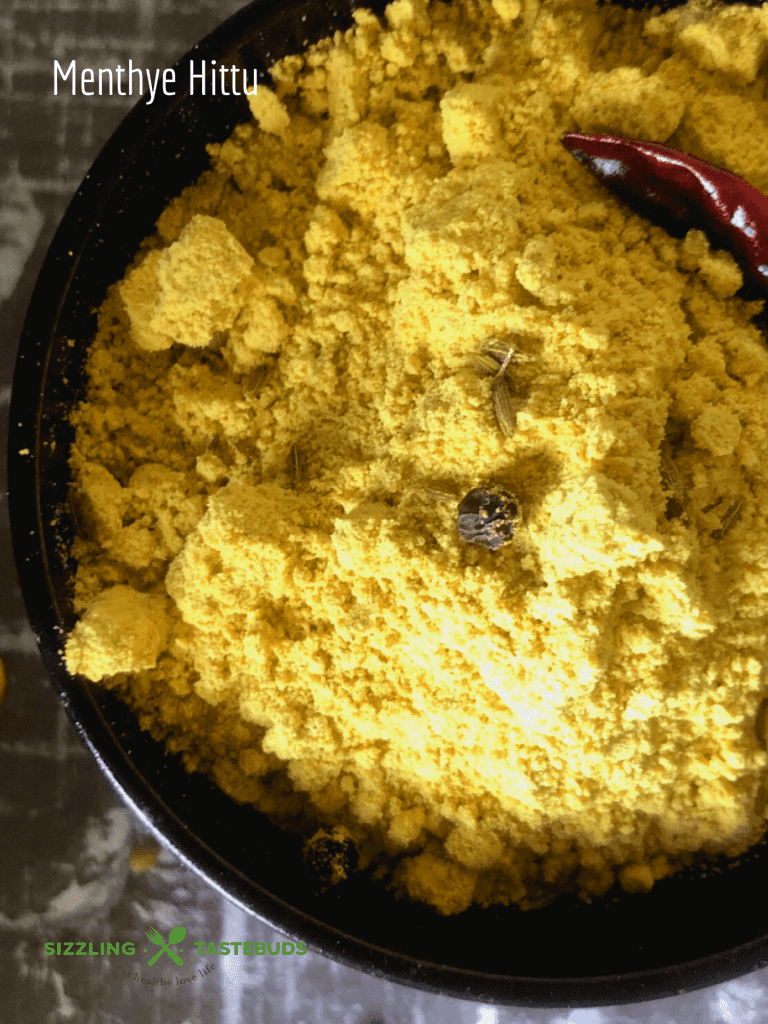 Similar Spice powders that our family loves are:
Flaxseed Molagapodi
Flaxseed Molagapodi or Flaxseed Spiced Lentil Powder is a spicy condiment made in South India. It is served with Idli, Dosa, uttapams or with steamed rice.  
Check out this recipe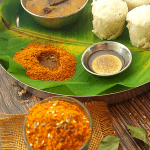 Moringa Spice Powder | Murungai Keerai Molagapodi
Moringa Spice Powder | Murungai Keerai Molagapodi is a spice powder/ condiment made with mixed lentil & super food moringa leaves. Served with Steamed rice or Idli-Dosa
Check out this recipe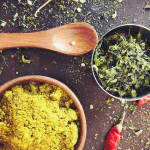 Navaratri Sundal Podi + how to make Karamani Sundal using Sundal Podi
Sundal Podi is a ubiquitous spice powder mix used to season Sundal (or legume Stir fry). It can also be used in vegetable stir fries as an aromatic seasoning.
Check out this recipe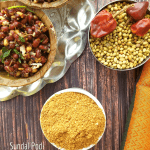 Let's get to making Menthye Hittu

Cuisine – Indian, Course – Condiment / Spice Powder , Spice level – medium

Prep time – 10 mins, Roasting time – 15 mins, Makes ~ 250 grams of the condiment

Shelf life – upto 2 months when refrigerated and used with sterile spoons

PIN FOR LATER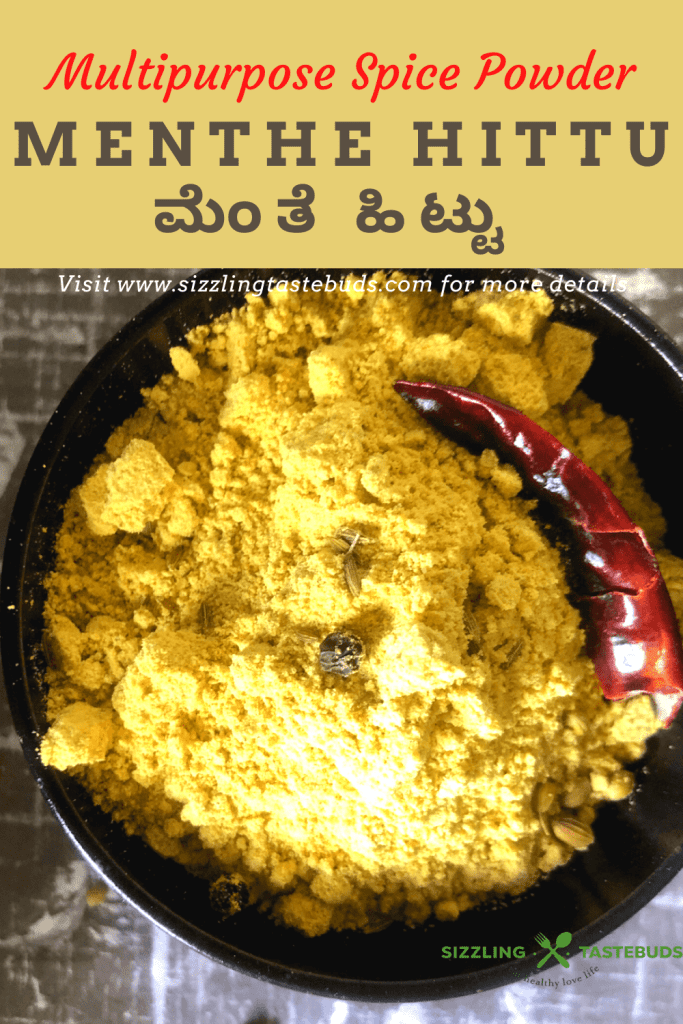 1 cup=200 ml
What you need to make Menthye Hittu:
1/4 cup Pigeon Pea (Toor dal)
1/4 cup Bengal gram (Channa dal)
1/4 cup Split green gram (Moong dal)
1/4 cup Split black gram (Urad dal)
5 Dry Red chilli ( **Don't use kashmiri variety**)
3 TBSP Dry Coriander seeds (Dhaniya)
1/2 tsp Fenugreek seeds (methi dana – don't increase this quantity for this above proportion of dals, else the powder becomes too bitter)
1/8 tsp Asafoetida (Hing, skip for GF)
1 tsp Salt
1/8 tsp Turmeric
1 tsp Jaggery (optional but recommended)
1/2 tsp Oil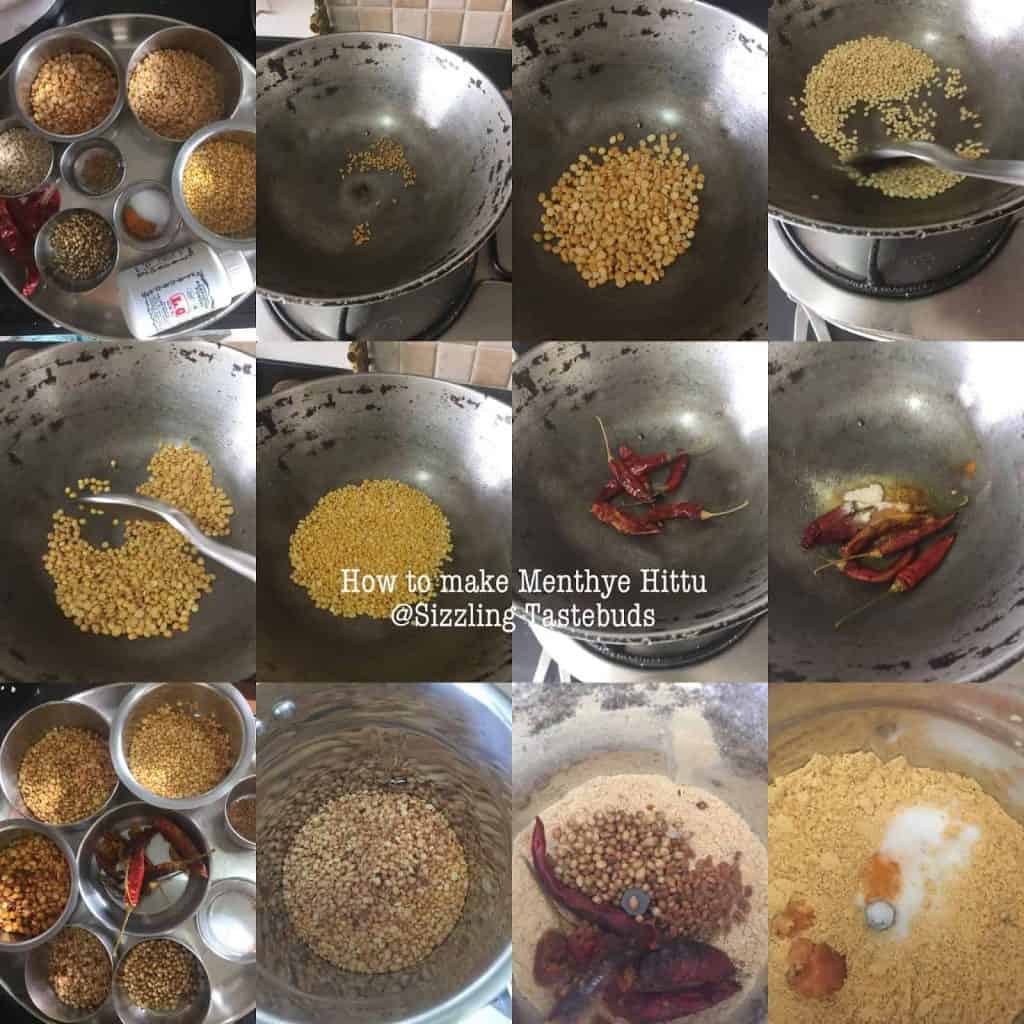 How to make Menthe Hittu or Methkoot
(See step by step picture above for detailed steps)
Dry roast all the dals (ONE by ONE) till they turn golden brown. Take them to a plate. Let it cool.
Similarly dry roast the coriander seeds and fenugreek too. Remove from plate
Add the oil, roast the chillies on low flame for 15-30 seconds, remove.
Cool all ingredients to room temperature.
Pulse all dals together to a coarse powder.
Now add coriander seeds + methi seeds and pulse just once.
Add the chillies, salt, turmeric, hing(if using) , jaggery and pulse again.
You would get a semi coarse powder.
Cool and store in an airtight container.
Use dry and sterile spoons always to use any condiment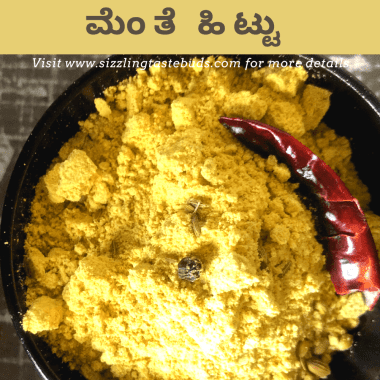 Menthye Hittu | Menthyada Hittu
A multipurpose aromatic spice powder used in Karnataka cuisine, to jazz up dishes and meals 
Ingredients
1/4

cup

split pigeon pea

Toor dal

1/4

cup

Bengal Gram

Channa dal

1/4

cup

Split Green gram

Moong dal

1/4

cup

split black gram

Urad dal

5

Dry Red Chillies

**Don't use kashmiri variety**

3

TBSP

Dry Coriander seeds

Dhaniya

1/2

tsp

fenugreek seeds

methi dana – don't increase this quantity for this above proportion of dals, else the powder becomes too bitter

1/8

tsp

Asafoetida

Hing, skip for GF

1

tsp

salt

1/8

tsp

Turmeric

1

tsp

Jaggery

optional but recommended

1/2

tsp

Oil
Instructions
Dry roast all the dals (ONE by ONE) till they turn golden brown. Take them to a plate. Let it cool.

Similarly dry roast the coriander seeds and fenugreek too. Remove from plate

Add the oil, roast the chillies on low flame for 15-30 seconds, remove.

Cool all ingredients to room temperature.

Pulse all dals together to a coarse powder.

Now add coriander seeds + methi seeds and pulse just once.

Add the chillies, salt, turmeric, hing(if using) , jaggery and pulse again.

You would get a semi coarse powder.

Cool and store in an airtight container.

Use dry and sterile spoons always to use any condiment