A good
friend buys you lunch, a best friend eats yours. –
Anonymous. 
While I can buy you lunch, albeit
virtually, the new year holds promises of having best friends in the blogging
world cooking for each other through events , blogathons and the like. Wishing
all my readers a wonderful 2013 ahead filled with happiness, wonderful food and good health. 
And talking of events, 2012 was a
wonderful year what with this blog now completing 2 years this month,Magic Mingle completing 12 wonderful
editions and my 'elevation' as a mom the second time around.
I really thought it would take me some more time to bounce back to full time
blogging, but the blogging bug is quite addictive and I do hope to post as
regularly as I can without stretching myself too thin !! 
Time surely flies for my infant is now
commanding enough (or more) attention from my elder daughter, than me. The
sisters are totally bonding, which is quite a relief, and gives me a little
time to think about food, cooking and getting back to near normalcy. And
talking of food,the combo for this month's Magic Mingle
# 13 is Walnuts & Cucumber. I was just thinking aloud about the
combo with my husband when my daughter pipped in & suggested Cucumbers and
Walnuts.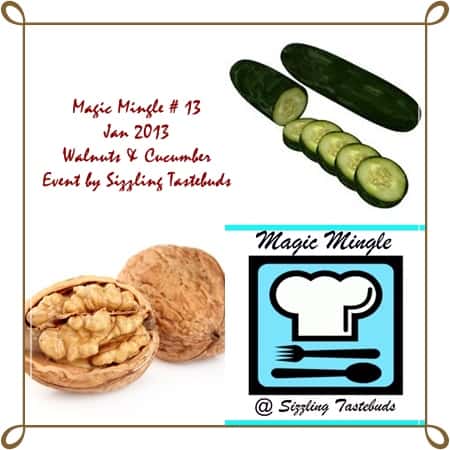 Pin
I have never tried the combo before, but it promises to be fun. I am
sure you would come up with yummy dishes as ever for the Magic Mingle
Challenge. For someone who is visiting this blog or participating in Magic
Mingle for the first time, there are some quick rules. Do connect with me at
momchef77@gmail.com if you want to be part of Magic Mingle as this event is
open only to members. Meanwhile, a quick recap of how you can send in your
entries and what constitutes this month's ingredients:
Important points to
note before linking your entries:
1) All dishes to be vegetarian
& eggless only (non-veg/ alcohol etc not accepted).
2) Only new entries are
accepted and any number of new entries per member are
accepted. Please use the linky tool at the end of this post to link up your
entries
3) This dish could be across
cuisine(Lebanese/Asian/Mediterranean/Continental/Indian/Chinese etc)
and course (Breakfast/Lunch/snack/appetiser/dessert/Dinner)
4) The 2 magic ingredients should
feature as major ingredients in the dish and NOT as garnish. Both the
ingredients are to be used in the same dish
5) All the entries are to have the
logo indicated above mandatorily and the entries need to be linked to the
linky tool only. This link is up from 1st of the month to 15th of the month (end of day in your respective time zones)
6) Once you post &
link your entry (using the linky tool at the end of this post) between
1st& 15th of the month,mail the entry URL to the group ID :
magicmingle@googlegroups.com  with the subject line
"MM-<<<name of  the month>>> 2013". 
Note for Ingredients
for Jan 2013:
Cucumber is to be used
in raw or cooked form. Zucchini, a member of the Cucumber family cannot be used
as a substitute. Walnuts can be used in whole or powdered form
Look forward to all
your wonderful entries. Once again, wishing you and your families a wonderful
2013 ahead:)
Cheers 
Kalyani