There is a unwritten rule
at home that we all love to follow: weekday meals are balanced with a mix of
carb, protein, calcium and veggies ; Weekends are for occasional indulgences,
and deep fry is restricted to once a month or less.
Since the past 2 years,
myself and mom have taken to eating Lapsi Rava (broken wheat) in place of rice
for our weekday meals, so much so that we dont miss Rice at all.. It takes
getting used to a bland dish like cooked lapsi, but for compulsive rice eaters
in the south (where Rasam / Sambhar etc) make a mandatory appearance at every
meal, its difficult to imagine dunking chapatis into Rasam 😀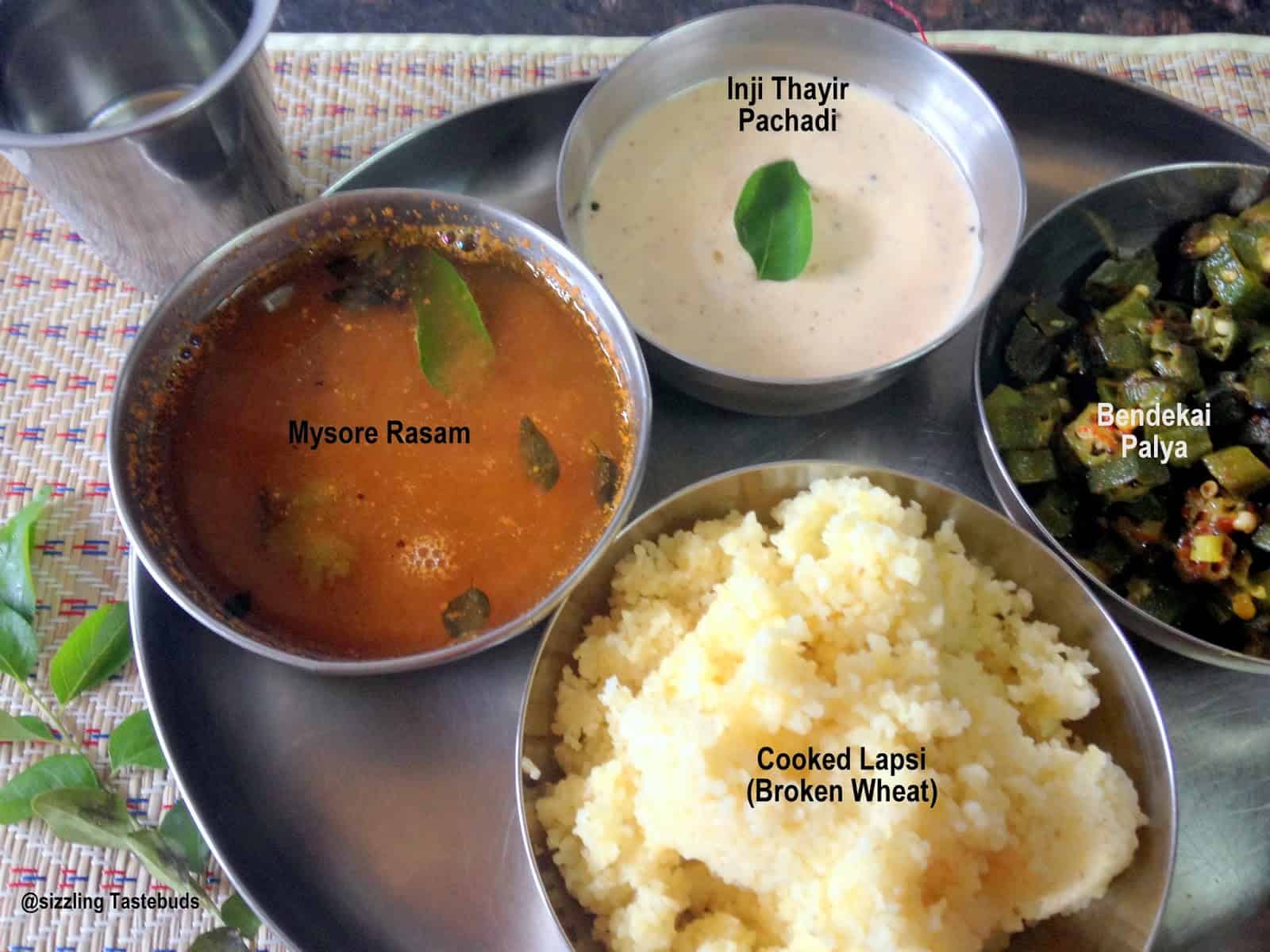 Pin

So, today's post is a Mini
Thali, with varying veggies on rotation accompanying the Rasam and Lapsi.
Rather than make erractic new year resolutions which fall apart in the first
week itself, we are glad that these small, sustainable changes that we made in
everyday meals has helped us 🙂

Over to the recipe : The
items here are Bendekayi Palya (Okra stir Fry), Mysore Rasam, Inji Thayir
Pachadi (Ginger in yoghurt gravy) and
Cooked Broken Wheat (Lapsi).

While recipes for Rasam and Okra stir fry have been shared earlier, recipe for Inji Thayir Pachadi is as
follows.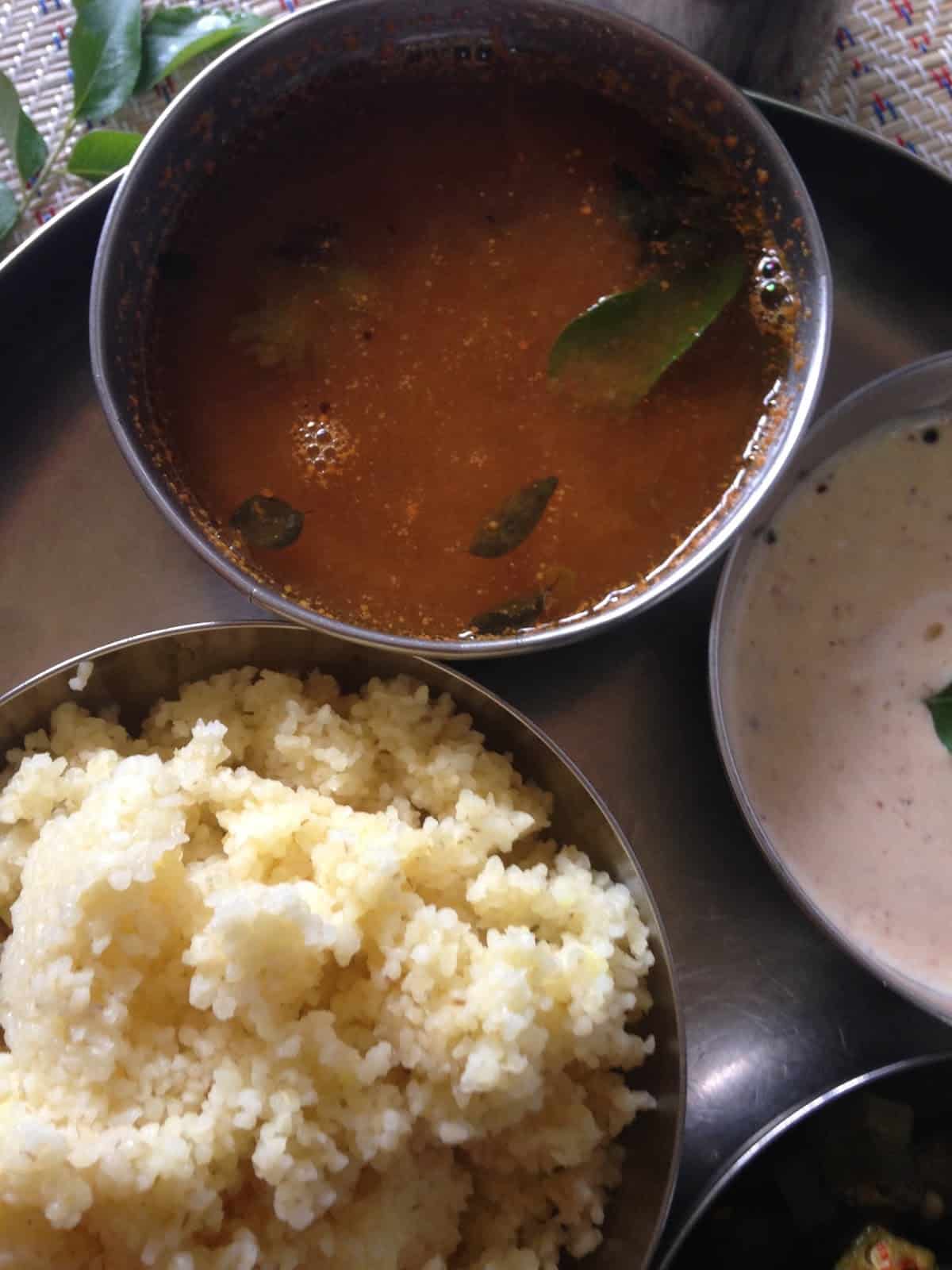 Pin

Ginger is extremely
beneficial for a sluggish liver, aids in digestions, cuts down fatty acids and
in general promotes a feeling of well being. We make this Inji Pachadi with
other items too as a healthy side dish.

Inji Thayir Pachadi –
Ginger in yoghurt gravy..

Side dish as part of a
South Indian Mini Meal / or with breakfast items like Upma , Veg Rava Kichadi,
Pongal, Semiya Upma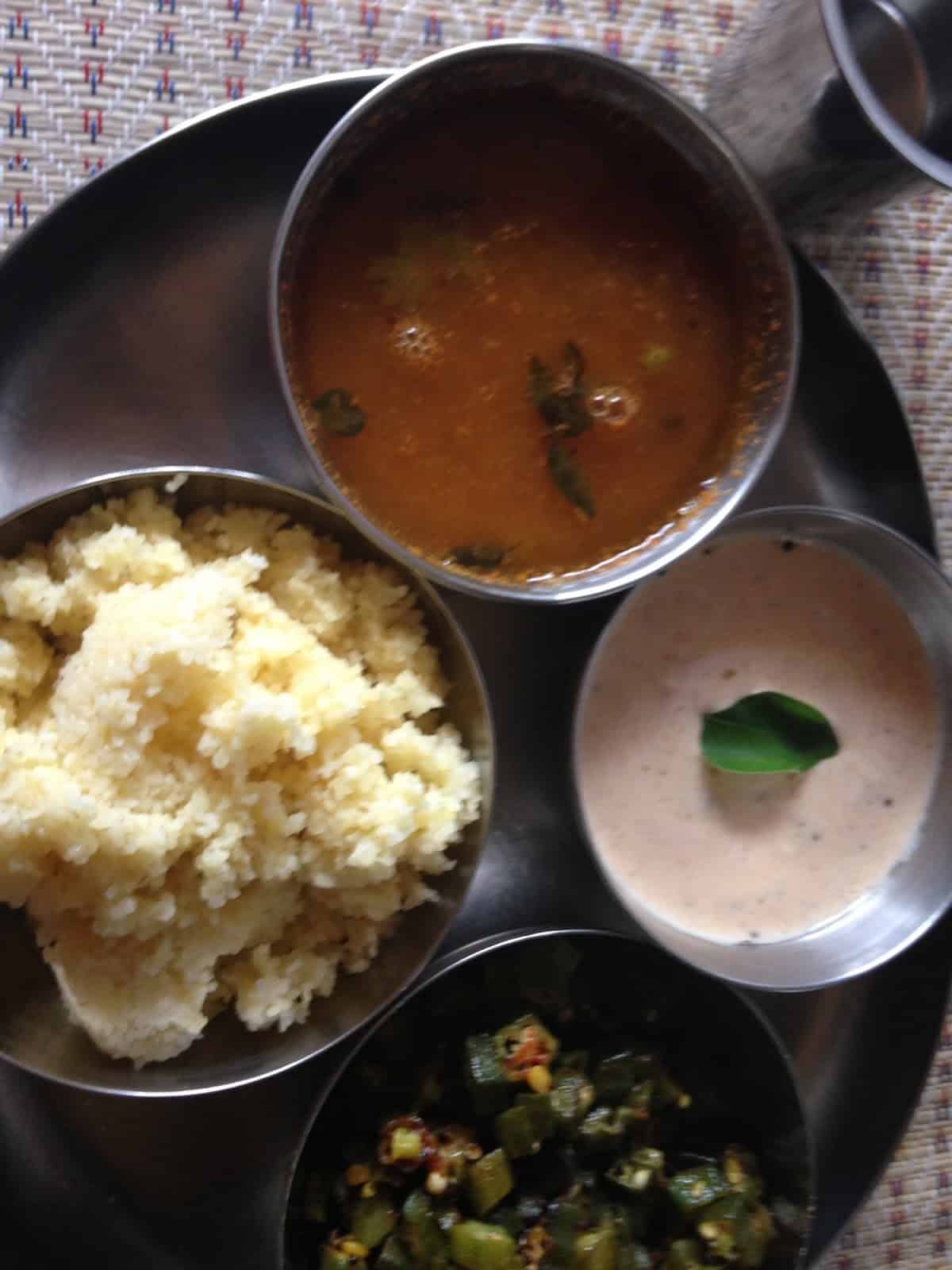 Pin
Prep time : 10 mins, cook
time : 5 mins, Serves : 4
Ingredients:
Yoghurt – 1 cup (slightly
beaten)
Salt – to taste
Tempering : Oil 2 tsp (split
use), mustard seeds, asafoetida (hing)., curry leaves (few)
To grind:
Urad dal /split black gram
– 1 tsp
Red chillies – 2 nos
Inji / Ginger – 2 inch long
piece
Jeera / cumin – ¼ tsp
Fresh/ frozen grated
coconut – ¼ cup
Method:
In a pan, slightly sauté the
jeera, urad dal, ginger and red chillies till dal turns golden. Cool and grind
with coconut and little water to a smooth paste.
Prepare the tempering with
the tempering ingredients
In a bowl, whisk the
yoghurt well, add the ground paste, mix well. Pour the prepared tempering into
the curd.
Just before serving, add
salt.
Sending this to Day 2 of Diabetic / Healthy Food for Blogging Marathon # 60
Chill for ½ hour if desired
or serve immediately.