Fenugreek in any form
( fresh leaves / seeds) is a favourite in my family. I wasn't too fond of this herb till I made the Methi Sprouts Pickle some years ago – a recipe from S's
aunt. The bitterness of the seed had completely disappeared and I keep making
batches of these often. It is said that swallowing a cup of water with methi seeds
early morning on an empty stomach with seeds soaked overnight brings down cholesterol.
Methi leaves are available where I stay throughout the year, and the winters
produce the freshest and crunchiest leaves.
And what better way
than to combine them with another winter produce – green peas (or snow peas)
for this delightful spicy gravy – Kadai Methi Matar (or pan sautéed fenugreek-snow
peas gravy) in a Jain version (sans garlic or onion).
Pair it up with
fluffy phulkas or any Indian bread and Mili Jhuli Daal (lentil gravy) and you
have a wonderful meal to boot. I have made it without onions and tomatoes,
however you are feel free to add in. I also added cumin powder and a higher
pinch of garam masala to make this a North Indian version. Linking it to BM #24and also to :
My own event – Winter Foods 30 min Challenge
Vardhini's New "U" 2013
Sumee's Bon Vivant Healthy appetite
Let's get to the recipe, thenJ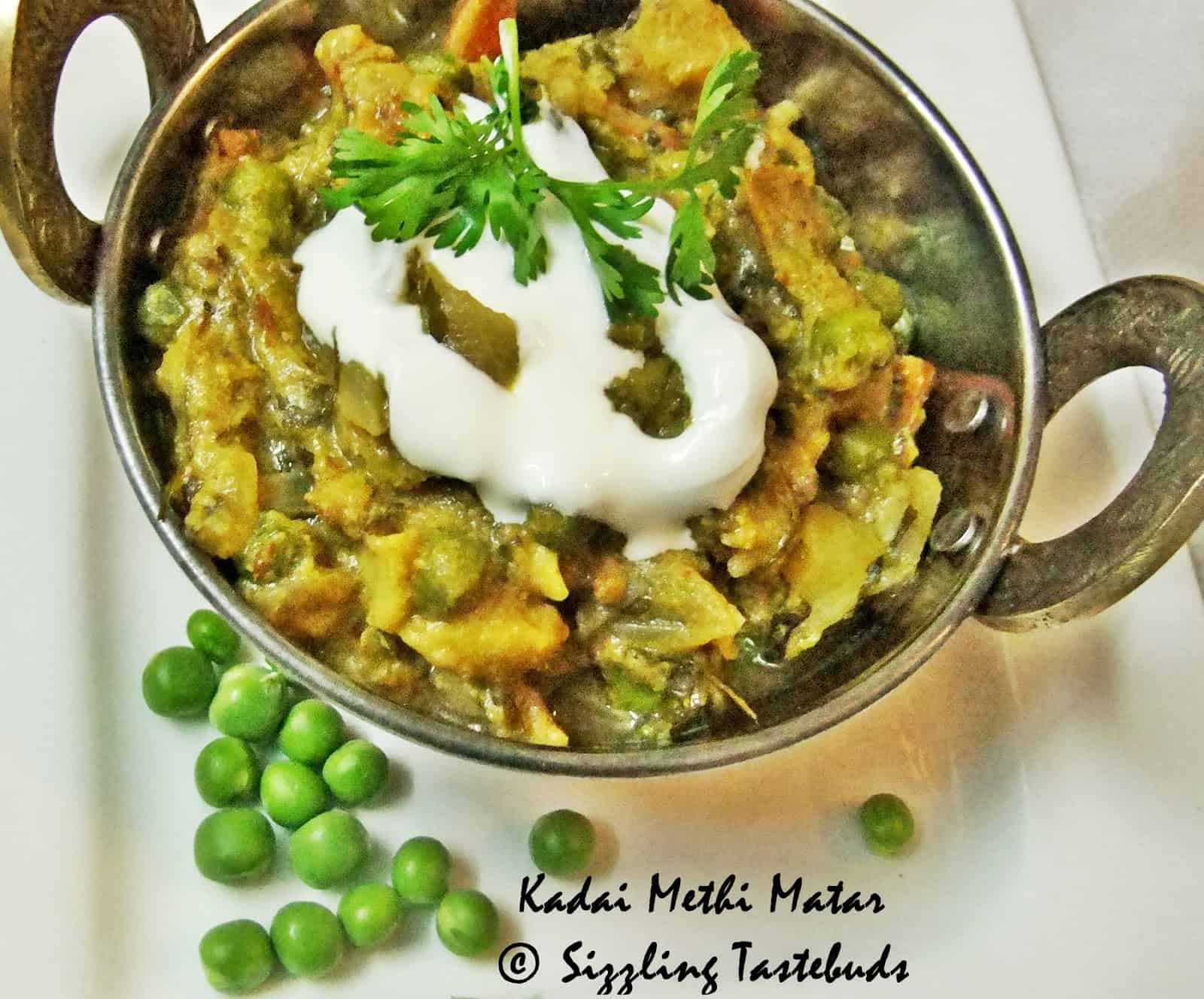 Pin
Prep time – 15 mins |
Cooking time – 15 mins
Serves – 3
Spice level – Medium
Difficulty level – Medium
Ingredients:
Fresh Methi /
Fenurgreek leaves – 2 cups (packed)
cauliflower florets – a handful
Snow peas / fresh
green peas – ½ cup
Salt – to taste
Tomatoes – 1 large
Turmeric – 1/4 tsp
Oil – 4 TBSP
Jeera powder – 1.5
TBSP
Garam Masala – 1 TBSP
Red chilly powder – ½
tsp
Fresh cream – 2 tsp
Coriander leaves –
for garnish
To grind:
Cloves 1
Cinnamon – ½ tsp
Poppy seeds – ¼ tsp
Red Pumpkin – ¼ cup
(cubed)
Shahjeera – ½ tsp
Green chillies- 2 nos (adjust spice)
Method:
Blanch peas & cauliflower in
slightly salted water. Saute red pumpkin cubes along with 1 tsp oil, chillies,
cloves, poppy seeds and keep aside. Clean, wash and chop fenugreek finely.
Grind the red pumpkin
along with the rest of the spices (as indicated in the "To Grind" list) to a
smooth paste
In a pan, add
remaining oil. Splutter cumin seeds, then add the chopped fenugreek leaves. Add
turmeric, requisite salt and sauté till the leaves wilt, about 4 – 7 mins.
Now add the ground
paste and sauté till the raw smell disappears. Add required water (about ¼ cup)
along with the dry masala powders- Red chilly powder, garam masala powder and
cumin powder – and mix well.
Add the chopped
tomatoes and mix till the tomatoes turn mushy, about 3 mins. Then add the
blanched veggies, and check for salt and spice.
Mix well and simmer
for further 2 – 3 mins till you get the desired consistency (as you have added
poppy seeds, it will thicken with time).
Switch off flame,
transfer to a dish and finish with cream and coriander leaves.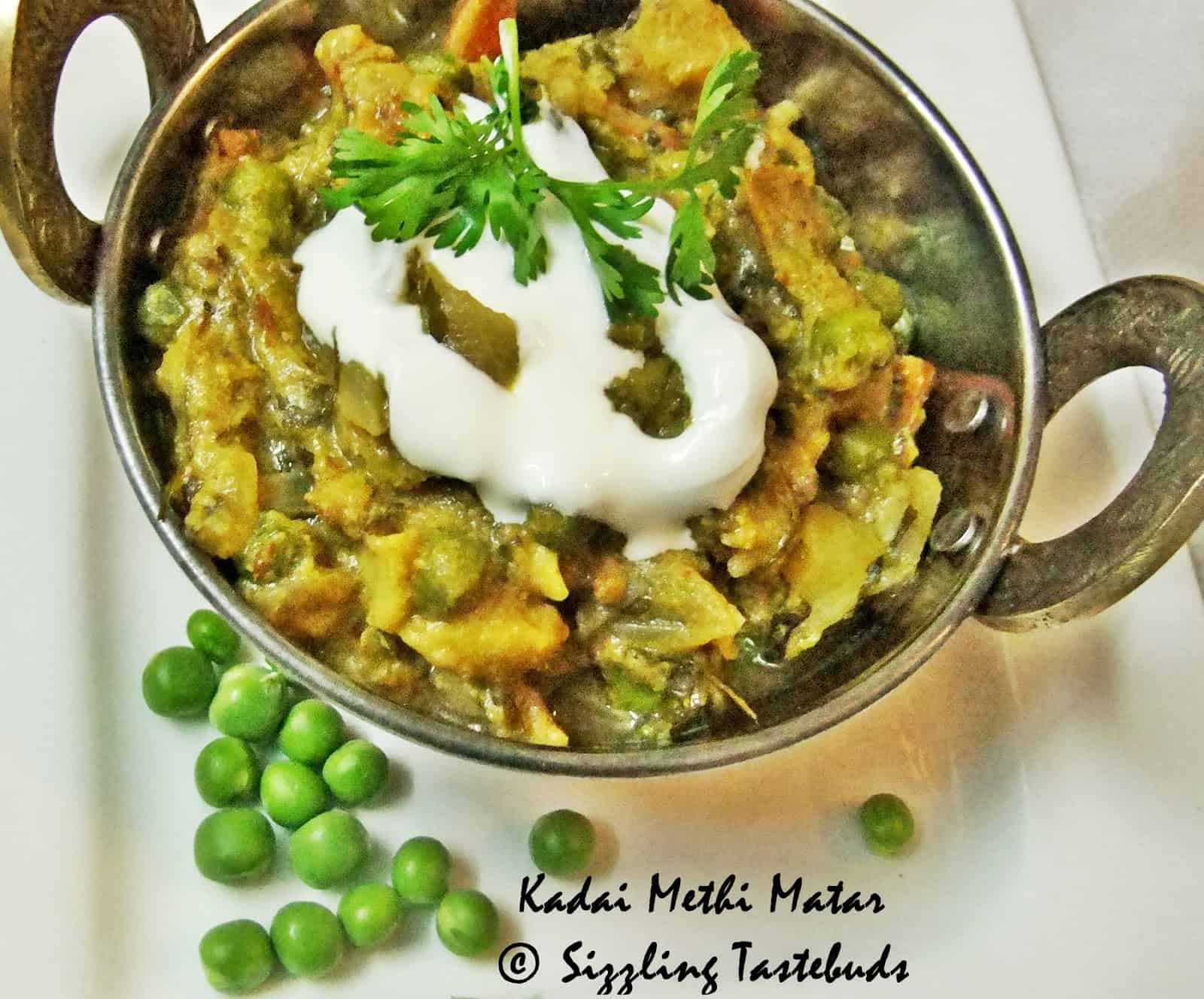 Pin