32 mouthwatering entries for Magic Mingle # 7— thanks dear members for your enthusiastic response.Top Contributors for last month were: Priya Suresh with 7 entries and Roshni with 5 entries respectively.. Way to go, girls !!
Welcome to Magic Mingle – Edition 8. For all members who are awaiting the Challenge this month, the magic ingredients are ……
Sesame Seeds and Jaggery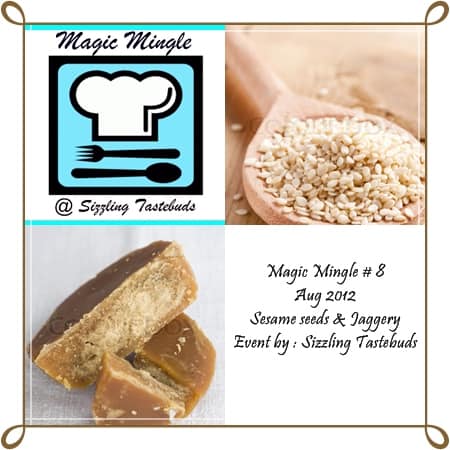 Pin

Important points to note before linking your entries:

1) All dishes to be vegetarian & eggless only (non-veg/ alcohol etc not accepted).

2) Only new entries are accepted and any number of new entries per member are accepted.

3) This dish could be across cuisine(Lebanese/Asian/Mediterranean/Continental/Indian/ Chinese etc) and course (Breakfast/Lunch/snack/appetiser/dessert/Dinner)

4) The 2 magic ingredients should feature as major ingredients in the dish and NOT as garnish. Both the ingredients are to be used in the same dish

5) All the dishes are to have the logo indicated above mandatorily and the entries need to be linked to the linky tool only. This link is up from 6th Aug 2012 – 16th Aug 2012 (end of day in your respective time zones)

6) Once you post & link your entry (using the linky tool at the end of this post) between 5th & 15th of the month,mail the entry URL to the google groups email ID – [email protected] with the subject line "MM-Aug 2012".

7) Please note only member entries are accepted here. Others who are eager to join this group are welcome to write to me at [email protected]l.com

Note for Ingredients for MM – Aug 2012 :
Sesame can be used in who

le or powdered form.Either b

lack or white variety can be used

Jaggery cannot be substituted with sugar or any other sweetener. The c

losest substitute is pa

lm sugar

Please remember these two ingredients must feature as one of the main ingredients for the SAME DISH and not as garnish.
Hope you are excited and would link your entries soon.If you are unable to link your dish, please mail me at our googlegroup email ID.
Let the Magic begin….
Cheers,
Kalyani