I reckon given a chance,I would crown moong dal (or split yellow gram) the king of my kitchen. Be it Seekh kebabs , stuffed buns, Kheer, halwa, Pongal, Ladoo, Pesarattu – this lentil is soo versatile that it befits an ode sung to its praises. I totally adore this dal and today it came about so beautifully along with carrots for a simple but heavenly stir fry.
Adapted from Mireille's recipe(who is also incidentally my Blog Hop partner this month) where she teamed carrots with paneer, I used this lentil for a yummy curry that came together in 15 mins. Mireille's blog is extremely well organised and I found an eclectic and interesting mix of Indian and World cuisine across courses and she has been a wonderful co-blogger through our Blogging Marathon days too !
It helped that I had some par boiled moong on hand to create this, else you can soak the dal for 20 – 25 mins to make this too. Simple but hearty, and perfect – this gingery lemony stir fry pairs amazingly well with the Jeera Milagu Rasam for dinner.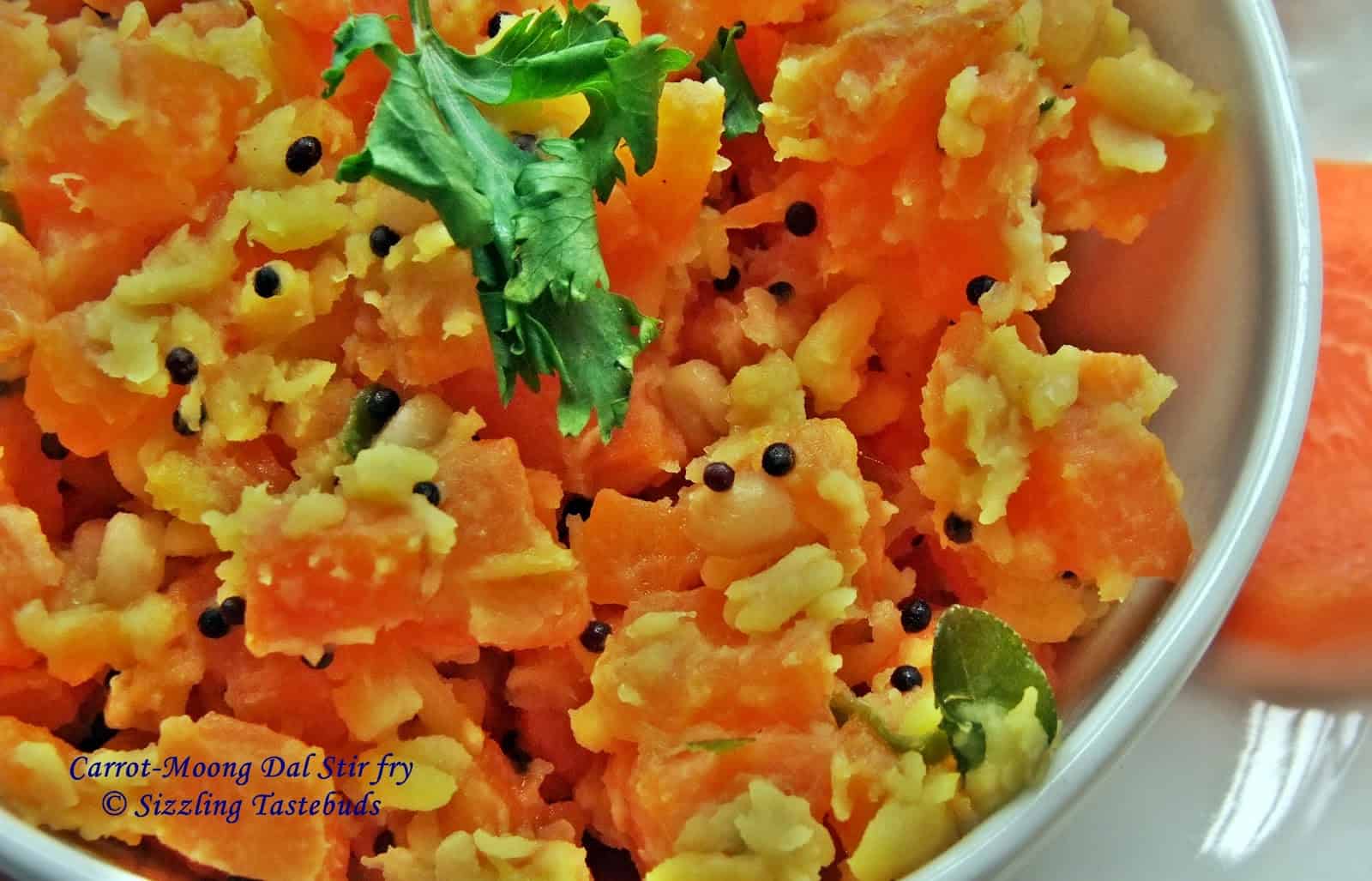 Pin

————————————————————————–

Prep time – 15 mins

Cook time – 10 mins

Serves – 2

Difficulty level – Easy

Serving suggestions : Rasam + rice

————————————————————————–

Ingredients:
Carrots – 3 medium – chopped as per your preference ( I like them finely chopped)
Moong Dal / stir fry – ¼ cup – soaked for ½ hour and boiled al dente
Salt – to taste
Oil – 1 tsp
Mustard seeds – ½ tsp
Ginger grated – ½ tsp
Red chillies (broken) – 1 or 2 (you can also replace with low spice Serrano peppers)
Turmeric – a pinch
Coriander and curry leaves – a few
Lemon juice – ½ TBSP (for garnish)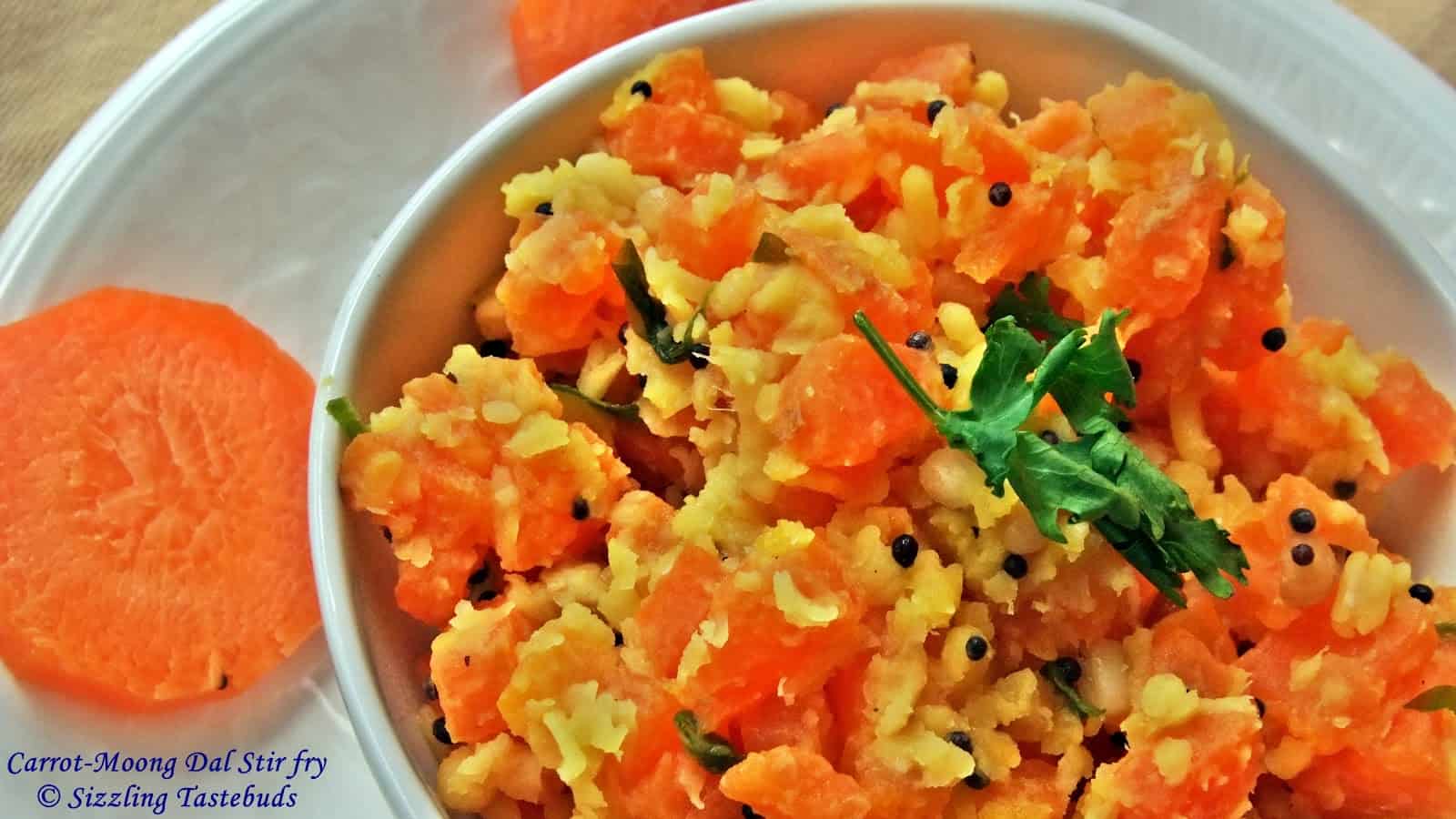 Pin

Method:

1) Wash, peel and dice carrots. Steam them for 10 mins (or blanch them). Cook moong dal till 90% done, but not mushy.

2) In a pan, heat oil. Splutter mustard, curry leaves, red chillies.

3) Add ginger,turmeric, blanched carrots, salt and moong dal. Stir for 3 – 4 mins

4) Switch off flame. Finish with coriander leaves and lemon juice.

5) Serve hot.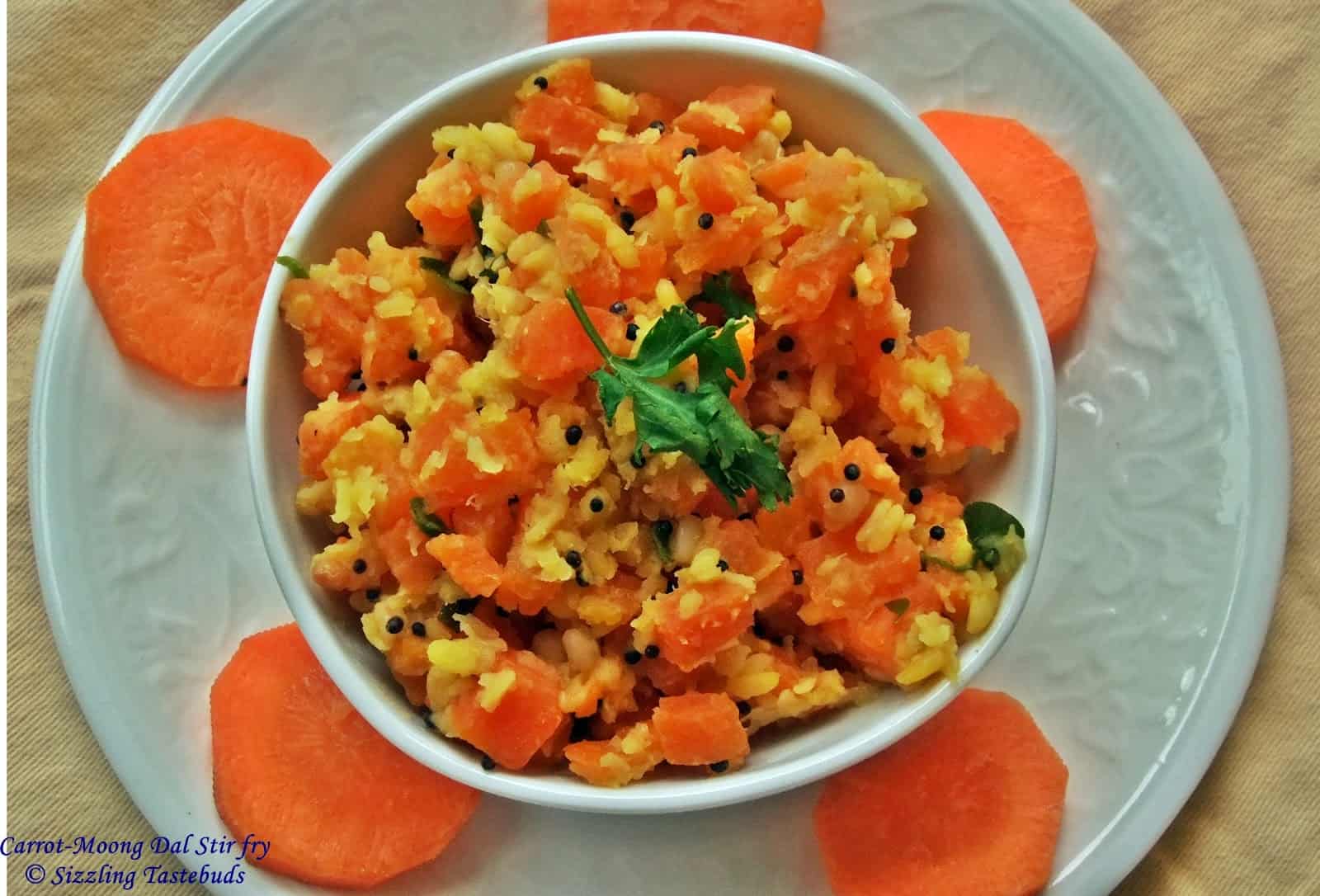 Pin
Linking this to :
My event Kitchen Chronicles – Only Vegan hosted by Vardhini
Sangee's HITS – Legumes, hosted by Nalini