Indian and india-based parties
around the world are incomplete without a Kebab platter. Wiki says "According to Sevan
Nişanyan, an etymologist of the Turkish language, the
word kebab is derived from the Persian word "kabap" meaning
"fry". The word was first mentioned in a Turkish script of Kyssa-i
Yusuf in 1377, which is the oldest known source where kebab is
mentioned as a food."
Although the term is derived from
the Persian / Turkish word, Kebabs – both veg and non veg are highly popular in
the party circuits. Popularised by the Mughals in both Lucknow / Avadh region
as well as Hyderabad, lots of non vegetarian kebabs like the Shammi kebab, Hara
Bhara Kebab have also been converted
into a vegetarian equivalent by substituting the meat with succulent vegetarian
ingredients.
Here for Baking Marathon Day 5, I
present a Veg Kebab Platter I made recently for a party. It has Hara Bhara
Kebab, Veg Seekh Kebab and Tandoori Veggies. Long prep time, but totally
worth it when your guests appreciate your efforts.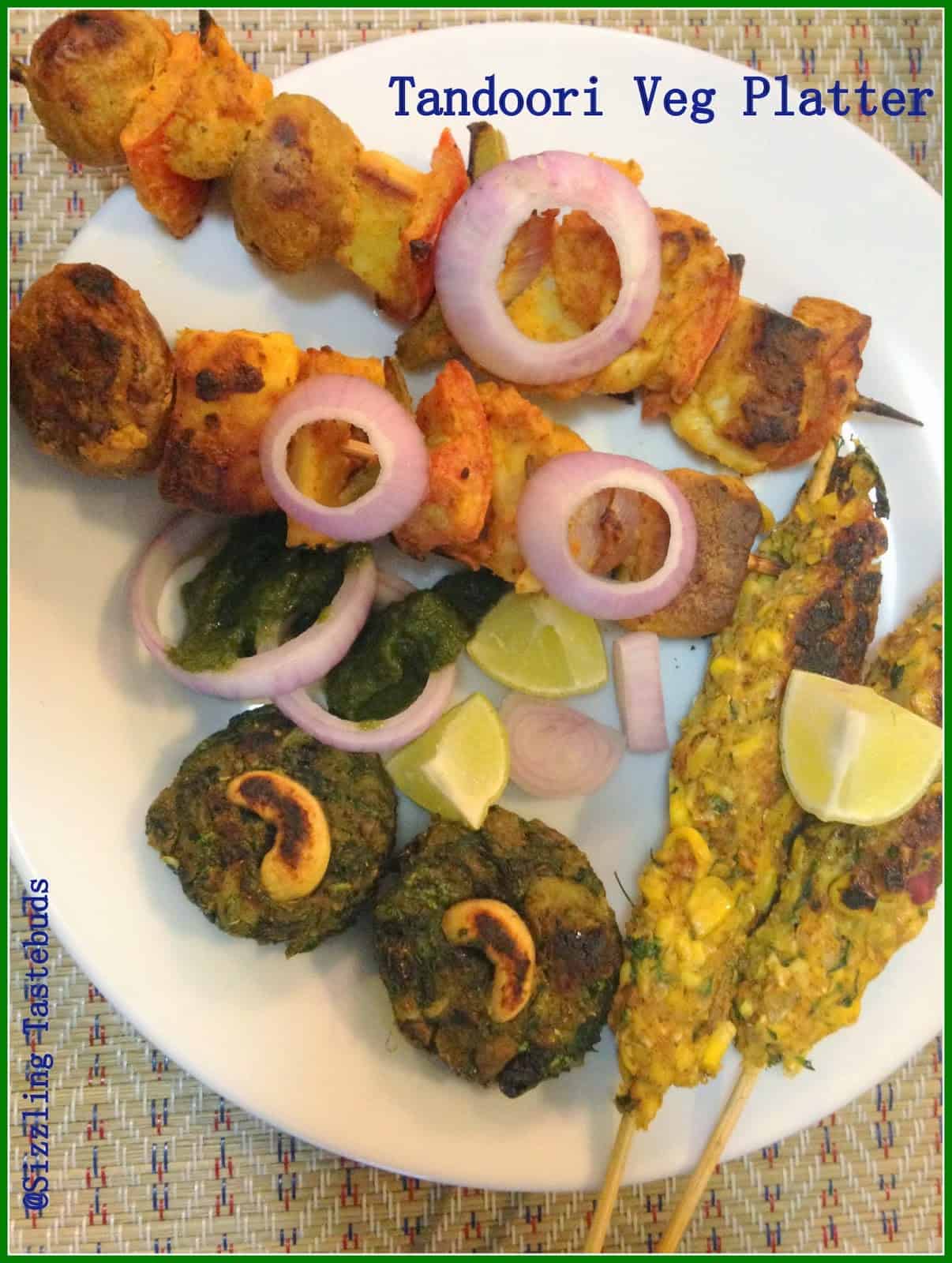 Pin

Baking Marathon Day 5 : Veg Kebab
Platter

Recipe type : Appetisers

Cuisine : Indian

Spice level : Medium – high.
Serves : 4

Prep time: 60 mins | Bake time : 30
mins (varies from oven to oven)

Serving Suggestions : Green
Chaat Chutney, Tamarind
Chutney, Lemon Wedges and Onion rings.

What you need & Method for
Kabab platter:

(A) Hara Bhara
Kebab: Although I had made Baked
Hara Bhara Kebab earlier, this is a new version with slightly different
ingredients.
Spinach – 1 cup – blanched
Channa Dal – ¼ cup (split Bengal gram)
Boiled green peas – ½ cup
Grated paneer (cottage cheese) – ½ cup
Bread crumbs – ½ cup
Dry masala : Chaat masala, Garam Masala, Salt, Red
chilli powder
Oil – to baste
Chopped ginger and garlic (optional)
Chopped green chillies – 1 tsp (adjust taste)
Topping : chopped nuts (I used cashew bits)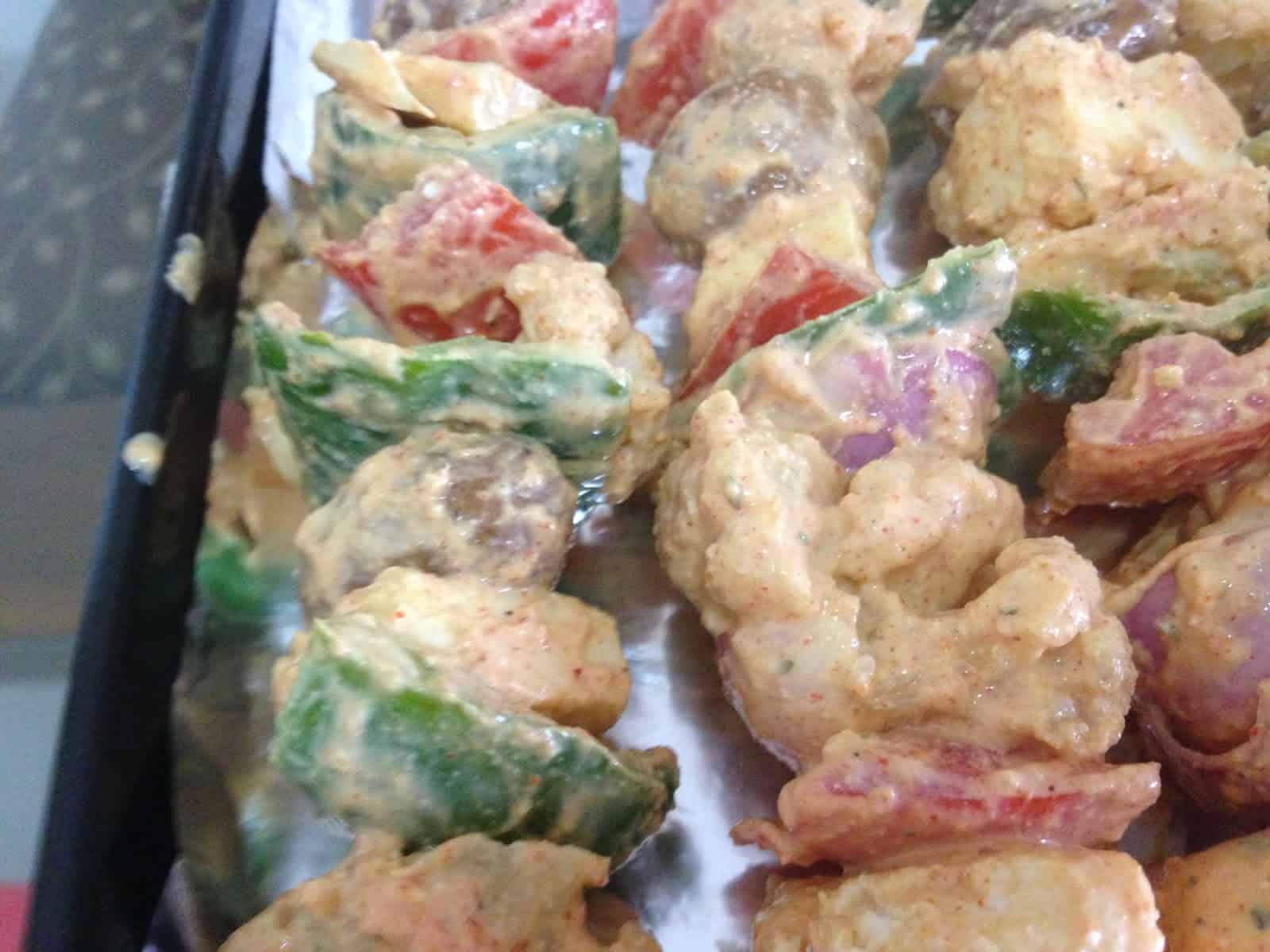 Pin

Method:
Soak channa dal in warm water and
boil till al dente (about 20 mins) with a pinch of turmeric and salt. Drain and
keep aside. Blanch spinach and drain. Blend with zero water into a smooth
paste.
In a large bowl, crumble paneer
with the heel of your palm into a smooth dough, add the salt, ginger, garlic,
chillies and dry spices, slightly mashed channa dal, slightly mashed up peas,
spinach puree and bring to a dough kind of consistency adding bread crumbs
little by little.
Flatten into tikki / patties kind
of discs, press a chopped nut into each of these, and refreigerate under cling
wrap for 30 mins.
If deep frying, make a slurry
(dip) with maida (APF) , a pinch of salt and water and dip these patties into
the maida batter and deep fry. As I didn't deep fry, I simply baked these at
165 / 170 deg C for 12-15 basting them twice with oil till the edges appeared
crusty.
(B) Veg Seekh
Kebab
Similar to
the Moong
Dal Seekh Kebab, simply replace the boiled moong dal with finely chopped
vegetables (like beans, cabbage, carrots, peas). Proceed as usual for the Veg
Seekh Kebab.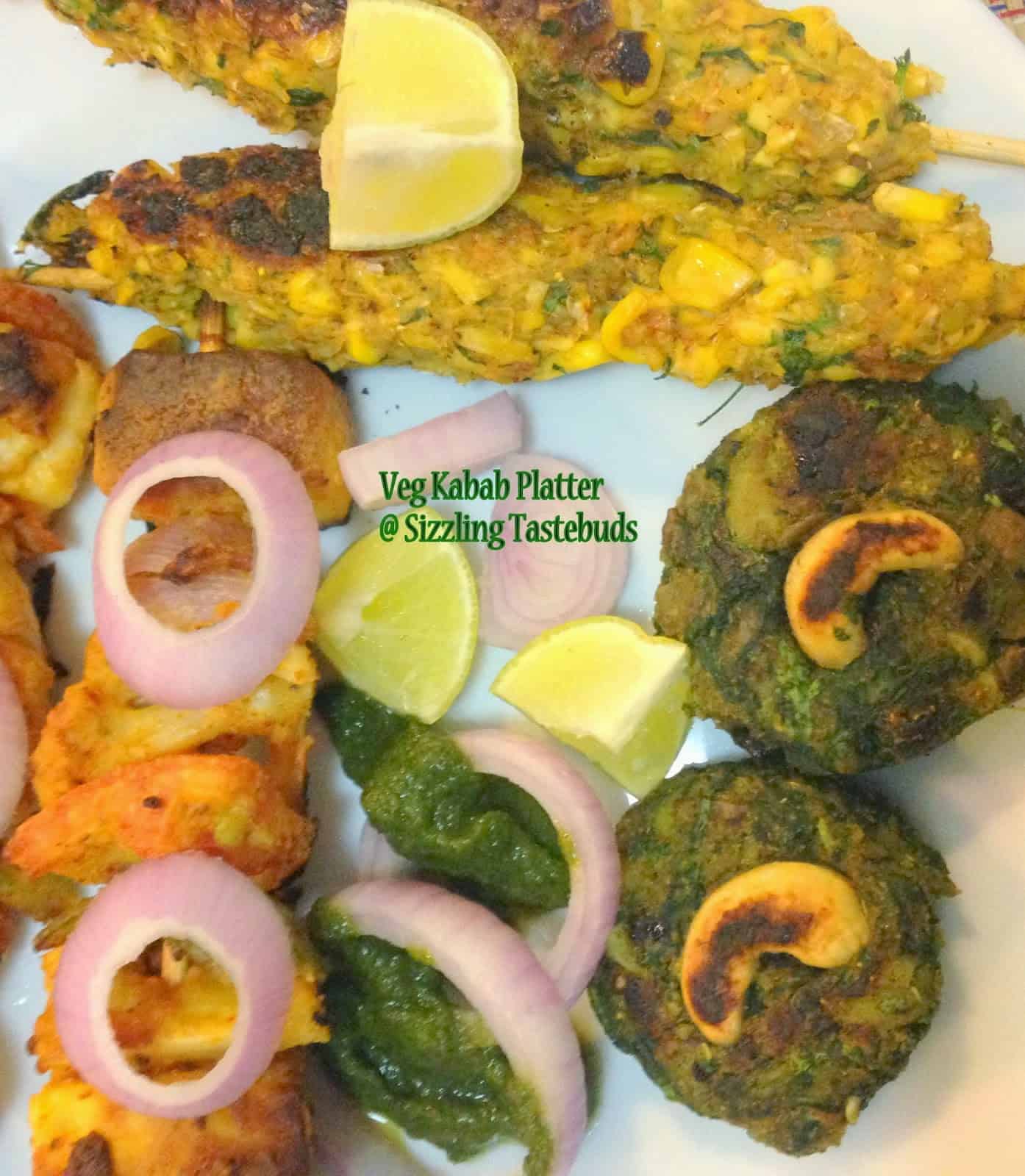 Pin
(C) Tandoori
Vegetables:
You would need:
Bell Peppers – 2 nos ( I used coloured)
Broccoli / Cauliflower – large florets
Onion – 1 large – cut into large thin squares
Tomato – 1 no (desseded and cut into squares)
Baby potatoes – 8 to 10
Baby corn – 4 to 5 nos
Mushrooms – 8 to 10 (if using)
Paneer – 100 gms – cut into chunks
Marinade:
Hung curd – 200 gms
Besan – 3 tsp
Salt – to taste
Dry Tandoori Masala – 3 tsp (I used Everest brand)
Kasoori Methi – ½ TBSP crushed
Lime juice – 2 tsp
Red chilli powder – 1 tsp
Ginger Garlic paste – ½ tsp
Green chilly paste – ½ tsp
Method:
Blanch the potatoes, cauliflower, broccoli, baby
corn in salted water for 6-7 mins. Drain and wipe clean of moisture.
Dry roast besan for 1-2 mins till it leaves a nice
aroma. Cool. In a large bowl, add all the ingredients for the marinade and whisk
well till the curd isn't lumpy. Add the veggies for the marinade , mix lightly.
Cling wrap and refrigerate for at least an hour or
two (can be prepared even 4-6 hours ahead of the event).
Meanwhile, soak the wooden skewers (if using) in
water for an hour. Else, thread all the marinated veggies onto the oven
provided skewers. Preheat oven to 180 Deg C. Grill these oven the racks turning them from
time to time and basting them with oil or butter to prevent drying. The
doneness is when the veggies acquire a roasted / grilled texture around the
edges
Serve them removed from the skewers along with
Green chutney and Lemon and onion rings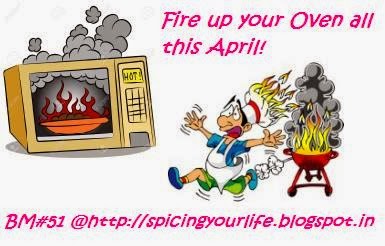 Pin
Check out the Blogging Marathon page for the other Blogging Marathoners doing BM# 51