Chakkarai Pongal aka Sakkarai Pongal is
one of the must-have Iyengar dishes we make for Pongal / Sankranti festivals that falls on
14th / 15th of January every year. Yes, the name of the dish and the festival
are same… Although Chakkarai in Tamil means sugar, this
pudding or Pongal is made of Jaggery. 
Pongal in Tamil comes from the Tamil
word meaning "Spill Over" indicating abundance and prosperity as the
harvest season takes over. Its an offering to the Sun God, and primarily
celebrated in the Southern State of Tamilnadu, where Rice is the predominant
grain grown. Pongal therefore is made of Rice, jaggery and moong dal. 
For those who have relished this
delicacy, the gooey consistency generously topped with ghee (clarified
butter) is a treat by itself. One musnt count the calories on this day where
the carb intake would be sufficient for the entire day. The menu prepared for
Pongal is always Saatvic (sans onion and garlic) and a typical menu this year
at our home is – Chakkarai Pongal, Ven Pongal, Ulundu Vadai, Plain
Rice, Elu kari kootu (recipe coming soon),elai
Paruppu,Mor Kozhambu,Thirukannamudu (sweet rice Pudding)
, Tomato Rasam and a dry Carrot Curry. The meal ends
with buttermilk.
There are as many variations to make
this gooey finger-licking Chakkarai Pongal as there are Tamil households. I
usually follow my mom's version when I made it here, but  this year I
have been fortunate to have her make this for us. So, the recipe is from the
maker, herself 🙂 Dont scrimp on the ghee to get a luscious and simply breath
taking Chakkarai Pongal. Now off to the recipe….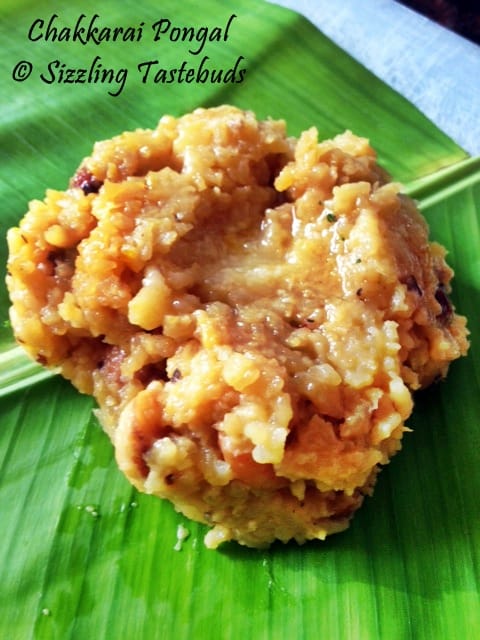 PinPin

Prep time – 10 mins. Cooking time – 25
mins

Serves – 4

Keeps for 4 – 6 days under
refrigeration

Difficulty level – Medium

Serving suggestions : Ven Pongal / khara Pongal and Ulundu Vadai (or Urad
Dal vada / Medu Vada)

Ingredients:
Short grained rice – 1 cup (*See Notes below)
Moong Dal / split yellow gram – 1/3 cup
Grated Jaggery – 1 1/2 cups
Cardamom powder – 1/2 tsp
Pachai Karpooram / edible camphor – a teeny
weeny pinch
Saffron Strands – few
Honey – 1 TBSP (optional)
Salt – a pinch
Milk – 4 – 5 TBSP
Ghee – 6  to 8 TBSP
Cashewnuts and Raisins – as required
Method:
Wash and soak rice and moong dal for 20
mins. This is optional but adds to the consistency while cutting down cooking
time
Meanwhile fry the broken cashews and
raisins in a tsp of ghee till the raisins swell up and the cashew turns golden
brown. Keep aside. Also soak the saffrons strands in the warm milk. 
In a deep bottomed pan, put the grated
jaggery and add just enough water to submerge it. On a low flame, melt the
jaggery till it boils and reaches a one-string consistency. Strain through a
clean muslin cloth and reserve till room temperature
In a pressure cooker, cook the
rice-moong dal mixture with 3.5 cups of water for 4 whistles. Let the pressure
cool down.
In a kadai / non stick (I use Non stick
as the ghee consumption is very very less), add half the ghee and add the
cooked rice-moong dal mixture and the melted jaggery syrup. Mix on a low flame,
and lightly stir. Now add the salt and saffron strands soaked in milk, and
mix. 
Mix once more till the ghee separates
on the sides, about 5 mins. Finish with honey, edible camphor and cardamom
powder. Switch off the stove and tip in the rest of the ghee.
Serve hot or warm with an extra dollop
of ghee (I told you we werent counting calories,today:-))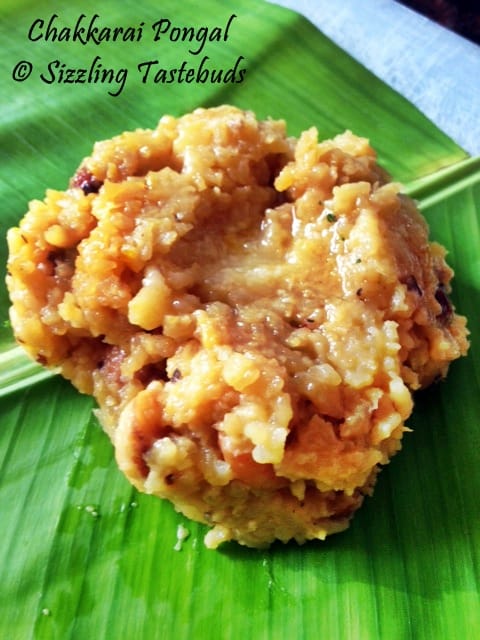 PinPin

Notes:

a) Use dark brown jaggery (also called
kesar gud) for vibrant colour and taste. Sugar is not recommended at all. Be
sure to strain the jaggery to remove any impurities

b) Do not stir / cook too much once the
cooked lentils and jaggery syrups are mixed.

c) Salt is recommended for any sweet
dish as it enhances the sweetness

d) Use short grained rice instead of
basmati rice for authentic taste

Linking it to:

Preeti's event Foodabulous Fest

Srivalli's Kids Delight – Dessert hosted by
Veena

Shree's event

Gayatri's WTML

Vardhini's New U 2013