Out of all the bookmarks made and clicked for alphabet K (I had 3-4 choices) I picked this Kharabhath today for its way too long since I posted my fav food from bangalore. Technically it may not qualify for a hand cart street food, but it's a staple at the millions of Darshini's (self-help eateries) that dot Bangalore and mysore too.


I have adapted from what I have eaten and remembered of Veena stores, in Malleswaram (Bangalore). Almost just a hole in the wall eatery, which doesn't even feature a menu card, and the popularity from its patrons is so high that this place just makes very few dishes and they all get sold out within 1-2 hours. I chose two dishes from this store's repertoire and post one today. The other one will follow soon .
PinPin



Khara bhath means spicy pudding and this is what differentiates it from rava Upma or rava kichadi or other similar looking semolina puddings is the liberal use of vangibhathpowder in this recipe.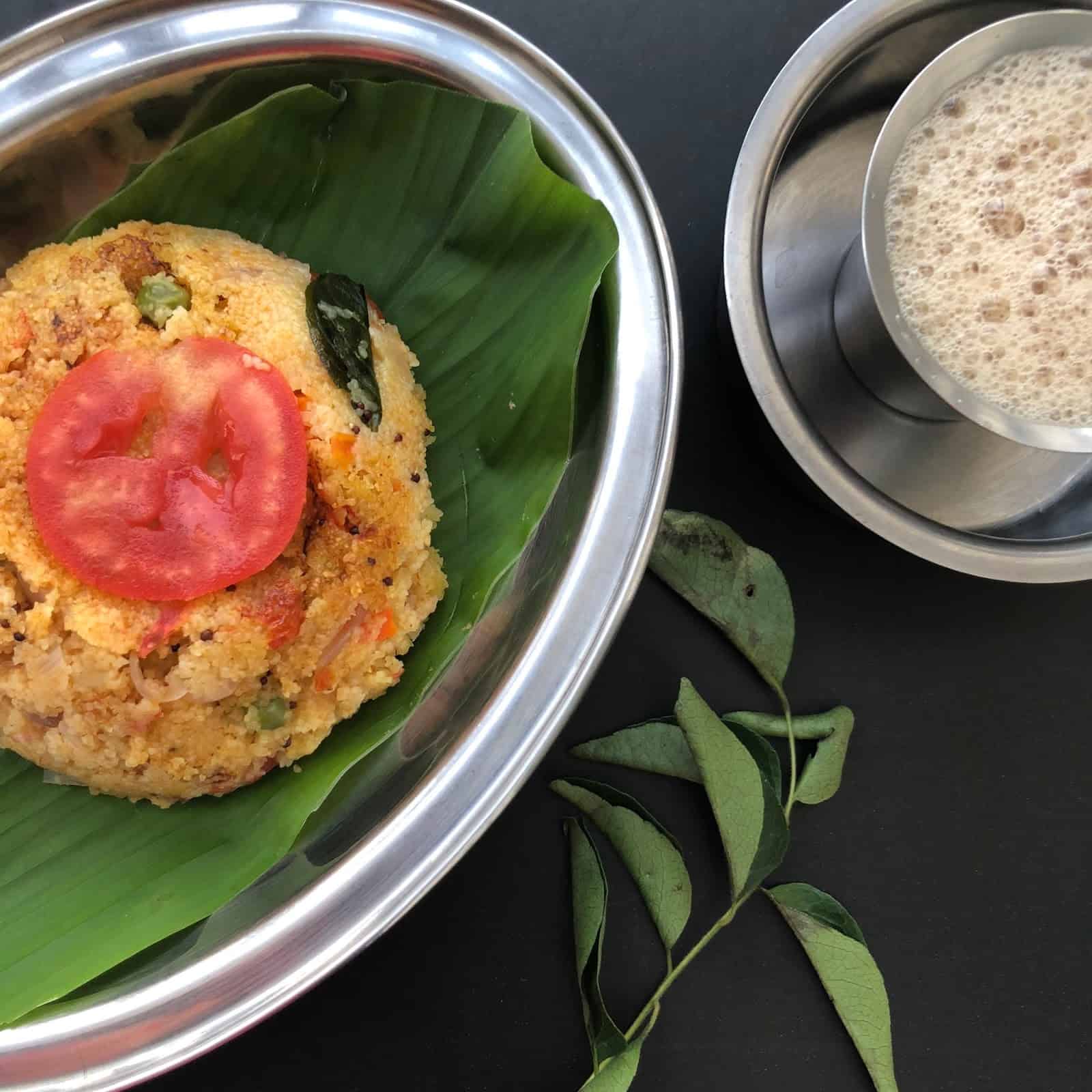 Pin


You may also use any vegetables of your choice or even make this onion free . But tomato is definitely used here to provide a tangy offset to the otherwise spicy upma. This is so good to go on it's own without any accomplishments but some people prefer plain coconut chutney . We just had this for our snack one day and amma was also very happy with the authentic taste!


Prep time – 15 Mins ; cook time – 15 Mins ; serves – 3~4


Ingredients
Semolina – 1.5 cups
Oil – 3 Tbsp
Turmeric – 1/4 tsp
Salt – to taste
Green chillies – 2 (slit lengthwise)
Vegetables – 1 cup (I used carrots, beans, bell pepper, green peas)
Onions – 1 medium (optional)
Ripe Tomatoes – 2 medium (finely diced)
Vangibhathpowder – 3 tsp
Jaggery – 1/2 Tbsp
Tempering – mustard seeds, hing, urad dal, asafoetida, curry leaves
Garnish – chopped coriander leaves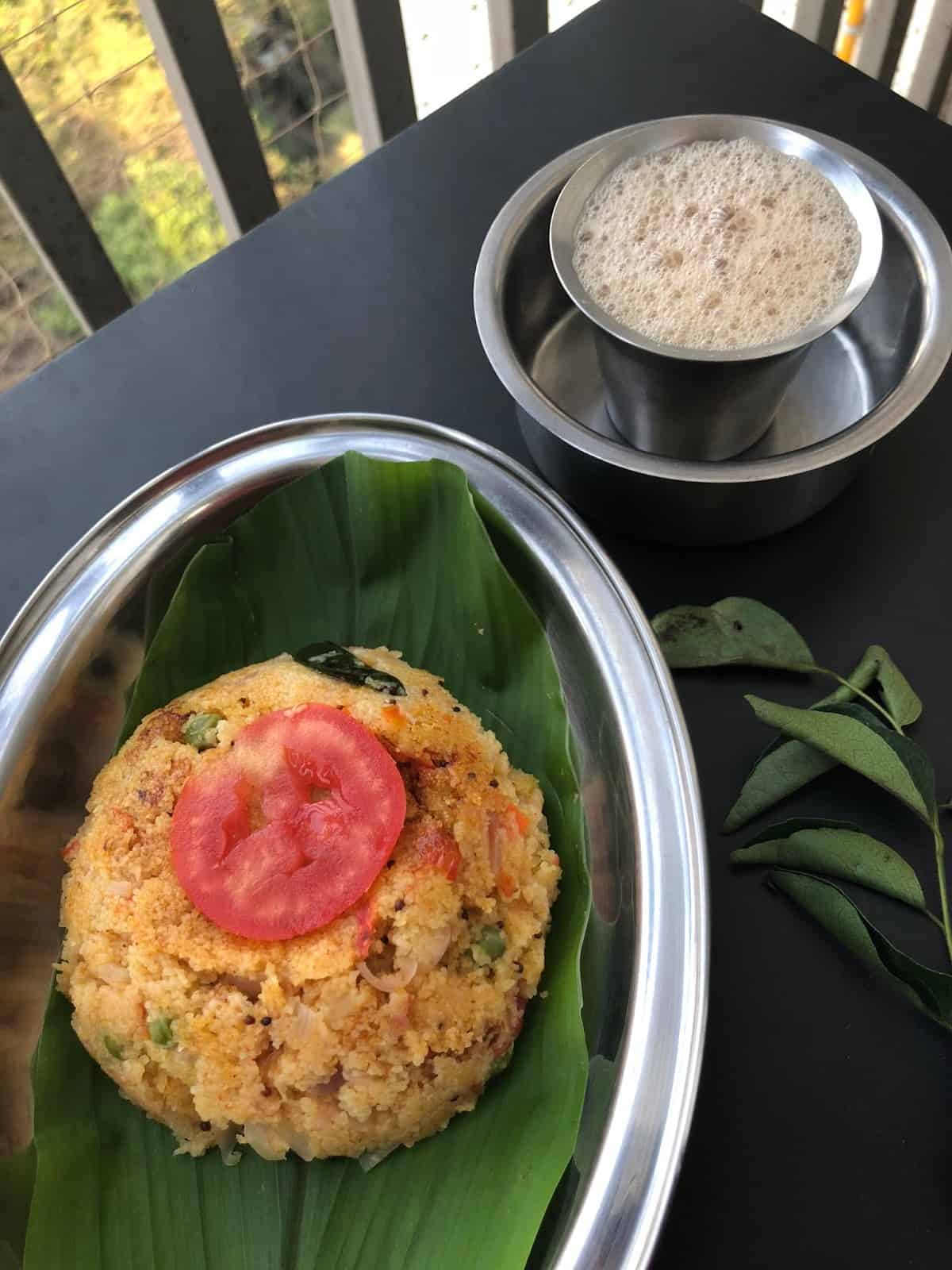 Pin


Method:
Cook beans, carrots, peas, potatoes in 2.5 cups of hot water with a pinch of salt till al dente . Drain the water and keep aside. Retain the water as well.
Meanwhile , In a pan, heat 2 TBSP oil, splutter mustard seeds and urad dal, hing, curry leaves and chillies. Once the dal turns slightly brown add the rava / semolina and roast for 3-4 Mins on low flame till a nice aroma comes out. Roasting well ensures the upma isn't sticky. Transfer to a plate , let cool.
In the same pan, add the remaining oil, add turmeric, fry onions till translucent. Add bell peppers and fry them. Now add the tomatoes and sauté till they are nicely cooked and mushy. Add vangibhath and jaggery at this stage and let the masala cost all the veggies at this stage.
Add the par boiled vegetables and the reserved water and let it come to a rolling boil.
Add salt and the roasted semolina / rava to this hot boiling mixture in the pan, and mix well to prevent it from being lumpy.
Cover and cook for 6-7 Mins on low-medium flame.
Finish with chopped coriander and serve kharabhath hot with coffee or tea 🙂
PinPin
Pin
Check out the Blogging Marathon page for the other Blogging Marathoners doing BM# 87