On the days grandmom used to fast, carbs and lentils were avoided in the diet. And this is one of her quick to make and yummy crispy dosas. I remembered this recipe – Wholewheat flour & Rava Dosa suddenly last week and made this. Team it up with any chutney and / or molgapudi and you have a very filling breakfast. Maida also is added to this, but I wanted to make this only with wholewheat and we enjoyed it a lot. You may also add grated veggies / onions / chilles etc to spice it up . For kids, the dosa could also be topped with grated cheese or paneer to make it more healthy and filling : the options are endless. However, as this is a recipe strictly for those who fast, I have made it sans any spice or onions. Instead of maida, however you may add Sama flour (used for fasting). Let's get to this recipe while I send this to BM # 14 under Dosa Varieties. Check the fellow marathoners here.
Other Dosa options to choose from:
Prep time – 15 mins
Makes – Approx 6 Dosas
Ingredients:
Wholewheat flour / Atta – 1 cup
Roasted Rava (fine Sooji) – 1/2 cup
Curd – 3 TBSP
Oil – to fry the dosa
Salt – to taste
Method:
1) Mix the Wholewheat flour, Rava and salt. Add curd and mix again. Pour water to make it to running consistency but not too watery. Rest for 5 – 10 mins.
2) Heat a skillet (tava) on high and sprinkle some water to test if the water sizzles.
3) Now turn heat to medium. Take a ladleful of the batter and spread it on the tava in a circular fashion. Drizzle oil on the ends. Cook on both sides for a crispy yummy instant Dosa 🙂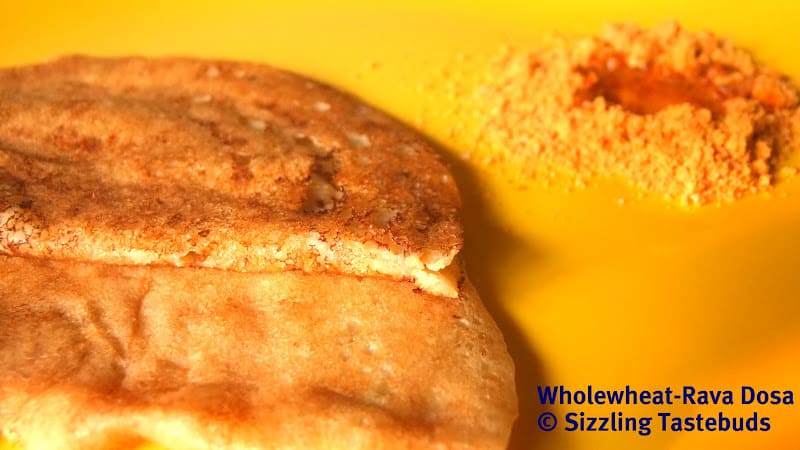 Pin