One can't really go wrong with Potato right ? Wrong. I was flummoxed a few months ago when kiddo stopped eating this vegetable altogether – apart from French Fries (obviously), she didn't like potato in any form : Cutlet, Tikki or Soup etc. She complained of a strange smell of cooked potato, and I was at wits end trying to figure out a substitute, which came in the form of Sweet Potato that I used for Chaat/ Croquettes/ Baked Samosa / stir fry etc. She quite liked the taste (and smell) of the new vegetable , and left went on sans Potatoes for the little one, till about a week ago, the H and me happened to have this Tilwale Aloo for lunch.
She gingerly tried it, and a thousand smiles returned to her face as she quite liked it ! I did a small jig as my prayers has been answered (we moms are sooo scheming, aren't we ?) . But she wanted Aloo (or potato) curry in this form only – nothing else would do, and I was one eager mom trying to please her no end.
So, here it goes : a simple flavoursome potato stir fry that would tickle your palates as well as is light on your tummy while being a kid pleaser too (adults needn't be pestered to eat Potato, right ? :))
Sending this toBM # 18 under "Dry Sautes" – Day 3. The last two days saw me dishing out Mixed Veg Stir fries and Carrot-Moong Dal Stir fry. Stay tuned for new dishes under a different theme next week on BM # 18.
Also linking this to: my event –Kitchen Chronicles : Only Vegan hosted by Vardhini and Indrani'sSpotlight : Curries / Gravies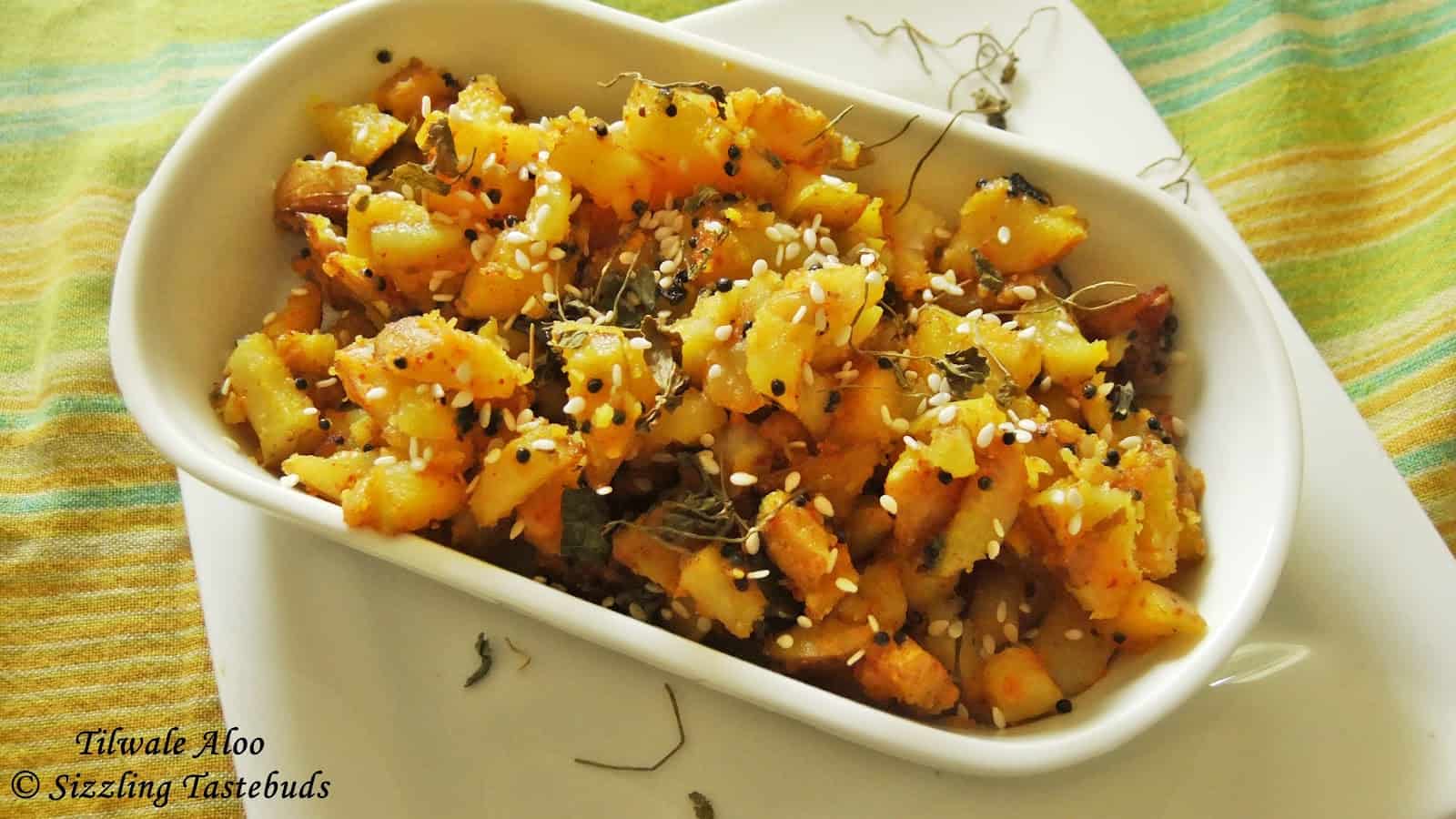 Pin

————————————————————————–

Prep time – 10 mins

Cook time – 15 mins

Serves – 3

Difficulty level – Easy

Serving Suggestions : Rasam Rice or Curd rice or even as filling for sandwiches / wraps n rolls with chapattis

————————————————————————–

Ingredients:
Potato – 5 to 6 medium nos
Oil – 1 to 1.5 tsp
Besan / Gram flour – 1 TBSP
Salt – to taste
Roasted sesame seeds – 1 TBSP
Tamarind Pulp – ½ TBSP
Red Chilli powder – ½ TBSP
Turmeric – ¼ tsp
Asafoetida / Hing – a generous pinch
Mustard seeds – ½ tsp
Curry leaves – few
Kasuri Methi – ½ TBSP – crushed lightly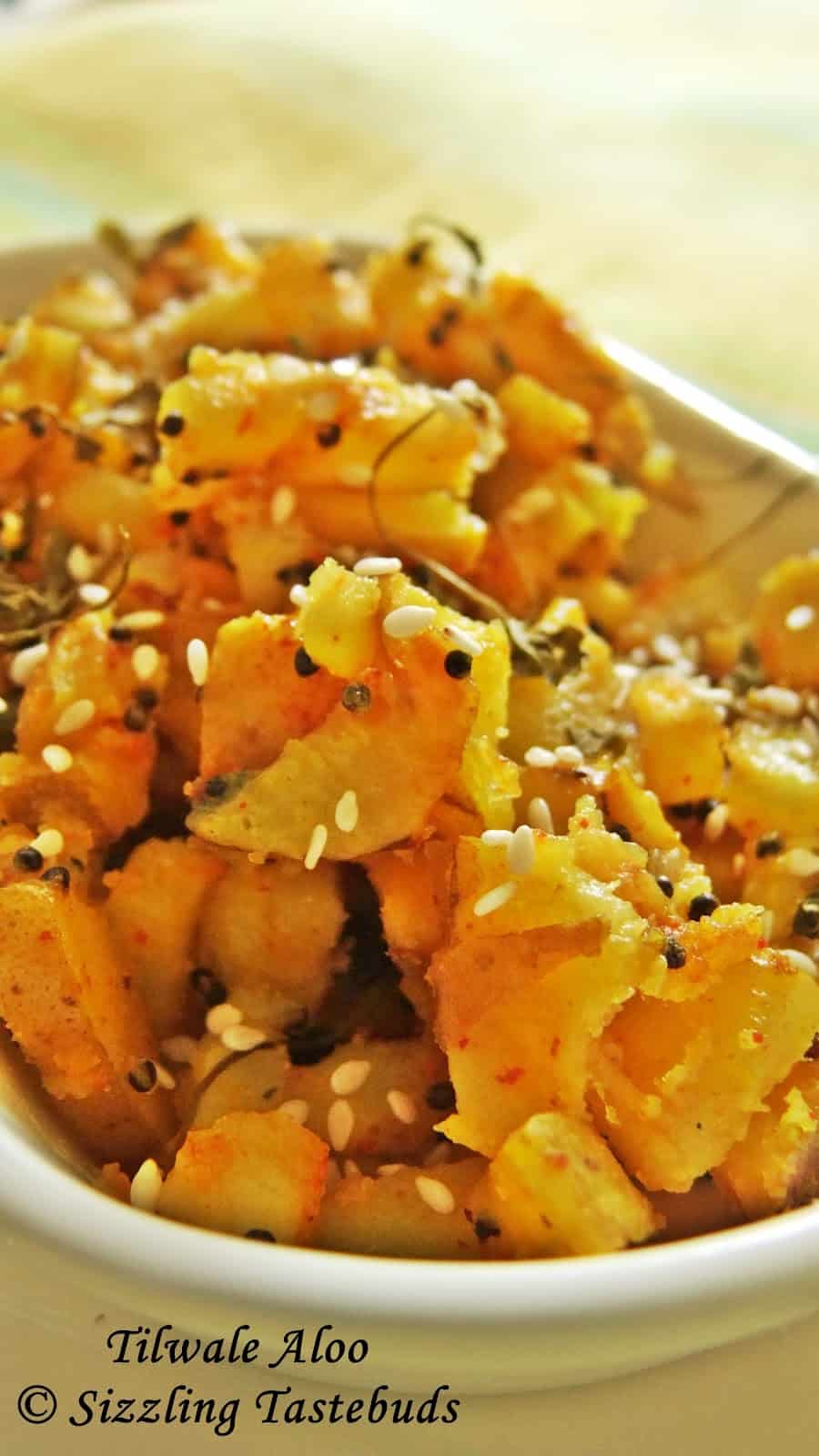 Pin

Method:

1) Wash, scrub and dice potatoes to medium sized bits. I like to keep the skin on as it has many nutrients. Store in slightly warm salted water for 3 -4 mins till you finish chopping the potatoes.

2) Mix Besan, red chilli powder, turmeric & hing in a small bowl.

3) Heat oil. Splutter mustard seeds & curry leaves. Add the chopped and drained potatoes to the oil. Add salt, sprinkle some water and cook covered for 8 – 10 mins till done, but not mushy.

4) Now, add the dry spice mixture (besan + chilli powder + turmeric + hing) and give it a nice toss so the masala spreads to all the veggies

5) Now tip in the tamarind paste and toss for 2 – 3 more mins and leave the pan on medium flame till a slight crust begins to form beneath the potatoes.

6) To finish, switch off the flame and just before serving, add the roasted sesame seeds. Toss it once last time. Finish with Kasuri Methi.

7) Serve with Dal – Rice or Roti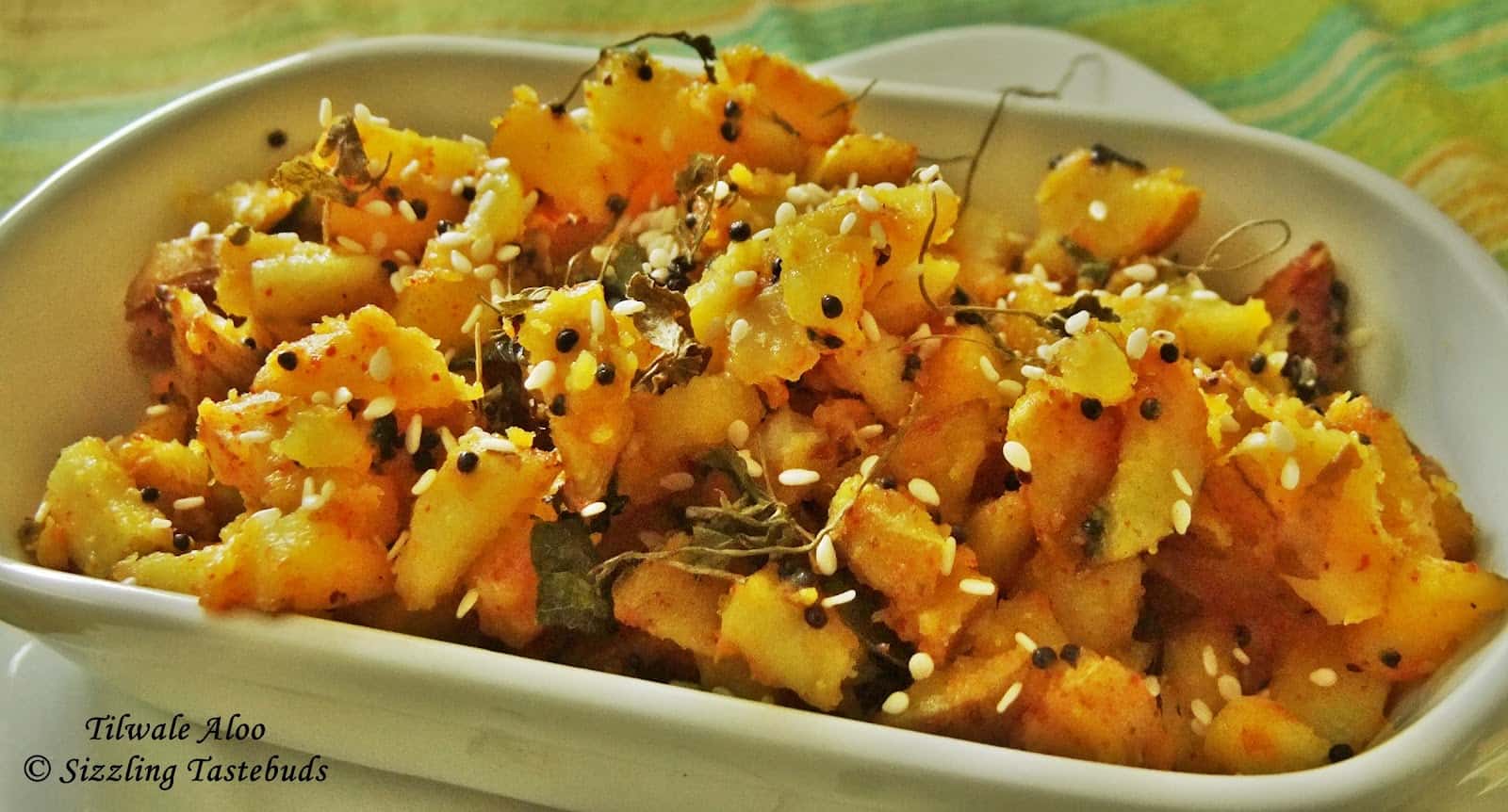 Pin