One of the quickest and healthiest part of the Indian food is the dry sabjis or stir fry. My family loves stir fries and I love making it too because is filling, quick to make and can be assembled for rushed mornings while packing lunchboxes – if one is well prepared with pre-cut veggies, the morning is a breeze, and today I made one of my favourites – Tendli Stir fry with Garlic. The garlic was more an after thought but we all quite enjoyed it, although S midly suggested that evenings are more the time for experimenting with garlicky smells rather than lunchbox options. Point taken, dear husband. Its an easy stir fry, and I hope you will also like it. Goes well with rasam rice and is a superb combo with Roti &Hingwali Mili Jhuli dal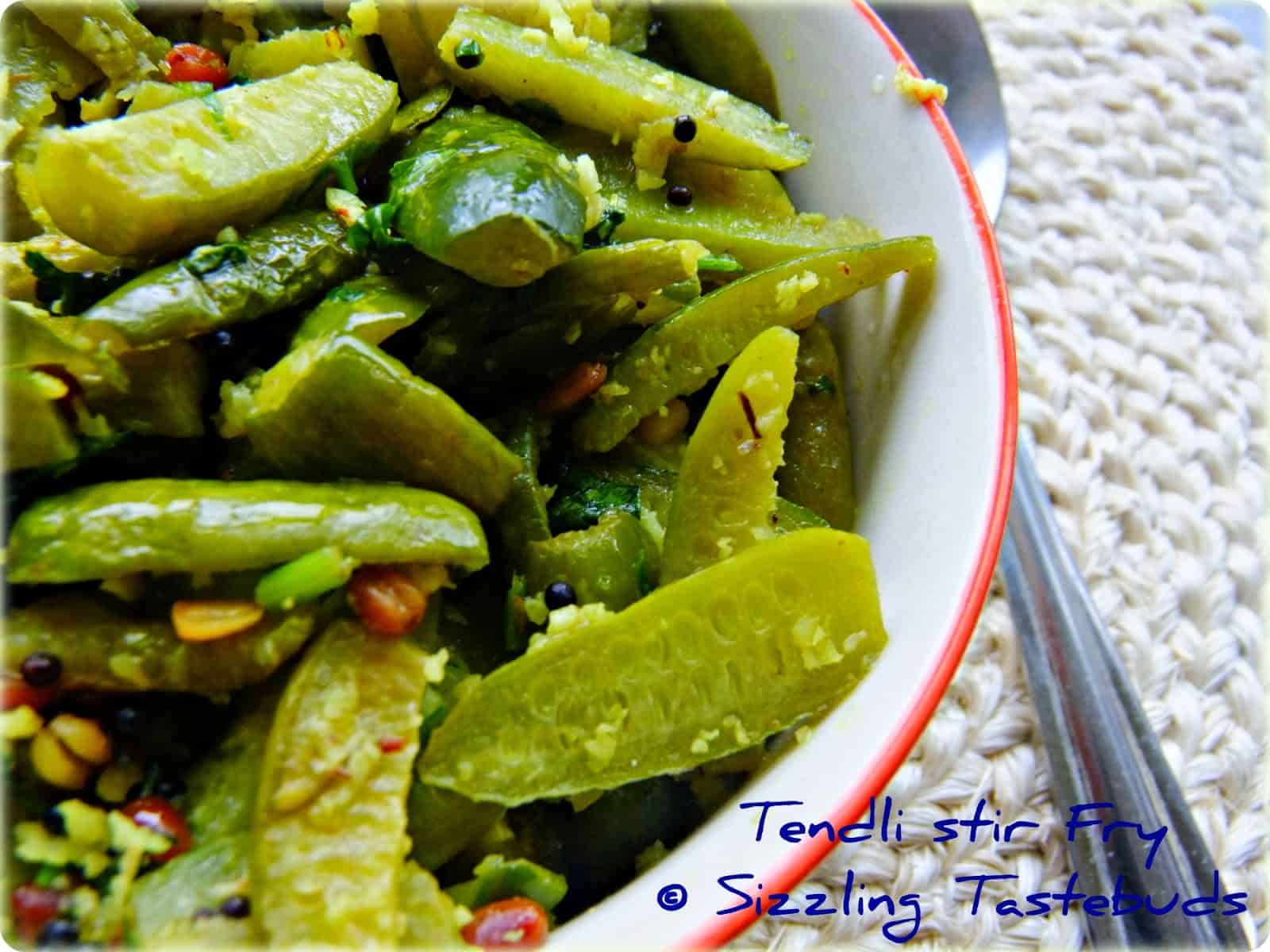 Pin

This goes to Vardhini's event ofcooking with Garlic started byPJ and also Shilpa's event –Life is green

Prep time : 10 – 15 mins. Cooking time : 10 mins. Serves : 2

Ingredients:
Tendli / Kovakkai / Thondekaayi – 200 gms (select those that are green, fresh & firm)
Garlic – 2 pods (large) – you may omit this if you prefer
Tempering : 1 tsp oil + mustard seeds + urad dal + 1 green chilly chopped fine
Grated coconut – 1 tsp
Salt – to taste
Turmeric – a dash
Amchur / Dry mango powder – 1/2 tsp (opt.)
Jaggery grated – 1/2 tsp
Method:
1) Wash, trim the ends and cut the veggies lengthwise into 1 inch long batons
2) In a skillet, heat oil and add tempering ingredients. When mustard stops spluttring and urad dal starts turning light brown, add the finely chopped garlic and stir well.
3) Now add the chopped veggies, turmeric, salt.
4) Sprinkle adequate water and cover cooked for 8 – 12 mins, stirring occassionally.
5) When done, add grated coconut, jaggery and amchur. Stir well.
6) Serve with dal and rotis. A yummy and quick to easy recipe !