Vazhakkai Podi / Spicy Raw Banana curry is a quick and delicious curry that you
can put together in under 15 minutes. Make and store the masala powder
beforehand for everyday use and you will have plenty of time in the kitchen.
This curry goes well with yoghurt rice / Rasam / Sambhar (now I am
repeatedly talking about curd rice in all my previous posts coz its summer now,
and nothing satiates tummy like chilled yoghurt rice!) 
This masala powder
can be used with other veggies too – Potato / Arbi (Colocasia) or any other
tubers. Sending this to day 7 of Blogging Marathon that I am running under the
theme "Vazhakkai Podi". 
Here's a quick recap of this week under
"Accompaniments":
————————————————————————————-
Preparation time: 15 minutes
Cooking time : 10 mins
Serves : 2
Difficulty level : Easy
————————————————————————————-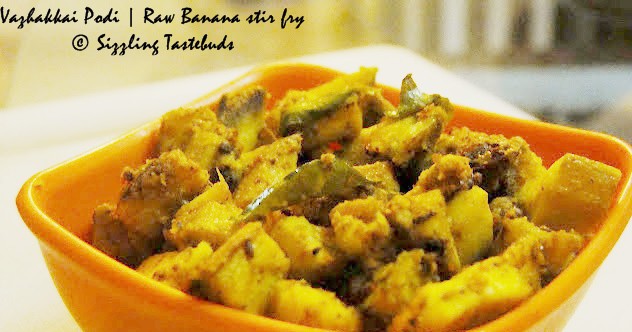 Pin

Ingredients:
Raw banana – 2 nos
Oil – 2 tbsp
Tumeric – ½ tsp
Tempering : Mustard (1 tsp), Curry Leaves
Salt – to taste
Amchur / Dry Mango Powder – 1 tsp
Masala / Spice Powder :
Urad Dal – 1 tsp
Black Pepper – ½ tsp
Channa Dal – 1 tsp
Dhaniya seeds– 1 tsp
Hing – a pinch
Red chillies – 2 nos
Method:
1) Peel and cube the raw banana into ½ inch
cubes.
2) Boil banana in water and salt for 8 – 10 minutes
till 90% done.Drain.
3) Meanwhile, roast all the masala powder in 1
tbsp oil till the dals slightly colour.
4) Cool and powder the masala.
5) In a skillet, add 1 tbsp of oil. Splutter
curry leaves and mustard seeds. Add turmeric.
6) Add the boiled veggies and toss. Now add
the masala powder and the amchur. Stir well till the masala
powder coats all the veggies evenly. Add 1 or 2 tsp oil more if necessary.
7) Adjust salt and serve with rice and sambhar
or just curd rice.
Tips:
You may also boil whole and peeled raw banana and
grate the veggie thickly. In that case, do not stir too much as it
becomes 
You may substitute ½ tsp of tamarind paste in place
of amchur. I personally don't prefer adding tamarind extract or paste as this
is a dry curry.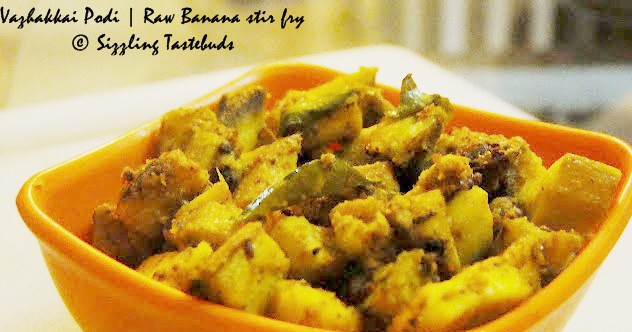 Pin