After Begun Bhaja, we have our family favourite – Onion Podi Dosa featured under "Cooking with Tava" series this week at Blogging Marathon.  This Dosa is my elder kid's favourite and we have it regularly mostly for our Sunday Breakfast. 
A simple yet enticing dosa, this is sure to fill you up and make a perfect morning breakfast / brunch option. Lets see how to make it… Check over 20+ varieties of Dosa / Uttapams here.
Prep time : 10 mins, Cook time : 1-1.5 min per dosa 
Course : Vegan & GF Indian Breakfast / Snack / Evening Tiffin
Accompaniments : tiffin sambhar and chutney or serve as is
Spice level :Medium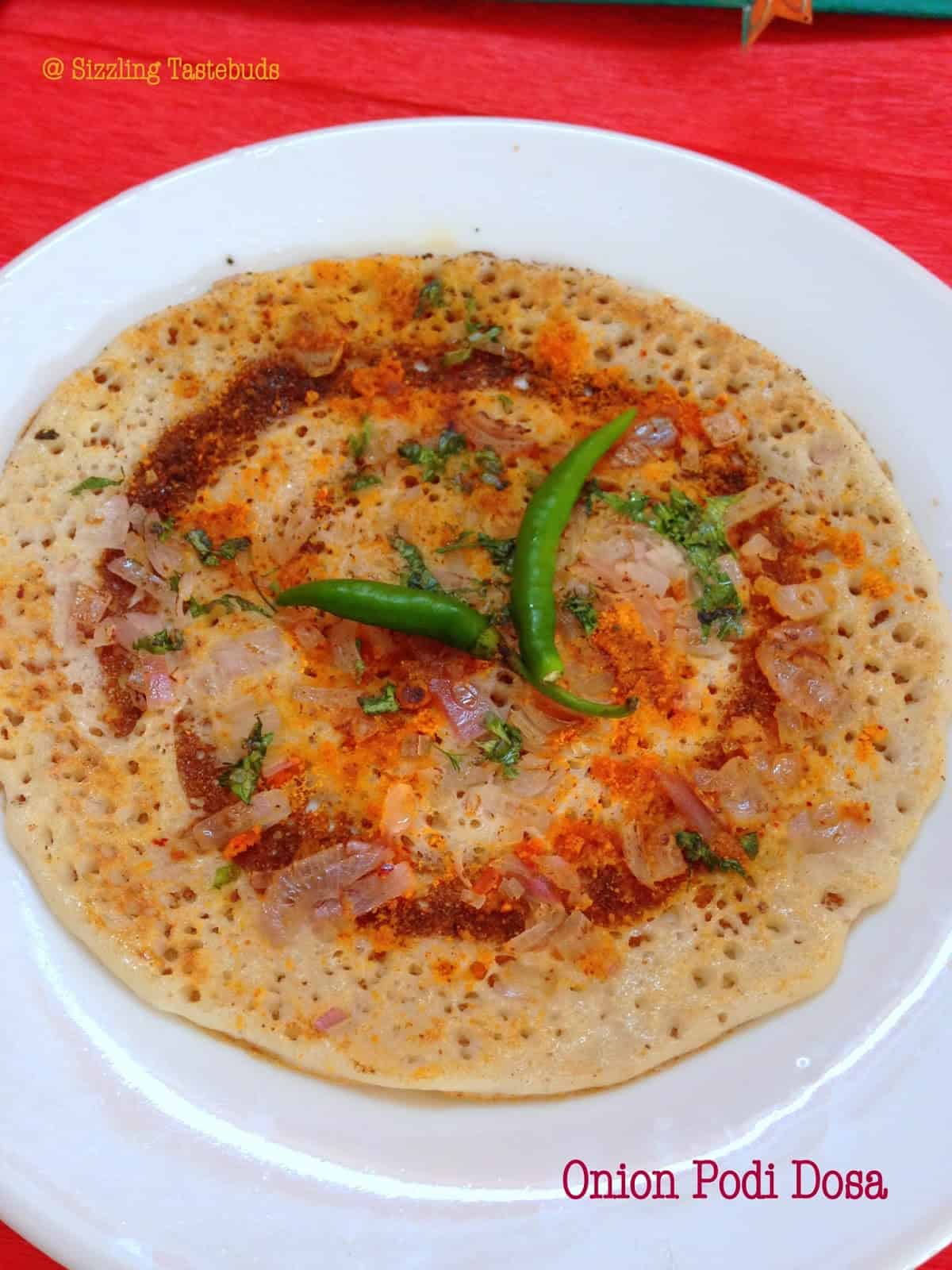 Pin

Ingredients (for 4 dosas):
Dosa Batter (or even use Idli Batter) – 2 large cups
Idli Molagapudi – 1 tsp per dosa (click here for the recipe)
Onions minced – 1 cup
Chopped green chillies, coriander and curry leaves – to taste
Oil – to pan fry the dosa
Method:
In a tsp or two of oil, lightly caramelise / saute the onions with a pinch of salt and sugar each, and keep aside.
Heat the tava, and lightly grease the top. Pour a ladle of flowing Idli / Dosa batter onto the hot tava and spread it around in concentric circles. 
Drizzle few drops of oil and immediately top it with the Molagapudi, sautéed onions, chopped green chillies, coriander and curry leaves. Drizzle a few drops around the dosa too. 
Let the dosa cook uncovered, After 1-2 mins on medium flame, flip only once for 30 seconds (PS – I cook only one side to a mild crisp texture).