Winters and parathas – an ubiqutous combination ! While its not yet officially winter here where I live, the warmth that certain foods bring – you wish they had it all year ( I fondly wish I could have Alu Parathawith pickle right now) .. Today's post is a combo meal – Palak Parathas with Moong Raitha–  and highly nutritious too. Combo meals are my fav- and this can be rustled up for any part of the day – breakfast / lunch / dinner and is a great meal for kiddies mealbox too 🙂 The goodness of Spinach is something that Popeye (the cartoon) brought to the West, but Ayurveda has always been a proponent of fresh greens in all saatvic foods. 
Wikipedia tells me: "Spinach is thought to have originated in ancient Persia (modern Iran and neighboring countries). Arab traders carried spinach into India, and then the plant was introduced into ancient China, where it was known as "Persian vegetable" (bōsī cài; 波斯菜; present:菠菜). The earliest available record of the spinach plant was recorded in Chinese, stating it was introduced into China via Nepal (probably in 647 AD)"
And there is moong sprouts. What more can be said about this wonderfood – rich in riboflavin, moong sprouts is a powerhouse of vitamins and minerals. Light on the tummy yet packed with nutrition,today's post-like my other combo meal Palak Paneer Paratha – packs in Spinach and Moong for a super healthy combo meal. Read on for the recipe.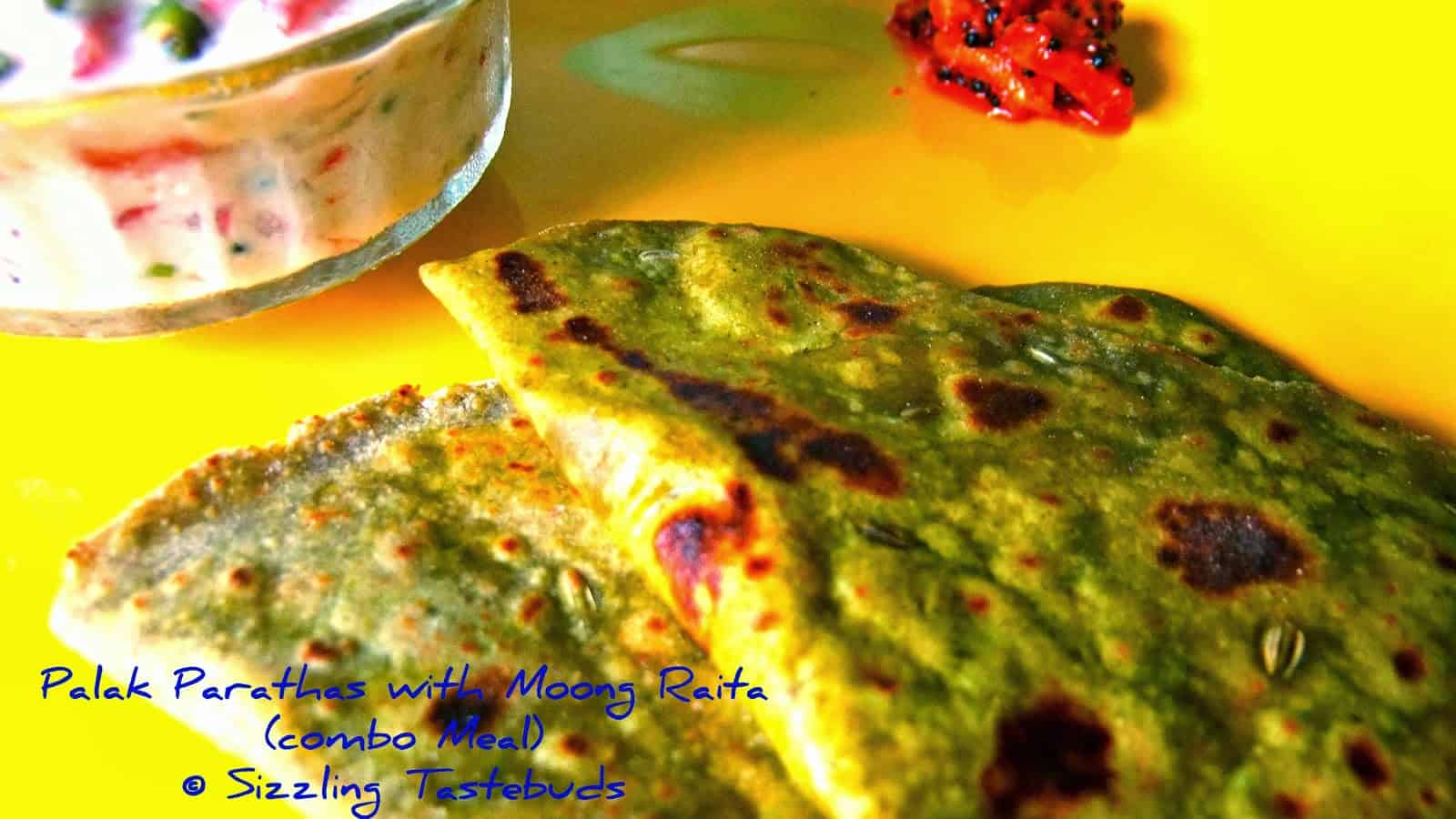 Pin

Sending this to my event HLI Spinach, hosted by Monika, Radhika's Winter Carnival, Priya's CWS Moong , Kavi's HCC – event by Smitha & Krithi'sBreakfast Club#17

Prep time : 20 mins. Makes : 6 parathas.

Ingredients:

(A) Palak Parathas:
baby spinach / spinach – 2 cups (packed)
Wholewheat atta – 2 cups
Masala (each 1 tsp) : Cumin seeds, Red chilli powder, Amchur, Garam Masala
Saunf – 1/2 tsp
Salt – to taste
Turmeric – a dash
Oil – to mix in and cook the parathas
Warm water – 1/2 cup
(B) Moong Raita:
Moong Sprouts – 1 cup
Curd / yoghurt – 1 cup
Green chillies – 1 or 2 – chopped
Tomatoes – 1 no – medium 
Onion – 1 no – medium
Grated coconut – 1 tsp (opt.)
Salt – to taste
Method: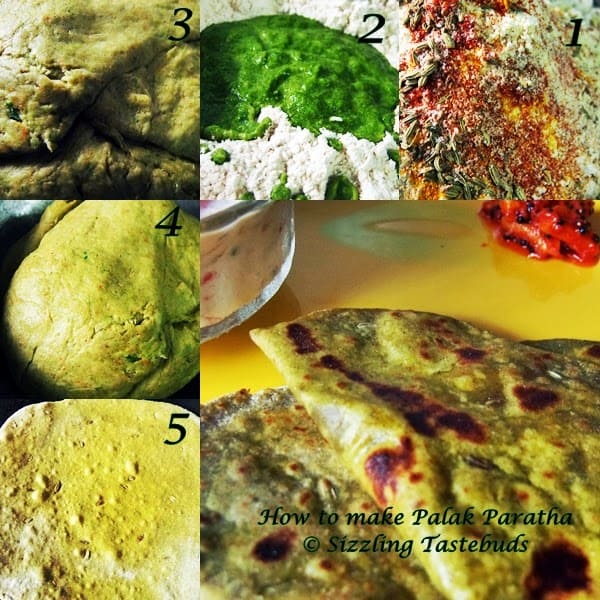 Pin
(A) Parathas : 
1) Sift flour with salt. Add the dry masalas, saunf,and mix. Meanwhile, blanch the spinach for 2 -3 minutes. Drain and puree. 
2) Add the puree to the above flour + masala mixture. Add little warm water and mix to a semi hard dough. Rest for 10 minutes.
3) Make 6 – 8 equal portions of the dough and roll out slightly thicker than chapatis.
4) Heat a tava (skillet) and cook on both sides with minimal oil. Of course, butter and oil does add to the taste, but I refrained from adding any. 
5) Serve with any raita (Moong Raita recipe below)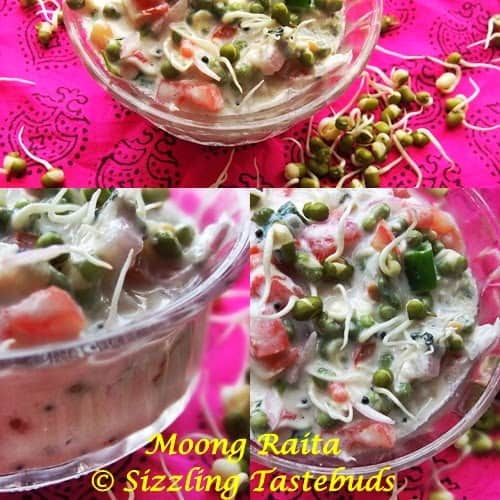 Pin
(B) Raita:
1) Slightly blanch the moong sprouts in hot water and a pinch of salt for 7 -8 minutes. I used raw sprouts, but mom blanched it a bit for her meal and it was good to go.
2) Whisk curd, salt, chillies, chopped onions and tomatoes well. Add to this the moong sprouts and you are ready. 
3) Chill slightly (or use chilled curd) and serve with any paratha / pulav.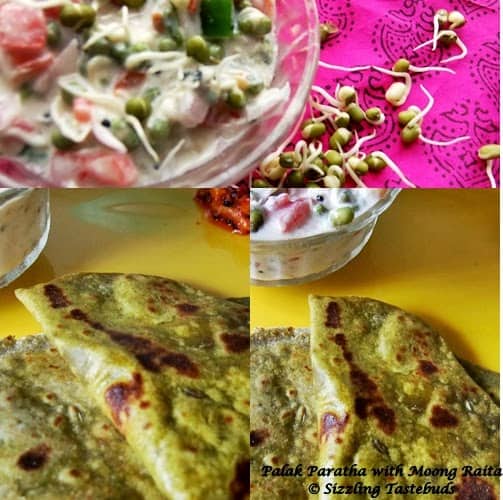 PinPin