Today's combo meal isMasala Dosa with Spicy Tomato Chutney.When a friend from England recently asked me what it meant in English, I loosely translated it as Fermented Black Lentil Crepes – the name sounded strange to me too :). But to the true Udupi-fare loving foodie, Masala Dosa is the king of breakfast and good food in general.
Down memory lane,I fondly remember my college / work days in Bangalore savouring good old Masala Dosa with Sambhar Chutney at the famous eateries -Vidyarthi Bhavan in Gandhi Bazaar or the Dosa Camp (Ganesh Darshan) at 4th block Jayanagar. We used to pay regular homage to these and many more such eateries who had Crispy Brown hot Masala Dosa as its USP.
Before I trip on to any more memories, let's get to today's recipe . I learnt the proportion for this masala dosa from a neighbour back in Bangalore whose dosas used to send us into a tizzy with the warm flavours from her kitchen.
Sending this to Day 4 of Blogging Marathon as well as Priya'sBookmarked recipes along with Good Food'sProteinicious and Divya'sShow me your Dosa events.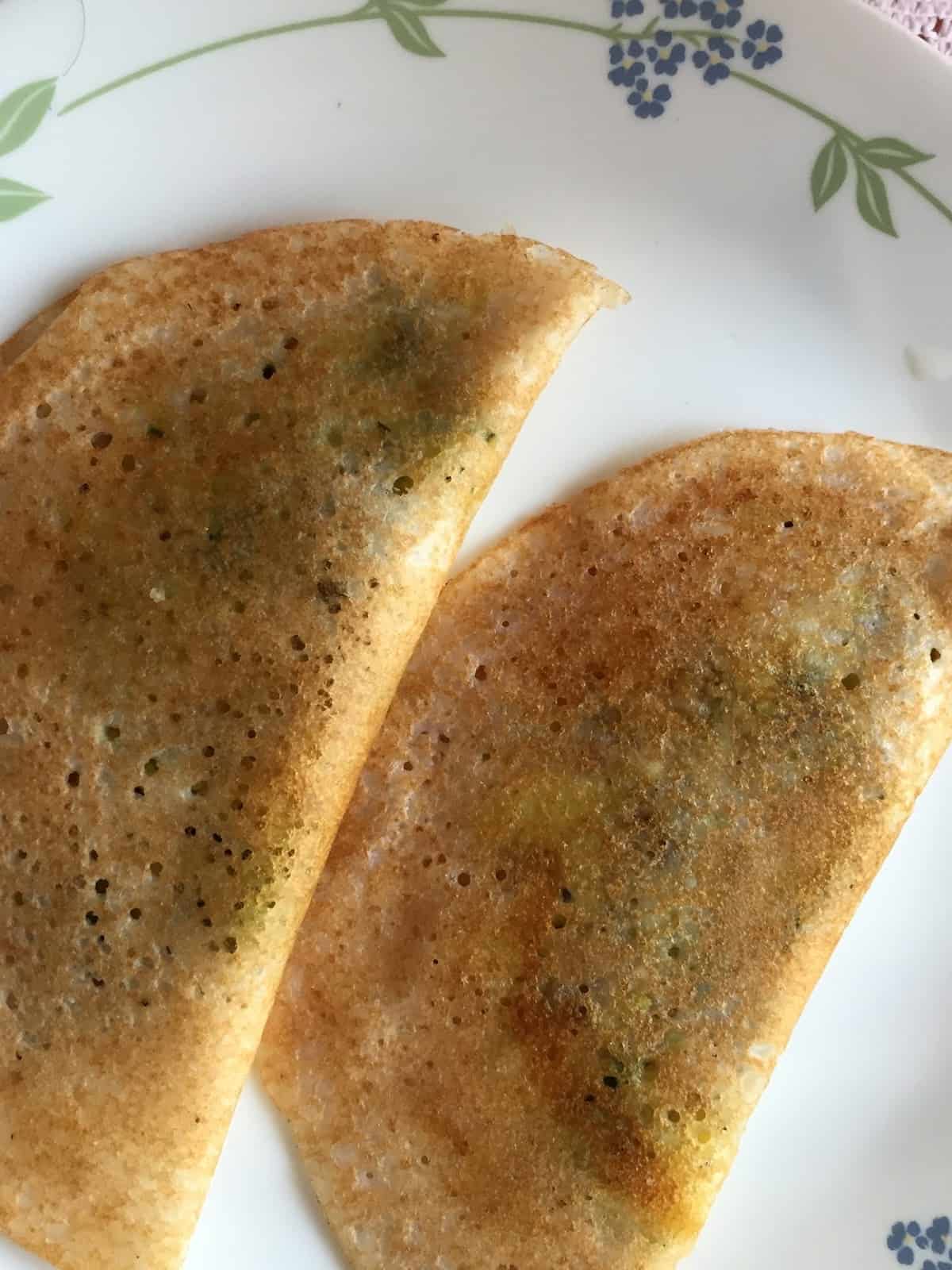 Pin
Prep time (excluding batter fermentation) : 45 mins – 1 hour.
Ingredients:
Dosa Batter
Urad dal / split black lentil – 1 cup
Raw rice – 3 cups
Methi seeds – 1 tsp
Poha / beaten rice – a handful
Channa dal / Bengal gram – 2 TBSP
Salt – to taste
Masala Dosa filling
Boiled Potatoes – 3 large
Onions – 2 – sliced thin vertically
Ginger – 1 inch -grated
green chillies – 4 – 5
Turmeric – 1/2 tsp
Salt – to taste
Tempering: Oil – 2 tsp, Mustard seeds, Urad dal, curry leaves and coriander leaves
Lemon juice- 1 tsp
Spicy Tomato-Onion Chutney
Onions – 2 medium or 1 large (quartered)
Oil – 1 TBSP
Firm and ripe tomatoes – 3 large
Methi / fenugreek seeds – 1/2 tsp
Red chillies- 2 or 3
Salt – to taste
Method: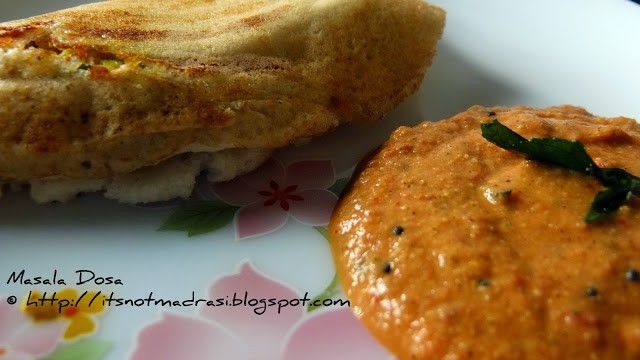 Pin
Dosa Batter:
1) Soak Urad dal + methi + channa dal in one vessel and rice separately in another for 4 -5 hours.
2) Grind to a smooth batter. Add salt and ferment overnight.
3) Next day, prepare the Dosa : Heat the tava. sprinkle a little water to check if its ready. Pour a ladleful of dosa batter in the middle and spread in concentric circles starting from the centre. Drizzle 1 tsp of oil around the circumference and let bake till golden brown.
4) Once done, flip over for half a minute – cook and flip back. Add the potato masala (recipe below) and close the dosa over the potato filling. Serve with Spicy Tomato Chutney.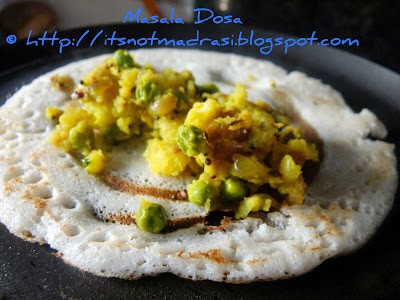 Pin
Potato filling:
1) In a pan, heat oil. Splutter mustard seeds, urad dal, ginger, green chillies and curry leaves.
2) Add turmeric and sliced onions. Fry well till onions turn slightly brown / translucent.
3) Now add salt, boiled and slightly mashed potatoes and stir well.
4) Once incorporated, switch off gas and add coriander leaves, lemon juice. Mix well and use as filling for Masala Dosa or side dish with Poori (deep fried Indian bread)
Spicy Tomato -Onion Chutney
1) In a pan, heat oil. Splutter methi seeds. Add Onions, toamtoes and toss well. Now add chillies and fry once more.
2) Add salt and cover and cook with 2 – 3 tbsp of water till tomatoes get slightly mushy and onions turn translucent.
3) Grind with salt to a runny consistency. If preferred, prepare tempering with mustard seeds and curry leaves and pour on the chutney.
You can use this chutney with Dosa /Idli/Ragi Rotti/ Adai Dosa/ Kanjivaram Idli.
See the delicious eateries dished out by my other friends @Blogging Marathon here