Rougaille (pronounced as roo-gahy) or Red Sauce or Spicy Sauce as its known in Mauritian Cuisine is believed to be a hot (pun intended!) favourite amongst the locals. Mauritian Cuisine is a blend of Indian, Arabic, French / Creole cuisine. This dip is almost a National Cuisine like the Roti /Farata.
This week @ FoodieMondayBloghop under the @224DueSouth Theme (suggested by yours truly), we are exploring dishes from the Southern Hemisphere where we have close to 20+ countries and so many hundred cuisines. Today, I have Mauritian theme as the chosen country, from where I had posted Gram Bouilli – a vegan and GF snack featuring chickpeas as the main ingredient.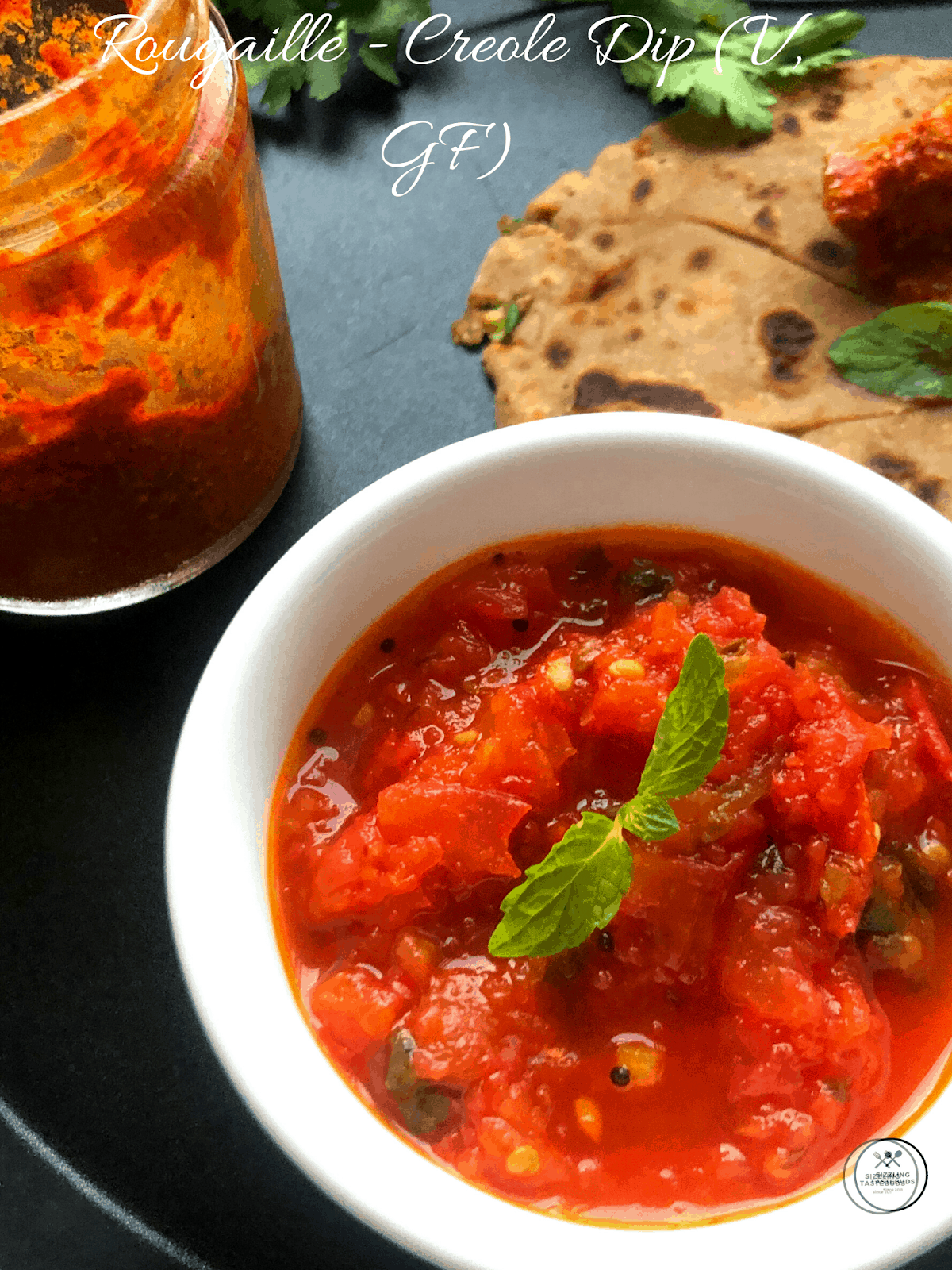 Pin
Today's dip is not just served with any snack (or gajaks as the local deep-fried snacks are known), but is also a base for many gravies with shrimp, fish, chicken and other protein. Dhal Puri is another favourite amongst the locals, which I wanted to serve with this dip, but instead made a paratha (or a flatbread – that recipe with a secret vegetable coming up soon :-)).
The dip was just right for us, although spice in Mauritian Cuisine is primarily from Green chillies rather than Chilly powder. The original recipes use a lot more oil, which would lend a consistency like this Homemade Spicy Schezwan Sauce, but I felt it was right oil for us.
More GF, Vegan Dips like this include :
Let's get to today's recipe:
Rougaille – a spicy , Tomato based Vegan and GF dip from Creole Cuisine
Prep time – 5 min, Cook time – 15 mins
Course : Dip , spice level – Medium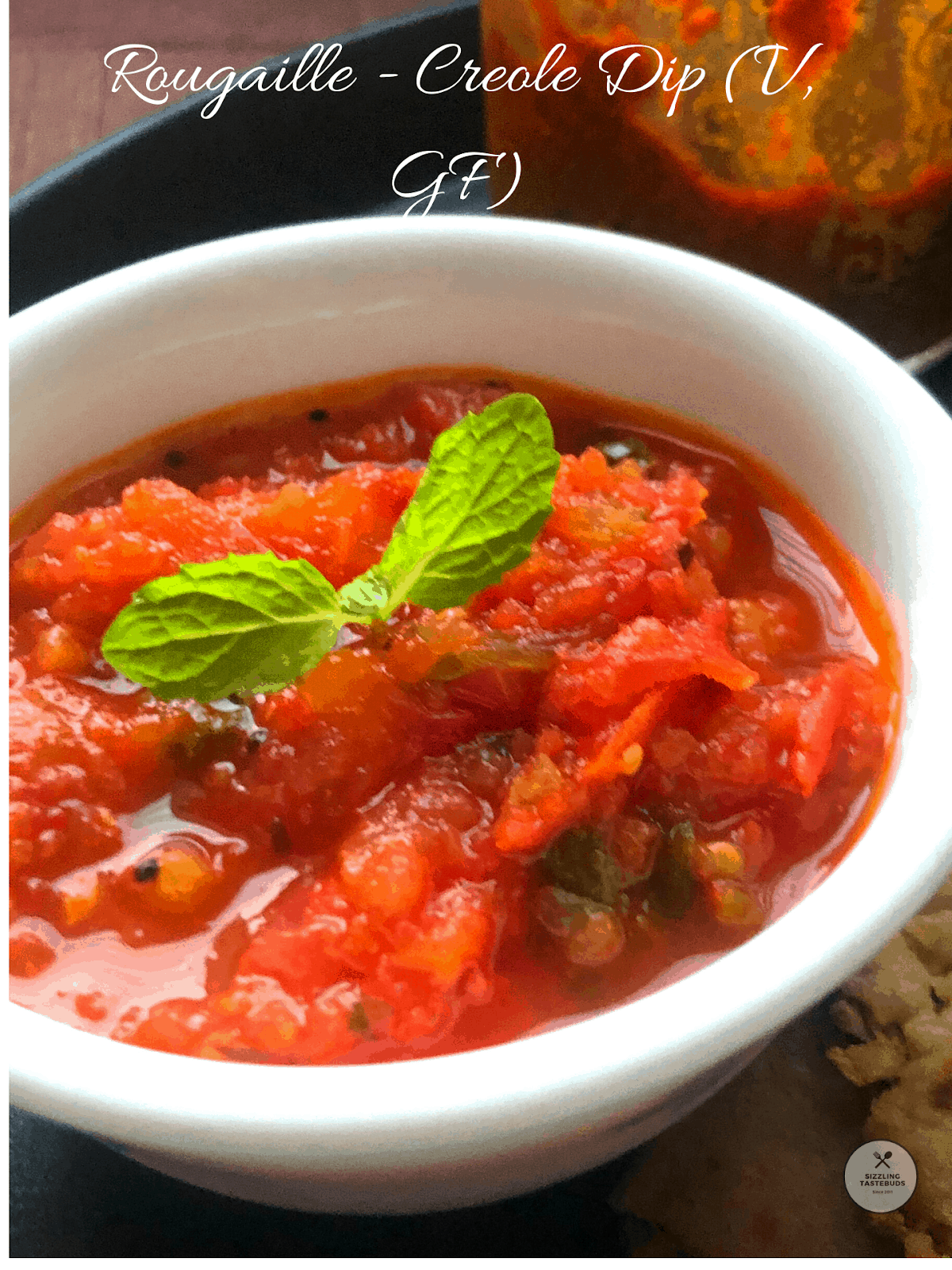 Pin
Ingredients:
Red, Ripe tomatoes – 4 large
Ginger garlic paste – 1 tsp
Thyme – fresh / dried (I used the latter, but the former is preferred) – 1 tsp
Salt – to taste
Finely chopped thai red chillies – 1 small (adjust spice)
Oil – 2 TBSP
Finely Chopped Coriander leaves – 1tsp (I didn't add)
PIN FOR LATER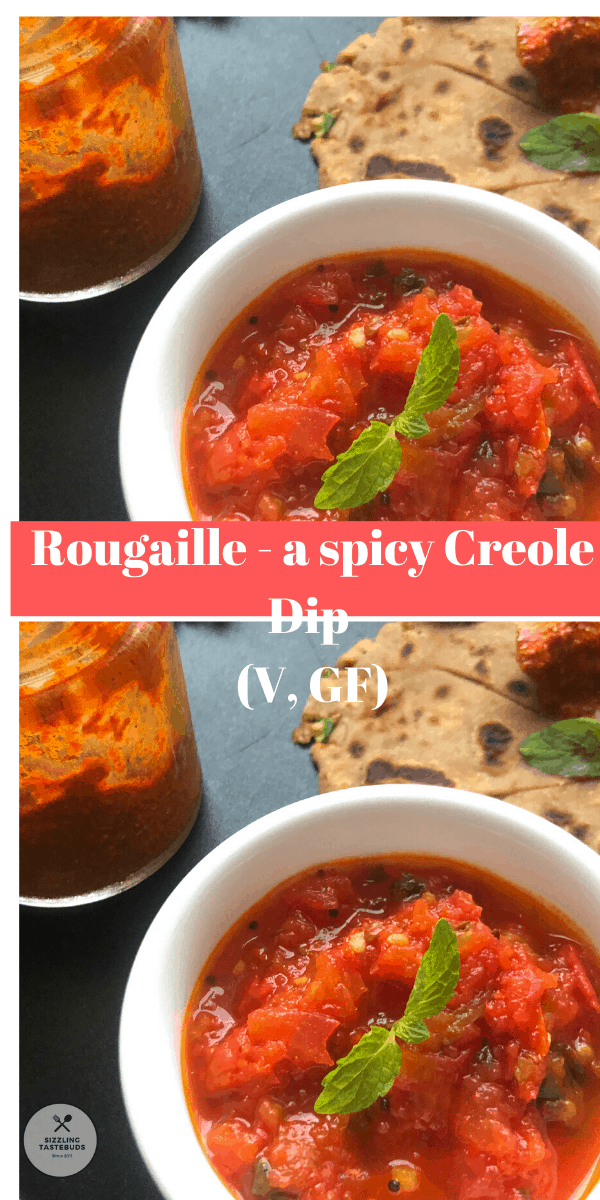 Pin
How to make:
Wash and chop tomatoes (I pureed them into largish chunks). In a pan, heat oil, add the ginger garlic paste and the pureed tomatoes. Add salt. Cook and cover till mushy.
Add the thai red chillies, thyme and add 1-2 TBSP of water and cook again till it coats the back of a spoon.
Serve with veg crudites / potato wedges or even Dhal Roti or Roti Farata . (Or store as a base for making Creole gravies with any protein)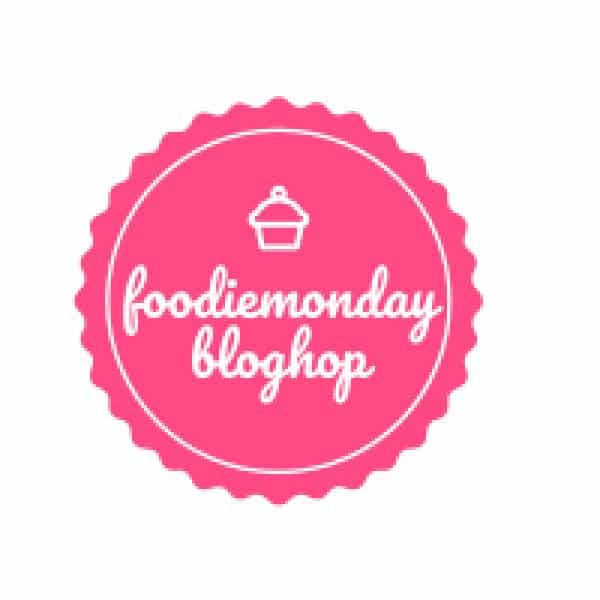 Pin