Before the invasion of fast foods or ready-to-eat snacks into our kitchens, the healthiest lunchbox recipe for any self-respecting Tamilian would be Curd Rice or Thayir Saadam. Accompanied by pickle, this hearty meal made its way into thousands of people's tummies in the heat of the afternoon – for both office and school goers, and no one complained 🙂 No tummy upsets, no reason for indigestion. The uber cool curd rice was the perfect antidote to the scorching sun, and it also made perfect sense for the probiotic bacteria from the yoghurt to soothe the tummy. How simple life was then ? Till we landed with unknown and foreign terms like lactose intolerance, nuts allergy, lacto-ovo-vegetarian !! Whew … Wonder if our forefathers also suffered similar maladies but never had names to express.
Anyways, back to today's post. I have put together an authentic Iyengar recipe – Dodyonam (aka Curd Rice or Thayir Saadam). This is generally served at South Indian temples (esp Srivaishnava temples) as prasad, post the day's offerings to the Lord. I particularly remember S telling me, at the beginning of our married life to make "Anjaneyar Kovil Dodyonam". I am like what ?? When MIL visited us few months later, I was to learn about this one fascination S has about this semi hot, gooey concoction with simple ingredients and heavenly to taste. Of course in temples, the quantity one gets is limited and sans pickle too. But this tastes heavenly with lemon pickle& Orange Peel Gojju (both my fav!!)
Am already drooling about eating this today afternoon, while even posting this recipe 🙂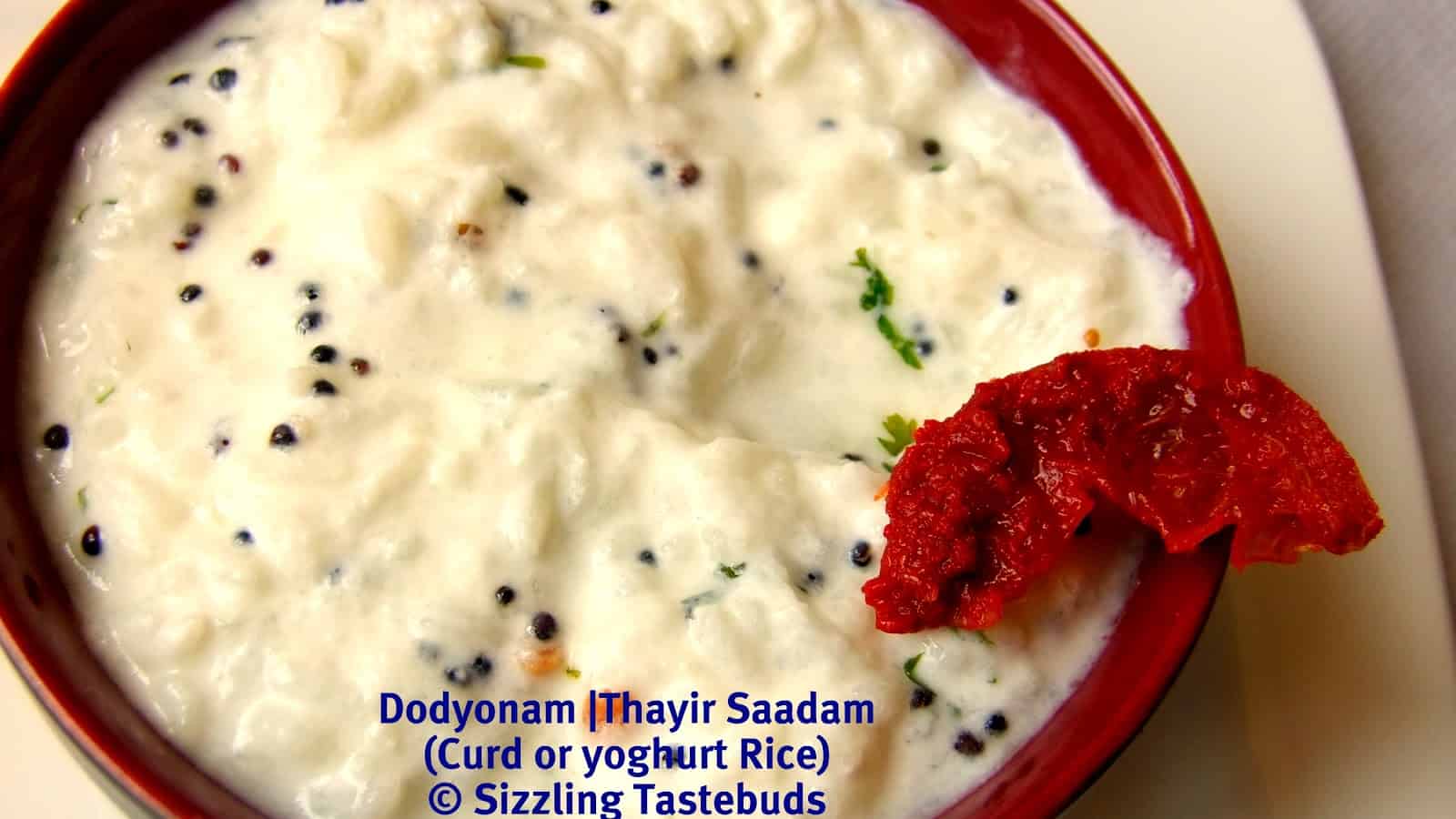 Pin

Sending this to:

Check my fellow Marathonershere

Prep time :5 – 10 mins

Cook time : 15 mins

Serves : 3

Ingredients:
Rice – 2 cups (cook slightly mushy)
Milk – 1/2 cup (I used low fat)
Curd / yoghurt – 2 cups
Salt – to taste
White unsalted Butter – 1/2 tsp (optional)
Oil – 1 tsp
Tempering : 
Mustard seeds, Grated ginger (1 tsp), Urad Dal (1 tsp), Channa Dal (1/2 tsp), Broken dry red chillies (4 -5), Curry leaves (few), Asafoetida / Hing – a generous pinch.
Coriander leaves – for garnish
Notes:
1. You may use green chillies or even Molaga Vathal (dry pickled chillies) instead of red chillies 
2. Milk and butter are optional, but add to the creaminess of the dish
3. Use only short grained rice for best results.
Method:
1) Wash and cook rice till slightly mushy (4 -5 whistles – use only short grained rice)
2) Cool thoroughly and spread in a large plate (called Tambalam in Tamil). Prepare tempering and pour onto the rice
3) With your hands, mix in the tempering with salt nicely. Add yoghurt little by little and start incorporating it into the rice. You may use more or less yoghurt according to your liking
4) If not serving immediately, add the milk and butter and keep for 1 – 2 hours. 
5) Garnish with coriander leaves and serve with lime pickle !
6) If making this for an event / potluck, mix milk ahead and rerfreigerate slightly. You can also garnish with slices of green grapes or pomogranate pearls 🙂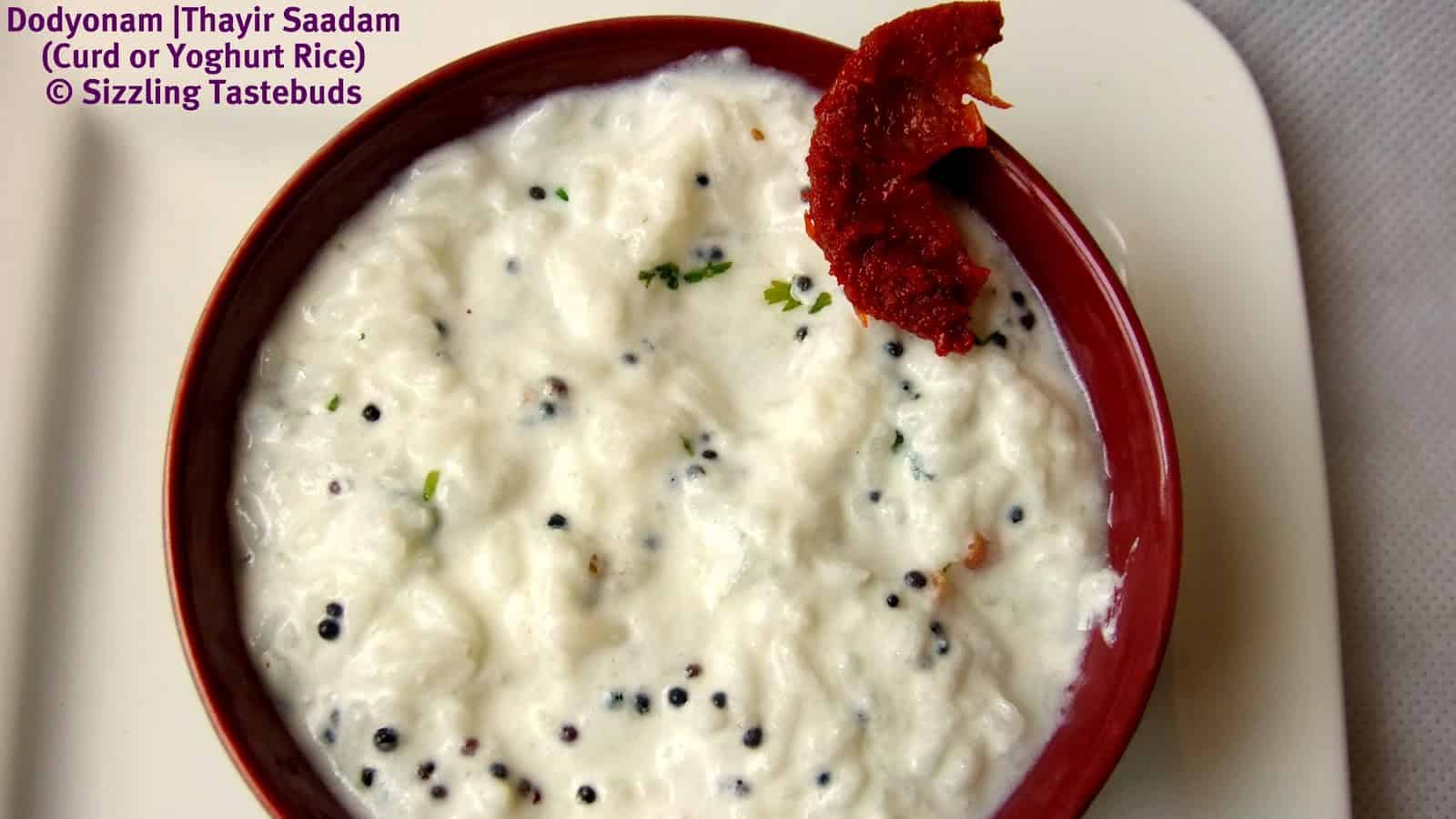 Pin