Mor Milagai(or sun dried chillies – flavoured with buttermilk and
salt) is a South IndianCondimentmade mostly in the states of Tamilnadu,
Andhra Pradesh and Karnataka. Although made through the year, its made in large
batches in Summer when the sun provides ample and quick heat to dry these
beauties. Its a very simple condiment to make and can be preserved for almost
an year like any other pickle / condiment. 
To use this, take out small batches
of these sun dried chillies and fry in little oil. Use with Thayir Saadam (Curd Rice). I love to sink my teeth
into these salted beauties along with KeeraiSambhar (Lentil and Greens curry) but S likes them with Mor Kali (a steamed rice flour snack). So,
literally making hay while the sun shines, lets get to making this quick
condiment and send it to BM#26
Prep time : 10 mins | Soaking and
Drying time : 3 – 5 days | Makes : Approx 60- 80 gms of dried condiment
Can be stored : Upto an year without
refrigeration.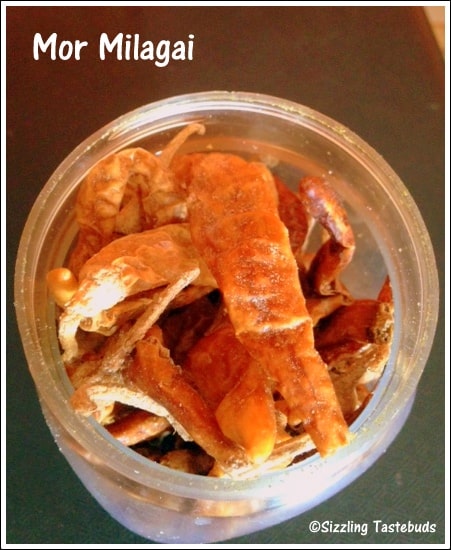 PinPin

Notes:

Use fresh green chillies only for best
results.

The buttermilk should be too watery or
too thick. 

Addition of asafoetida is optional,
but enhances the taste manifold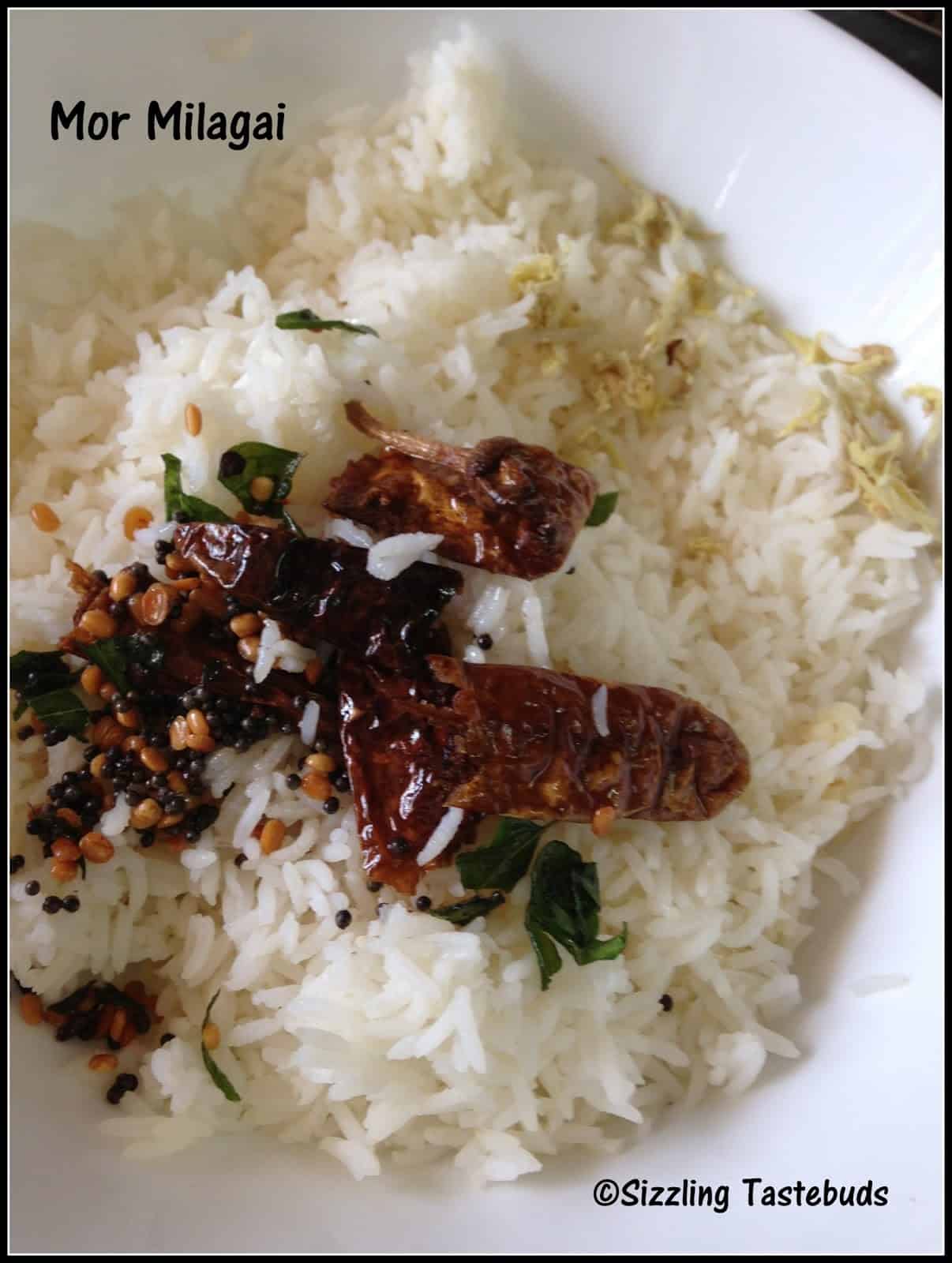 Pin
Ingredients:
Fresh Green Chillies – 100 gms
Slightly sour buttermilk – 3 cups
Salt – 1/2 tsp (or to taste)
Asafoetida – a generous pinch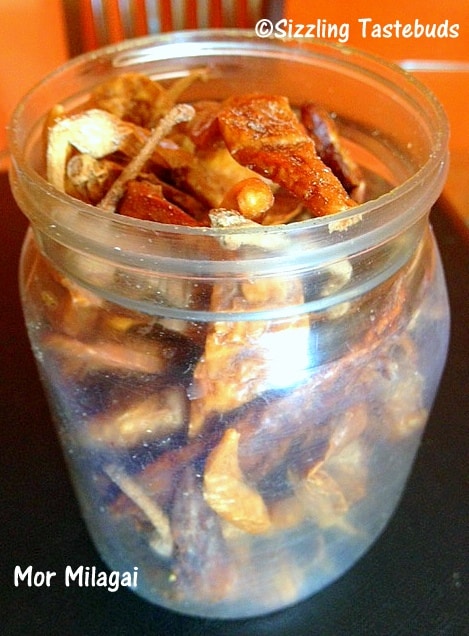 Pin
Method:
Wash and pat dry the chillies.
Split the chillies lengthwise, but not
fully, retaining the base (and the stalk). Deseed completely (De-seeding is not
necessary if you are using serrano or any mildly spiced chillies).
In a large bowl, whisk together salt,
buttermilk and asafoetida. mix well.
Add the split and deseeded chillies
and mix well.
Let it sit in the same container for 5
– 6 days till all the water is evarporated and the chillies change colour to
light brown.
Once they are completely dry, store
them in an airtight dry container.
To use, fry a handful of them in hot
oil till they turn dark brown or black (takes just under 5 – 10 seconds).
Drain on absorbent paper and use
immediately.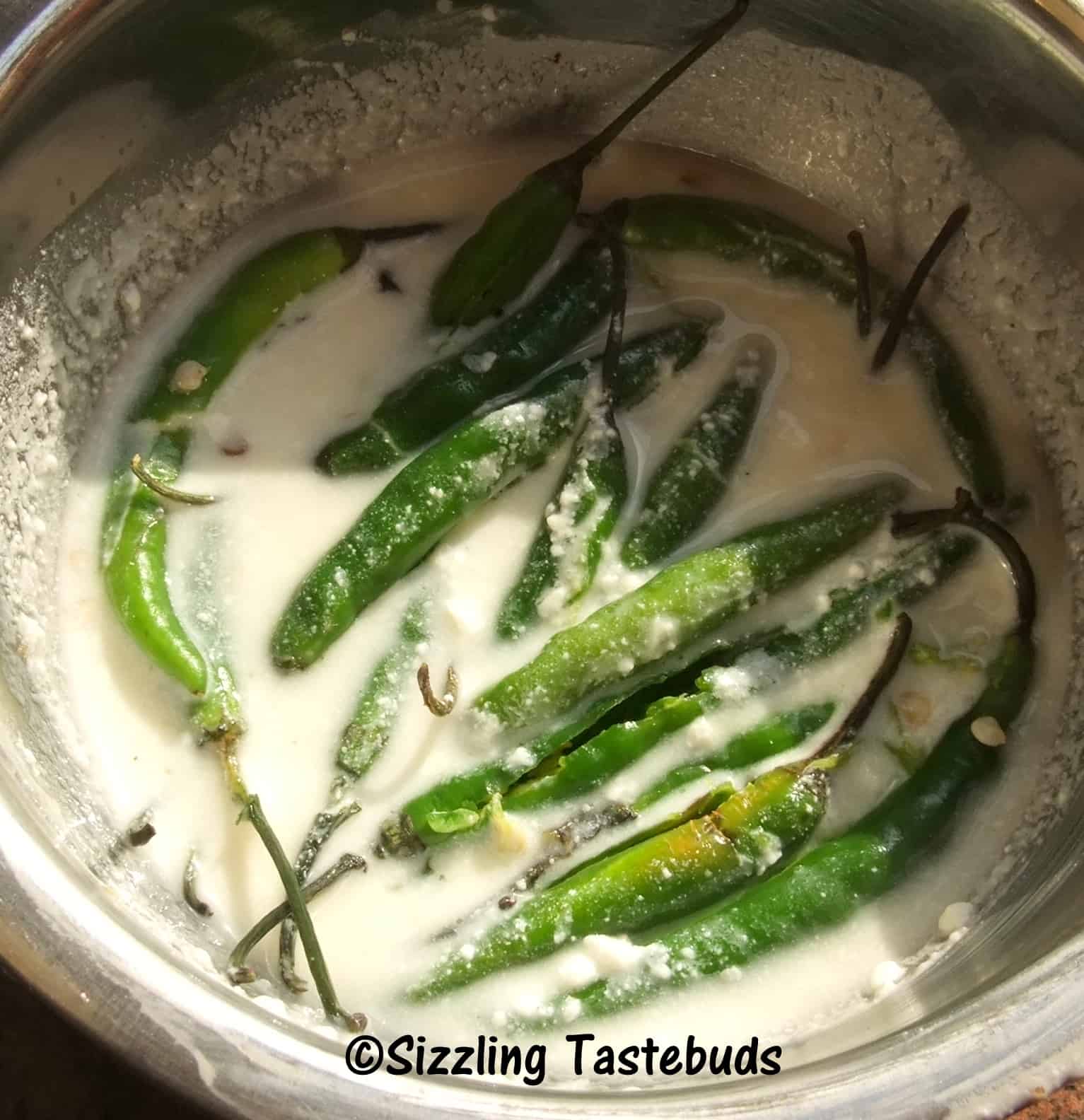 Pin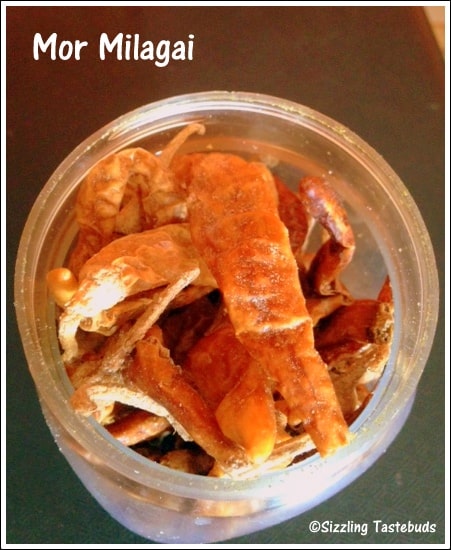 PinPin