As soon as I read about this dish in a Kannada magazine I knew I
had to make it for the capsicum (bell-pepper) lover in me. Whether it is
Vangibhath, Pav Bhaji, Capsicum dry curry or even in fried rice, I love this pepper to bits.. So much so that
early in our marriage, when S used to go shopping, he used to bring atleast 1/4
kilo of this pepper to ensure domestic bliss 🙂 🙂 
This gravy is from the upper Malnad
region of Karnataka, made generally by the Havyaka brahmins (a sub sect of
Hindus) who use coconut extensively in their cooking. I guess local produce
always influences traditional cooking, and this dish is no exception. The only
additions I made to this dish is to add onions & garam masala to give it a
north Indian twist, and we all loved it a lot… For all those bell pepper
lovers out there, this is a very spicy dish that's sure to tickle your palate.
I served it with Wholewheat Paneer Kalonji Naan (recipe soon !) and salad n
raitha.. Do check out the recipe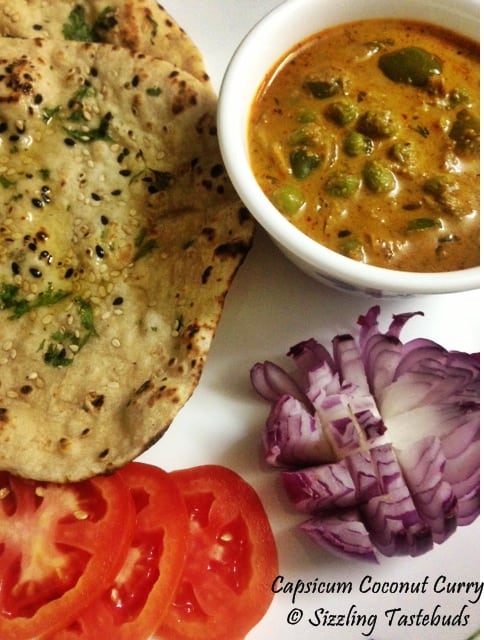 PinPin

Prep time – 10 mins | Cook time – 20
mins | Serves – 3

Difficulty level – Medium

Spice level – hot 

(P.S :its really spicy – so
adjust spice according to your palate- Refer Notes below)

Serving suggestions – Any Indian Bread/ Naan /
Butter Kulcha or even plain steamed rice

Ingredients:

Capsicum – 300 gms (or 2 large ones)

Onions – 1 medium finely chopped

Tomatoes – 1 large or 2 medium

Peas – 2 handfuls

Salt – to taste

Garam Masala – 1 TBSP

Red chilli powder (Kashmiri Variety) –
1/2 TBSP

Coriander and lime juice – to garnish

For the gravy masala:

Coconut – 1/2 cup (freshly grated)

Cloves – 2 

Cinnamon – 1/2 inch piece

Red chillies – 2 

Kashmiri Chillies – 3

Coriander seeds – 2 TBSP

Jeera – 1/2 tsp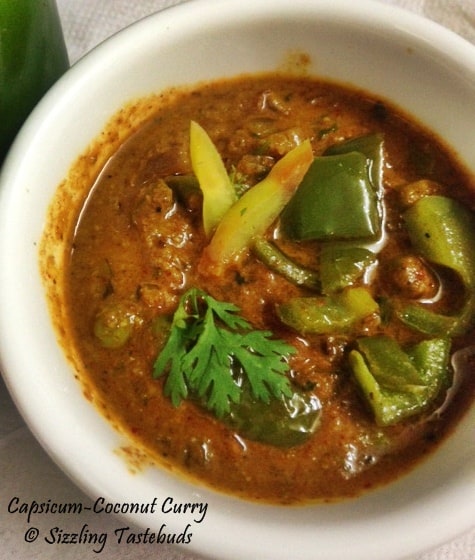 Pin




Method:
Stage 1: Dry roast all the 'to grind'
ingredient except coconut one by one on a low flame. Cool and grind with
coconut to a smooth paste
Stage 2 : Chop onions, capsicum ; blanch peas in slightly salted water for 10 mins. Drain and keep aside. Saute capsicum in a separate pan in 1 – 2 tsp of oil and keep aside
(ensure the bell pepper retains the crunch)
Stage 3 : In a non stick pan, heat
oil. Splutter cumin seeds. Add onions and fry for about 4 to 6 mins till they
turn pinkish brown, Add salt and the ground masala paste and fry till the raw
smell disappears.Now add finely chopped tomatoes and fry further on a low
flame for 2 – 3 mins till the tomatoes turn mushy.
Stage 4 : Add the blanched peas, dry
masala powders (cumin + garam masala + red chilly). Checkfor salt. Add 1 tsp
sugar or jaggery (the original recipe had jaggery too which I used). Once the
oil leaves the sides, add the sauteed bell pepper and half the coirander
leaves. Simmer on low flame for 2 -3 mins. 
Switch off, transfer to a serving bowl,
garnish with remaining coriander and lemon juice and serve warm with rotis or
any indian bread.
Notes:
(a) As the gravy is very spicy (with
the above measurements), you may add a dash of cream to tone it down.  But
make sure to add in the cream instead of the the lemon juice as it might
curdle.
(b) You may use lesser quantity of red
chillies and increase the kashmiri chilly count for a richer vibrant coloured
gravy. In that case skip the red chilly powder too.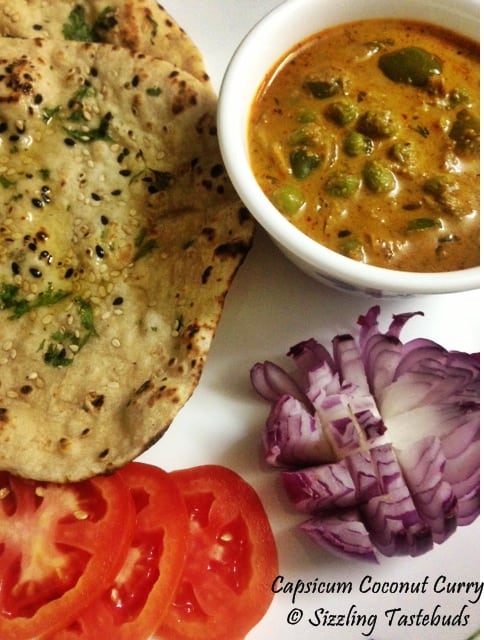 PinPin
This goes to Blogging Marathon # 24 under "Gravies from different states" and also to:
My own event – Winter Foods 30 min Challenge
Vardhini's New "U" 2013
Sumee's  Bon Vivant Healthy appetite
Sharanya's Traditional and Native Recipes