I
love fenugreek – in both dried and fresh forms. Thankfully my family does too –
and we are lucky to have access to fresh fenugreek (menthye soppu in kannada, venthaya keerai in tamil, methi bhaji in hindi) through the year. A rich
source of calcium and folic acid, we especially love Methi Rice, Grilled
Methi Bhakri Pizza, Methi
Kadhi, Kadai
Methi Matar, Aloo-Methi
stir fry and a rustic Menthe
Kattina saaru (fenugreek leaves-dal broth) that mom makes amazingly
well 🙂 :-))
Its
been 50 months since we at Blogging Marathon (BM) family got together. We had a
lovely meet with most of the India-based bloggers last week. 
This
week, as part of BM # 50, we have fenugreek leaves as the theme. First in
this series,  is a low-cal and low fat version of the popular restaurant
dish Methi Matar Malai. Simply translated it means fenugreek and peas simmered
in a rich creamy gravy.  As usual, I knew there would be no takers for
such a creamy dish at home, so used non fatty substitutes for a yummy meal.
Even my FIL who is generally taciturn approved of this dish, and asked for
second helpings. So, thats saying a lot I guess. 
Notes: we made this once with onions and once without. Both were equally tasty.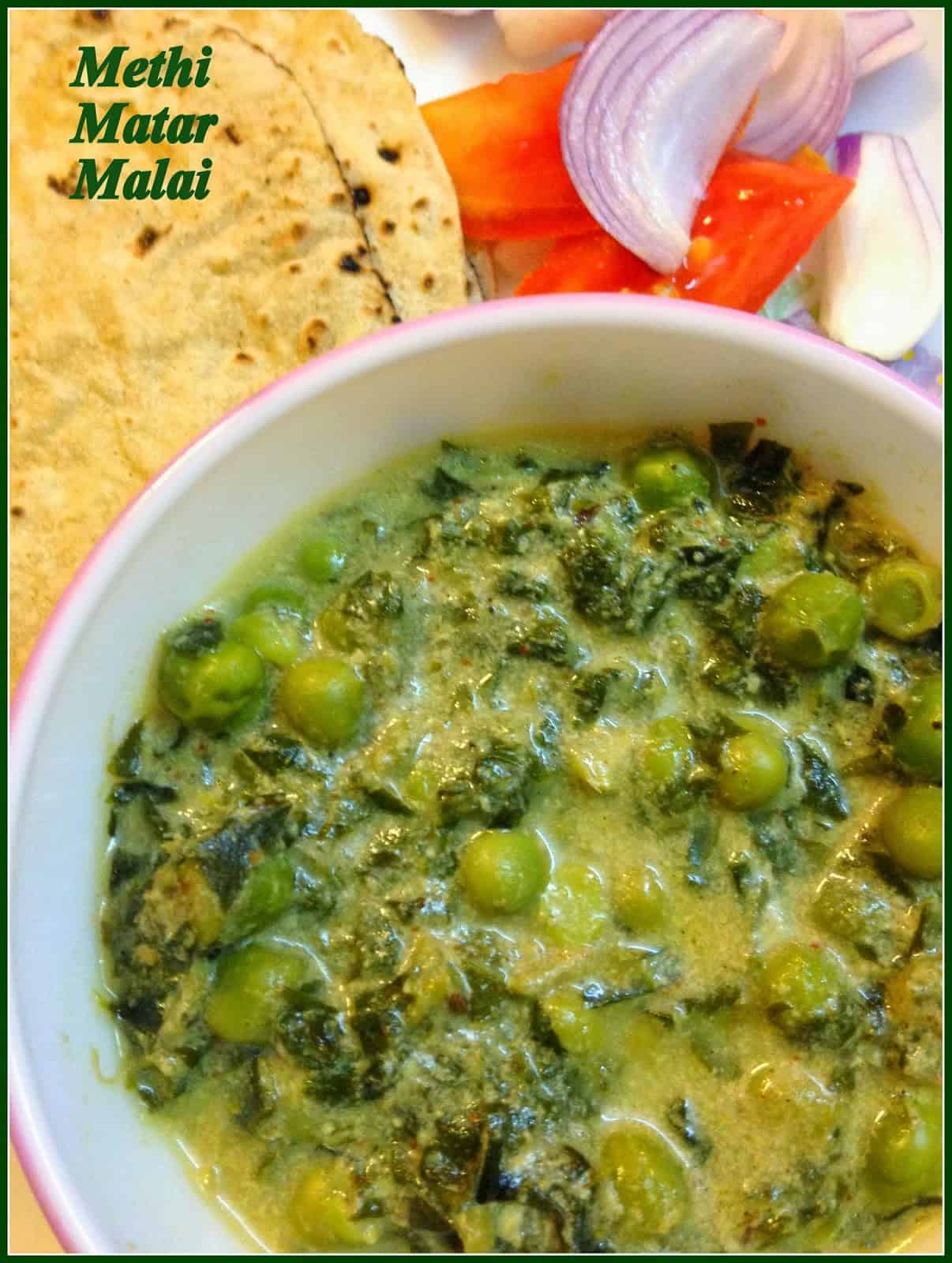 Pin




Prep
time : 15 mins | Cook time : 20 mins | Serves : 4

Methi
matar Malai – low fat version  : Fenugreek leaves and peas in creamy gravy

Serving
suggestions : Chapati / Roti / Naan or Kulcha

Ingredients:
Fresh
fenugreek – 1.5 cups (packed)
Onions
– 1 medium
Green
chillies – 1 no
Fresh
or frozen peas (I used the former) – 1/2 cup
Oil
– 2 tbsp
Jeera
– cumin seeds 1 tsp (optional)
Garam
masala – 1 tsp
Red
chilli powder – 1/2 TBSP (or to taste)
Sugar
– 1 tsp (optional)
Salt
– to taste
Low
fat milk – 2 cups
Gravy:
Onions
– 1 medium  (or 1/2 large)
oil
– 1 tbsp
Cinnamon
stick – 1/2 inch
Garlic
pods – 2 – 3 
Ginger
– 1 inch
Green
chilly – 2 or 3
Elaichi
/ cardamom – 1 pod
poppy
seeds- 1 tsp
cashew
nuts – 8 to 10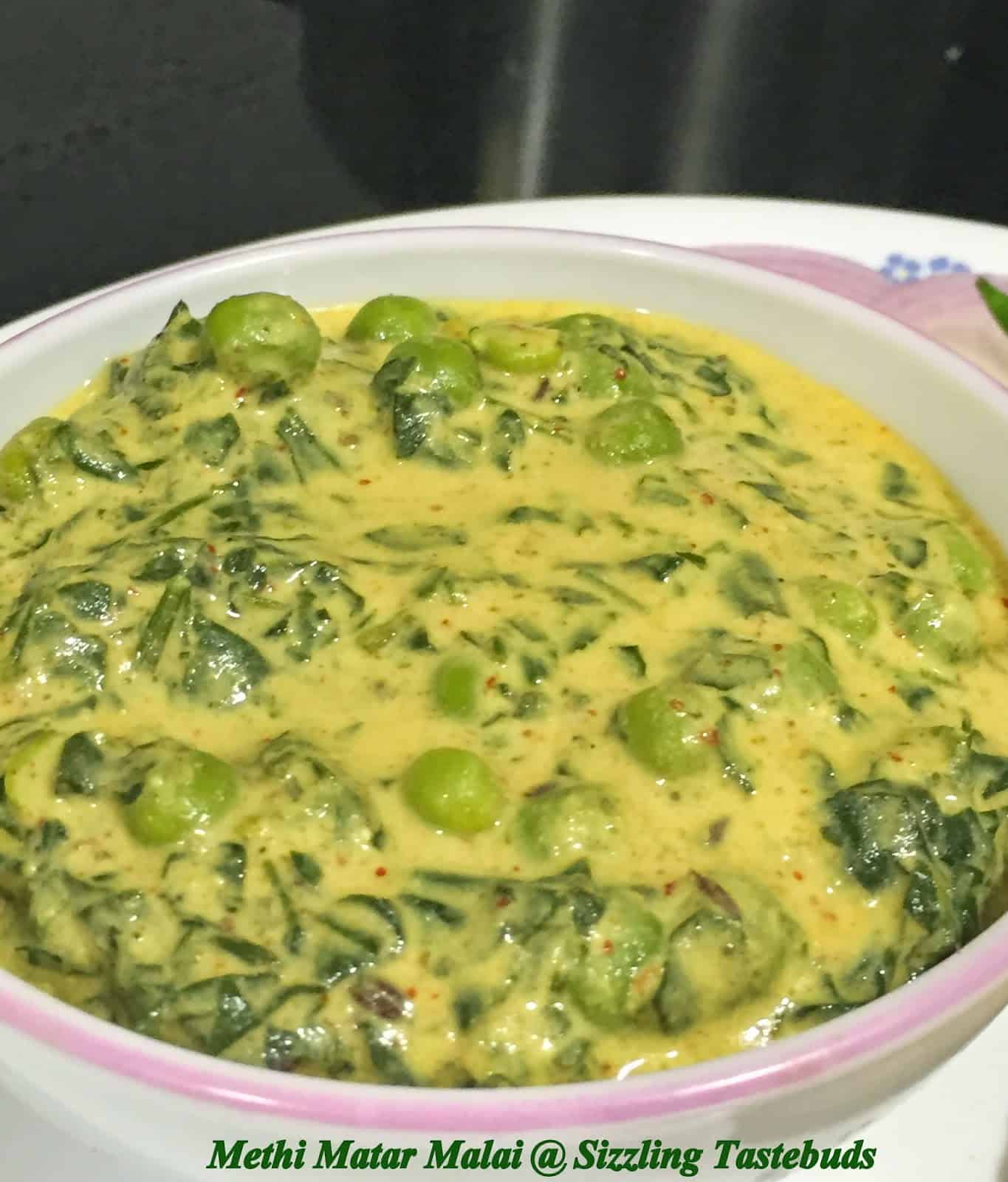 Pin

Method:
Wash,
sort and chop methi leaves finely. Drain well. In a pan, heat oil. splutter
jeera and saute onions. Add chopped green chillies and methi leaves, fresh peas
and saute on a low flame for 5-9 mins till they wilt gradually. Cool. 
In
another pan, heat 1 tsp of oil , and saute all the ingredients of the gravy one
by one. cool and make a paste with minimal water. 
Add
this paste back to the sauteed methi leaves and mix well on a low flame till
raw smell if any disappear.  add salt, garam masala, red chilli powder,
sugar and half of the milk and let it lightly simmer. Check for taste, add more
milk if required for a slightly runny gravy.
Serve
warm with rotis and a green salad
Pin