Sweet Rabri is a sweet, condensed milk based
dish made by boiling the milk on low heat for a long time until it becomes
dense and changes its color slightly upon thickening. Sugar, spices and nuts
are added to it to give it flavor. It is chilled and served as dessert. When I
chanced upon my bookmarks, I saw one by Cinnamon and Chillies which was bookmarked
several months ago. This recipe was too tempting to pass up, and I HAD to make it.
When I said I HAD to, I mean I literally got out of my study table, where
apparently I was supposed to study for my exams (you know the drill right :-))),
but the picture I saw in the morning kept calling out to me.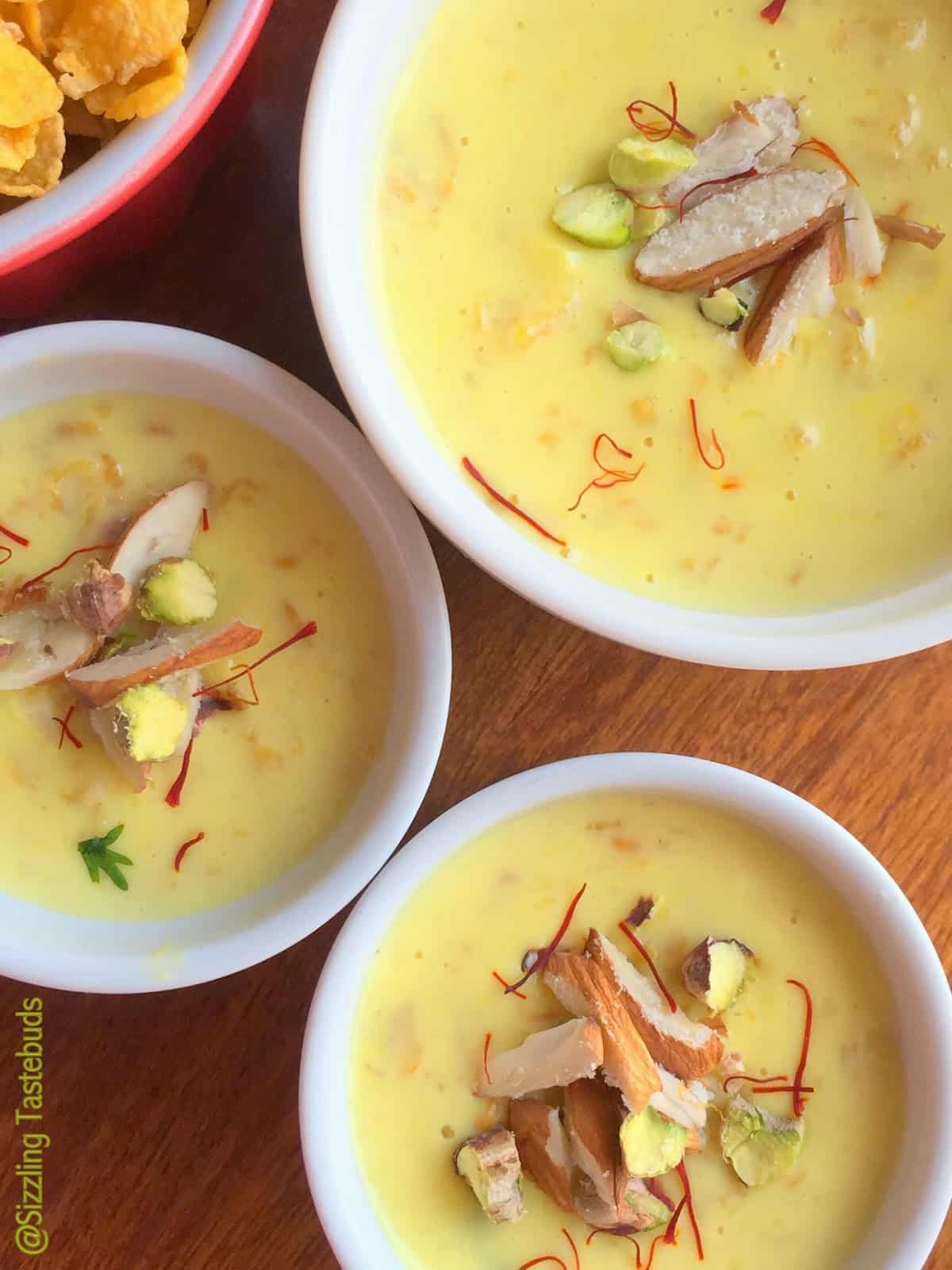 Pin

I made one tweak here, and it was ready,right
within an hour of slaving over the stove (yes, Rabri is time consuming but
worth all the effort). I am partial to milk-based sweets like Payasam (Kheer), Rasmalai and the like. And getting top marks
from mom who ate this was the crowning glory. The husband doesn't care too much
for sweets (unless its 99% cocoa bitter chocolate) so we happily indulged 🙂
Make this ahead for parties / potlucks and get togethers – those single serve
portions are mess free as well as look cute on any occasion.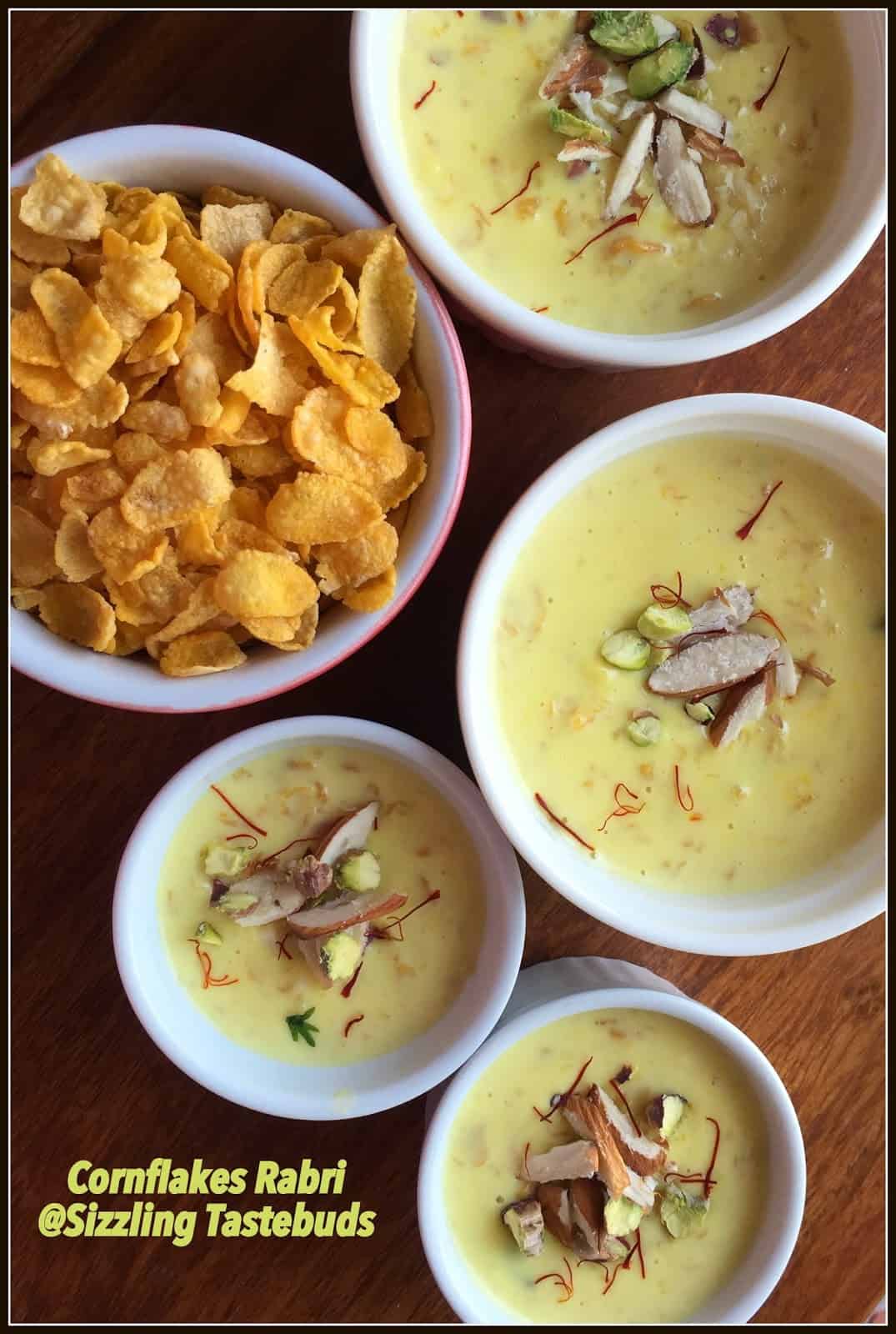 Pin

Sending this to BM#50 under bookmarked recipes and also to Nisha's Kids Delight – beat the heatevent. Hope you enjoyed the series on bookmarked recipes with Samba Wheat Idli, Beetroot Chutney (Vegan) and today's Cornflakes Rasmalai. The BM team is back with a month long Baking Marathon all of April, so stay tuned for those recipes :-))

Prep time : 10 min | Cook time : 1 hr |
Chilling time : at least 45 mins | Serves : 4-6

Cornflakes Rabri – a milk-based Chilled Indian Dessert , served at the end of the meal

Ingredients:
Full cream milk ( I opted for normal Cow milk)
– 1/2 litre
Cornflakes – 1/2 cup (50% of this is crushed, and rest used as is)
Condensed Milk – 1/3 cup (you can substitute
with approx 1/2 cup powdered sugar)
Elaichi / cardamom powder – 1/2 tsp ( I didnt
use)
Saffron strands – few
Nuts (chopped) – 2 TBSP ( I used almonds and
pistachio)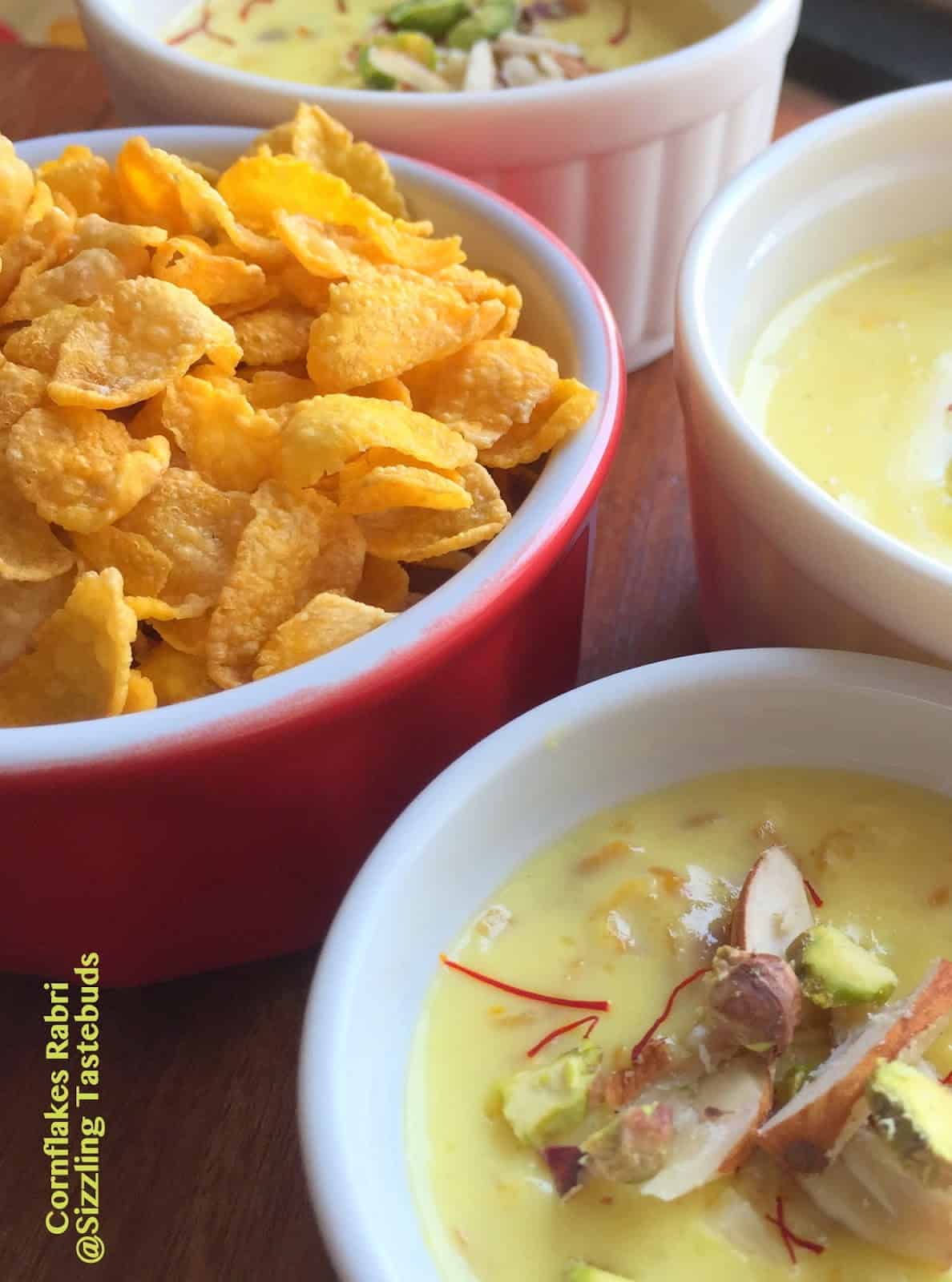 Pin
Method:
In a non stick / heavy duty pan, Heat milk on a
very low flame, and do not let it boil up. 
Soak saffron strands in 1 TBSP warm milk for 5
mins, add this to the pan.
After 10 mins, when it comes to a smaller boil,
keep scraping down the cream formed on the sides and top.
Now add crushed cornflakes, stir and let it
cook till it softens, the rabri would start thickening slightly now.
After 5-7 mins, add the condensed milk (or
powdered sugar) and stir well. 
You can check for sweetness and adjust
accordingly. Keep scraping down the cream and mix it with the now boiling
milk. 
Then add chopped nuts and cardamom powder, mix
well.
When it consierablly thick (it thickens quite a
bit on cooling), take it off the fire and set in individual ramekins. Top with
nuts if desired.
Chill for atleast 45 mins – 60 mins. Serve.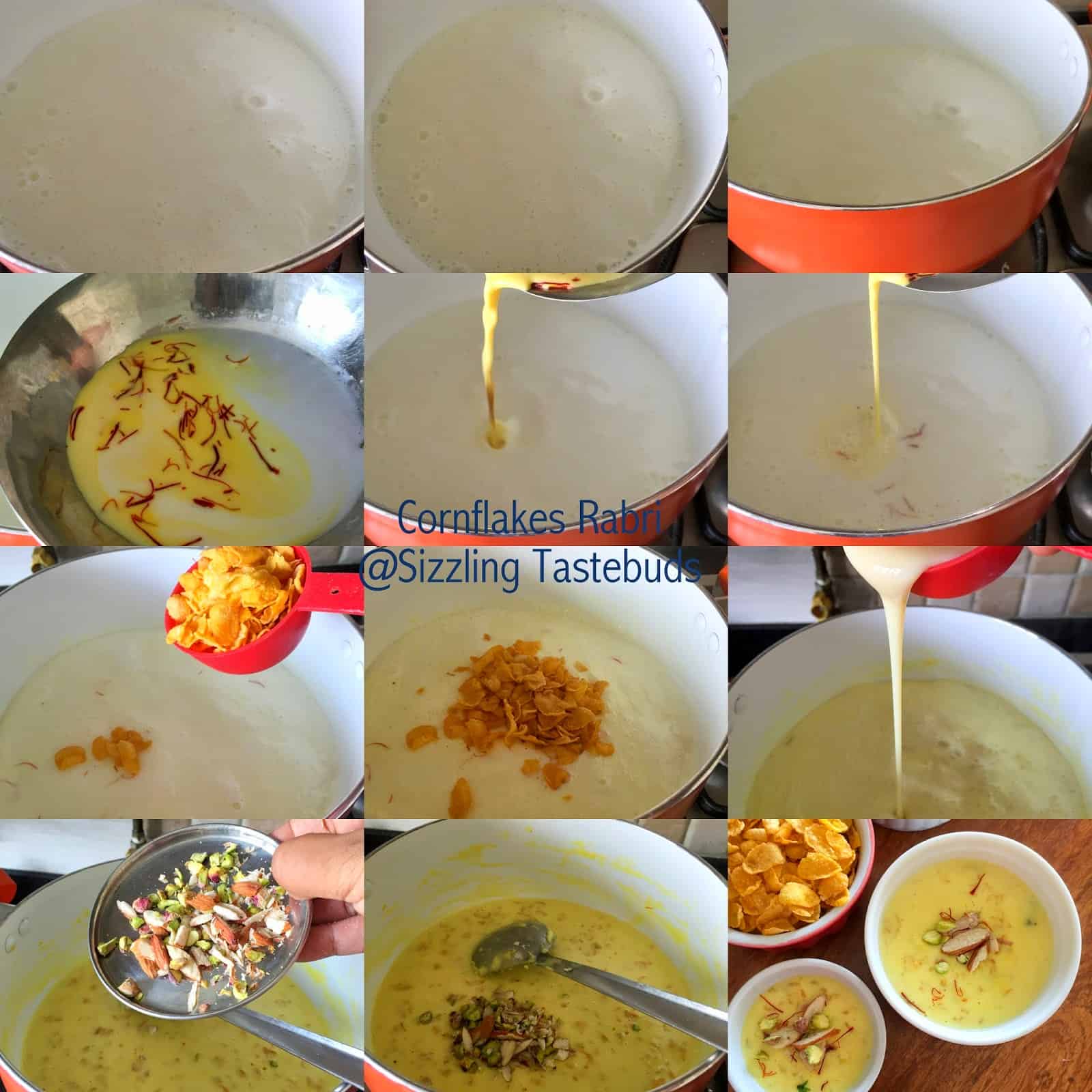 Pin
Notes:
1) You can add a dash of rose essence to make
it richer. 
2) Use fresh cornflakes for best results.