I was introduced to custard way back in my childhood by my aunt who lived opposite us. She was an excellent cook, and I always looked forward to her homemade jams, jellies and fruit custard. She had lived in Africa for many years, and even brought back an OTG (Oven Toaster Grill) that dished out other amazing delights like eggless cookies etc that had us in awe way back in the '80s, when baking at home was unheard of in most households. To cut a long story short, when I first started cooking, one of the many desserts was to make custard using Brown and Polson ready made mix. Today's dish Cream Custard is an adaptation of the orignal fruit custard and uses any leftover fruits like theMango Custard with honey or the Fruit Chaat. This recipe uses cream and condensed milk in abundance, so much so it tastes almost like the Indian delight Rabdi. I hope you also would enjoy making this at home for a quick dessert as much as enjoyed this after a lazy Sunday brunch ! Top it wit vanilla / butter scotch ice cream, and you have a party winner at hand… Let's get on to the recipe now..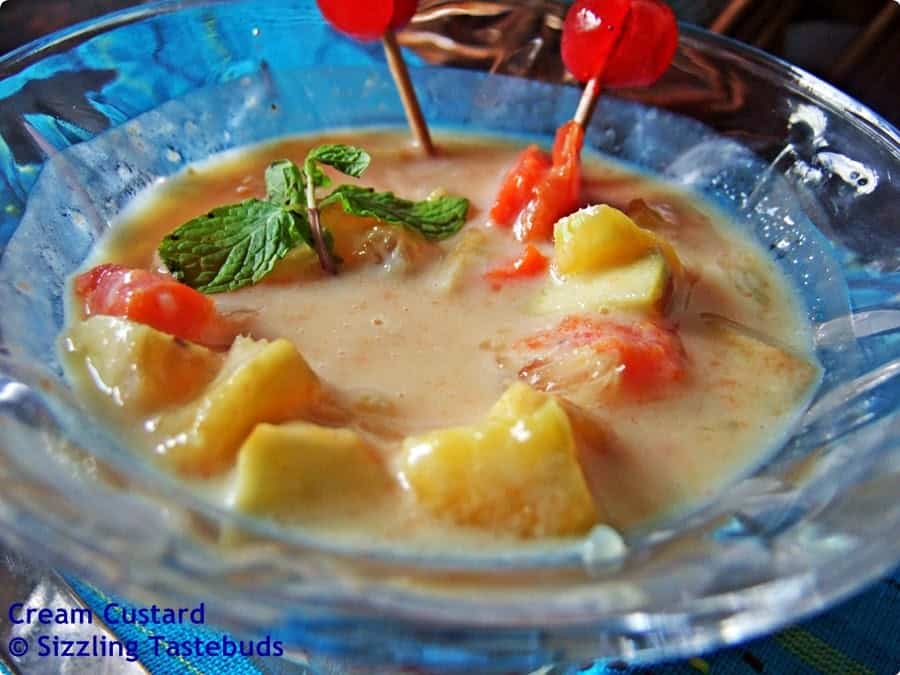 Pin

Prep time : 20 mins. Cooking time : 20 mins. Chilling time : 45 – 60 mins. Serves : 4

Ingredients:
Milk ( low fat) – 500 ml
Condensed milk – 6 TBSP – 8 TBSP (adjust to taste)
Sugar – 4 tsp (optional)
Diced mixed fruits – 2 cups (I used apple,pineapple, pears, papaya)
Fresh cream – 3 TBSP
Vanilla Essence – 2 drops (opt.)
Custard powder – 2 TBSP
Serving options:
With vanilla / butterscotch ice cream
Method :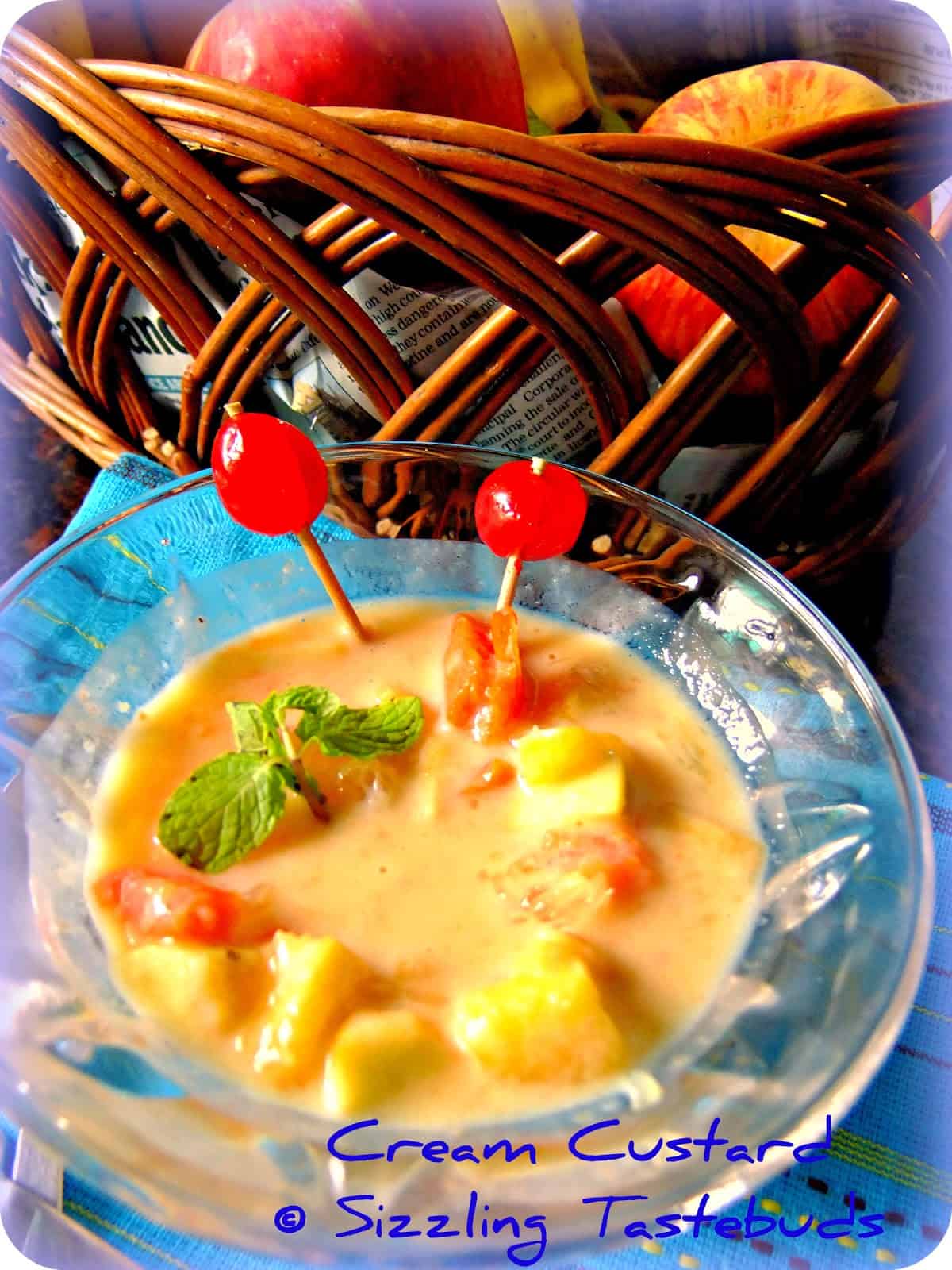 Pin

1) In a bowl, mix the custard powder with 2 TBSP of milk into a slurry mixture.

2) Heat 500 ml of milk in a deep bottomed pan and add the custard mix to it. Boil on simmer for 5 – 9 mins till the custard thickens to required consistency.

3) Take off from fire and add sugar, condensed milk and mix well. Add vanilla essence and mix well. Chill for 30 mins.

4) Remove after 30 mins. Add the fresh cream, fruits to the custard mix and blend well. Chill again for an hour and whisk once before serving.

5) Serve chilled with a topping of vanilla ice cream and a cream wafer for any party.